Meticulous readers found in a newspaper thirty years ago a prediction of a coronavirus pandemic – it indicated exactly 2020 and it was predicted that half of humanity would become infected.
The editors of the Japanese edition "Gifu Shimbun" were forced to give explanations, but this did not reassure the conspiracy theorists.
In the May 2, 1990 issue of the Gifu Shimbun, an article was published under the loud headline "Prophecy of God." It said that in thirty years, due to global warming, the world could be swept by a pandemic of infection, which will affect half of the population. Additionally, against the background of the destruction of the ozone layer, people will also have their immunity weakened.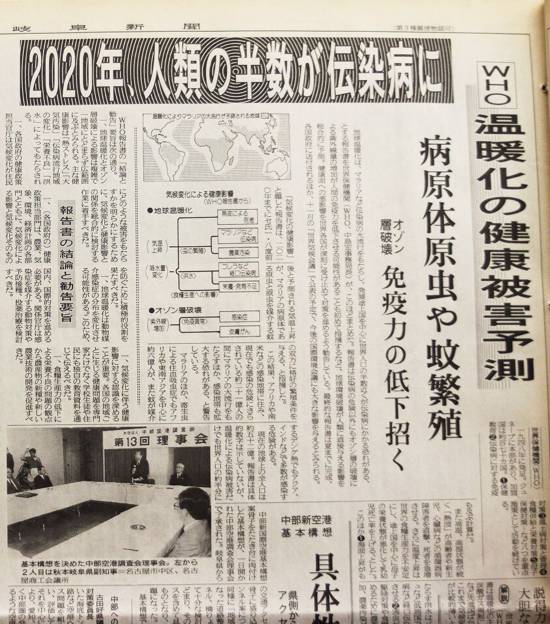 Conspiracy theorists who dug up the newspaper in the archives began to discuss the old publication on social networks, comparing its author to Nostradamus. Passions reached such a level that the editorial staff of "Gifu Shimbun" eventually issued a statement. The journalists explained that the article was written on the basis of the next WHO report of that time, and there are no specific details indicating the features of the coronavirus pandemic in the publication.
Japanese netizens have mixed reactions to this "prophetic" report. Some people marvel that this report is more accurate than the "big prophecy" of the French Jewish prophet Nostradamus↓
"This is more accurate than Nostradamus' big prediction."
"The big predictions of Nostradamus are more powerful than those of Nostradamus. Although the details are different, the years are all right! Even though I sometimes have things published by scientists and researchers, it's true. Is it true?" Thoughts such as'I've been taken carelessly day by day, but now there are so many natural disasters, it's time to take these issues seriously.'
"The people who predicted the new crown are really amazing"
"'Half of humans are infected' means there is more than just the new coronavirus. I want to know what the final outcome will be."
But some people expressed disbelief↓
"What's this. #新冠Prophecy"
Some netizens borrowed a line from the "Doraemon" comics↓
"Reports 30 years ago predicted that the new coronavirus epidemic has become a hot topic, but please take a look at Iduki Sugi's comments:'I don't believe in prophecies. People either say it by accident or are far-fetched. Interpretation attached to the meeting.'"
Nevertheless, lovers of esotericism and the theory of conspiracy began to assert that, if so, the journalists were led by a "higher power", which, they say, was trying to give a sign to humanity. Poor WHO, which in fact issued many similar warnings, was deprived of its laurels.