Priests burn Harry Potter books in Poland

Image Credit: CC BY-SA 4.0 Suzelfe
Not everyone appreciates Harry Potter's occult themes.
An evangelical group has taken to burning J.K Rowling's novels because it considers them 'sacrilegious'.
The priests, who are part of the SMS from Heaven Foundation, published photographs of the book burning which took place recently in the city of Gdansk in northern Poland.
The group believes that the books, which follow the adventures of a young wizard and his friends, are sacrilegious as they conflict with passages in the Bible that condemn the practice of magic.
"Many of those who had practiced magic collected their books and burned them in front of everyone," one passage reads. "So they calculated their value and found it to be fifty thousand pieces of silver."
The group has also quoted text from the Catechism of the Catholic Church which reads "all practices of magic or witchcraft are in serious contradiction with the virtue of religiosity."
Other titles, including Stephenie Meyer's Twilight series, were also put to the flame.
While Christian groups have condemned some of the themes covered in the Harry Potter series before, actively burning the books in public is taking things to another level.
The move has been met with an (unsurprising) amount of criticism from fans of the series.
Source:
BBC News
Jin – Real Mythological Creature
The jinn (sometimes spelled djinn) are spiritual beings according to Islamic mythology. Even the Holy Quran mentions them. We in the West know them as genies.
Far from being like the funny cartoon character in Disney's Aladdin, the jinn are considered to be creations of God along with angels and humans. So who exactly are the jinn?
HISTORY AND ORIGINS OF THE JINN
The word jinn itself is Arabic in origin and its root means "hidden or concealed." It refers to a class of spirits below the angelic hierarchy.
These beings were known in ancient Middle Eastern times and often worshiped as benevolent and rewarding gods. Archeologists have even discovered stone carvings and inscriptions giving praise and thanks to them.
According to Islam, God created three categories of beings: angels who were created from light, the jinn who were formed from fire and humans made from earth or clay.
Along with humankind, God also bestowed free will upon the jinn, letting them live and do as they please. Yet they are subject to the same punishments and Day of Judgment as people.
There is even a story about one of the jinn, called Iblis who disobeyed Allah's order to bow down to Adam. As punishment, Iblis was banished from Paradise and known as Shaitan or Satan, the adversary.
Finally the jinn were popularized due to the success of the book One Thousand and One Nights also known as Arabian Nights. Readers were introduced to stories of jinn that coexisted and communicated with humans.
TYPES OF JINN AND HUMAN INTERACTION
Like humans, the jinn also have male and female genders. And just like people, some are benign and some are malevolent, with many falling somewhere in-between.
They may or may not interact with us, just like any other spiritual being. According to some beliefs, each one of us is assigned a personal jinni called a qarin. For those unfortunate souls who have an evil qarin, they are likely to hear whisperings impelling them to do evil.
Although local legends and lore often have their own unique forms of jinn, the major types of jinn include: Ghul, Ifrit, Marid, Nasnas, Shaitan, Shiqq and Silat.
GHUL
The ghul or ghoul is a nocturnal zombie-like shape shifter that often haunts graveyards. It preys on human flesh and is capable of great evil.
According to Arabian lore, the most feared ghul is female, known as a ghula who can appear as a mortal woman and lure men into her clutches, turning them into her prey.
IFRIT
These jinn are cunning and extremely intelligent. Generally evil, they do have the ability to change and can become pious and saintly. The Holy Quran mentions the power that King Solomon had over the ifrit, making them do his bidding.
MARID
The marid are the genies we've come to know and love as wish granting spirits that live in oil lamps and bottles. They are actually considered the most powerful of the jinn.
Blessed with great knowledge and magical powers, they were originally known as sea-spirits and still spend a great deal of time near the water.
NASNAS
Nasnas are a lesser form of jinn with weaker powers. They often appear as human or animal-like hybrids. In the classic One Thousand and One Nights, nasnas appear as a half-bodied humans hopping around on one leg.
SHAITAN
As mentioned before, Shaitan was the name given to Iblis who disobeyed Allah. Shaitan also refers to any malevolent jinni that aligns with demonic forces.
SHIQQ
Like the nasnas, the shiqq are also a lower form of jinn and are only half-formed. They appear as hideous monsters, but have weak powers.
SILAT
Smartest of all the jinn, the silat are expert shape shifters and are the most interested in humans. They love to take on the human form and can do so with ease.
So if a magical stranger either helps you out or brings you trouble, it could be a silat.
Churches combine forces in Rome to learn best exorcism practices because of rise in possession cases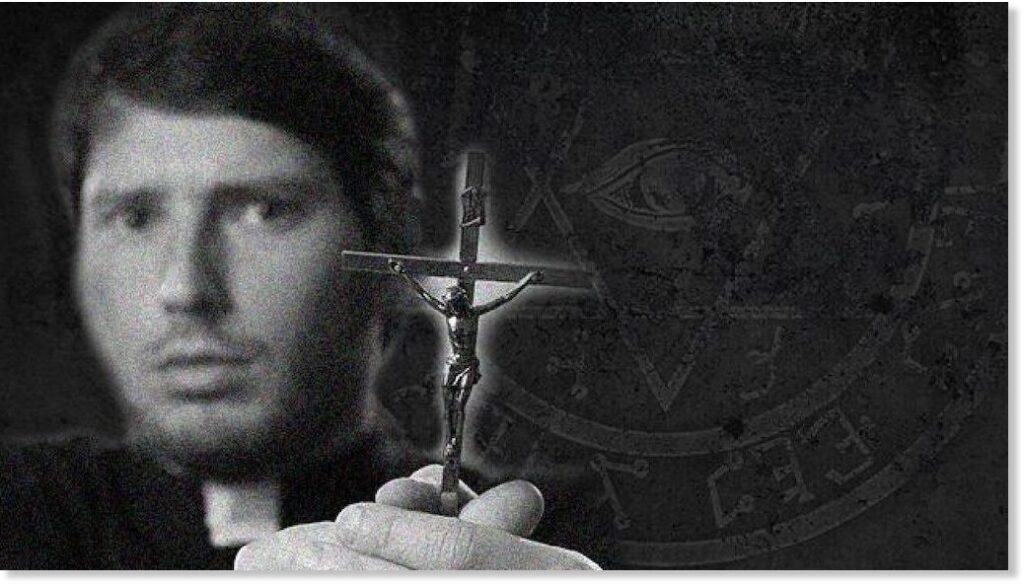 Exorcism is going multi-denominational. Where once those competing for the souls of followers would burn each other as heretics and spur decades-long wars, different Christian denominations are now rallying together to battle a resurrected threat.
And that's no less than Satan himself.
The Roman Catholic Church has for the first time opened up its annual exorcism class in Rome to representatives of all major Christian faiths. The Pontifical University of Regina Apostolorum is a Vatican-affiliated university in Rome has been conducting the increasingly popular annual exorcism conventions for Catholic priests for the past 14 years.
But now the doors of the 14th Exorcism and Prayer of Liberation Course has been thrown open to groups once considered heretical and demon-infested only a few short centuries ago.
Now some 250 Catholics, Lutherans, Greek Orthodox and Protestant priests have assembled to arm themselves with the sword of the holy word to battle Satan amid the souls of their parishioners.
It is itself a dark art, born of a dark age.
The Catholic Church, however, insists demonic possession is on the rise.
In 2014, it formally recognised the ancient ritual of exorcism under Canon Law at gave official approval to the formal creation of the International Association of Exorcists.
It blames the secularisation of society (separation of religion and state) along with the increasing popularity of competing religions, tarot readings, astrology, the internet and atheism for opening the demonic floodgates.
And the best way to fix this, it believes, is to tackle the 'possessed' head-on.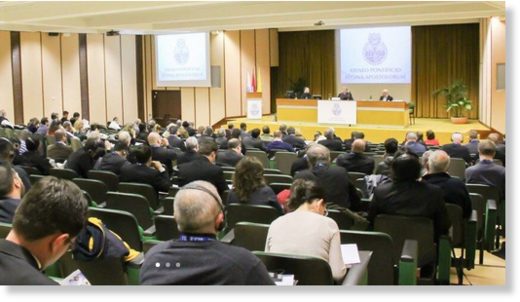 © Pontifical University
The Pontifical University of Regina Apostolorum's Exorcism and Prayer of Liberation Course.
Sword of the Spirit
"We are called to fight against the Devil with all our might and determination," keynote speaker and Catholic priest Jose Enrique Oyarzun addressed the assembled exorcists in Rome.
In this enlightened age, the practice sounds odd to many.
And that's the problem, exorcists insist.
Speaking in lost tongues. Vomiting weird objects. Unexplained wounds. Writhing. Shaking. Shrieking abuse.
Supernatural strength.
While there is rarely evidence beyond the anecdotal, exorcism practitioners insist their behind-closed doors experiences are very real.
And it's a threat Pope Francis himself has been keen to highlight, making regular references to the power of the Devil in his sermons.
"He is evil, he's not like mist. He's not a diffuse thing, he is a person. I'm convinced that one must never converse with Satan – if you do that, you'll be lost," the Pope recently told a Catholic news service.
Now, the Pope has a spiritual army of his own at his command.
The International Association of Exorcists counts some 400 priests among its members worldwide. And the death of its most famous demon hunter, Father Gabriele Amorth, in 2016 served only to inspire a surge of fresh applications.
But they're not enough.
So the Catholic Church is seeking a source of fresh recruits.
A depiction of an exorcism from the Middle Ages.
Shield of Faith
When it comes to skewering Satan, there are problems of doctrine.
Not all the Christian faiths believe the same things. And they've put each other to the torch and started wars over such serious matters in the past.
Why not now?
"This is the first time that different denominations have come together to compare their experiences on exorcisms," Spanish priest and theologian Pedro Barrajon, one of the convention's organisers, told media in Rome.
"The idea is to help each other, to establish best practices if you will. The Catholic Church is most associated with exorcisms because of films like The Exorcist and The Rite, but we are not the only church that performs them. Expelling the devil goes back to the earliest origins of the Christian Church."
It's a spiritual battle winning secular attention.
The Italian government also apparently takes the alleged possession crisis seriously.
Its education ministry this year offered its teachers the option of attending an intensive 40-hour "exorcism and prayers of liberation" crash-course as a sideline to the convention in Rome. At the cost of 400 euros ($A640) each, every attending teacher was promised to be taught how the ancient rite should be "correctly practiced".
The move attracted ire from the Italian opposition parties who insisted the education system had more to worry about than training teachers in magic.
"With all the problems in Italian schools, the ministry is trying to bring back the Dark Ages," opposition, centre-Left MP said Laura Boldrini said.
"Schools need to prepare young people for the challenges of the future. And what does the education minister do? He promotes exorcism courses. (Meanwhile) schools are not safe, gyms are not fit to be used and teachers are not properly paid."
© Pontifical University
Breastplate of Righteousness
Father Barrajon, 61, told the conference in Rome that non-Catholic denominations were less structured in their exorcism rituals. "Some of the other churches are more creative, they don't use a precise format," he said.
And that could present a problem: perhaps any harpies inhabiting a human body won't be entirely evicted.
Which is why they want priests to attend demonology school.
Participants attending the conservative Legionaries of Christ religious order run university study such subjects as "The Symbology of Occult and Satanic Rituals" and "Angels and Demons in the Sacred Scripture".
The need to get it right, according to the exorcists, is pressing.
Last year, exorcist Benigno Palilla told Vatican Radio that there were some 500,000 cases of possession appearing in Italy each year.
But there are rising concerns about the validity of the priestly practice.
Some faith healers have been accused of sexually molesting their possessed patients.
One case in Palermo saw a priest and soldier arrested after using the pretext of "expelling demons' to touch the genitalia of women.
In another Italian case, an underage girl was sexually abused by a 69-year-old practitioner, her boyfriend and her mother. "He convinced the girl she was the victim of strong 'negative forces' and consequently convinced her to undergo 'purification rites' consisting of sexual intercourse, sometimes in a group," Italian police said at the time.
Pope Francis said shortly before the convention that priests entrusted with the "delicate and necessary ministry" of being an exorcist must be chosen with "great care and great prudence."
Belt of Truth?
The broader Catholic Church admits to being dubious about most claims of possession.
Its officers publicly state the majority of such claimants are, in fact, mentally ill. Instead of priests, they should be seeking medical attention to address physical health issues.
But Pope Francis has recently adopted a more urgent tone.
In March, he reportedly told a group of priests they "should not hesitate' to refer confession-box cases of possession to an exorcist.
"They could also have spiritual disturbances, whose nature should be submitted to careful discernment," Pope Francis said, "taking into account all the existential, ecclesial, natural and supernatural circumstances."
The exorcism convention, however, concedes there may be complicating medical issues at hand and included talks on medical psychology, criminology, pedophilia and pornography.
Pope Francis himself has acknowledge that "epilepsy, for example, could easily be confused with demonic possession".
But this, he wrote, should not lead to the conclusion "that all the cases related in the Gospel had to do with psychological disorders and hence that the devil does not exist or is not at work."
So the worldwide Catholic Church continues to leave open the possibility that what its followers perceive to be Satanic possession may be the real supernatural deal.
During last year's exorcism convention, Cardinal Ernest Simoni insisted Satan's touch was unmistakeable. He had himself witnessed possession, he said.
"It's important to differentiate between psychopathic illnesses, neurasthenia, pathologies," the Cardinal said during a keynote address. "Satan you can recognize."
Ruins of Aleister Crowley's Cursed House on Loch Ness for Sale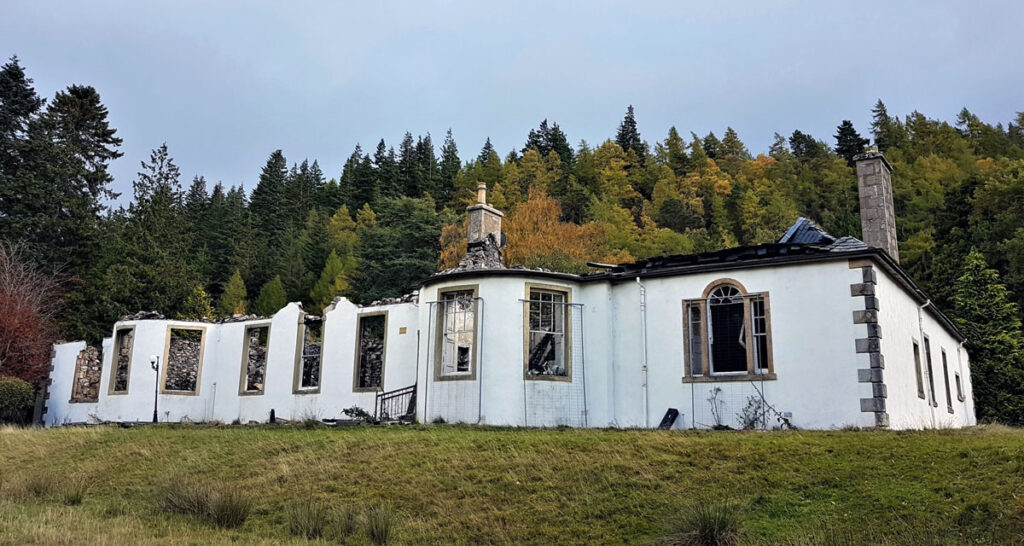 You can buy the ruins of Boleskine House, where "the wickedest man in the world" carried out black magic rituals for years.

The ruins of Boleskine House. Photo by Mark Wallbank
The BBC reports that Boleskine House, former home of occultist Aleister Crowley, and later owned by Led Zeppelin guitarist Jimmy Page, is for sale. After a fire tore through the manor in 2015, though, there isn't much left.
"The selling agent Galbraiths said echoes of its former splendour are all that remain of Boleskine House," the BBC article says, "but added that there is an opportunity to restore it into an outstanding property."
Aleister Crowley purchased Boleskine for the purpose of conducting a ritual that required very specific architecture. "The first essential is a house in a more or less secluded situation," Crowley explained. "There should be a door opening to the north from the room of which you make your oratory. Outside this door, you construct a terrace covered with fine river sand. This ends in a 'lodge' where the spirits may congregate."
Boleskine was the perfect location.
"The demons and evil forces had congregated round me so thickly that they were shutting off the light," Crowley wrote of his experiments there. "It was a comforting situation. There could be no more doubt of the efficiency of the operation."
Some believe those evil forces still linger.

Aleister Crowley in ceremonial dress
"At Boleskine, Crowley was said to have summoned 115 spirits, including Lucifer," the BBC wrote in an article about a film crew who experienced unexplained phenomena there while filming a documentary about Crowley. "The occultist also embarked on a complicated, six-month 'power-giving' black magic ceremony called Abra Melin. But he was interrupted in the middle of the ritual by his grand master, the head of the Golden Dawn, who called him to Paris. It is claimed Crowley didn't have time to banish the spirits he brought to Boleskine."
"The Rites of Abramelin the Mage require prior months of preparation, celibacy and abstinence from alcohol and include, among much else, 'the summoning of the 12 Kings and Dukes of Hell,' the Scottish Daily Mail wrote. "Crowley's subsequent orgiastic ceremonies and 'sacraments' are too disgusting to detail in a family newspaper. But, fatefully, he was interrupted. Amidst all his chanting, sodomy and the sacrifice of terrified cats and goats, the sorcerer was called away to Paris – and Boleskine folk believe he never got round to banishing the dreadful forces he had summoned to the house."
While Crowley's activities certainly didn't help, Boleskine already had a bizarre reputation long before the "Great Beast" conducted his rituals there.
The Boleskine Kirk once stood on the shady shore of Scotland's Loch Ness where the manor is now. If the land is cursed, it may have begun with the church.
According to historical writings, an early minister of the parish had to fend off a pesky wizard who was reanimating the dead.

Boleskine cemetery overlooking Loch Ness
In An Account of the Kirk of Boleskine, Alan Dawson wrote that "Thomas Houston (1648 -1705)
was noted as having to contend with a notorious wizard – AN CRUINAIR FRISEAL (the Fraser Crowner or maker of circles, as wizards do) who had raised the bodies in the churchyard and Thomas had to make haste to lay them to rest again."
Sometime later the church is said to have burned to the ground during a sermon, killing everyone inside.
When a bishop visited the old kirk in 1762, he wrote that it was "the poorest edifice of any kind I ever
looked upon as is also the Manse. The Church-yard is quite open without any walls where you see plenty of human bones above ground and the Floor of the Kirk is overspread with them…..Dogs are seen carrying away the human bones in their teeth.
Soon after, Colonel Archibald Fraser built Boleskine House on the charred remains of the church.
"Colonel Fraser was a firm Jacobite," The Scottish Daily Mail wrote, "but all the land surrounding his pocket had belonged to Simon Fraser, the 11th Lord Lovat, who flip-flopped once too often on the Stuart cause and (after the failure of the '45) was the last person in Britain to be executed by beheading. Boleskine House, then, was the equivalent of two jabbed fingers at the lake Lovat."
The house remained in the Fraser family until 1899 when they sold it to then 23-year-old Aleister Crowley. Several tragedies took place during his time there.
"The black magician also took pleasure in the suffering that his sinister practices apparently brought to local villagers," The Guardian wrote when a piece of the land was put up for sale in 2009. "He bragged about how an employee of the Boleskine estate got drunk one night – after 20 years of abstinence – and attempted to kill his wife and children. The family of Crowley's lodge keeper, Hugh Gillies, also suffered a series of tragedies. First his 10-year-old daughter died suddenly at her school desk and a year later his 15-month-old son died of convulsions on his mother's knee."
Crowley sold Boleskine House in 1913.

Boleskine House in 1912
In 1960, then owner Major Edward Grant killed himself with a shotgun in Crowley's former bedroom. The housekeeper, 78-year-old Anna MacLaren, had a premonition of the suicide. She had been alone picking vegetables in the garden when she heard a gunshot from the house. She went into the house, but there was no one there. Seven days later, though, at about the same time of day, she found her boss dead.
"I went in and found him with most of his head blown off," she recalled. "The family dog was playing with a bone. Police told me later the bone was part of the major's skull."
A young couple later moved in. The wife was blind, and within a few months her husband abandoned her there.
Filmmaker Kenneth Anger spent the summer of 1969 in the house. During that time he witnessed a heavy painting float off the wall and come to rest on the floor.
Jimmy Page bought the house the following year.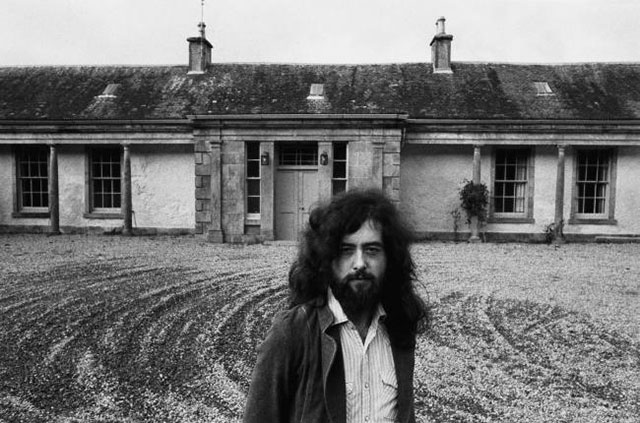 Jimmy Page at Boleskine House in 1973
In a January 1975 Rolling Stone interview, the interviewer said, "You live in Aleister Crowley's home. Crowley was a poet and magician at the turn of the century and was notorious for his black magic rites."
Page was fascinated by Crowley, but he was interested in the house for the rest of its history, as well.
"Strange things have happened in that house that had nothing to do with Crowley," Page responded in the interview. "The bad vibes were already there."
Page, who spent no more than 6 weeks at Boleskine in the 20 years he owned it, asked his childhood friend Malcolm Dent to move in and restore it.
"Jimmy Page caught me at a time in my life when I wasn't doing a great deal and asked me to come up and run the place," Dent told the Inverness Courier in 2006. "I never did establish why he fixed on me."
Dent lived at Boleskine for a long time and raised his family there.
"All the main rooms look out across the loch and you're 300 feet up so you have some dramatic views," he said. "We loved living there. It was a great house to raise children in and they loved it there, in spite of its history and in spite of the peculiar happenings that went on there."
Dent knew nothing of Boleskine's history or Crowley when he moved in.
"I arrived a total skeptic, to a degree I still am, but there are things at the house you can't explain," he said.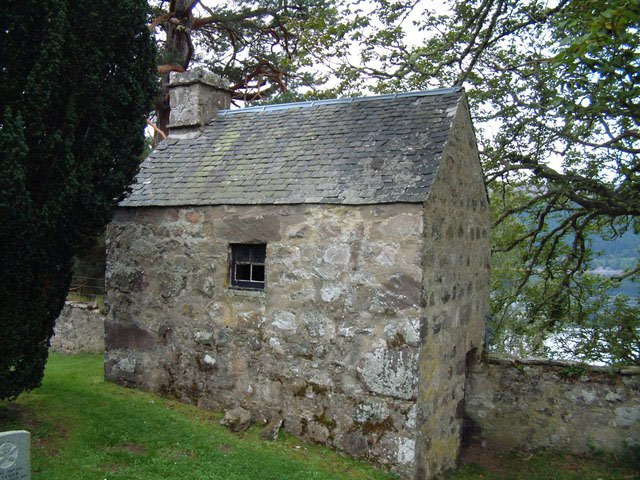 Mortuary house in the Boleskine cemetery
"A girl who stayed for the night awoke screaming that she had been attacked 'by some kind of devil,'" the Scottish Daily Mail writes. "Another night, Dent was roused by what sounded like a wild animal clawing and snorting by his bedroom door: he dared not open it till daybreak. There was nothing there, 'but whatever was there was pure evil.'"
Doors would suddenly spring open as if someone was running through them, and slam in the middle of the night, and rugs would be found piled up the following morning.
"We just used to say that was Aleister doing his thing," Dent said.
"One of the most famous stories is that the head of Simon Lord Lovat, beheaded for treason following the 1745 Jacobite rebellion, can be heard rolling around the floor at Boleskine," the Inverness Courier wrote, "even though the house dates only from the 1760s."
"At the time of his death, he was supposedly casting his mind back to the heart of the Highlands," Dent explained. "Just above us is Errogie, which is the geographical centre of the Highlands, and the nearest consecrated ground is Boleskine."
Another story that Dent says everyone loves involves seven chairs Page bought from the Cafe Royal in London.
"Jimmy got those chairs specifically because one of them had Aleister Crowley's name on it," Dent said. "Each of the chairs belonged to a famous person and had a nameplate on the back and front – Marie Lloyd, Billy Butlin, James Agate, Ruldolph Valentino, William Orpen and Jacob Epstein."
Dent says Crowley's chair was always placed at the head of the table. But, after the chairs underwent repairs, they kept finding Crowley's chair switched with Marie Lloyd's.
"The kids couldn't have done it and we didn't know why this was happening," Dent said. "Then I realized the guy who did the repairs didn't know which plaque went with which chair and hadn't put them back on the right ones."
But, according to Dent, the strangest thing about the house may have been its visitors.
"I had them from every corner of the world," he said. "A lot of them were nutters. A lot of them were downright dangerous lunatics. They will still be turning up today. The house is on the map as an occult centre and you're not going to get rid of Crowley's legacy that easily."
Jimmy Page sold Boleskine to Ronald and Annette MacGillivray in 1992. The couple turned it into a guest house. They despised any mention of Crowley, and insisted nothing unusual ever happened there. Locals say the MacGillivrays tried to erase Crowley's presence, whitewashing the interior and covering the stone floor with carpet to hide the magical symbols painted there. Their efforts failed several times, villagers claimed, alleging the symbols would reappear as the paint dried.
While filming a 2000 BBC documentary called The Other Loch Ness Monster, a priest and minister blessed the project, and clerics were called in to keep the crew safe…just in case. Still, they experienced their share of unexplained happenings.
"The film crew working on the BBC documentary were attacked by a plague of beetles, suffered repeated equipment failures and experienced strangely similar nightmares about Crowley," the Sunday Mail wrote.
Photos taken at the graveyard just down the hill (where a rumored tunnel from the house was said to lead) were ruined by "a strange circular halo of fog" according to producer Garry Grant. "It wasn't lens flare or a fault in the camera," he said. "I'd never seen anything like it before."
In another incident, lights exploded, fuses burned out and camera stands fell over during a late-night shoot in the graveyard, showering the crew in glass. One crew member's phone kept ringing intermittently, while another's alarm clock would go off at the same time every day.
The MacGillivrays sold Boleskine in 2002 to new Dutch owners who used it as a vacation home. They were not there on December 23, 2015 when a fire scorched Boleskine, leaving nothing but the external walls by the time firefighters arrived. They determined the fire began in the kitchen, but the cause was never identified.
Today, the burned out ruins are all that remain of Boleskine House. The shell of Aleister Crowley's unholy home and nearly 23 acres of cursed land on Loch Ness can be yours for £510,000.