Powerful Effect Of Incense For Mind, Body And Soul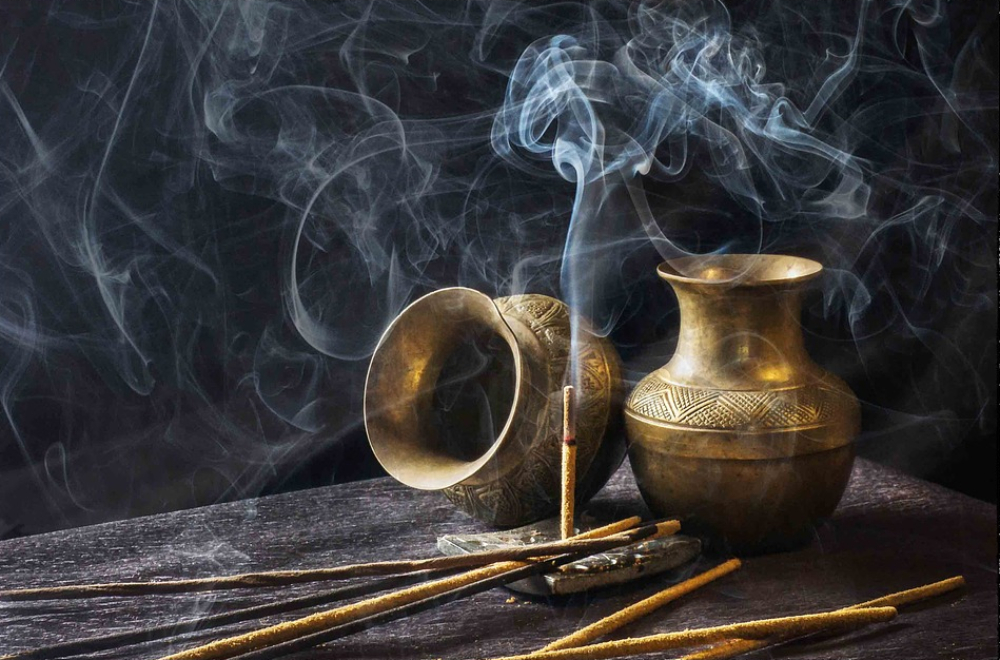 Why do we burn incense sticks? Some use it for its ability to kill odour while in many cultures, it's what you would need in worship. For several centuries, within different religious traditions have been claimed that burning incense is good for the soul. And now, scientists have found it has beneficial effects on the brain.
The Use of Incense
Incense has been the part of different religious activities since time immemorial. Even today incense sticks and cones are widely used in temples, in homes and at many places for worship. It is steeped in symbolism. The burning of an incense stick resulting in fragrant smoke teaches the necessity to burn away negative qualities within oneself in order to reveal the pure self within.
The calming effects of incense was discovered by ancient cultures. The natural fragrance of incense removes the stress and heals the spirit. Mesmerizing aromas create a sense of joy and uplift the mood. Recent study suggests that pleasant odour from burning incense may have antidepressant-like effect.
Incense burning in Buddhist Temple
Science Supports Benefits of Incense
"An international team of scientists, including researchers from Johns Hopkins University and the Hebrew University in Jerusalem, describe how burning frankincense (resin from the Boswellia plant) activates poorly understood ion channels in the brain to alleviate anxiety or depression. This suggests that an entirely new class of depression and anxiety drugs might be right under our noses."
Pleasant Odours Have Antidepressive-like Effect 
It's a reasonable hypothesis, and certainly supported by aromatherapy.  This suggests that centuries of Ayurvedic and natural medicine are likely not wrong when they make fairly safe lists of benefits:
Lavender, know to relieve stress and relax
Sandalwood, removes tension, creates awareness
Cinnamon, known for increasing focus
Cedar or pine, well known to help with depression and sadness
Dragon's blood, soothes GI tract, helps with pain
Jasmine, balancing hormones, increasing libido
Amber: boosting immune system
Frankincense: relieves depression; also known to increase creativity
Here is a word of caution though – before buying incense sticks, look for high-quality incense that isn't toxic. Incense sticks made of cheap chemicals can have a harmful effect on your health. Poor quality incense is actually a pollutant, especially when burned indoors. Burning synthetic incense can even harm your lungs if you breathe it for a long period of time. It is also not wise to burn incense if you have asthma.
It is fair to say that any pleasant incense will affect mood positively. Using a different kind of incense burners and holders add a new dimension to your place. Apart from doing their job of burner, they can also act as a showpiece.
The Human Cymatics Vibrational Wave Machine
Zen Gardner, Contributor
Waking Times
Man, are we ever being directed! Moved around, sifted and sorted, purged and purified, as much as we'll allow. What an amazing time!
We need each other, and amazingly we're finding each other. Cymatics is such a fascinating field, how resonant vibration literally moves molecules into beautiful geometric patterns. Conversely, disharmonious energy makes for chaotic and literally ugly patterns, as proven by the late Masaru Emoto's research with intention and water molecules. But the implications on human alignment and behavior are immense.
It's all about energy, vibration, resonance. How particles and waves work in the medium of this physical universe, even in the context of quantum physics, is absolutely fascinating. So called science is on the verge of truly integrating metaphysics with physics, as some already have. The implications and possible repercussions on the collective are enormous. Again, I don't know about any "tipping point" or "event horizon" in either societal progress or conscious awakening as I've said recently. Never mind the 100th monkey effect nor the so-called "singularity", a thoroughly hijacked concept by the anti-human transhumanists. I think these all are valid in a deeply true sense but the confusion factor is big. We don't know that realm well enough yet. Such presuppositions are arrogant. By definition, we're operating from a handicapped zone of third dimensional conceptualization of realms beyond our programmed capabilities.
But – our other dimensional senses are awakening. Hence the split into literal worlds of understanding, realization and even existence, as I see it. Those worlds do not reconcile, with or for the lower dimensional viewpoint. Hence the paradox plague on human thinking. OK by me. I like the disruption. But I have seriously digressed….
The Vibrational Shaker-Upper
My point here is that we're experiencing not just a shake up, but an inter-active cymatic one. We're in the vibrational phase where particles of all sorts and even living souls move around to where they belong, where like are attracted to like, and are forming beautiful mosaics of powerful connections.
It's fabulous to watch. I know I see it in my own life. I and many others have seen it for some time with sometimes major shifts, but it's upon us. Are you being drawn to like minded souls, while others are falling away? Never mind shifts in your perception? This will continue, and even accelerate. Beautiful clusters are forming, as well as ugly ones, as featured in the "news" as if that's the norm. Don't focus on those. They're meant to cause a reaction and join in the lower vibrational astral. The creative is what's truly happening.
This phenomenon is the nature of Universal expansion – shake, quake, awake and reassemble – break up the old and false attachments to find the new. It always has been that way, at different levels of expansion, but it appears we're in a highly accelerated phase right now.
The point is, we're finding each other! Weird as the process is as we're concurrently going through major personal changes, heart resonance is taking the forefront, where it belongs. It's totally contrary to all previous programming, even up to and through recent years. It's totally understandable. Let's give ourselves a break. It's fluid, changing, and through that truth reveals itself. It's in the letting go – of self concepts, identity, or attaching to wanted outcomes, they all play into this – and it's good!! Let it happen, joyfully!
This just struck me as profound today. Let's move with the flow toward our true vibration and not be afraid of change and move heartily into it.
The shift is upon us.
Sure beats everything else.
All the best, Zen
About the Author
Zen Gardner is an impactful and controversial author and speaker with a piercing philosophical viewpoint. His writings have been circulated to millions and his personal story has caused no small stir amongst entrenched alternative pundits. His book "You Are The Awakening" has met rave reviews and is available on Amazon.com.
J. Krishnamurti on How to Find True Freedom
None of the agonies of suppression, nor the brutal discipline of conforming to a pattern, has led to truth. To come upon truth, the mind must be completely free, without a spot of distortion.
But first, let us ask ourselves if we really want to be free? When we talk of freedom are we talking about complete freedom or about freedom from some inconvenient or unpleasant or some undesirable thing? We would like to be free from painful and ugly memories and unhappy experiences but keep our pleasurable, satisfying ideologies, formulas and relationships. But to keep one without the other is impossible, for, as we have seen, pleasure is inseparable from pain.
So it is for each one of us to decide whether or not we want to be completely free. If we say we do, then we must understand the nature and structure of freedom.
Is it freedom when you are free from something – free from pain, free from some kind of anxiety? Or is freedom itself something entirely different?
Are You Really Free?
You can be free from jealousy, say, but isn't that freedom a reaction and therefore not freedom at all? You can be free from dogma very easily, by analysing it, by kicking it out, but the motive for that freedom from dogma has its own reaction, because the desire to be free from a dogma may be that it is no longer fashionable or convenient. Or you can be free from nationalism because you believe in internationalism, or because you feel it is no longer economically necessary to cling to this silly nationalistic dogma, with its flag and all that rubbish. You can easily put that away. Or you may react against some spiritual or political leader who has promised you freedom as a result of discipline or revolt. But has such rationalism, such logical conclusion, anything to do with freedom?
If you say you are free from something, it is a reaction which will then become another reaction, which will bring about another conformity, another form of domination. In this way, you can have a chain of reactions and accept each reaction as freedom. But it is not freedom; it is merely a continuity of a modified past which the mind clings to.
The youth of today, like all youth, are in revolt against society and that is a good thing in itself, but revolt is not freedom because when you revolt, it is a reaction and that reaction sets up its own pattern. And you get caught in that pattern. You think it is something new, it is not; it is the old in a different mould. Any social or political revolt will inevitably revert to the good old bourgeois mentality.
Freedom is a State of Mind
Freedom comes only when you see and act, never through revolt. The seeing is the acting and such action is as instantaneous as when you see danger. Then there is no cerebration, no discussion or hesitation; the danger itself compels the act, and therefore, to see is to act and to be free.
Freedom is a state of mind – not freedom from something but a sense of freedom, a freedom to doubt and question everything and therefore so intense, active and vigorous that it throws away every form of dependence, slavery, conformity and acceptance. Such freedom implies being completely alone. But can the mind brought up in a culture so dependent on environment and its own tendencies ever find that freedom which is complete solitude, and in which there is no leadership, no tradition and no authority?
This solitude is an inward state of mind which is not dependent on any stimulus or any knowledge and is not the result of any experience or conclusion. Most of us, inwardly, are never alone. There is a difference between isolation; cutting oneself off, and aloneness, solitude. We all know what it is to be isolated – building a wall around oneself in order never to be hurt, never to be vulnerable, or cultivating detachment which is another form of agony, or living in some dreamy ivory tower of ideology. Aloneness is something quite different.
Living with Yourself as You Are
You are never alone because you are full of all the memories, all the conditioning, all the mutterings of yesterday; your mind is never clear of all the rubbish it has accumulated. To be alone you must die to the past. When you are alone, totally alone, not belonging to any family, any nation, any culture, any particular continent, there is that sense of being an outsider. The man who is completely alone in this way is innocent and it is this innocency that frees the mind from sorrow.
We carry about with us the burden of what thousands of people have said and the memories of all our misfortunes. To abandon all that totally is to be alone, and the mind that is alone is not only innocent but young – not in time or age, but young, innocent, alive at whatever age – and only such a mind can see that which is truth and that which is not measurable by words.
In this solitude, you will begin to understand the necessity of living with yourself as you are, not as you think you should be or as you have been. See if you can look at yourself without any tremor, any false modesty, any fear, any justification or condemnation – just live with yourself as you actually are.
The Caring of Observation
It is only when you live with something intimately that you begin to understand it. But the moment you get used to it – get used to your own anxiety or envy or whatever it is – you are no longer living with it. If you live by a river, after a few days you do not hear the sound of the water any more, or if you have a picture in the room which you see every day you lose it after a week. It is the same with the mountains, the valleys, the trees – the same with your family, your husband, your wife. But to live with something like jealousy, envy or anxiety you must never get used to it, never accept it. You must care for it as you would care for a newly planted tree, protect it against the sun, against the storm. You must care for it, not condemn it or justify it. Therefore you begin to love it. When you care for it, you are beginning to love it. It is not that you love being envious or anxious, as so many people do, but rather that you care for watching.
So can you – can you and I – live with what we actually are, knowing ourselves to be dull, envious, fearful, believing we have tremendous affection when we have not, getting easily hurt, easily flattered and bored? Can we live with all that, neither accepting it nor denying it, but just observing it without becoming morbid, depressed or elated?
If You Say, 'I am Free', Then You are Not Free
Now let us ask ourselves a further question. Is this freedom, this solitude, this coming into contact with the whole structure of what we are in ourselves – is it to become upon through time? That is, is freedom to be achieved through a gradual process? Obviously not, because as soon as you introduce time you are enslaving yourself more and more. You cannot become free gradually. It is not a matter of time.
The next question is, can you become conscious of that freedom? If you say, 'I am free', then you are not free. It is like a man saying, 'I am happy'. The moment he says, 'I am happy' he is living in a memory of something that has gone. Freedom can only come about naturally, not through wishing, wanting, longing. Nor will you find it by creating an image of what you think it is. To come upon it, the mind has to learn to look at life, which is a vast movement, without the bondage of time, for freedom lies beyond the field of consciousness.
Are You Living a Conscious Life?
Elva Thompson, Contributor
Waking Times
"Chance is but a name for Law not recognised." ~ The Kybalion
"A life lived of choice is a life of conscious action. A life lived of chance is a life of unconscious creation." ~Neale Donald Walsch
If most people were asked if they lived a conscious life they would probably answer yes – is it not self evident? Consciousness is consciousness, right?
But if a consciousness has been indoctrinated from birth with other people's ideas, prejudices and truths…. is that a 'conscious' consciousness? – or is it a sense bound awareness programmed to be a clone of a greedy, egoistic materialistic culture. A consciousness living life on auto pilot – stuck in a daily routine of sameness – and mouthing the rhetoric of someone else's thinking in a life that stands still. The mystic Gurdjieff called this state a constant waking sleep.
Is your life standing still – passing you by? Are you tossed like a matchstick on the waves of chance – worried about everything – not knowing what you want or where you are going – if the answer is yes then you are at the mercy of unconscious creation.
Thunderbolts of Unseen Action
Our thoughts are energetically alive, they are thunderbolts of unseen action and if not controlled can wreak havoc in our lives. We are not taught that our thinking creates our reality and when shit hits the fan we call it bad luck – or that's life! When in truth it has got nothing to do with luck and life….. and everything to do with our thinking. But we don't know the metaphysical laws that govern this 'whirled' so we carry on as normal – do what we always do because that's what we're used to doing. We don't realise that our lives are a reflection of our habitual state of mind.
A Bit of a Shock

When we investigate our thinking and begin to observe our thoughts we are likely in for a shock. It's quite sobering to discover how much of our fleeting lives we spend bogged down in the cancelled cheque of the past – dwelling on grievances and personal sleights – or day dreaming and wishful thinking on the promissory note called the future. The only time we are truly alive is in the negotiable now – and most of us it would seem don't visit very often!
Anchored Consciousness

It's not easy to change our lives – break free of worn out thought patterns and routines. We have to take control in the now and live the life we want, and not let others interfere or tell us what we can or cannot do – what we deserve or don't deserve.
This is easier said than done but if we want to have a smoother, calmer panorama in life we must persevere…and take stock of the people in our lives – and ask the question: are they inspirational and uplifting, or destructive and exhausting?
Unfortunately toxic people don't come with a warning sticker plastered on their foreheads but we've all met them – in our home life, at work or down the pub. The arrogant superior type who likes to put us down – the spiteful gossiper who can't tell fact from fiction – the perpetual whining victim who blames everybody else for their circumstances – the control freak who knows everything about everything and can't wait to 'put us straight' – the envious who just hate it when something good happens to us… and the angry, resentful Mr. Negative who has nothing good to say about anything or anybody.
These mindsets make it very hard for us to live a conscious life – they deplete our energy – fracture our thought patterns and anchor us to unconscious creation….in other words they bring chaos into our lives and need to be avoided like the plague.
Conscious Creative Living
Conscious living is about being mindful – having mental clarity not confusion. It means taking responsibility for our lives – packing our own parachute as they say in sky diving circles and not leaving it to others.
Creative living involves a continuous and progressive cleansing – a purification of soul and body.
The change from unconscious creation to conscious action begins in our thinking…. We choose what we want in life rather than settling for the cards we are dealt. Our life is present – it is directed action in motion forever moving with the flow of life.
Re-Connecting With the One Life
"To seek freedom is the only driving force I know. Freedom to fly off into that infinity out there. Freedom to dissolve; to lift off; to be like the flame of a candle, which, in spite of being up against the light of a billion stars, remains intact, because it never pretended to be more than what it is: a mere candle." ~Carlos Castaneda, Don Juan: the Sorcerer.

Living consciously means we are totally aware of our surroundings – alert in the now and not lost in some nebulous no mans land. Conscious awareness observes the ways of nature, sees the harmony of the dance of life and death. Revels in the singing of the wind, the sshh of waves upon shingle, welcomes the warm sun upon bare skin and marvels at the intricate patterns of butterflies. A conscious life intuitively recognises the energy of the One Life that powers all the dna spacesuits on this planet whether furred, scaled or feathered – feels the pulse of the one Heart in all creation…and knows that separation is just an illusion cast by the matrix to keep us in the sacrificial game.
In the words of the metaphysical poet Thomas Traherne:
"You will never enjoy the world alright till the sea itself floweth in your veins, till you are clothed with heavens and crowned with the stars; and perceive yourself to be the sole heir of the whole world, and more than so, because men are in it who are every one the sole heir as well as you….."
About the Author
Elva Thompson was born in England in 1947 and moved to Rosebud Lakota reservation in 1987. She is the author of the Heartstar Series; Book One: The Key made of Air, and Book Two: The Gates to Pandemonia. Her other interests include organic gardening, ancient phonetic languages, sonic sound and their application in the healing arts. She is also a medical intuitive and teaches sonic re-patterning using sound, colour, and essential oils. Elva Thompson is on Amazon Author Central @ amazon.com/author/heartstar