Powerful Earthquake near Cuba and Jamaica with a 7.7 magnitude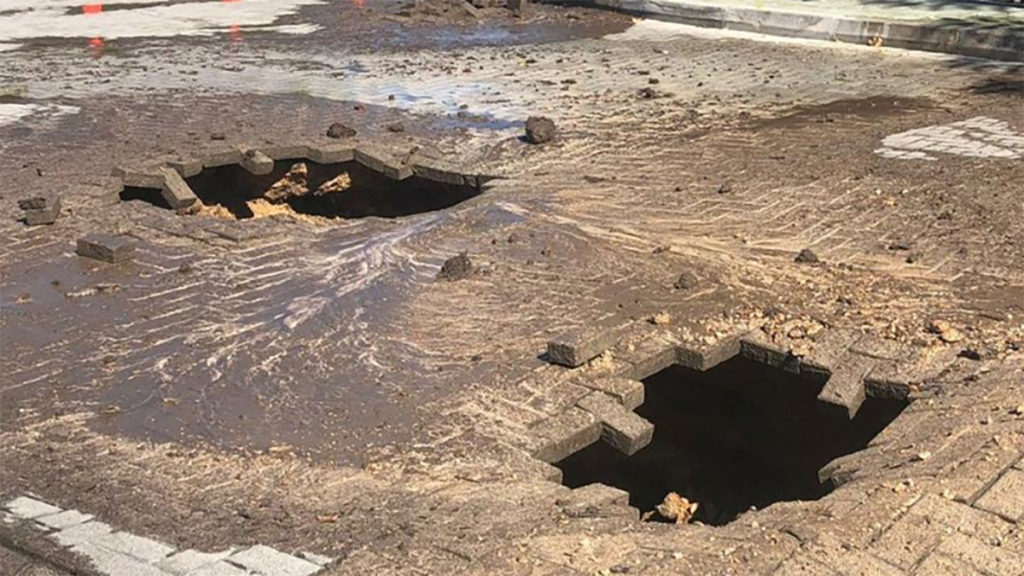 Late in the evening on January 28, at 19:10:25 UTC, an earthquake in the Caribbean strked with a 7.7 magnitude. The epicenter was located in a triangle between Cuba, Jamaica and the Cayman Islands at a depth of 10 km.
Tremors were felt on all adjacent islands.
Küba dan gelen deprem görüntüleri
#kuba #cuba #deprem #earthquake pic.twitter.com/HHdPLJH54r

– Hünkâr Efendi (@hunkarefendi) January 28, 2020
People from high-rise buildings were evacuated:
https://twitter.com/TTakipRobotu/status/1222259705583755272
There is destruction:
Very strange dips in the earth:
Aftermath of earthquake in Grand Cayman … pic.twitter.com/5cywNuDYlw

– The Honey Badger ™ ️ (@The_Badger_jm) January 28, 2020
Earthquake happenings in the Cayman Islands 1/2 pic.twitter.com/wUGxuE9y9T

– Pedro (@p_dippy) January 28, 2020
https://twitter.com/MaximoSPQR/status/1222259034486689794
As you can see from these tweets, there are at least three reports of ground failures. If there are many such messages and everything is confirmed, this will be a very bad sign for the islands.
Since the epicenter is at the sea, a tsunami is expected. So far, waves of not more than 50 cm are reported:
INTERNACIONAL ⚠️ | Se detecta tsunami menor (~ 50 cm) en la estación de George Town (Islas Caimán) producto del terremoto de 7.7 Mw. pic.twitter.com/P9jr448lEo

– Red Geocientífica de Chile (@RedGeoChile) January 28, 2020
Lost communication with one of the buoys in the epicenter area. Perhaps a technical malfunction, perhaps a very large wave.
The trigger for the earthquake most likely was yesterday's gamma-ray burst:
We follow the development of events.
A huge meteorite hit the Indian state of Rajasthan, creating a 20-meter crater and turning night into day
When it fell, the meteorite created a huge crater with a diameter of 20 and a depth of 7 meters in the factory complex at Tuesday dawn in the industrial zone of Itaran Alvara, Rajasthan.
Suddenly a rocket-like object appeared, falling from heaven to earth, changing night to day. A celestial phenomenon occurred in the Fauladpur region of Shahjahanpur in the Alvar region around 5:00 a.m. on February 12, 2020.
In the following video surveillance frames, flashes and the subsequent meteorite fall to the ground are visible. People living in the immediate vicinity were not harmed.
People living in the area woke up from weak shocks, similar to an earthquake. The birds began to scream.
Many surveillance cameras were able to record a meteorite explosion. People who witnessed the heavenly event were shocked.
Local resident Rajesh Kumar Gupta said that he felt an explosion and after leaving his house felt a gust of strong wind. Farmers in the city of Fauladpur Shahjahanpur also saw a meteorite.
Ajay Chaudhari, a resident of the Kotkashim region, said that light suddenly appeared and an object similar to a rocket appeared in the sky.
A team of scientists was sent to the crater to explore the mysterious meteorite.
Scientists "revived" the genes of mammoths
About 11,000 years ago, the last mammoth populations have died out on our planet.
From the thousands of species, only those individuals survived that could survive in the harsh climate on Wrangel Island, but they also could not permanently save their tiny population from extinction. It is known that dwarf representatives of the largest mammals that lived off the coast of Siberia became extinct about 4000 years ago. At the moment, there are several basic hypotheses that can explain the death of ancient animals. In order to prove at least one of them, scientists were able to resurrect genes from recently found mammoth remains.
Why did mammoths die out?
The mystery about the reasons for the complete extinction of the huge mammals that have lived on our planet for many thousands of years is one of the most intriguing secrets of our planet. The most common version is the hypothesis of unexpected climate change, since mammoth extinction peak, according to some estimates, coincides with a period of sharp warming. It is assumed that this could be the reason for the reduced diet of animals, to which they did not have time to adapt. Due to the increased humidity and water logging of the soil on Wrangel Island, mammoths found it difficult to move in order to get their own food.
Another possible theory about the causes of the death of mammoths is the idea of ​​their loss of genetic diversity. So, due to the small habitat of mammoths (Wrangel Island could feed no more than 300 individuals), at some point cases of closely related crosses became more frequent, which led to the loss of animals' ability to reproduce as a result of various kinds of genetic mutations.
According to an article published in the journal Genome Biology and Evolution (GBE), experts have several reasons that indicate the appearance of several types of genetic defects in mammoths. In order to confirm this theory, scientists conducted a study for the "Resurrected" genome mammoth, suggesting that mammoths could lose their ability to reproduce, along with their ability to smell.
The results of this study can be evidence of both the first and second main hypotheses for the extinction of mammoths on Wrangel Island, since scientists are confident that due to the rapid decline in the population due to a decrease in the amount of food obtained, mammoths could interbreed with their distant relatives. This crossing significantly reduced their genetic diversity, as a result of which animals could lose the ability to "purify" the genome.
During the study, a team of scientists compared the mammoth's DNA with living members of the elephant family, as well as with the oldest mammoths that lived tens of thousands of years ago on the territory of the African continent. During the experiment, experts identified a number of genetic abnormalities in animals from Wrangel Island, which were really responsible for the neurological development of animals, their fertility, insulin signaling, and their ability to smell. At the moment, scientists suggest that animals could completely lose their sense of smell and were unable to distinguish the smell of edible food from inedible. The combination of all negative factors affected the lifestyle of mammoths, causing their gradual, but inevitable extinction as a species. Be that as it may, scientists hope to resurrect these animals in the coming years.
All climate change models show that disaster is approaching rapidly. But why?
There are dozens of climate models, according to which warming due to climate change on our planet will lead to an increase in temperature by 3 ° C.
It is important to understand that this is a catastrophic forecast. At first glance, a slight increase in temperature will lead to flooded cities, disruptions in agriculture and deadly heat. At the same time, in almost all complex climate models, gloomy stability is observed, which lasted until the last year. So, slowly and imperceptibly, some models began to show a significant increase in temperature. Scientists who honed these systems used the same assumptions about greenhouse gas emissions as before, but this time the results were much worse. Some models predict a temperature increase of at least 5 ° C.
Scenario of impending disaster
According to Bloomberg, researchers have begun collecting data, but this process will take several months at best. The reason for concern is that these same models have successfully predicted climate change for half a century. The results obtained are still consistent with all the main scientific, political and private climate goals and discussions, including the sixth encyclopedic assessment of the UN Intergovernmental Panel on Climate Change (IPCC), which will be published in 2021. So far, the situation is such that if humanity does not take any action on climate change, we will have less time to avoid the worst consequences.
Nevertheless, some researchers are convinced that there is a high probability that the models show incorrect results or they were incorrectly decrypted. Uncertainty about how to read models highlights one of the central issues of climate change. On the one hand, politicians and members of the public are turning to scientists to learn how to prevent devastating droughts, heatwaves and warm winters. However, there is no single answer to the question of how soon these or those changes will occur. Using climate models, researchers test ideas about the effects of melting ice cover, soil and cloud moisture, and other factors. There are currently over a hundred models used to predict the relationship between carbon dioxide and warming,

A gap created by running water at the edge of the Aletsch Glacier, near Bettmeralp, Switzerland
Creating climate models that perform extremely complex calculations takes a huge amount of time. It is necessary to take into account a large amount of data that interact with each other and to make corrections in the early stages for troubleshooting. All existing climate models do not take into account permafrost thawing. And this, as you can guess, is a big problem. Last year, models that are used at major climatological institutes in the world began to show unusual data. The cause of what is happening remains unknown.
Hot models
In general, up to one fifth of the new results published last year showed an abnormally high sensitivity to climate. However, in order to say with certainty whether all these gloomy forecasts are valid, more research is needed.

Climate models predict a very hot future
If consensus is still reached on new higher scores, this could have a real impact on the actions of governments and enterprises around the world. Recall that the 2015 Paris Agreement requires countries to reduce emissions of harmful substances into the atmosphere so that the global temperature does not rise above 1.5 ° C. But the schedule by which the world agreed to act in the name of this goal was partly made up of the same climate models that currently give higher ratings. And this may mean that the goal stipulated by the Paris Agreement is already unattainable.
Today, the challenge facing researchers is to find out what results such changes in climate models can lead to. In the next, researchers who are working on creating climate models and authors of UN reports on climate change will try to get a general picture that we will not know about before 2021.