The Washington Post advised Americans and those who broadcast the news, that instead of a traditional seasonal dinner, which is now unaffordable for a quarter of families, they should sought after to eating bugs.
In an article entitled Salted Ants. Ground crickets. Why You Should Try Edible Insects, the Post said: "Consumers can already find foods like salted ants on Amazon and cricket powder protein bars in Swiss grocery stores."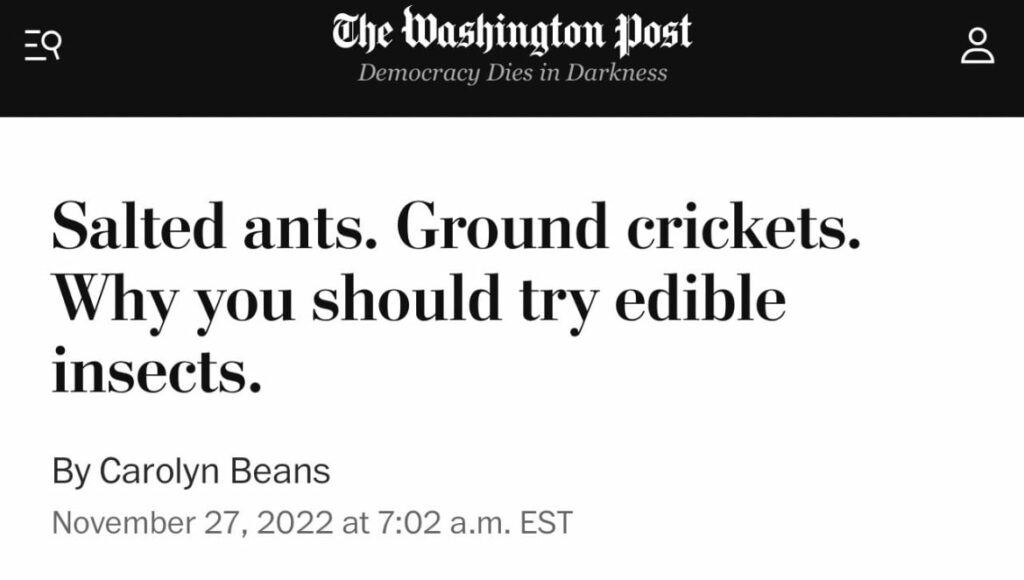 The article referred to a six-year-old girl in Pennsylvania who allegedly received standing ovations from onlookers for eating fried worms.
"It's not that bad!" she exclaimed. "Tastes like kettle corn!"
"Seeing others enjoy insects can also help break down (food) stereotypes ," says the article under the subtitle "Creating a new norm."
The news piece further states that "before insects become mainstream food, more customers need to be convinced that the six-legged creatures are actually food. Through taste experiments, research and educational demonstrations, researchers, entrepreneurs and educators delve into the psychology of consumers and find that the resistance to eating insects can be strong."
Consuming engines in full throttle for changing eating habits under the pretext of artificial poverty
Already, a major UK supermarket chain is finalizing plans to stock insects on its shelves and market them as a cheap source of food for people struggling to afford to feed their families amid soaring inflation and a cost of living crisis.
The Daily Mail recently reported that Aldi is considering stocking 'edible' bugs and providing recipe kits for parents to prepare worms and crickets for their hungry children.
Potential products in the line include "sustainable" cricket burgers and ground insects.
In fact, the supermarket chain is involved with a TV game show in which insect 'farmers' will promote bugs as the 'NEXT BIG THING' for Aldi, according to the report.
One of the contestants, Aaron Thomas, commented:
"We're on a mission to change perceptions of insects as food. It is one of the most sustainable sources of protein in the world."
Thomas further claims that crickets contain more protein than beef, adding:
"We want to adopt eating bugs as our main food source."
The above moves are the latest in a growing trend to push the consumption of bugs and lab-grown food to the masses as a way to "save the planet".