Poison Shampoo: The Shockingly Toxic Ingredients EXPOSED
To EndAllDisease, we begin by eliminating every source of toxic exposure in our lives, and what better place to begin than with your own personal care products?
I took the liberty of going to my local drug store, from where most people buy their shampoo, and took photos of 20 of the most popular and commonly used shampoo products so I could investigate each ingredient individually. I was shocked at what I had discovered.
Most people clean their hair and bodies everyday with poison, brush their teeth with poison, rub poison underneath their armpits, clean their clothes with poison, and wash their dishes with poison and then after years of this abuse, they wake up one day with cancer and wonder why. Then, of course, everybody pats them on the back and tells them its not their fault, and then we all blame it on genetics and cry together like we are somehow victimized by the world around us.
Heres the Big  Empowering Secret:
We are not victims of disease, and disease doesnt happen by accident.
Below I have analyzed one of the most popular brands of shampoo for your review. In any personal care product, each individual ingredient either enhances or diminishes your state of health. Put even more simply, each ingredient is either a nutrient, or a poison. Its time to take a look at all of the ingredients and make an educated decision as to what you want to be washing your hair with.
Is Your Shampoo Poison?
= Limited Information!
Concerns and Effects of Exposure:
Poison or Nutrient?
METHYLCHLOROISO-THIAZOLINONE
Nitrosamines  Cause Cancer, Damage Reproductive System, Organ System Toxin.
Environmental Toxin, Immune System Toxin, Allergen.
Contamination Concerns:
Cocamidopropyl Dimethylamine  Environmental Toxin, Immune Toxin, Allergen.
3-Dimethylamino-propylamine  Organ System Toxin, Allergen, Immune System Toxin, Irritation (Skin, Eyes, and Lungs)
Contamination Concerns:
1,4-Dioxane  Causes Cancer, Allergen, Immune System Toxin, Organ Toxic.
Recent scientific studies link Coal Tar Dyes to a wide variety of health problems including ADD, ADHD, asthma attacks and cancer. Coal Tar Dyes have been banned in many countries and Californias Proposition 65 requires the Cancer Warning on any products containing Coal Tar Dyes.
Contamination Concerns:
Ethylene Oxide  Causes Cancer, Reproductive Toxin, Allergen, Immune System Toxin, Respiratory Toxin, Irritation (Skin, Eyes, and Lungs).
1,4-Dioxane  Causes Cancer, Allergen, Immune System Toxin, Organ Toxic.
ENHANCES ABSORBTION OF ALL OTHER CHEMICALS!
Organ System Toxin.
ENHANCES ABSORBTION OF ALL OTHER CHEMICALS!
Environmental Toxin, Organ System Toxin, Irritation (Skin, Eyes, and Lungs).
From Citrus Fruit.
Natural and safe!
Environmental Toxin.
Organ System Toxic.
Lilium Hybrid Extract is an extract of the whole plant, Lilium hybrid, Liliaceae.
Information Extremely limited.
FDA alerted healthcare professionals of several reports of toxicity, including death, associated with the use of FDC Blue No. 1 (Blue 1).
Corn silk is used as an herbal remedy to treat prostate disorders, bed wetting and obesity, among other things.
The problem:
Unless it says Organic Corn Silk Extract, then it has been genetically modified by incompetent scientists.
A molecule of citrus bonded to a molecule of sodium to balance the pH.
Classified as Low risk on Cosmetics Database.Studies have found liver toxicity and skin irritation in higher doses. Lung Irritant.
Water is generally safe.
Sodium chloride is table salt.
Healthy Shampoo? Yes! YES! YESSS!
You didnt think I would explode the myth about drug store shampoos being safe to use without giving you a healthy alternative, did you?  Of course not!
Its time to wake up and take action. Clearly the commercial brands of shampoo are almost all poison, and using these everyday will bioaccumulate poisons in the cells of your body and you will likely develop a disease from it at some point in your life.
The shampoo I use is by a company called Dr. Bronner and is not only free of poisons, but it has many ingredients that nourish and move your body towards a greater state of health. I have no affiliation with Dr Bronner and dont sell his products on my website. I would rather encourage you to support your local health food store and buy it there. The beauty about this product is that it can be used to clean the hair, the body, even to wash the dishes and laundry!
I highly recommend you throw out the poison you used to wash your hair with and Upgrade Your Life by getting some clean and healthy soap.
Lets take a look at the ingredients on Dr. Bronners Natural Shampoo  Soap:
Dr. Bronners Pure-Castile Soap
Concerns and Effects of Exposure:
Poison or Nutrient?
Water is generally safe.
Coconut oil has many incredible health benefits, including:
– Boosts Immune System
– Promotes Fat Loss
– Moisturizes Skin
– Anti-aging for Skin
Olive oil is an incredible oil.
Here are some of its benefits:
– Anti-Inflammatory
– Rich in Antioxidants
– Nourishes the Skin
– Reduces risk of Arthritis
– Reduces risk of Cancer
Hemp Seed Oil contains vitamins such as tocopherols and tocotrienols of the Vitamin E complex), phytosterols and trace minerals.
– Contains Omega-3 and Omega-6 in a perfect balanced ratio
– Moisturizes, nourishes, and regenerates skin
Historically, jojoba oil was used by the early Native Americans for many things, including wound treatment and skin healing.
More Benefits:
– Moisturizes the Skin
– Antibacterial
– Anti-inflammatory
– Resistant to Spoilage, Heat Damage, and Rancidity
_The leaves of this herbal plant have a fresh minty flavor and are used for culinary and medicinal purposes.
Peppermint oil comprises vitamins A and C, omega-3 fatty acids, and minerals including potassium, manganese, iron, magnesium, calcium, and copper.
Peppermint oil is antiseptic in nature, and when massaged on the scalp, it helps to remove dandruff and lice in addition to its usual cooling effect.
Present in the juice of lemons and other sour fruits, Citric Acid is used to balance the pH of the shampoo.
Although Potassium Hydroxide is a corrosive chemical, the bottle says None remains after Saponifying Oils into Soap and Glycerin.
Lets support the companies that create healthy products and not buy from the ones feeding us poison.  Doing this will put them out of business.  This is our world!  We control who is in business everytime we open our wallets.  Its time to claim our power and be the change!
Know another brand that makes a clean and healthy shampoo?
Alvin Toffler: Rural bioconverters as an alternative to urbanism
The great American futurologist Alvin Toffler gives a chance to the countryside. His prediction is that the countryside will be covered by a network of "bioconverters" where biomass waste is converted into food, feed, fiber, bioplastics and other goods.
The US domestic bioeconomy will be able to meet 90% of the country's need for organic chemical fertilizers and 50% – the need for liquid fuel. Every million liters of bioethanol produced creates 38 direct jobs. Therefore, jobs are formed not "at the oil pipe", but in agricultural regions.
American philosopher and futurologist Alvin Toffler and his wife Heidi Toffler published the book "Revolutionary Wealth" in 2006. There was no Internet power yet, the heyday of alternative energy and robots, but Toffler was already looking beyond the horizon of our time. For example, he not only draws attention to the fact that "time has become denser" (the same processes a hundred years ago and today are proceeding at different speeds), but that traditional institutions – family and education, bureaucracy and political parties – are increasingly lagging behind the growth rate production, from new values, communications and from the process of globalization. And in this discrepancy between the old institutions and processes of the new time lies the source of the impending crisis.
In the preface to the Toffler's book, he writes:
"Wealth does not arise only in fields, factories, and offices. Revolutionary wealth is associated not only with money. Currently, even the most stupid observers cannot help but see that the economy of the United States and several other countries is transforming, turning into an intelligent economy controlled by the mind. The full impact of this transformation on the fate of an individual, as well as on the fate of all countries and even continents, has yet to be felt. The past half century has been only a prologue to this transformation."
Nevertheless, Tofflers in their book also pay attention to the transformation of old institutions – for example, rural production, assuming that, having transformed, it will give people an alternative way of life from the city. We provide an excerpt from the book "Revolutionary wealth" about the new life of the countryside.
"In a stunning document that was not given due attention, the Center for Technology and National Security Policy at the University of Washington National Defense paints a picture of the world where" agricultural fields will have the same meaning as oil fields."
Even oil company managers have spoken about the "last days of the oil century." Dr. Robert Armstrong, author of a report by the University of National Defense, develops this idea by claiming that we are moving towards a biology-based economy, where "gas will be replaced by genes" as a key source of not only various raw materials, but also energy.
At the beginning of the XXI century, American farmers produced 280 million tons of unnecessary leaves, stems and other plant waste per year. Some of this material is already being used, turning into chemicals, electricity, lubricants, plastic, adhesives and, most importantly, into fuel. This, however, is only the beginning. Armstrong anticipates that the countryside will be covered by a network of "bioconverters," where biomass waste is converted into food, feed, fiber, bioplastics, and other products. He quotes from the 1999 report of the National Research Committee, which states that the US domestic bio-economy "will be able to satisfy 90% of the country's need for organic chemical fertilizers and 50% of the need for liquid fuel."
And this applies not only to America. In such an economy, Armstrong continues, "genes will be the basic raw materials, and they can be found everywhere, unlike oil." Thus, he predicts a gigantic geopolitical shift in power from desert oil powers to tropical regions characterized by a rich and diverse biosphere.
"In the world of biotechnology," Armstrong writes, "our relationship with Ecuador (a representative country) will become more significant than our relationship with Saudi Arabia." Reason: Ecuador has a much greater diversity of the biosphere, and therefore – a variety of genes that have potential value for the whole world. If this is true in the case of Ecuador, what about Brazil? Or Central Africa?
The Eden project in Cornwall, England, launched by Tim Smith, is the largest greenhouse in the world. Smith believes that "we are on the eve of the greatest revolution. From plant materials we can produce composite materials that are more durable than steel and Kevlar. The possibilities for its use are phenomenal. Every country in the world can possess modern materials derived from its own plants."
Moreover, Smith continues, "bioconverters should be built close to sources of raw materials. It is likely that regional agricultural crops will be actively developed, and special crops will be grown in certain regions to supply local bioconverters. The result of this process will be the creation of non-agricultural jobs in agricultural areas."
Armstrong concludes:
"An economy based on biotechnology can ultimately stop the process of urbanization."
North America plans to plant empty fields with Miscanthus, a giant elephant grass. Studies show that from one hectare it is possible to obtain by burning such an amount of fuel that is enough to replace 40 barrels of oil.
An example of Russia
In Russia, it is technically possible now every year to use about 800 million tons of wood biomass, which is not currently used in timber harvesting, and about 400 million tons of dry matter of organic waste, and 250 million tons of them of agricultural origin , 70 million tons of forestry and woodworking industry, 10 million tons of wood and hardwood waste (collected annually in cities), 60 million tons of municipal solid waste (mainly pulp and paper products and plastics) and 10 million tons other waste (for example, precipitation of municipal drains, etc.). Their processing potentially allows you to get 350-400 million tons of oil equivalent per year and open up to 500 thousand new jobs.
US example
Every million liters of bioethanol produced creates 38 direct jobs. Therefore, jobs are formed not "at the oil pipe", but in agricultural regions. The raw materials for most bioeconomic products are sugar (glucose), starch (sugarcane) or cellulose (straw, sawdust). One of the most modern bio plants is the Dupont plant, which produces 100 thousand tons of corn bioplastics per year. This bioplastics surpasses nylon in cost price and consumer qualities.
Silvery clouds alerted scientists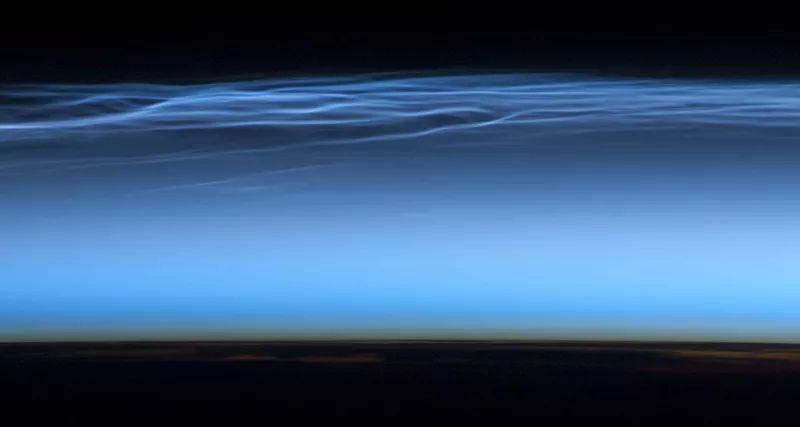 In summer, in the night sky, you can see something truly magical, namely silver clouds or mesospheric clouds. This rare phenomenon got its name because of the flickering effect in the twilight sky. However, despite its beauty ,these clouds can be a wake-up call.
Silvery clouds form in the mesosphere – a rarefied upper atmosphere with a small amount of moisture and low temperatures at an average height of 82 kilometers. The nature of this phenomenon has not been fully studied, however, scientists suggest that clouds form due to scarce water vapor, which freezes, creating crystals. Since the mesosphere is the coldest in summer, such clouds are observed precisely in this season.
The reason this phenomenon is not well understood is that the history of these clouds is relatively young. For the first time they were reported in 1885, and immediately scientists began to talk about the fact that they could appear due to climatic changes.
Now experts are again considering this possible reason, since for many years these clouds were mainly found only in the polar regions. But lately they have been laid much further, and look much brighter. So, on June 21, residents of the UK watched this beautiful phenomenon, although it is quite unusual for these places.
Most of the moisture needed to form clouds comes from methane – a greenhouse gas – that produces water vapor when it is destroyed in the upper atmosphere. And as methane pollution increased, silvery clouds became brighter, and most importantly, noticeable in new places.
Silvery clouds are studied by scientists, both from the Earth and from space, since they are quite high. However, to understand the true cause of the phenomenon, specialists still have a lot of work to do.
A clear comparison of all the plastic in the world with New York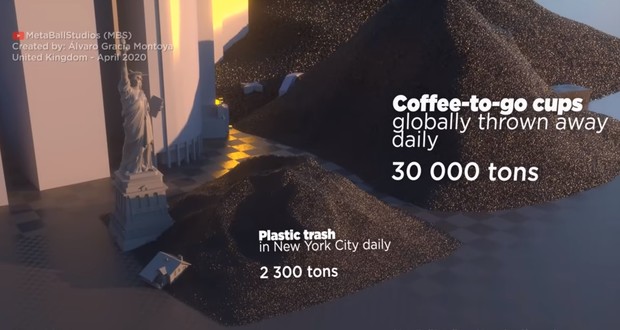 A modern person has a huge number of reasons for constant concern. And one of the most pressing concerns is plastic, which is about to evict us from our home planet.
Graphic craftsmen from the MetaBallStudios Youtube channel, specializing in visual comparisons of various things, decided to team up with the anti-plastic organization BeyondPlastic.net and create not just entertaining video, but entertaining and informative. It turned out, in our opinion, a real mini-horror movie.
Here's what it took to create a horror movie: count all the volumes of plastic, put them together in black bags and compare with the city of New York. The video shares the following information with us:
on average, every inhabitant of Europe and America spends 100 kg of plastic annually (if you remember that plastic weighs almost nothing, it becomes uncomfortable);
daily in New York (substitute any city with a population of 9 million people) spent 2,300 tons of plastic;
30 thousand tons of disposable coffee cups are thrown around the world every day;
840 thousand tons of plastic are thrown out in New York annually;
in 1950, the global consumption of plastic was 1.5 million tons;
and today, up to 8 million tons of plastic are thrown into the ocean;
58 million tons of plastic bottles are produced worldwide annually;
and plastic bags altogether 100 million tons;
Perhaps, we will stop at this terrible figure – watch the video and understand everything yourself. We urge you to be responsible for nature.
Try to go to the store with a reusable bag, start with a reusable mug if you buy take-away coffee and generally think about the planet. Alas, we have nothing for life better than the Earth. This is proven.