Plymouth, UK paranormal investigators receive major spike in calls over June, July
© John Allen
Ghost hunt- search for paranormal activity at Palace Theatre.
Sarah Waddington
Plymouth Live
The scorching heatwave is being blamed for causing a massive increase in paranormal activities in people's homes around the South West region.
This is according to ghost hunter expert Gary Parsons of the Plymouth Paranormal Investigators (PPI), who says they have received a "major spike" in the number of calls during the past two months.
Some people have even been afraid to enter their own homes.
Mr Parsons said: "We have received a major spike in the number of calls during June and July, with people reporting scary supernatural phenomena, and one couple almost afraid to go into their own home because of poltergeists, and residual energies making things move."
The team of ghost hunters at Plymouth Paranormal Investigators have been in the ghostly business for years and use highly specialised technical equipment to find answers to the unexplained, and free homeowners from unwelcome spirits.
Technical paranormal expert, Robert Bryant, said: "With temperatures soaring its having an unexplained increase in paranormal activities. We use a number of items to communicate with energies and especially our Huff Wonder Box. It is designed to search out unexplained orb lights, eerie voices, and deadly spirits.
"On a recent house investigation, my body was taken over by a dead priest and refused to leave until it was ordered to leave by my colleague Amanda Oriana."
The PPI attend haunted locations across the UK, and take part in professional paranormal investigations.
The team have a Dartmoor Mini Bus tour coming up on the August 18, and investigating eerie sites in the early hours of the morning, and a mediumship evening with Sarah MacNeill, on Friday, August 17, at the George Inn, Plympton.
If anyone believes they are experiencing a haunting or other paranormal phenomena you can contact their Facebook pages for help.
Woman Snaps Photograph Of Hellhound In The Shadows
While visiting a frequent haunt of hers, a woman named Stephanie Smith was out taking photos of different 19th century architecture in the Roundhay Park area, located in Yorkshire. Little did she soon realize, that she captured something rather unusual with her camera.
It wasn't until later (when she looked back at her photos) that she noticed what resembled a canine type beast, lingering in the shadows near a decorative castle built back during 1811. The myth of these type of hellhounds, dates back throughout history from folklore stories.
Typically, all of these hellhounds are described being about the same with their characteristics. There is one strange phenomenon known to linger in this area among others. It has been given the name "gytrash". This demon dog, has been feared and talked about for many years.
When Stephanie examined this photo closely, she began to notice this dark figure in the shadowy part of one area. Stephanie said, "I froze when I realized the shadow was some sort of animal, it took me a moment to figure out what it was but once I could see the head, ears, tail, and legs, there was no mistaking it was a demon dog".
After brightening up the image, further details can be seen. This figure does resemble that of an animal. Whether or not it actually is a demon dog is up for interpretation. Whatever it is, this shadowy figure looks out of place for such a bright sunny day. Most paranormal type activity occurs during the late night hours and not typically during the day.
Stephanie also added, "It took me a moment to figure out what it was. The gytrash is usually taken as an omen that something bad's going to happen to you or to someone you know. So, I'm shocked that I've got a photo of it."
One can only wonder if this hellhound was ready to pounce upon its next victim. A man unknowingly wanders by, without a care in the world. His fate may have been sealed otherwise.
The Witching Hour paranormal TV show wins indie series award
"The Witching Hour" was named the Best Non-Fiction Series of 2019 at the 10th Annual Indie Series Awards on Wednesday, April 3rd.
Argos Paranormal is proud to announce that its show "The Witching Hour" has been named the Best Non-Fiction Series in the 10th Annual Indie Series Awards.  The Indie Series Awards held its 10th annual ceremony at The Colony Theatre in Burbank, California, where over 30 awards were announced and given to the 45 nominated shows from around the world.
The Producer of "The Witching Hour", Ryan Martinez, stated in the show's acceptance speech at the ceremony that "winning the Best-Non Fiction Series award is not just a success for me and everyone else involved in the production of the show, but this is also a victory for my fellow investigators in the paranormal community.  This victory highlights our contributions to preserving the history of not only historical locations, but the stories of individuals who may no longer be here with us physically."  This award also means that "The Witching Hour" is the first award-winning paranormal reality TV series in television history.
The Witching Hour goes where no other paranormal show has gone before as the investigators of Argos Paranormal investigate the locations that the locals fear and no other paranormal show has ever dared to investigate. These investigators will be pushing themselves to their max limits as they investigate locations at around 3 am, also known as the witching hour when paranormal activity is believed to be at an all-time high during the night.
You can watch The Witching Hour episodes here – Argos Paranormal
You can find the indie series awards online
Website: www.indieseriesawards.com
Facebook: Facebook.com/indieseriesawards
Instagram: www.instagram.com/indieseriesawards
Twitter: @ISAwards
YouTube: www.youtube.com/IndieSeriesNetwork
List of Winners: https://www.indieseriesawards.com/2019/04/10th-Annual-Indie-Series-Awards-Winners.html
About The Indie Series Awards:
Founded by We Love Soaps LLC's Roger Newcomb in 2009, the Indie Series Awards celebrate the best in independently produced entertainment created for the Web.
Indie series are to Network TV series what Independent Films are to mainstream movies; innovation and creativity thrive and fanatical followers are the norm.
The ISAs honor a genre that emphasizes artistic merit and social impact over corporate profits, however, the overall quality of the nominated shows is comparable to that of most TV sitcom or dramas—in fact, several past winners went on to partner with traditional television content providers.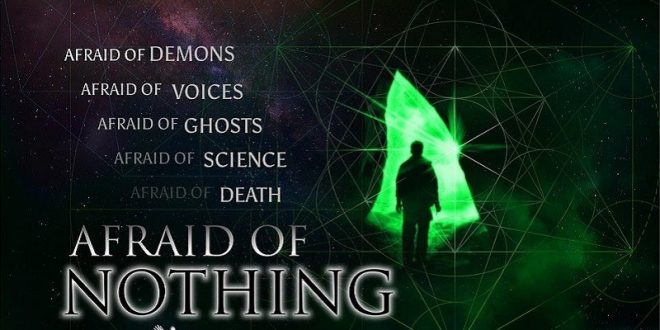 Just recently I had the opportunity to watch a new documentary film called Afraid of Nothing.
Created by independent filmmaker Robert Heske, Afraid of Nothing explores life and the afterlife through the eyes of a Shaman, Astronomer, Ghost hunter, Psychic, Past Life Regressionist, a Witch and other individuals. It had its world premier back in February at the Boston Sci-Fi Film Festival.
The documentary is produced and filmed in a way in which it lets you make up your own mind in what you think in regards to life, the afterlife and the paranormal.
The people in the film tell their stories and share their beliefs in a way that it is not biased, unlike other similar documentaries and TV shows which quite often are. These are simply real people sharing their stories and experiences in what they do.
One thing I really liked about this documentary is that with it including people from different backgrounds it gives different explanations to the paranormal and afterlife, from a spiritual side to a scientific point of view.
Afraid of Nothing is good documentary film, its different from many other paranormal tv/film documentaries as it presents different real life facts and leaves it up to the viewer decided in what that want to believe.
I really hope this film gets to become available on a TV network, but for now if you see it advertised at a film or sci-fi festival I would recommend you take time out to watch it.
You can find more information on Afraid of Nothing on the films Facebook page
*I was invited to watch Afraid of Nothing. This review is of my own thoughts and opinion.