Pilots, Doctors, & Scientists Tell The Truth About Chemtrails/Geo-Engineering
by Arjun Walia
One factor that's commonly overlooked when it comes to talking about human health and environmental degradation is geo-engineering and Solar Radiation Management (SRM), also known as "chemtrails." The name seems to come from the fact that various geo-engineering and SRM programs use stratospheric aresols like barium, nano aluminum-coated fiberglass [known as CHAFF], radioactive thorium, cadmium, chromium, nickel, desiccated blood, mold spores, yellow fungal mycotoxins, ethylene dibromide, polymer fibers and more.
Below is a video of multiple scientists, doctors and pilots telling the truth about "chemtrails." It's a very serious issue that's often ridiculed and thrown into the conspiracy realm. As a result I attached information from an article I recently wrote about the subject.
Below is information taken on the same subject that we recently published. I attached it to substantiate the claims made in the above video to give it more substance. 
Very Brief History of Weather Modification
"Weather modification is generally considered to be the deliberate effort to improve atmospheric conditions for beneficial human purposes . Not all weather modification activities, however, have been designed to benefit everyone, and have been used for purposes of war" (1)
"The US Navy launched a weapon capable of inducing a powerful earthquake on Haiti. This time it was only a drill, and the final part of it is destroying and taking over Iran." -Hugo Chavez, (then) president of Venezuela
Weather modification dates back to the 1940′s, when the General Electric Company demonstrated that a cloud of super-cooled water droplets could be be transformed into ice crystals when seeded with dry ice. Shorty after this it was discovered that fine particles of pure silver iodide with a crystal structure similar to that of ice were effective for global weather modification. As a result:
"Silver iodide remains the most often used materia 
 material in cloud seeding."  (1)
The above statement was made in the 1970′s, but so much more has happened since. With silver iodide began the birth of spraying stratospheric aerosols into the Earth's atmosphere. Silver iodide spraying began in the 1950′s (1), and has since proven to be extremely toxic, especially for the environment, human and animal health. You can learn more about it here.
Aluminum is another thing. It's highly toxic and also very damaging to the environment.
The idea of spraying aluminum into our atmosphere goes way back, patents exist that clearly demonstrate the consideration of such materials that include the oxides of metals which have high emissivity. These include harmful substances like aluminum oxide and thorium oxide. A great patent example is one from the Hughes Aircraft Company that dates all the way back to 1990, that's over twenty years ago. You can take a look at it here.
Fast forward to today, with even more chemicals added to the mix, this gives us the basic gist of geoengineering programs (image below) and why so many people are concerned about them.
"We do stuff in the stratosphere all the time off-course, so it's not as though the stratosphere is absolutely pristine. But you don't want to have people going off and doing things that involve large radioactive forgings, or programs that go on for extended periods or for that matter provide lots of reactive surfaces that could result in significant ozone destruction." – (taken from the first film cited at end of article)
M. Granger Morgan, Carnegie Mellon University, University and Lord Chair Professor of Engineering and Public Policy, National Academy of Sciences Member
 Modern Day Spraying
"In addition to specific research programs sponsored by Federal agencies, there are other functions related to weather modification which are performed in several places in the executive branch. Various federal advisory panels and committees and their staffs – established to conduct in-depth studies and prepare reports, to provide advice or recommendations, or to coordinate weather modification programs – have been housed and supported within executive departments, agencies, or offices." (1)
These programs are conduced by the department of defense, which means they remain classified, and why so many scientists and meteorologists don't say anything about it. At the same time, all it really takes is observation.
Most of these programs are backed by the CIA and NASA, who are supporting the National Academy of Sciences with regards to geoengineering projects.(source)(source) Again, geo-engineering projects are any attempt to alter the way the planet or its weather systems operate, and as you can see, have been happening for a long time now.(source)(source)(source)(source)  The weather was even modified in China for the 2008 Olympics.(source)
If you are a constant observer of the skies, as I am, it's not hard to see that something is already going on. After a day of spraying, the trails don't evaporate, they spread out and block the sun.
"Global dimming is another term people aren't familiar with, 20 % of the Suns rays are not hitting the Earth. That means there's a lot of metal up there" – Dane Wigington
Concerns have been voiced for years, by various individuals from all over the world. For example, Rosalind Peterson, president and Co-Founder of the Agriculture Defense Coalition (ADC), and x United States Department of Agriculture (USDA) employee stated at a 2007 United Nations hearing on global warming that:
"One of the things that's affected by climate change is agriculture, but some of what we are seeing  is man made, but man made in a different way than what you may guess. Weather modification programs, experimental ones done by private companies, the US government, are underway and there are more than 50 operations underway across the United States. All of these impact agriculture because they change the micro-climates needed for agriculture to survive. None of these programs are done with oversight. International corporations are modifying our weather all the time, and modifying it in ways that cover thousands and thousands of square miles. Most of it is chemically altered, so what happens is that we are putting ground based chemicals that are shot into the air that change and modify our weather."

You can read more, and view that full hearing here.
Geoengineering and chemtrails are a huge issue, and when talking about climate and environmental degradation, it's something that must be mentioned, the fact that it's not is very suspicious, given the fact that they've been spraying for and modifying our climate for so long.
D
Dane Wigington has an extensive background in solar energy. He is a former employee of Bechtel Power Corp. and was a licensed contractor in California and Arizona.  He is the lead researcher for www.geoengineeringwatch.org and has investigated all levels of geo engineering from chemtrails to HAARP. He assisted Michael Murphy with his production of "What in the World are They Spraying" and has appeared on an extensive number of interviews to explain the environmental dangers we face on a global level.
This article has provides a fraction of the information that`s available out there. I highly recommend watching these two (below) documentaries on the subject and visiting www.geoengineeringwatch.org for more information.  The documentaries below include much more information, and a lot of scientific data.
What In The World Are They Spraying? (Full Length)
Why In The World Are They Spraying? (Full Length)
Annotated Bibliography:
Obtained from the National Archives. A United States government document printed at the request of the United States Senate Committee on Commerce, Science and Transportation in November 1978.
(1) https://archive.org/stream/weatificat00unit#page/n1/mode/2up
Obtained from the NASA archives, a document prepared for the Interdepartmental Committee For Atmospheric Sciences. Prepared by Homer E. Newell,  a mathematics professor and author who became a powerful United States government science administrator—eventually rising to the number three position at the National Aeronautics and Space Administration (NASA), in the early 1960s.
http://www.geoengineeringwatch.org/documents/19680002906_1968002906.pdf
A history of weather modification programs prepared by Dr. Vermeeren, Professor At The Delft University of Technology, faculty of industrial design engineering.  It's a  300-page scientific report entitled, "CASE ORANGE: Contrail Science, Its Impact on Climate and Weather Manipulation Programs Conducted by the United States and Its Allies." It was prepared for the Belfort Group by a team of scientists but presented anonymously. It was sent to embassies, news organizations and interested groups around the world "to force public debate."
(2) http://coto2.files.wordpress.com/2010/07/case_orange-5-10-2010-belfort-chemtrails.pdf
In 2009, researchers published "Modification of Cirrus clouds to reduce global warming," which proposed two methods of delivery for this same proportion of metallics to silica and the same staying power of one to two weeks. The report notes that "the proposed scenario by the IPCC [Intergovernmental Panel on Climate Change] in 2001 is identical to the claims" in Hughes Aircraft's 1991 patent. Hughes was acquired by Raytheon, a private defense contractor, in 1997, "the same company that acquired E-systems and the HAARP contract." 
The above referred to patent is linked within the article.
David L Mitchell and William Finnegan, "Modification of Cirrus clouds to reduce global warming," Environmental Research Letters Vol. 4 No. 4, 30 Oct 2009. Available by subscription: http://iopscience.iop.org/1748-9326/4/4/045102
 A 1996 report by top military personnel in the U.S., "Weather as a Force Multiplier: Owning the Weather in 2025" to evidentiary details (like governmental spraying schedules, chemical orders, correct nomenclature used in airline operating manuals, and calls for geoengineering by economists) to support its notion of "heavy involvement of governments at the top level in climate control projects." 
(3) http://fas.org/spp/military/docops/usaf/2025/v3c15/v3c15-1.htm
In 2007, the World Meteorological Organization (WMO) published a statement that included "Guidelines for the Planning of Weather Modification Activities." Acknowledging that the modern technology of weather modification began in the 1940s, it is still "an emerging technology."
(4) http://www.wmo.int/pages/prog/arep/wwrp/new/documents/WM_statement_guidelines_approved.pdf
What The Economist predicted for 2021 and for what purpose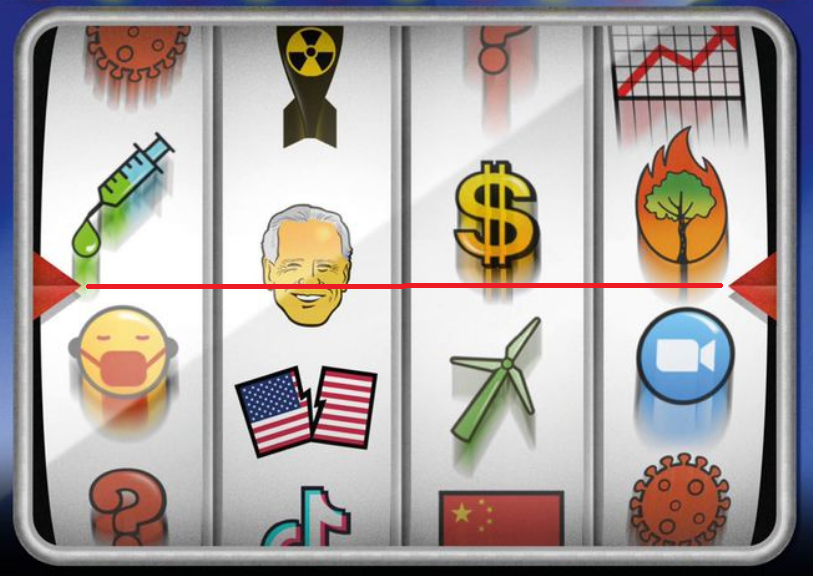 In mid-November 2020, The Economist magazine gave the world's conspiracy theorists a new bone in the form of another forecast cover for 2021 or more. Everything, as the conspiracy theorists believe, is within the framework of the old and ancient rule of the owners of this world: they must inform the flock of their plans for the future, which, according to universal principles, removes responsibility for their actions from great leaders.
Great bosses, at least for some reason, think so.
This is what the owners of The Economist wanted to tell us.
In the past, the people discussed each new cover of The Economist with terrible force, trying to guess the dates of the coming star, however, now there is no particular excitement. This is partly due to the fact that with the arrival of the coronavirus, the star has almost arrived, and the only thing that is still unclear is how and when its final stage will be.
We need to note of course that all the decryptions of the past covers did not come true – although there were several very significant hits.
Nevertheless, the picture is still discussed, since closer to the final everything is almost in plain text: a one-armed bandit with four drums, one of which stopped on the face of Mr. Biden or a person similar to him. On this basis, everyone in unison interpreted the stopped drum as a toughly resolved issue, the alternative to which was either a split in the United States or an atomic war. However, in fact, everything is there for a reason.
You don't need to look too closely at the cover to notice
The drawing divides a diagonal shadow, which practically none of their symbols on the drum captures – it shares only a symbol with Biden, something like this: Why such a direct allusion to some kind of rebirth and who is hiding behind the mask / back of Mr. Biden is unclear.
Although, judging by the position of the drum, in any case, whoever was hiding there won. The second point, which was not noticed by any of the YouTube "deciphers of the Illuminati messages" is the rising of some luminary at the base of the machine.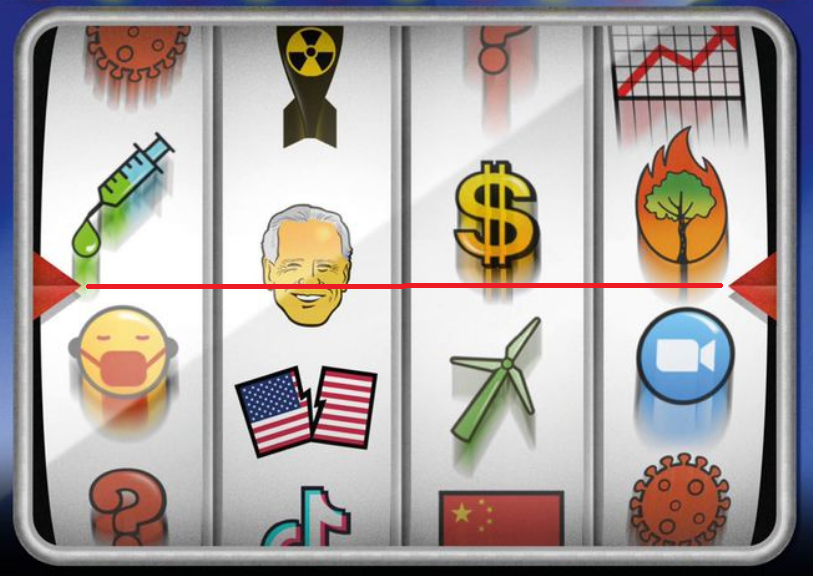 The luminary did not get into the frame, only its rays are visible, but these rays are suspiciously red. Moreover, they are red against a reddish sky. Does this mean that in 2021 we will be shown Nibiru or is it something else ascending – no one, except, of course, the Reptilians, even knows.
Finally, the virus deserves special mention, which is drawn on two reels. Why is the virus next to the vaccine in the first – it seems to be understandable, but why the virus is in the fourth? Therefore, it will not be a coronavirus, but some other pathogen?
All other symbols presented are obvious: a vaccine, a baby in a muzzle, TikTok, a Chinese flag, Skype with a TV camera, as if hinting at remote communication. Some other graph, which everyone interprets as economic growth / inflation, but it can also be an increase in mortality. It is not very clear, however, with the American flag: is this an allusion to the division of American society, or will America really split in half?
In one of the recent current covers, The Economist has already laid out a calendar with a volcano and an asteroid, so anything can happen with a split of the continent, but the main thing that is incomprehensible here is completely different.
It is unclear: is this a global plan that can be replayed by some other player who has approached the machine, or is it such an ultimatum that is no longer subject to discussion? We will not know the answer to this question before December 2021.
Poison, alien rays and black magic: The story of the unexplained death of conspiracy theorist Max Spiers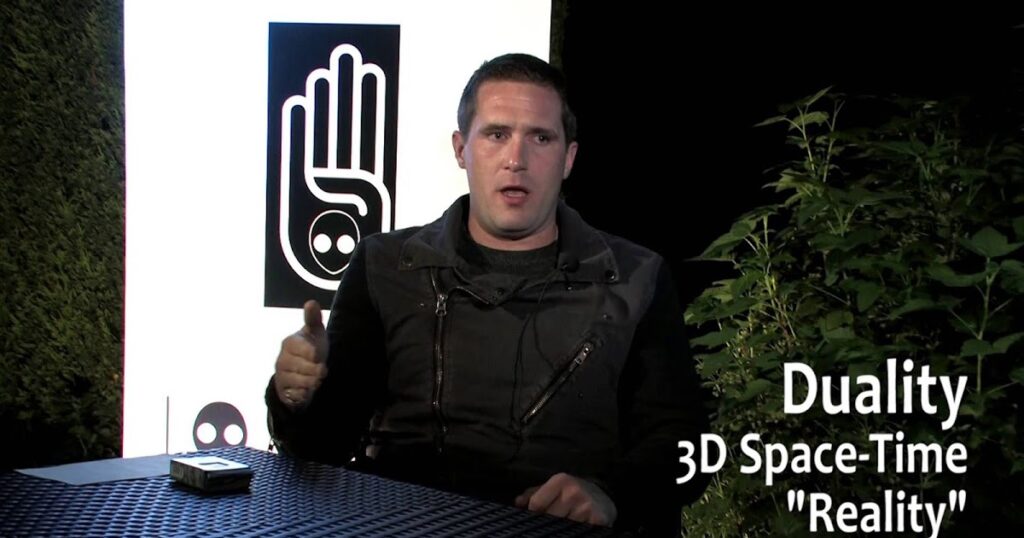 The researcher was preparing to reveal information to the public about a black magic circuit, in which a number of politicians and celebrities participated. According to 31-year-old Sarah Adams, who was engaged to the unfortunate man, Spiers had spent the last months of her life researching a black magic practice circuit in which celebrities were involved.
Was he poisoned, struck by alien rays or killed by black magic – in the versions of his fans and journalists, the truth collides with the most insane theories.
The father of two children, 39-year-old Spiers died in July 2016 at his friend's house in Warsaw, a death so strange that her circumstances were studied in Poland and the UK, albeit without much success.
The Polish police focused on the "natural causes" of his death, without even doing an autopsy, which caused the outrage of his relatives and fans. When the body of the British arrived at home, forensic experts could not even determine the cause of death. Then, in December 2016, the coroner's inquest was launched, which is still dragging on.
It is only known for certain that the conspiracy theorist before his death was sick of blood or some kind of black liquid.
Mr Spiers fell ill, had a fever and general weakness. The next day Mr. Spiers vomited two liters of black liquid. A friend called a doctor who tried to resuscitate the patient, but later admitted the fact of his death

from the official statement of the coroner.
Demons and super soldiers
Spiers went to the same school with actor Orlando Bloom, but he is not remembered for that. He was an unusual person even by the standards of his circle. Having spent many years searching in the X-Files style, Max has gained popularity among ufologists and conspiracy theorists as a bright orator who is not afraid of the most shocking statements. For example, he received his nickname "Super Soldier" for claiming that from birth he was part of a secret government program to create elite warriors. However, Max failed to prove this.
What absurd claims Spiers did not make, the last days of his life are indeed shrouded in mystery. In many interviews and TV programs made in the wake of this story, several main points are repeated: he conducted a new investigation, received threats from unknown persons, tried to warn his relatives about something before his death.
Shortly before his death, Spiers began studying the biographies of rich people: businessmen, politicians and show business stars . His mother Vanessa Bates told about this, without naming specific names. Two days before his death, he sent an extremely strange SMS, in which he actually predicted his death.
Your son is in danger. If something happens to me – investigate

SMS to Spiers' mother
When the mother was given the late son's computer, all of his records were deleted, she recalls. In her opinion, Max's investigation led him to "dark places", someone seriously wanted him dead. "He was a very tough man in his prime, and yet he just took it and died on a sofa in Poland," Bates marveled.
The popular conspiracy theorist was killed by Satanists in order to expel demons from him, some say with reference to his girlfriend. According to her, Spiers managed to call her from Warsaw and tell her that he was there against his will. Allegedly, devil worshipers seized him and tried to "reprogram", for which they gave him a substance that immersed him in a coma for two days.
"Max could not escape because he was kept in a house in the woods, he was surrounded by a fence under electricity. He said something "demonic" was going on, he had to get out and find a church or some other holy place. But two days later, he was dead, " Adams quoted the Sun tabloid as saying.
There is no confirmation of this conversation, but Adams repeatedly mentioned in conversations with reporters Spiers' investigation of a secret society of Satan fans associated with the highest circles of power and show business .
We've received death threats before, but this time they looked real. They wrote to us that we would both die … He was going to expose black magic, it was associated with political leaders and celebrities

Sarah Adams
Looking for the truth
Every day there are fewer and fewer opportunities to reliably establish the cause and culprits of Spiers' death. Many of his acquaintances and fans believe in the hand of the "world government" or a blow struck from outside our planet. Being killed by agents of the secret world government is the highest compliment, proving that you are a huge danger to them and their plans, the popular UFO blog Exopolitics writes.
Max Spiers used to say, among other things, that the masses have undergone a kind of hypnosis and live in a Matrix, with brainwashing in the media and their valid sources, etc., because they are "programmed".
Other material provides a long list of UFO researchers and scientists who have allegedly died a violent death. "Death from a headshot. Death that looks like poisoning, death that looks like strangulation, death as a result of the possible implantation of a deadly virus … This only confirms the long-known fact that the life of an experienced ufologist is much shorter than usual," says the journal Paranoia.
But there is a more prosaic explanation for Spiers' death. The BBC channel devoted its own investigation to this story, during which it learned about his addiction to drugs. Several years ago, he accidentally suffered a pelvic injury, began taking painkillers, and soon allegedly switched to heroin. In the video, filmed shortly before his death, the conspiracy theorist is allegedly "high", according to one episode of the project. Spiers' mother feared for his mental health and worried that he was hanging out with the wrong people.
Could Spiers' death be a banal heroin overdose? We wouldn't have to guess if the Polish authorities had given an immediate answer. While it remains to wait for the end of the coroner's inquiry – its results may give the UK the opportunity to start an international investigation.
What do Flat Earth advocates think of chemtrails?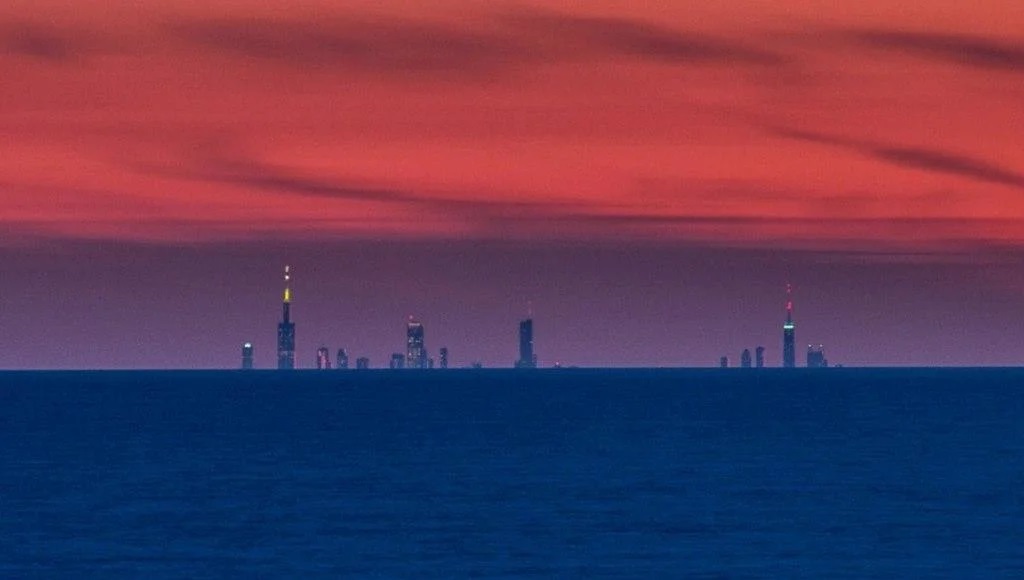 One of the eternal discussions that appears from time to time on conspiracy platforms around the world is the endless debate about the shape of the Earth. Some people believe that the Earth is a sphere that dangles around the Sun, while other people believe that we live in a circus, which is flat, like any arena. 
The day before, this discussion flared up again – in particular, under the impression of one of Elon Musk's videos, which people watched carefully:
In the video, the camera periodically turns on, looking at the engine of the last accelerating stage, the view from the lens leaves no doubt that the Earth is spherical:
However, from time to time, something happens to the lens and the Earth looks for some reason flat, like a table:
This phenomenon cannot be explained by the approximation function, since the size of the engine does not change and therefore it seems that the rounding of the Earth is achieved by a combined survey, during which some manipulations with the background are carried out.
Below is the video from a NASA satellite, from which one can think that something is flying fast near the Sun and is the size of Jupiter:
Another photo with the Sun:
This is only the catch of ufologists for a week, and so something constantly revolves near the Sun. Everyone would gladly think of shooting artifacts, but there have been a lot of artifacts lately, thus there is a suspicion that the Sun itself in SOHO frames is also an artifact, that the Earth is flat like a steppe and that we are shown in the sky a movie about The sun.
Most of the people who are under the yoke of the education of the Secondary School, for some reason, are sure that, totally misinterpreting everything, about something, but about the shape of the Earth, the textbook is not lying, and therefore it is heresy to challenge the textbooks. However, what does Round Earth have to say bout the chemtrails that have been sprayed in the sky for decades?
The Round Earth has nothing new to say about this. Nevertheless, if we assume that the Earth is covered with a kind of dome, then what will happen to the substances sprayed from aircraft in 10 years or more? From the Round Earth, these wonderful chemicals will escape into space, but on Flat Earth, all this chemistry will remain under the dome, as a result of which the owners of the circus will have the opportunity to turn on the "Project Blue Beam", during which "the sky will roll into a scroll" or something like this.
Naturally, "Blue Beam" can be turned on without a dome – for example, by organizing a broadcast from satellites. But it will take a year at most to prepare such a performance, since all the chemistry that can be used for the screen evaporates very quickly – no aerosols can fly in the atmosphere for decades. Meanwhile, chemtrails have been around for many, many years. That is, one gets the impression that something keeps this chemistry from above and makes it possible to build a screen for slides for years, forming a matrix layer by layer.
But what's the point in all this? – convinced supporters of the round Earth will ask us. The sense in this is that if there really is a dome above the Earth, then the screen can be made denser – with a good resolution, like on an advanced monitor. On such a screen, it is possible to show such tricks that the fake cannot be recognized even through a telescope.
Therefore, if the Earth is flat and covered with a dome, the "Blue Beam" may not be limited to alien ships hovering over cities, but even turn into a journey to other star systems through a wormhole, after which we will have a completely new sky overhead, but all these are just theories and one day, we may know.