Photos show evidence of life on Mars, entomologist says …
Ohio University Emeritus Professor William Romoser analyzed a number of photos from various Mars rovers and found insect-like and reptile-like forms in the images, appearing to verify that life exists on Mars.
As scientists scramble to determine whether there is life on Mars, Ohio University Professor Emeritus William Romoser's research shows that we already have the evidence, courtesy of photographs from various Mars rovers.
Dr. Romoser, who specializes in arbovirology and general/medical entomology, has spent several years studying photographs from the red planet that are available on the Internet. He found numerous examples of insect-like forms, structured similarly to bees, as well as reptile-like forms, both as fossils and living creatures. He presented his findings Tuesday, Nov. 19, at the national meeting of the Entomological Society of America in St. Louis, Missouri.
Romoser said, noting that the images appear to show both fossilized and living creatures:
There has been and still is life on Mars. There is apparent diversity among the Martian insect-like fauna which display many features similar to Terran insects that are interpreted as advanced groups – for example, the presence of wings, wing flexion, agile gliding/flight, and variously structured leg elements.
Romoser said that while the Martian rovers, particularly the Curiosity Rover, have been looking for indicators of organic activity, there are a number of photos which clearly depict the insect- and reptile-like forms. Numerous photos show images where arthropod body segments, along with legs, antennae and wings, can be picked out from the surrounding area, and one even appears to show one of the insects in a steep dive before pulling up just before hitting the ground.
Individual images were carefully studied while varying photographic parameters such as brightness, contrast, saturation, inversion, and so on. No content was added, or removed. Criteria used in Romoser's research included: Dramatic departure from the surroundings, clarity of form, body symmetry, segmentation of body parts, repeating form, skeletal remains, and observation of forms in close proximity to one another. Particular postures, evidence of motion, flight, apparent interaction as suggested by relative positions, and shiny eyes were taken to be consistent with the presence of living forms.
Romoser said:
Individual images were carefully studied while varying photographic parameters such as brightness, contrast, saturation, inversion, and so on. No content was added, or removed. Criteria used in Romoser's research included: Dramatic departure from the surroundings, clarity of form, body symmetry, segmentation of body parts, repeating form, skeletal remains, and observation of forms in close proximity to one another. Particular postures, evidence of motion, flight, apparent interaction as suggested by relative positions, and shiny eyes were taken to be consistent with the presence of living forms.
Distinct flight behavior was evident in many images, Romoser said. These creatures loosely resemble bumble bees or carpenter bees on Earth. Other images show these "bees" appearing to shelter or nest in caves. And others show a fossilized creature that resembles a snake.
Romoser, who was an entomology professor at Ohio University for 45 years and co-founded its Tropical Disease Institute, also spent nearly 20 years as a visiting vector-borne disease researcher at the U.S. Army Medical Research Institute of Infectious Diseases. Between 1973 and 1998, Romoser authored and co-authored four editions of the widely-used textbook, "The Science of Entomology."
Romoser noted that interpretations of insect- and reptile-like creatures he described may change in the future as knowledge of life on Mars evolves, but that the sheer volume of evidence is compelling.
He said:
The presence of higher metazoan organisms on Mars implies the presence of nutrient/energy sources and processes, food chains and webs, and water as elements functioning in a viable, if extreme, ecological setting sufficient to sustain life," he said. "I have observed instances suggestive of standing water or small water courses with evident meander and with the expected blurring of small submerged rocks, larger emergent rocks at the atmosphere/water interface, a moist bank area, and a drier area beyond the moist area. Water on Mars has been reported a number of times, including surface water detected by instrumentation on Viking, Pathfinder, Phoenix, and Curiosity.

The evidence of life on Mars presented here provides a strong basis for many additional important biological as well as social and political questions," he added. It also represents a solid justification for further study.
Mysterious Ray of Light causes panic in Edmonton, Canada
On Wednesday evening 27 November 2019, the citizens of Edmonton (Alberta, Canada) were amazed by the presence of a gigantic ray of light that seemed to be projected by a huge sphere of light that was located near the oil refinery.
This mysterious ray of light caused panic among the people to attack the switchboards of the fire brigade and the police. According to local media, the strange phenomenon was seen for the first time around 7:00 pm and remained visible for hours.
As often as it happens with such events, many people have published photos of the mysterious pillar of light on social networks and have speculated about its origin. And among the most popular theories was that the lightning was evidence of an alien invasion.
Welp, it's been a good run but it looks like the Apocalypse is nigh.
.
.
.
.
.
(Yes, I know it's the flare at the @EPCOR Gold Bar plant but it looks damn spooky) #yeg #yegwx pic.twitter.com/EXl8dLvwdS

— ❄️ Laurie ❄️ (@MakingLaurie) 27 November 2019
However, the most skeptical, expressed concern that the strange light came from a disaster of some kind and continued to report it to the fire department, which offered an alternative explanation via Twitter for what people saw in the sky.
light pillars! Looks to be a refinery throwing up some light that's refracting off the ice crystals in the air to create that bright spire. #yegwx https://t.co/6Gy8D5299h

— Josh Classen (@joshclassenCTV) 27 November 2019
According to the official version, the ray of light was neither of extraterrestrial nor demonic origin and had a much less sinister explanation. The fire brigade then wrote on Twitter that: "it was established that it could be a controlled fire at the Imperial Oil refinery in Strathcona, which will continue for the next 48 hours".
According to CBC News, it would have been a type of incineration used to safely burn additional gases that cannot be used. Strathcona is an oil refinery located just outside Edmonton. The refinery fire was to last 48 hours in total and could be seen west of Parkland County. Although some citizens of Edmonton thought it was an extraterrestrial activity, others knew exactly what was happening when they saw bright light in the sky.
But this explanation did not prevent some conspiracy theorists from insuring that it had nothing to do with the Strathcona refinery, since as a general rule any unusual activity in its facilities was communicated in advance. For what they believe the Canadian authorities are trying to hide what has happened, that the light beam is of extraterrestrial origin, be it a sort of signal or the landing of an alien ship.
UFO flies to the White House and the Capitol. NORAD announces potential violation of airspace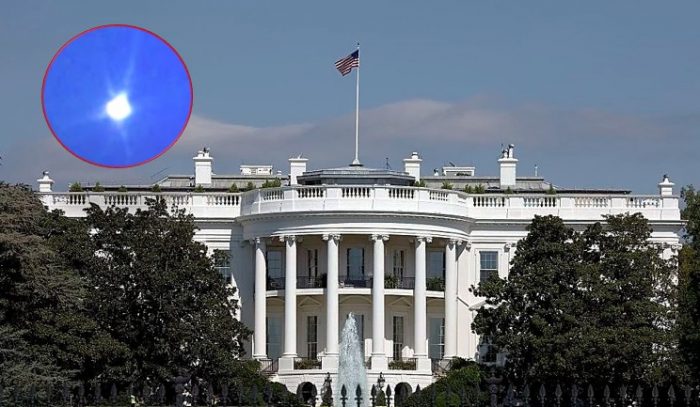 On Tuesday, November 26, 2019, NORAD announced the blocking of airspace and roads adjacent to the White House and Capitol Hill, due to a potential violation of airspace, which may have been caused by an unidentified drop-shaped flying object that was stationed above the White House and the Capitol. For officials of the NSA and the White House, of course, in order to minimize and ridicule the incident, they said it was a flock of birds.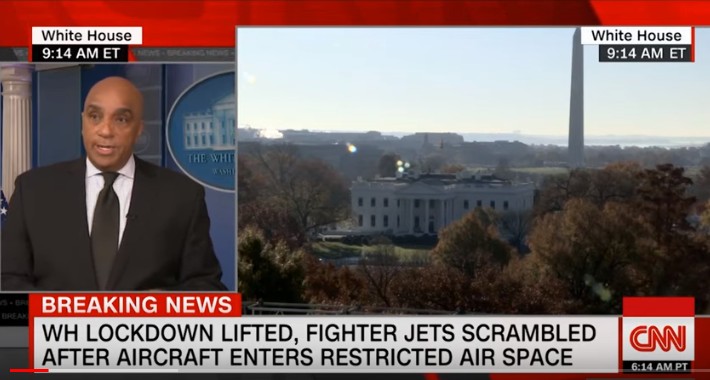 A spokesman for the North American Aerospace Defense Command (NORAD) told NBC News that the object that caused the airspace blockage may have been caused by "a flock of birds or a weather balloon". The spokesman also stated that the event was "resolved without incident". On Tuesday the White House and the Capitol Building suffered a brief power failure.
You don't have to believe to extraterrestrials to know that the US government knows how a flock of birds appears on the radar. And it's not even the first time that unexplained UFO activities take place on the White House!
But the ufologists have asked themselves ironically: how can a flock of birds stop at the White House and on the Capitol, causing a blockage of the electric current and subsequent blockage of the air space, putting NORAD on alert?
The US government has tried to ridiculously explain the situation by saying that the birds have been seen on an obsolete radar system, and even saying that it is a creation by a cloudy, and therefore meteorological, system, they have even said that this huge object on sight, could be a small drone. Clearly they have no idea what this object was … so it wasn't identified … and it was flying, and it was a solid object.
The British ufologist Scott Waring said: " This is absolutely a visit of alien ships. The UFOs were seen in Washington as early as 1952, when for several weeks from July 12 to July 29, the objects were first sighted on radar … just like this week's UFO. Then they saw on the radar that the ship's movements did not resemble the conventional ones, but moved like nothing they had ever seen. Then a plane spotted one … saying it was like an orange fireball with a long trail, but others were white and without tails. I am sure that 1952 was not the first time ever, and 2019 will not be the last. "
The NORAD, after this UFO sighting, sent three F16 fighters for a reconnaissance flight over.
They say Shakespeare reincarnated to be Anne Hathaway's husband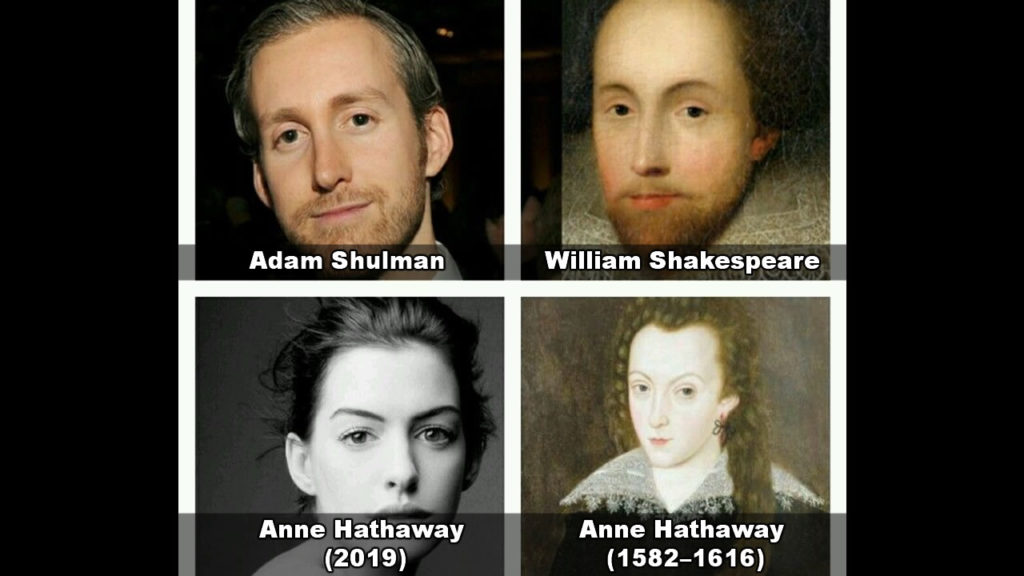 People are going crazy with a conspiracy theory about Anne Hathaway, her husband and Shakespeare.
People on the Internet think that the husband of actress Anne Hathaway, Adam Shulman, is a reincarnation of the late poet and playwright William Shakespeare.
At this point you have moved enough through this post to be thinking, This is the dumbest thing I've read.
People are really supporting the theory that today's couple are direct reincarnations of the couple that married in 1582 – and that since then they have "(returned) to each other."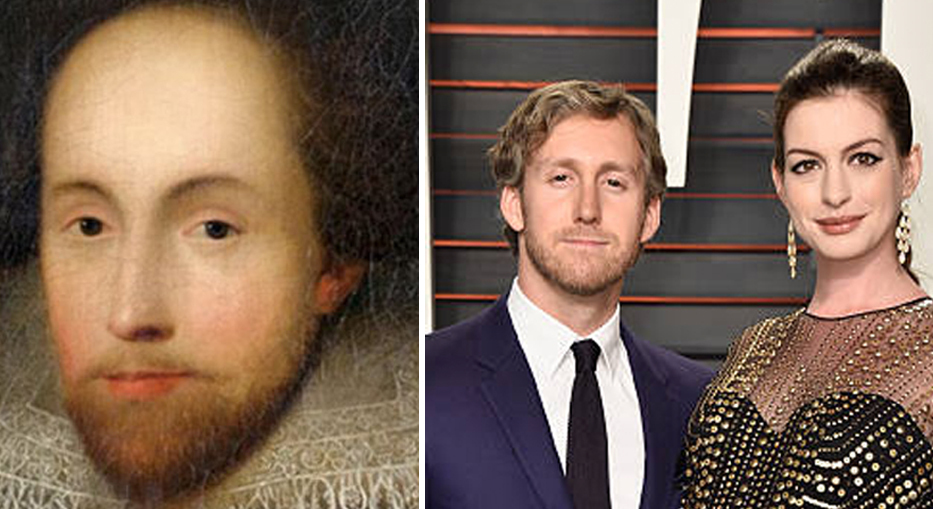 People are idealizing the conspiracy theory in its true Shakespearean form.
Like the idea that Shakespeare reached an agreement with his wife that she would be the most famous couple in their next life together.
Anne Hathaway may have been out of the network for a while, but she has returned – and since "Ocean's 8" hit theaters, it has become a great topic of conversation. But now fans are talking about her for a different reason, and it all has to do with William Shakespeare.
"There is talk of Anne Hathaway for her beauty, but the fact that her husband looks a lot like William Shakespeare and the name of William Shakespeare's wife was literally ANNE HATHAWAY …………"
Oddly enough, all this is true. Obviously there is no real photograph of Shakespeare, but the existing work of art that shows how he was is very similar to Hathaway's real husband, Adam Shulman. And as for Shakespeare's wife? In fact, her name was Anne Hathaway. Creepy, right?
Maybe not. According to an article published in 2008 in The Telegraph, Hathaway received the name of Shakespeare's wife, but the actress herself has not yet confirmed it, which does not explain why her husband looks so much like a poet.
And of course, many people have turned to Twitter to share how much their heads have blown because of this connection.
Do you believe in reincarnation? Anne Hathaway addresses the internet conspiracy theory that she and husband Adam Shulman are actually William Shakespeare and his wife (also Anne Hathaway) reincarnated! https://t.co/AHdXvv7HFt pic.twitter.com/LtjMPvehXY

— The View (@TheView) 10 May 2019
anne hathaway is being talked about for her beauty but what about the fact that her husband looks very similar to william shakespeare and william shakespeare's wife's name was literally ANNE HATHAWAY…… pic.twitter.com/UR0x4bnL8N

— 🍑 (@PEACHYBLACKG0RL) 1 July 2018
What about Hathaway and Shulman? Are they really time travelers, or is all this just a big coincidence? Either way, it's great that she and the legendary poet (and his wife) share these similarities.