Philadelphia witness had good view of UFO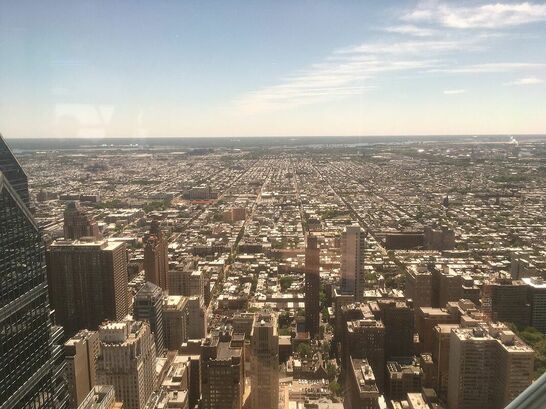 South Philadelphia. Credit: Wikimedia Commons
by Roger Marsh
A Pennsylvania witness at Philadelphia reported watching a hovering orb that eventually flew away, according to testimony in Case 95886 from the Mutual UFO Network (MUFON) witness reporting database.
The witness was in South Philadelphia at 11 p.m. on October 26, 2018.
"I was holding my three-month-old son and looking out my north facing third floor windows," the witness stated. "There is an airport nearby and I see loads of helicopters and drones, but this was different than anything I have seen in the seven years that I have lived here."
The witness said he sees many objects from the master bedroom window on the third floor.
"I have five windows that face north, south, and west and I have no curtains since I like to see the city views. What I saw was a large, bright red, glowing orb about 11-30 feet in diameter that hovered erratically and changed colors every 30 to 60 seconds. It changed from completely red to completely green then completely blue. It was red most of the time and I don't think it was a sequential pattern I believe it was random because I saw more red and green than blue."
The witness said the orb was flying east, and then it would hover and stay completely still.
"It then changed direction and flew west very quickly and disappeared. The total viewing was about five minutes. I've scoured the news and have seen no other accounts of this which is perplexing because there should be multiple witnesses. South Philly is a busy area on a Friday night because of the cheesesteak places that tourists line up at. I'm hoping someone else out there saw this as well."
MUFON Pennsylvania Field Investigator William Morse closed this case as an Unknown-Other.
Source: MUFON
How the Pentagon's UFO program changed names, and focus
Luis Elizondo at the SCU AAPC conference March 15, 2019.
Alejandro Rojas
On Dec. 2017, the New York Times published a story about a secretive UFO program ran out of the Pentagon. The project the NYT referred to was the Advanced Aerospace Threat Identification Program (AATIP). However, since the NYT posted their article, more information has come to light, and it turns out the program had a different name in 2007 when it began.
There has been a lot of confusion around this issue, myself included. Other researchers had found that the project's first name was the Advanced Aerospace Weapons System Application Program (AAWSAP). So why did the NYT refer to it as AATIP?
Using information from my interviews with former AATIP chief Elizondo, and information found online in other interviews, I put together what I could on how AAWSAP became AATIP. I then interviewed Elizondo to fill in gaps and verify what I thought I knew was accurate and correct what I had wrong. I was then able to put together the information in this post that Elizondo has verified as correct.
Although others involved with these programs have commented on the names, Elizondo is the only one who was an administrator, and he is the highest authority I have interviewed on this topic.
AAWSAP began in 2007 under the Defense Intelligence Agency (DIA), before Elizondo was involved. At this time, AAWSAP had staff at DIA to set up the program, this included determining the scope of the program and creating a solicitation for a contractor to work on the program. In 2008, AAWSAP sent out their request, and Bigelow Aerospace Advanced Space Studies (BAASS) was the only company to bid. The search for a contractor was all done by the DIA using their standard contract solicitation procedures. The project's primary sponsor, Senator Harry Reid, had no involvement in this. There were no guarantees Bigelow would win the contract if there were other bids.
AAWSAP's scope was to research many aspects of the paranormal, including occurrences at the so-called Skinwalker Ranch in Utah. This made people inside of the government uncomfortable, especially Christians who felt some of these potentially paranormal occurrences were demonic.
Because the scope of AAWSAP was not palatable to so many inside the DIA, they created AATIP as a subgroup within AAWSAP that focused strictly on military UFO cases.
Elizondo joined AAWSAP in 2008 to work on AATIP. By 2009, because of the ongoing scrutiny of AAWSAP, AATIP became more of a focus and AAWSAP was downplayed. In June 2009, Reid wrote his letter to get a Special Access Program (SAP) status and referred to the project as AATIP. Because Reid used the name AATIP, internally, AATIP was adopted as the name for the program.
This is when AAWSAP essentially ended, and AATIP was the new name and scope of the program. The difference between the two was that AAWSAP was a paranormal research project, AATIP is UAP focused.
At this time, work on the DIRDs originally requested under AAWSAP was ongoing and still under contract for AAWSAP. The contractors completed the DIRDs for AAWSAP in 2010.
Also in 2010, Elizondo took over AATIP and moved it from the DIA to the Office of the Secretary of Defense (OSD), where he worked. According to the DIA, AATIP ended in 2012, but it was only the original funding allotment that ended, the project continued.
AATIP continues to this day, but under a different name. Elizondo says he does not know the new name. The name changed for a similar reason it changed from AAWSAP to AATIP. Now that AATIP is public, the term AATIP is being scrutinized, so having a new name allows for some cover. These name changes are similar to why the term UAV or AAV are used instead of UFO. The term UFO has too much baggage and too many connotations.
Recommended Reading:
NASA records again a large cube shaped UFO next to the Sun (Video)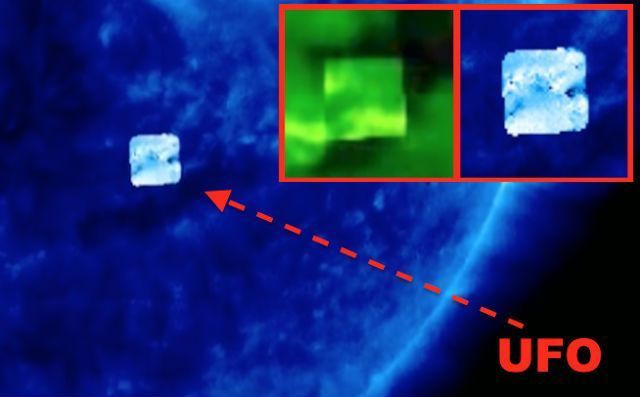 A new photograph taken by a NASA satellite is giving enough to talk about, because in it you can see, again, a strange cube shaped UFO near the Sun.
The alleged finding was made by researcher Scott Waring, editor of the popular UFO website "Ufo Sightings Daily". According to this ufologist, in the image taken last February by SOHO, belonging to NASA, we can see an enormous cube-shaped object that, according to him, would be an extraterrestrial spaceship.
NASA's SOHO Science Archive, where Waring found the alien cube, is a downloadable program that allows anyone to track the photo file of NASA's sun.(cube shaped UFO)
Waring believes that this anomaly in space is very similar to one already seen in October 2018, but this time appears with less brightness and with a presumed design of lines on its surface.
The files contain a combination of real-time data and solar telemetry with images and films from the Sun. However, NASA has mentioned that the alleged ship is not such, since it would only be an optical defect caused by cosmic rays that hit the lens of the SOHO.
What do you think about this UFO "cube" near the Sun? Watch the following video and leave us your comment below.
Mysterious huge white orb flew over Texas
The following video, published recently on YouTube by Mexican ufologist Pedro Ramirez, was received on April 8 of this year in the US city of Stephenville, Texas. It is reported that a group of local residents suddenly saw in the sky a strange anomaly and captured it on the camera of a smartphone.
Video shows a strange white object flying among rare clouds on daytime sky. UFO are suspiciously similar to some mysterious sphere that does not fit into the framework of ordinary celestial phenomena.
Some netizens stated that this is just a small cloud. However, such a theory does not hold water. Firstly, it is unlikely that nature has created a perfectly smooth spherical cloud. Secondly, the clouds are not so dense and do not have clear boundaries.
Pedro Ramirez and many of his colleagues expectedly concluded that this was an aircraft of representatives of an extraterrestrial civilization. According to ufologists, most of these "alien guests" are UAVs, controlled from distant space, and they can be the most bizarre forms and states, including disguised as clouds.
Such drones study our Earth, ufologist says. They collect various samples and data, but do not affect people's lives in any way. Why all this is necessary for aliens, remains a mystery to researchers.