"Perfectly Smooth Shell of a Craft" – A Look Inside The Real Secret Space Program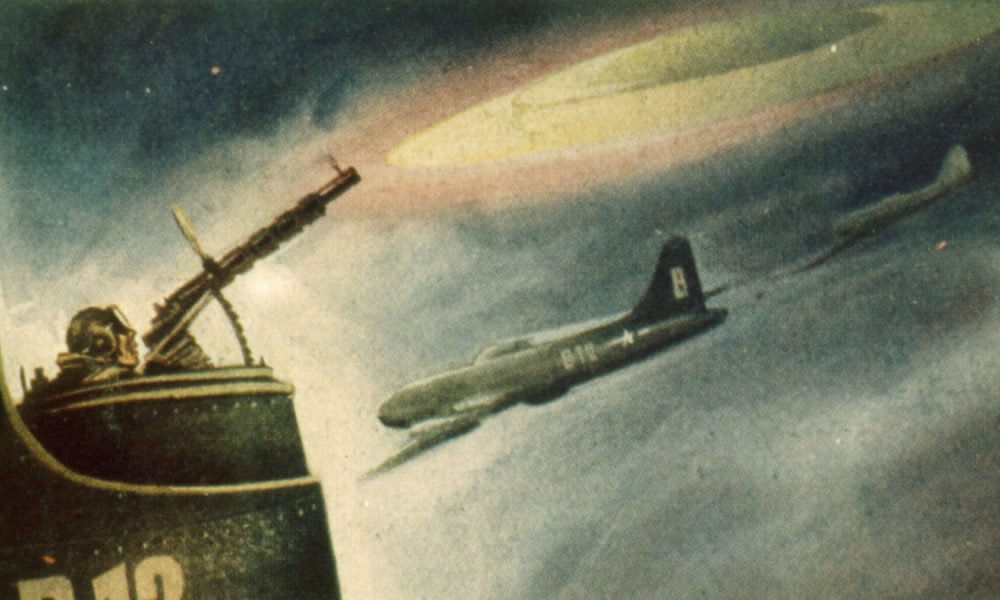 IN BRIEF

The Facts:Nearly two decades ago, Gary Mckinnon of the UK accesses nearly 100 NASA and Department of Defence, including the US Air Force Space command. He faced extradition for 10 years after finding a picture of a UFO and a list of "non terrestrial officers."
Reflect On:How sheltered are we from certain information? Has 'national security' simply become an excuse to keep information concealed from the public to protect corporate and government interests?

Photo Credit: Mary Evans/Everett

The field of UFOlogy has long been muddled with disinformation campaigns and bad journalism, and sometimes this journalism includes infiltration efforts by intelligence agencies themselves. This is clear given the fact that intelligence agencies have a direct relationship with journalists and mainstream media outlets, as there are declassified documents showing so. Operation mockingbird is a great example, not to mention all of the mainstream media journalists who have come out and said that mainstream media is directly influenced by intelligence agencies, governments and corporations. You can find some of these documents and see examples of these whistleblowers in two previous articles I've published that go into more detail here, and here. When it comes to UFOs, we know that they're real, but we also know that along with that reality there has been "an official campaign of ridicule and secrecy." (Ex-CIA Director Roscoe Hillenkoetter) Perhaps this ridicule campaign carries on today through some rather ghastly, unbelievable claims, but let's not let that mask the fact that this phenomenon is indeed real, and there are a plethora of credible sources including documents, data, physical evidence, and more suggesting we're not alone, and that we probably are being visited and have been visited by intelligent extraterrestrial beings from other worlds and possibly other dimensions.

A lot of this evidence has come from UFOlogist Richard Dolan, who has always been a key resource for me with regards to accessing credible information about the UFO phenomenon. I find that it's important to seek out proper researchers who share information in a credible and verifiable way, especially about a subject that can so easily be ridiculed when you are trying to reach the masses who don't have much knowledge about it, but are genuinely curious. I also feel that my generation of UFO researchers lack proper research and investigative skills, are easily influenced and swayed, and in the age of social media are simply trying to share whatever they can, no matter how credible, to simply 'stay relevant,' instead of doing it for the love and genuine desire to share important, truthful information.

Like I said, there are some rather 'outside the box claims' out there that have absolutely no credibility behind them, and to share those actually does more disservice to the movement, in my opinion. On the other hand, there are some very outside the box claims and information that do indeed have tremendous amounts of credibility behind them, and these are the ones we should be paying attention to.

One example comes from the case of Garry McKinnon, who for 10 years was in great danger of extradition to the United States for accessing nearly 100 NASA and military computers including the United States Space Command. This was the real deal, and HERE is a clip of Obama and the UK Prime Minister at the time fielding a question about Garry, this breach made headlines new.

Gary was able to access these computers in real time and view files on them. He found some startling pictures, one in particular was of a large cylindrical shaped UFO hovering in space, in addition to a strange spreadsheet document with a list of "non-terrestrial officers," presumably belonging to a publicly unacknowledged branch of the United States military operating in space, as well as "fleet to fleet" transfers of materials, whatever that means.

I'll let you listen to the interview below for more details straight from Garry McKinnon's mouth, via Dolan's Youtube Channel.

The Real Secret Space Program

Is there a secret space program, and have clandestine groups been reverse engineering ET technology?

Dr. David Clarke is an investigative journalist, reader and lecturer at Sheffield Hallam University in England. He was also the curator for The National Archives UFO project from 2008–2013, and regularly comments in national and international media on UFOs.

These documents reveal how the RAF expressed great interest in finding UFOs.

Dr. Clarke told The Daily Mail,

Even though they have been partly censored they can't conceal the fact the UK military were interested in capturing UFO technology or what they coyly refer to as 'novel weapon technology'… And the files reveal they were desperate to capture this technology – wherever it came from – before the Russians or the Chinese got hold of it first…. Although this was 1997, Russia was still regarded as an undefeated enemy with a weapons programme regarded as a threat to the West.

The question is: Did they get one? More on that later…

The military personnel who are encountering these phenomena tell remarkable stories. In one example, over the course of two weeks in November 2004, the USS Princeton, a guided-missile cruiser operating advanced naval radar, repeatedly detected unidentified aircraft operating in and around the Nimitz carrier battle group, which it was guarding off the coast of San Diego. In some cases, according to incident reports and interviews with military personnel, these vehicles descended from altitudes higher than 60,000 feet at supersonic speeds, only to suddenly stop and hover as low as 50 feet above the ocean. – Christopher Mellon, former Assistant Secretary of Defence

We don't know the answer to these questions, but we do know that the United States has a history of government agencies existing in secrecy for years. The National Security Agency (NSA) was founded in 1952, and its existence was hidden until the mid 1960s. Even more secretive is the National Reconnaissance Office, which was founded in 1960 but remained a secret for 30 years.

We are talking about Special Access Programs (SAP). From these we have unacknowledged and waived SAPs. These programs do not exist publicly, but they do indeed exist. They are better known as 'deep black programs.' A 1997 US Senate report described them as "so sensitive that they are exempt from standard reporting requirements to the Congress."  (source)

We also know that there is a black budget to fund these programs.

HERE is another great discussion with Dolan titled "Secret Space Program, Real Evidence."

Are These Objects Extraterrestrial?

There are literally hundreds of people with extensive academic, political and military backgrounds, all the way to astronauts, who have been blowing the whistle for a very long time.  Many scientific publications have also been made throughout the years describing strange and radar confirmed military sightings by military pilots. You can see some evidence and documentation from this article I wrote regarding the Chilean Air Force.

According to Herman Oberth, one of the founding fathers of rocketry and astronautics, "flying saucers are real and . . . they are space ships from another solar system. I think that they possibly are manned by intelligent observers who are members of a race that may have been investigating our Earth for centuries." (Oberth, Hermann: "Flying Saucers Come from a Distant World," The American Weekly, October 24, 1954)  (source 1)(source 2)

""We have, indeed, been contacted — perhaps even visited — by extraterrestrial beings, and the US government, in collusion with the other national powers of the Earth, is determined to keep this information from the general public."

–Victor Marchetti (Second Look, Volume 1, No 7, Washington, DC, May, 1979)

Another great quote:

"There are objects in our atmosphere which are technically miles in advance of anything we can deploy… we have no means of stopping them from coming here… there is a serious possibility that we are being visited and have been visited for many years by people from outer space, from other civilizations… This should be the subject of rigorous scientific investigation and not the subject of 'rubbishing' by tabloid newspapers."

– Lord Admiral Hill-Norton, former Chief of Defence Staff, 5 Star Admiral of the Royal Navy, Chairman of the NATO Military Committee

The point is, if you believe some of these objects are indeed extraterrestrial, you are not alone. Couple these statements with the claims of thousands of individuals who have had contactee and abduction experiences who've shared remarkably consistent stories, it's definitely a plausible hypothesis for the UFO phenomenon.

The Takeaway

What are the implications of extraterrestrial contact? Humanity will always go through paradigm shifting realizations that will jolt human consciousness. Right now, we have a lot of work to do here on Earth, and we should be focusing on cleaning up our planet and ridding it of greed, destruction, war, etc. I feel that the ET reality is somehow connected to that realization, and the need and urgency that many of us feel regarding the planet and service to others.

What about you?
Von Braun Station: the first space hotel would be ready by 2025
Inspired by the concepts of a Nazi rocket scientist, Wernher von Braun, this station-hotel Von Braun Station will have its own gravity, kitchen, bars and interiors made with natural materials, and will be able to accommodate up to 400 people.
"The station could receive the first tourists in a few years," said Tim Alatorre, senior architect of the Gateway Foundation , the company responsible for the station's design.
"The goal of the Gateway Foundation is that in 2025 Von Braun already works and 100 tourists visit it per week," he said.
According to the designer, the station, which will have the shape of a huge 190-meter diameter wheel, will turn constantly, creating an artificial gravitation comparable to that of the Moon and making the stay in it much more comfortable than in the ISS, where it is not possible to have a sense of direction.
The concept was taken from nothing less than Wernher von Braun, hence its name. This was a leading Nazi scientist who developed the V2 rocket. After World War II, NASA welcomed him to design, among other things, the Saturn V rocket that would take the human being to the Moon.
How will it be built?
The hotel station will be built by using automated systems, such as drones and robots, while in orbit. It will also use GSAL, special space construction machinery developed by Orbital Construction.
Once completed, some modules will be rented as individual residences, while others will be offered to different governments for scientific purposes. In total, the Gateway Foundation expects the population of the Von Braun wheel to be about 400 people.
In space … at home
Apart from rooms, the hotel part of the wheel will feature many of the things that are seen on cruises, such as restaurants, bars, music concerts, film screenings and educational seminars. Also, the interiors will have nothing to do with the sterility of the space stations of science fiction films.
«As humans, we are innately connected with natural materials and colors. […] The use of fabrics, lighting and warm-colored paints and textured materials help us connect and feel at home, "said Alatorre, although he admitted that heavy materials, such as wood and stone, will be replaced by" substitutes for light and easy to clean natural materials ».
The architect said that the project, which presupposes the creation of even larger space hotels, tries to put an end to the current high prices of orbital tourism, making it accessible to broad social sectors and facilitating extraterrestrial exploration.
" Gateway Foundation aims to make space travel open to everyone and this and the company's next project will be true cities in space that will be ports of call for those who come and go from the Moon and Mars," he concluded. .
Source: Dezeen
Ariana Grande Responds to NASA Interns Remixing Her Song
It's no secret that Ariana Grande is a fan of space and, by extension, the folks over at NASA. And it turns out that the love is reciprocal, seeing as how a group of interns at NASA's Johnson Space Center have just given her song "NASA" the remix treatment.
An "educational parody" of Grande's track, the interns created an accompanying video "in order to inform the public about the amazing work going on at NASA and thee Johnson Space Center," per its description.
Even cooler? The specific project the interns that inspired the interns is NASA's forthcoming Artemis missions, which aims to send the first woman to the moon by 2024.
Hey @ArianaGrande, we saw 'NASA' trending this morning and thought it was about one of our new discoveries. But we realized that you might need some space.

🎶 It's like you're the universe and we're N-A-S-A 🎶

Check out the universe: https://t.co/hRtKDqTkiZ pic.twitter.com/p3aAZEwMfv

— NASA (@NASA) February 8, 2019
Given all of this, Grande was obviously over-the-moon about the parody. No pun intended.
"Oh my. this is so pure and special and insane," she tweeted in response. "hi everyone over there that is doing such incredible work ! thank u for taking the time to make this ! my heart is ….. bursting."
Watch the entire remix video for yourself, below.
Source www.papermag.com
Another Interstellar Comet Has Arrived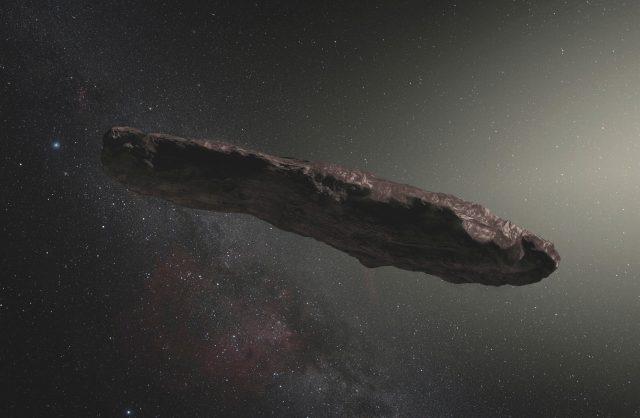 "Based on the available observations, the orbit solution for this object has converged to the hyperbolic elements shown below, which would indicate an interstellar origin. A number of other orbit computers have reached similar conclusions, initially D. Farnocchia (JPL), W. Gray, and D. Tholen (UoH)."
Remember 'Oumuamua, the first interstellar object ever discovered in our solar system? You won't for long as another one was picked up by multiple observers and reported this week by The Minor Planet Center (MPC) at Harvard University. Unlike 'Oumuamua, this one is definitely a comet and has been identified earlier enough in its trip through the solar system to be analyzed intensely – possibly revealing where it came from and how astronomers can locate more of them.
"The comet's current velocity is high, about 93,000 mph [150,000 kph], which is well above the typical velocities of objects orbiting the sun at that distance. The high velocity indicates not only that the object likely originated from outside our solar system, but also that it will leave and head back to interstellar space."
The BBC reports that object gb00234, now known as Comet C/2019 Q4, was discovered by amateur (but experienced) astronomer Gennady Borisov on August 30th, 2019, at the Crimean Astrophysical Observatory in Bakhchysarai. When he noticed it, C/2019 Q4 was three astronomical units (450 million km) from the Sun. Since then, other astronomers have seen its tail – confirming C/2019 Q4 is a comet – and measured its eccentricity at 3.2, based on current observations. A perfect circle has an eccentricity of 0, while a closed elliptical orbit ranges from 0 to 1. Anything greater than one indicates an arc-shaped trajectory and is likely an interstellar comet or object making a one-time visit. While not confirmed yet, together these make Comet C/2019 Q4 the first 'true' comet to visit use from outside our solar system.
Unless it's a spaceship.
Good point. Anyone?
Karl Battams
@SungrazerComets
Unlike 'Oumuamua, whose asteroid-or-comet nature still gets debated, this one is definitely a comet. If it is unequivocally interstellar, it'll be fascinating to see how its composition (spectral properties) compare to the variety we see in comets from our own solar system.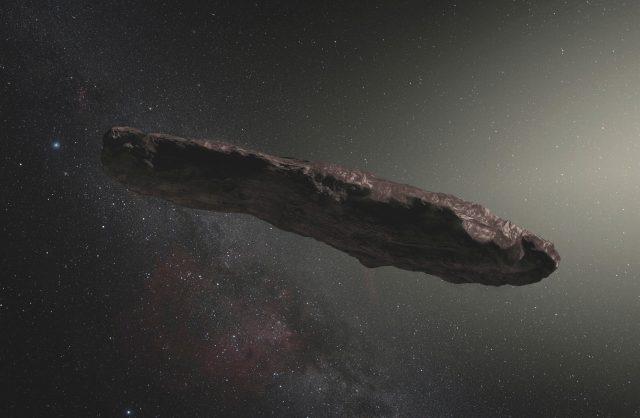 Astrophysicist Karl Battams, from the Naval Research Laboratory in Washington DC, tweeted an end to that comet-asteroid-spaceship-or-what debate which has trailed 'Oumuamua like a tail (if it had one) since it was discovered hightailing out of here. Comet C/2019 Q4 will have plenty of eyes on it as it will be visible to even low-powered professional telescopes for at least a year, including when it makes its turn around the sun (perihelion) around December 10. However, the MPC leaves an opening for the unusual:
"Absent an unexpected fading or disintegration, [C/2019 Q4] should be observable for at least a year."
In lieu of seeing windows with aliens waving out of them, an "unexpected disintegration" would be the next coolest thing.
Source: Mysterious Universe