The Pentagon has set out to conquer the "underground world"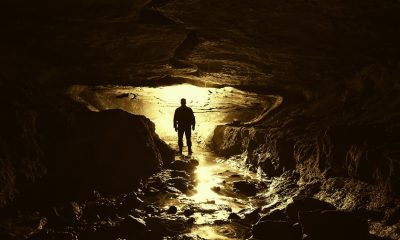 Mankind has conquered nearly all places on the surface of the planet throughout the ages. From dangerous seas to the highest mountains, our civilization has seized control of almost every corner of Earth's surface. Now, we may soon start doing the same thing to the underworld according to a new military project by DARPA, the Defense Advanced Research Projects Agency of the United States. The new initiative challenges participants from all over the world to propose pioneering methods to develop systems that can help in the investigation of habitable underground networks
"One of the consequences of the increase in world population and urbanization is the need for more living spaces, which makes the search and development of underground infrastructure increasingly interesting," says Timothy Chung, program director of the DARPA Tactical Technology Office (TTO) in a recently published video (see below).
According to Timothy Chung, program director of the DARPA Tactical Technology Office (TTO), "One of the consequences of the increase in world population and urbanization is the need for more living spaces, which makes the search and development of underground infrastructure increasingly interesting."
In that line of thinking, the Pentagon has just launched a totally unexpected challenge to researchers.
Titled "Underground Challenge of the Advanced Defense Research Projects Agency of the USA" (DARPA Subterranean or "SubT" Challenge), it's a call to explore new possibilities in tracking, navigation, and exploration of underground environments, as noted by Space.com.
This initiative invites participants from all over the world to propose pioneering methods to develop systems that can help in the investigation of habitable underground networks, even with unpredictable conditions that are dangerous for humans.
"One of the main limitations facing warfighters and emergency responders in subterranean environments is a lack of situational awareness; we often don't know what lies beneath us," Chung, said in a statement.
"The DARPA Subterranean Challenge aims to provide previously unimaginable situational awareness capabilities for operations underground."
Through the "SubT" Challenge, the Pentagon invites the scientific and engineering community, as well as the general public, to use their creativity in order to provide new technologies and ideas to make access the inaccessible, considering time as something essential.
According to the director of the TTO, Fred Kennedy, "we are now at a point where developments in robotics, autonomy and even biological systems will allow us to explore underground areas that are very dangerous for humans."
Those who are interested in this challenge will compete in solving extreme problems as helping people navigate in the unknown, through unprecedented treacherous subterranean conditions where time is of the essence, according to the statement.
As noted by Space.com, The final competition, which will take place in 2021, will include three challenges that include operating in one of three environments: a network of man-made human-made tunnels, a subterranean municipal-transit system and a network of underground natural caves.
The final event will challenge teams to navigate through networks that include parts of all three environments. The grand-prize winners will take home $2 million. The deadline to apply is Jan. 18, 2018.
Through the DARPA Subterranean Challenge, we are inviting the scientific and engineering communities — as well as the public — to use their creativity and resourcefulness to come up with new technologies and concepts to make the inaccessible accessible," Kennedy said in the statement.
Source: DARPA
Check out more about DARPA here
California Bay Area Residents Living on a 'Tectonic Time Bomb'
I'm sure there are many locations that this can be said of. Many of worlds deadly fault have heavily inhabited cities on them so they are all potential time bombs in way but perhaps some have a greater chance of 'going off' than others.
via Sputniknews:
A US Geological Survey (USGS) published this month reveals that California Bay Area residents are living on a "tectonic time bomb," also known as the Hayward Fault.
In fact, researchers claim that the Hayward Fault, which runs about 74 miles along the bottom of the East Bay Hills, is far more dangerous than the better-known San Andreas Fault, the continental transform fault extending around 750 miles through California that was behind one of the worst earthquakes in US history, the 1906 San Francisco quake that killed around 3,000 people.
"The USGS and its partners have worked together to anticipate the impacts of a hypothetical [magnitude] 7.0 earthquake on the Hayward Fault, before it happens, so that people can use the latest science in their efforts to become even better prepared," said Ken Hudnut, USGS science adviser for risk reduction and one of the lead authors of the "HayWired Earthquake Scenario" report published by USGS this month.
According to the report, at least 800 people could be killed and 18,000 injured in a hypothetical magnitude 7.0 earthquake on the Hayward fault centered below Oakland.
In addition, fires triggered by damage from the main shock could burn down 52,000 single-family homes. More than 2,500 people may need to be rescued from collapsed buildings while more than 22,000 people might require rescue from stalled elevators.
Water distribution systems in the bay region could also be impacted. The report predicts that East Bay residents would lose water service for at least six weeks; others may lose water service for as long as six months. The lack of normal water service would also prevent the efficient suppression of fires — that's a huge risk, considering 90 percent of the damage in San Francisco caused by the 1906 quake was from fires it started and not from the shaking ground itself.
"This fault is what we sort of call a tectonic time bomb," USGS earthquake geologist emeritus David Schwartz said, the Los Angeles Times reported.
"It's just waiting to go off," he added.
In fact, according to Schwartz, the Hayward fault is especially dangerous "because of the density of the population directly on or astride it, which would include San Francisco, and the amount of infrastructure that crosses it." The fault runs through heavily populated areas including Richmond, El Cerrito, Berkeley, Oakland, San Leandro, Hayward, Union City, Fremont and San Jose.
Awareness of the potential danger of an earthquake along the fault has grown over recent years, thanks to the efforts of officials.
"The Hayward Fault runs beneath the foundations of more than 300 buildings and other structures. One such building, the University of California Berkeley's Memorial Stadium, is nearly bisected by the fault and has been retrofitted to withstand shaking and fault offset," the report states.
UGGS researchers also revealed that California's minimum building codes are not sufficient to guarantee safety in the event of an earthquake across the Hayward Fault. The buildings are currently only required to be strong enough to allow people to safely evacuate them after a quake. Even if all 2 million structures in the greater San Francisco Bay area were renovated to comply with safer building codes, a "Haywired" scenario earthquake would still completely collapse an estimated 8,000 buildings. Nearly 100,000 buildings would be red-tagged, which means that they would be unsafe to enter due to quake damage, while 390,000 would be yellow-tagged and have occupancy limits imposed on them due to structure damage. The potential scenario could also result in at least $82 billion in property damage.
The Hayward Fault typically produces a big earthquake about once every 150 to 160 years. The last major earthquake on the fault happened about 150 years ago on October 21, 1968. That quake had a magnitude of 6.8 and killed five people and injured 30 others. It also caused about $350,000 in property damage in San Francisco alone.
"Even given the uncertainties, we are definitely closer to the next one than we are away from it," Schwartz noted.
Sputniknews
Company Develops Revolutionary Way to Create Leather, Wood, and Bricks from Mushrooms
In a world where the average person consumes more resources than could possibly be regenerated in their lifetime, it's no surprise to hear that our quickening resource consumption is resulting in a slow-motion collapse of the environment and all life on the planet.
However, researchers at a San Francisco Bay startup company have discovered a way to counteract this degradation. MycoWorks, a company which creates products out of fungi, believes that the answer may lie in replacing just some of the many products we consume with this entirely sustainable and renewable source material.
"They can take our greatest resource, which is human waste, and turn that into something that's really valuable to us. They have the ability to give us everything that we want" ~Philip Ross, Chief technology officer at MycoWorks
The company currently has the ability to create material which is similar to animal skin, but even sturdier than leather. They were able to create products which are more durable than deer skin in only a matter of months, but what is perhaps most encouraging about the project is that the material only takes two weeks to create, whereas real leather takes about two years for animal to be ready, without considering the costs of feed and housing.
On the contrary, mushroom-based products are entirely cruelty-free and can be created from any number of waste materials such as hemp hurds, paper waste, saw dust, and corn cobs. By feeding mushrooms particular things that they like, as well as managing temperature and light exposure, these scientists are able to create various breathable materials which theoretically could replace cloth, leather, and even wood and brick.
"My hope is that this will become a globalized industry that well beyond my lifetime…this will just become a standard way that human beings are going to figure out how to provide for themselves." ~Philip Ross
Not only is the material extremely durable and strong, but it is a highly competent flame retardant as well. Even when subjected to extremely hot flames, the fungus material stays intact and is immediately self-extinguishing. The combination of high-quality material and ease of production could make it an extremely desirable product for all types of consumers.
Being more resilient than brick and less flammable than wood, this material would naturally work well for building. Eventually, Philip and other scientists believe that it will be possible to produce smartphones, solar panels, and a whole plethora of other products from waste material and mushrooms.
"Everything that we call agricultural waste is actually an incredible resource that mushrooms can grow on. We're past peak oil, so if we are going to replace our current materials with something, it's still going to have to hold up in some type of sustainable way." ~Philip Ross
This new material could go hand in hand with other environmentally friendly materials like hemp. If hemp and mushrooms were used together to create fuel, cloth, building materials, leather, and plastics, there would almost no longer be a need for concern over environmental damage or a lack of sustainability.
If you're interested in growing your own material from mushrooms, you can do so by following their guide in a short YouTube video. Theoretically, you could start building your own products from mushrooms right away. It's even possible to embed intricate colors and patterns directly into the material if you know how.
MycoWorks, after having debuted in 2016 with their plan to create enough mushroom material to sustain the growing industry, is still in operation today and continues to reach thousands of people with their message. With enough demand for locally-produced and sustainable materials, the future of consumer goods could turn from an environmental blight back into a sustainable way we can move forward into the future.
About the Author
Phillip Schneider is a student and a staff writer for Waking Times.
This article (Company Develops Revolutionary Way to Create Leather, Wood, and Bricks from Mushrooms) was originally created and published by Waking Times and is published here under a Creative Commons license with attribution to Phillip Schneider and WakingTimes.com. It may be re-posted freely with proper attribution, author bio, and this copyright statement.
Will a Huge New Flood Barrier Save Venice?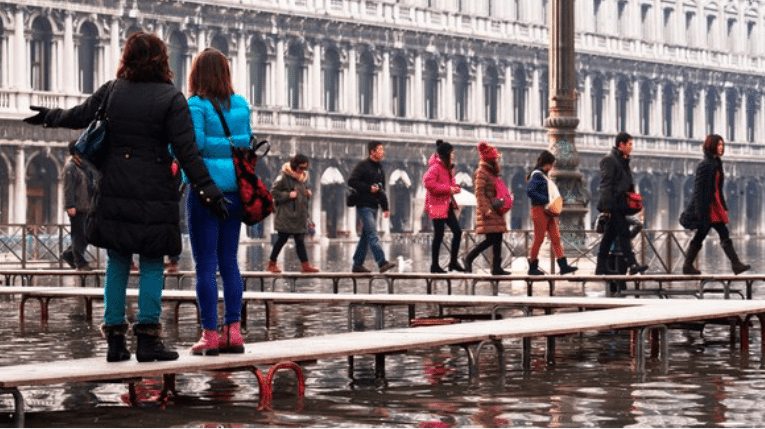 This story originally appeared on CityLab and is part of the Climate Desk collaboration.
On a gray, late-winter day, a converted chapel in the Arsenal, the city's medieval boatyard, hummed with 21st-century activity. Engineers were looking at screens that displayed tables, maps, and charts on the conditions of the Venetian Lagoon.
This was the MOSE control center: the operational heart of a megaproject to protect Venice, one of the world's most beautiful cities, from threatening waters. For nearly seven years, the engineers here have raised and lowered virtual doors, gathering a series of data to be conveyed into a sophisticated forecasting model.
Spread across dozens of islands and known as "the floating city" for its ubiquitous canals and bridges, Venice has grappled with inundation for centuries. But due to natural subsidence and the higher tides caused by global warming, the city is more vulnerable to flooding than ever before. So a flood barrier seemed like the obvious way to thwart future disasters.
MOSE (an acronym for Modulo Sperimentale Elettromeccanico, or "Experimental Electromechanical Module") is one of the world's largest and highest-profile civil-engineering works. It consists of a series of retractable floodgates stretching across the mouths of the lagoon's three inlets. These gates can be raised on command to create a temporary wall against the sea in the event of a high tide.
Work on MOSE began in 2003, but after countless delays (caused by a corruption scandal and financial and structural issues), the barrier has yet to be completed. The hard part is done, however, and most of the engineers at the control center were confident that the system will become fully operational soon. Since the final leg of construction has been stalled for months, though, no one could say exactly when. Some said later this year; others said 2020 was closer to reality.
Whatever the date, it still remains unclear whether MOSE will adequately protect the city. And if so, for how long?
MOSE operates on the principle of tidal gates. In calm weather, the gates fill with water and sit on the seabed. But when a high tide threatens, the water is pushed out by compressed air that's pumped in. This allows the gates to surface and prevent the tide from entering the lagoon. When the surge subsides, the gates again fill with water and sink back to the bottom.
"The idea is quite old," said Paola Malanotte-Rizzoli, a physical oceanographer at the Massachusetts Institute of Technology who was among the panel of experts enlisted by the Italian government to come up with a solution. "We have evidence that Venetian engineers drafted mechanical contraptions to hold back the sea as long ago as in the 18th century."
Nevertheless, a barrage of criticism has accompanied the project since its beginning. Environmental groups said that construction of the barrier would jeopardize the marine ecosystem beyond repair, while some politicians opposed the idea, stating that there were too many unknowns and that a cheaper solution was needed.
Many experts agree, however, that when the seas rise, there aren't many alternatives to building a barrier to stop it—especially in a one-of-a-kind city like Venice.
"The concept behind MOSE is good," said Jörg Imberger, an environmental engineer who teaches ocean sciences at the University of Miami. "But it all depends on what is meant by protection."
According to Imberger, if everything goes as planned, MOSE will protect Venice from floods like the catastrophic one in 1966 for the next three decades or so. "But since the gates are raised only when the tide reaches 110 centimeters [roughly 43 inches], MOSE won't avoid the flooding phenomenon that already takes place in low-lying sites like Saint Mark's Square, which inundates when the tide gets above 80 centimeters [about 32 inches]," he said. "This could be potentially fixed by lifting the barrier at lower tides. But that would have some adverse effects on the health of the lagoon."
The outlook gets foggier when it comes to the long run. Like much else in this world, MOSE's effectiveness depends on how much carbon dioxide is pumped into the atmosphere over coming decades, and hence how fast sea levels rise during the barrier's 50-year lifespan. Furthermore, conflicting statements on its engineering parameters do little to clarify.
According to a 2011 UNESCO report, three sea-level-rise scenarios for 2100 were considered during the planning phase: 16 centimeters (about 6 inches), 22 centimeters (about 9 inches), and 31.4 centimeters (approximately one foot). Planners suggested using the second one, labeled as "prudent." But today, even the third scenario seems over-optimistic. With climate change, the Mediterranean Sea is projected to rise up to five feet before 2100, meaning that mean water level could reach the critical threshold of 110 centimeters. That would cause Venice to suffer flooding twice a day at high tide.
Malanotte-Rizzoli maintains that MOSE was engineered to handle about 2 feet of sea-level rise. The New Venice Consortium, the organization entrusted with building the barrier, says the same, but this reporter could find no evidence that this was an official project goal.
The question of capabilities is crucial, not only because sea-level rise makes higher storm surges more likely, but because it will require the barrier to activate more often—increasing wear and tear on a structure that has already experienced structural problems.
According to Georg Umgiesser, an oceanographer at the Italian National Research Council's Institute of Marine Sciences, with 50 centimeters (about 20 inches) of sea-level rise, the barrier will be closed once a day, whereas with 70 centimeters (about 28 inches), the gates will be closed more often than they are open. "More frequent closing doesn't only imply additional maintenance costs," Umgiesser said, "but an ever-increasing dependence on the barrier to avert severe flooding. A failure could be devastating."
Over the years, alternatives to a seawall have been proposed. Some offered tweaks to the system of mobile gates, while others involved different technologies. Still others were aimed only at making the flooding more bearable. So far, though, none has found wide support.
At any rate, it seems clear that Venice, like many other coastal cities around the world, won't be saved by a barrier alone.
"Since the 1966 flood, the frequency of tides over 110 centimeters has doubled each decade," said Giovanni Cecconi, head of the Venice Resilience Lab. "And this trend is not going to stop anytime soon, even if emissions were curbed."
"It's obvious that MOSE is not a magic wand," he continued, "but rather something that will allow us to take time to figure out and implement new ways to cope with a crisis."