Pennsylvania celebrates Groundhog Day (again)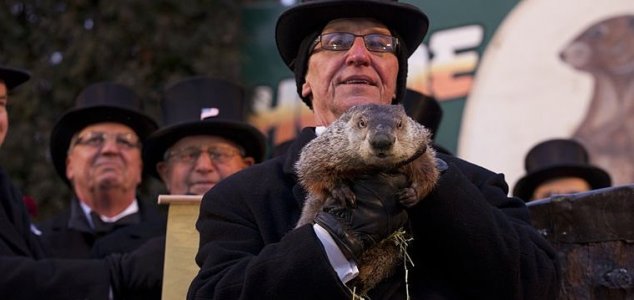 Image Credit: CC BY-SA 2.0 Anthony Quintano
The ceremony has been held every year for over a century. 
World-famous groundhog Punxsatawney Phil emerged from his hole in front of crowds of onlookers earlier today.
Despite its unusual premise, the Groundhog Day ceremony, which was heavily featured in the 1993 Bill Murray movie of the same name, is in fact a very real event that continues to be celebrated at the beginning of February each year in Pennsylvania.
Its titular star – Punxsatawney Phil – has been emerging from his hole on Gobbler's Knob every year for 133 years to reveal whether or not there will be six more weeks of winter.
According to tradition, if Phil does not see his shadow, there will be an early spring.
This year's ceremony, which saw a crowd of thousands gather for the groundhog's appearance, was no exception as he was lifted in to the air by the president of the Punxsatawney Groundhog Club.
"Down in my burrow on long winter nights, I listen to tunes to keep my mind right, from Motown to country, to rap, even Bach, there's Aretha and Elvis, yeah The Beatles rock."
"The cheers at the Knob really give me a thrill, everyone singing to the world 'Phil, Phil, Phil'."
"But predicting the weather, that's my song, for 133 years I've never been wrong.So, is it early spring or more winter forecast? Stop the music, here is my forecast:"
"Faithful followers, there is no shadow of me – a beautiful spring it shall be!"
Source: Sky News
Cat filter strikes again during press conference
Image Credit: Facebook / RCMP
The unfortunate gaffe occurred during a serious press conference.
A Canadian police press conference about a mysterious double homicide was marred by 'technical difficulties'.
Last month, Facebook's 'cat filter' turned a Pakastini minister's livestream in to a farce when journalist Shaukat Yousafzai appeared with cat ears and whiskers during the presentation.
Now the same thing has happened again – this time during a livestreamed press conference by police officers in Canada who had been relaying information about a double homicide in British Columbia.
A spokesman for the Royal Canadian Mounted Police later apologized for the incident which has since been blamed on "technical difficulties" relating to Facebook's livestream settings.
The conference ended up being re-recorded without the cat filter enabled.
The murder case being covered was that of American Chynna Noelle Deese and her Australian boyfriend, Lucas Robertson Fowler, who had been on holiday in Canada when they were killed.
Their bodies were found on a remote highway in British Columbia on July 15th.
Canadian police are encouraging anyone with information to come forward.
Source: Huffington Post
Richard Branson's Surprising Take on UFOs and Extraterrestrials
Sir Richard Branson — the billionaire business magnate, airline executive, space plane pioneer, possible space traveler and avowed thrill seeker – weighed in recently on the possibility that UFOs seen my military pilots are crafts from another planet, and his answer may surprise many who admire his accomplishments, particularly in private space travel.
"There's no question that there are millions of other civilizations out there, but none of them are within reach of Earth and therefore, my instinct is: extremely unlikely."
Is he saying that there are millions of other Richard Bransons out there, but none of them – including him – have figured out how to leave their planet's gravity and travel to another world? Actually, Branson HAS figured out how to pilot a UFO (more on that later), but he's of the opinion that distance defeats brainpower and technology in the quest to cross the galaxy. In an interview with The Hollywood Reporter, Branson also expressed his doubts that governments or militaries are hiding evidence of it from the public.
"I can't understand why these UFO discussions are always behind closed doors and done in secrecy. It just creates even more suspicion. If people had really discovered a UFO, you can't keep things secret in this day and age, it would be everywhere."
Take that, Area 51 Stormers! In fact, it's already well-known what Branson thinks of those who believe UFOs are spaceships from other planets. At 4 am on the morning of April 1, 1989 (note the date), Branson took off in London in a custom hot air balloon shaped like a flying saucer, complete with strobe lights that blinked every ten seconds. (Great photos of the balloon here.) The balloon flew over London's M25 highway as the morning rush hour was commencing, bringing traffic to a halt and causing TV and radio stations and local police departments to be flooded with calls reporting a UFO. Branson was loving every minute of it.
"We could see every single vehicle grinding to a halt and hundreds of people looking up at the UFO flying over them. It was great fun watching their reactions."
His original plan was to make a dramatic landing in historic Hyde Park but the craft was blown off target, so the skilled balloonist brought it down in Surrey Field instead, which was quickly surrounded by police. Just like in a bad sci-fi movie, the cops sent a lone officer out to meet the 'spaceship'. Branson was ready for him.
"The UFOs door opened very slowly, with tonnes of dry ice billowing from it. A dwarf that we had carried on board, dressed in an ET outfit, walked down the platform towards the bobby. He promptly turned and ran in the opposite direction! The police initially didn't see the funny side of it and threatened to arrest us for wasting their time. But they soon joined in the general merriment of it."
So Sir Richard Branson doesn't believe that recent UFO sightings are extraterrestrial ships, doesn't believe any have ever visited Earth and are being hidden from the public, and doesn't think much of those who get excited about UFO sightings in general. However, being the good entrepreneur that he is, Branson tries to save face and not 'alienate' his customer base.
"And so I don't think there's any credible sightings yet. It would be wonderful if it were true."
Before you report your next UFO sighting, check to see if Richard Branson is in town.
Source: Mysterious Universe
'Storm Area 51' spawns copycat campaigns
Image Credit: CC BY-SA 2.0 Ross
Anyone for a trip to the Bermuda Triangle ?
Inspired by the recent social media phenomenon, other people have started setting up their own 'storm' events.
Keen to ride the momentum of Matty Roberts' wildly successful (yet squarely tongue-in-cheek) campaign to see thousands of people storm the Area 51 facility in Nevada, Facebook user Anthony Carnovale has launched his own effort to solve another of the world's most enduring mysteries.
Entitled "Storm The Bermuda Triangle, It Can't Swallow All Of Us", the new endeavour seeks to send as many people in to the infamous 270,000-square-mile stretch of ocean as possible.
Carnovale has even set up a fundraiser to book live music performances for the event.
"I'm legit trying to throw a party for everyone so they'll come to my thing," he wrote. "This is the time for assembly to show this country we can organize. Let's go have a good time."
"Let's still clap these sea monster cheeks. Ok. Let's all just have fun."
The event is just one of several dozen to have cropped up in the wake of the success of the original 'Storm Area 51' campaign with others targeting everywhere from SeaWorld to the White House.
As things stand, a whopping 2.5 million have signed up to go to Area 51 on September 20th.
Exactly how many people will actually turn up on the day however remains unclear.
Source: Independent