Parents terrified after seeing a ghostly face next to their baby's crib
Have you ever seen or heard a ghost? Many people say that there are ghosts in their homes, which appear in any room and at any time of the day. And the reality is that there are ghostly apparitions in all places, from old houses, new houses, forests, cemeteries, offices or restaurants.
Sometimes, these appearances are caused by tragic death, or due to residual energy, or simply are not ready to move on to the next life. But whatever the reason, they exist. But if we have to talk about terrifying experiences with ghosts, are those related to strange noises and whispers in videos, psychophonies and even appearances in baby monitors.
New mothers have many worries, and even more so if a ghost harasses their child. Unfortunately, there are many cases of ghostly voices recorded in baby monitors . And terrified mothers have two options: ignore the sound or investigate and try to find a solution. But what would you do if instead of listening to the voice of a ghost you saw it? We do not know, but some parents have been terrified to see a strange presence by the cradle of his son.
The ghostly face
The video, published on Reddit , shows a child moving in his crib late at night. At first nothing strange, but if we look better you can see something really disturbing. In the background, just behind the baby, there is a spooky face, similar to the face of a girl.
"This is the moment when concerned parents installed a camera to monitor their child and were surprised when they watched the video" , says the description that accompanies the video. "The images show the child moving in the crib late at night. But if we look better we see a disturbing truth. In the background there seems to be a spooky object that looks like a face. It does not move through the video, but the images are cut before we know what happened to the child. "
The terrible paranormal experiences of the family
After the publication on social networks, the mother explained the story behind the video. According to its version, the recording corresponds to the afternoon. But the phenomena began in September 2016, after suffering a miscarriage. On the night of the abortion, her other 18-month-old son had an electronic toy. Since then, his son's toys were inexplicably ignited , talking and singing. And it did not matter if the batteries were worn out, they just went to work.
However, this has not been the only supernatural incident that parents have experienced. The mother assures to listen regularly to the cable of the lamp in her room moving and hitting against the back of her bedside table.
"We do not have mice and I can not think of any logical explanation of why this is happening,"explains Melanie Meez, the baby's mother, on Reddit. "The last time I heard it was the night of the video right after I got into bed."
Also about two months ago he heard a repeat of beats as if it were Morse code in the middle of the living room during the night. It was strong enough for parents to come down to see what it was. But he stopped when they entered the room. They were in the room for about 30 seconds and they heard the strange noise again. It sounded like a fingernail hitting a plastic with no pattern or rhythm . It lasted about 20 seconds and the sound came a few meters away from where they were standing and it seemed to come from the wooden stairs. They had never heard that noise before or heard it again.
And there's more, as last week the lid of his son's cup fell into the sink for no apparent reason. Her husband decided to place two empty cups of their children with their caps near the sink. When they returned, they were all inside the sink.
"I'm just a mom with two great kids. I have always looked for logic in situations and it seems that I can not explain what happens in our house " , concludes the mother.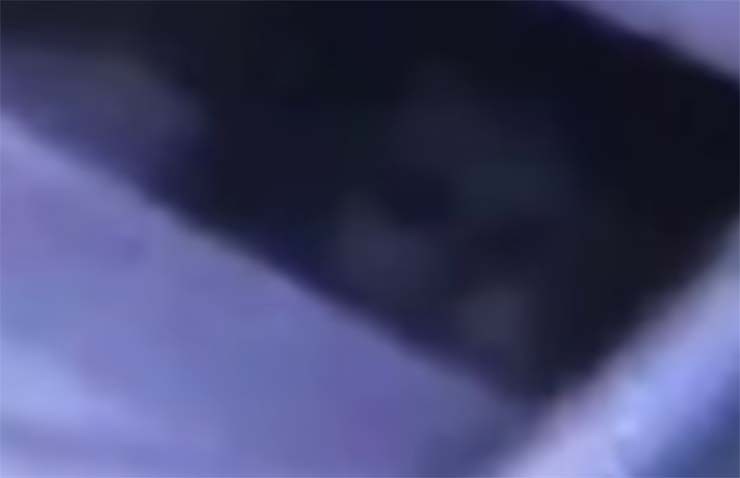 Debate on social networks
No doubt it is a video and a really scary story. And as such, it has had some repercussion in social networks. Believers in the paranormal have different opinions, some believe that it may be the ghost of an unborn child protecting what should have been his brother , while others suggest that it is an evil entity harassing the child, so Parents should seek help from a professional in the field.
But skeptics have another opinion about the incident. If it is not a video edition, then there could be a lot of objects or toys that could create that effect . Although what they do not take into account are the experiences of this poor family, which could be a victim of some kind of negative entity. But of course, for them that is the least important thing.
What is the mysterious face that you see in the video? Is it some kind of entity? Or can it be a mundane object creating an optical effect?
A ghost imp is captured on CCTV at a haunted Sussex Pub
An apparition has been captured on CCTV at the The Dolphin pub in Sussex UK. The Pub dates back to 1735 and is said to be one of the most haunting buildings in England.
Landlady Ellie Boiling is convinced her pub is haunted by different ghosts (Image: Credit: Pen News/Ellie Boiling)
A friend of landlady Ellie Boiling felt something brush past him while he was in the bar upstairs so he asked her to check the cameras to see if they had recorded anything.
He first thought it could have been a dog but when they checked the footage they noticed a glowing shape behind him which appeared to look like an impish creature.
Ellie said " I was flabbergasted. My gasp has never been so flabbered. As a ghost-hunter I was excited, because I thought I have found something here"
The CCTV appears to show a strange shape behind a drinker in the pub (Image: Credit: Pen News/Ellie Boiling)
A group practicing parascience, the scientific study of supernatural phenomena, visited the pub to see if they could recreate the form found on the tape.
They believed that the shape was actually just the lights from a band performing in the pub on the night.
Ellie has her doubts though, she said "It would be a poor light show if it was just one light."
Little Dolly is one of the many ghosts Ellie says is seen around the haunted rooms(Image: Credit: Pen News/Ellie Boiling)
Some people have claimed that the footage is fake, but Ellie says she does not have the ability to superimpose the image onto tape as she knows nothing about technical stuff.
Ellie also runs Light 'the Littlehampton Investigating Ghost Hunting Team' and has done several charity ghost hunts at the pub.
What do you think?
While Shopping For A Home, Couple Comes Across Angry Entity
While out shopping for a home for several months, a couple looked around and found quite the bargain. One home in particular caught their eye. The previous tenants were elderly people and it was obvious, due to the decor including the paint choices and wallpaper everywhere.
To reach the upstairs, an electric chair was setup and used. The rest of the home was in pretty decent shape, there was even a room that was previously used for crafting. This room had shelves with a desk included.
Upon exploring this property of this home further, there appeared to be a basement. The lights however didn't seem to be working. This may have been due to circuit breakers not being turn back on. While walking downstairs into the basement, someone would have to choose between going left or right.
If someone went left, they would reach an older area of the basement and upon going right they would reach an unfinished utility type area. The couple along with the realtor all wander towards the right initially. It was difficult to navigate the basement and upon everyone exploring it, they found it to be dark and creepy looking by appearance. They even joked with one another about how they could not enter one room down there.
Using the illumination from his phone, they had just enough light to see some details. His wife along with the realtor decided not to further go into one room. This man was determined to further explore what might have been inside. He had no reservations about going in and was equally curious. He simply wanted to see the space for himself. There was only one small window at the far end of this oddly creepy room. On this day it was overcast outside making it further difficult to see down here.
Quite suddenly, the man started to feel ill upon entering this room. He along with his wife and the realtor decided to leave and wandered back upstairs to the main floor. They talked about the property and just how weird the basement is. They all decided to go outside into the backyard. It was there, when his wife revealed that some kind of invisible force had pushed her shoulders when she tried to walk into the room in the basement.
She admitted to feeling a presence of some sort. The realtor mentioned her uneasiness upon entering the basement. She became overwhelmed with feelings of extreme anxiety. She didn't feel welcomed there. All of them wandered more around the home. They began to turn off the lights and close the shades. Not long after, the realtor noticed what appeared to be a piece of yellow lace hanging off of her sweater.
Normally, this wouldn't be alarming and admittedly, it's likely just a result of static cling. However, given the experience they all had, it seemed far more sinister. Not long after, they decided to return to the property and the realtor grabbed the piece of lace she found. She placed it back into the old craft room. None of them wanted to take anything with them from this place. The home was then locked up and secured.
When the couple returned, they prepared for bed. On this night the man had a dream. He was back in the house but it was during the night. He stood at the top of the stairs and looked down at them. The electric stair chair seemingly started by itself. It moved and seemed to back him up towards the basement where they once were. It was almost as if he was being baited back into the basement.
He woke up not long after but was disturbed about what he had dreamed. Admittedly, he like most people are skeptical when it comes to anything paranormal. However, now he is more open minded to things types of things. Their conclusion about all of this is, the place was being haunted by the former residents. The elderly couple who once lived there, have not left completely. These ghosts likely didn't want anyone else there. Needless to say, they decided not to buy this property.
(Source: Reddit)
British psychic says motorway fatalities 'due to ghosts of Roman soldiers'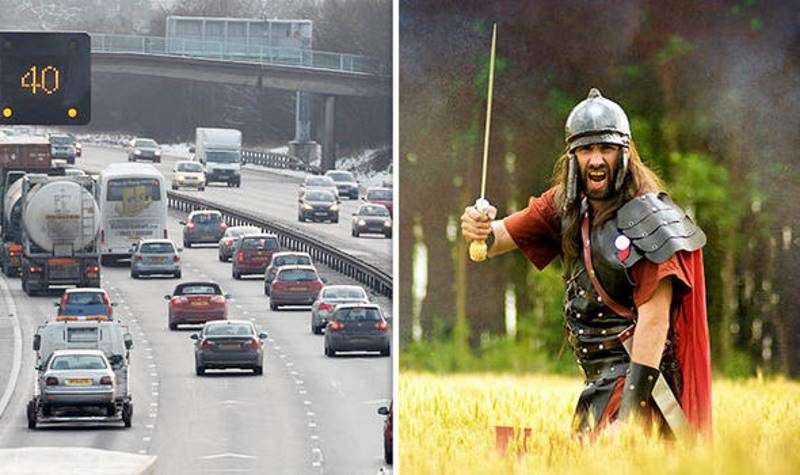 An accident-prone stretch of the M6 in Cheshire sees more crashes than other sections of the road because it is haunted by ghosts of Roman soldiers, a psychic has claimed.
A series of strange phenomena have been reported by motorists between junction 16 and 19, including phantom lorries, spectral hitchhikers and sightings of legionnaires.
And Mike Brooker says the disturbance caused by a £250million upgrade project could be to blame. He said a Roman burial ground in the area of the roadworks may have awoken 2,000-year-old spirits which now haunt motorists and cause crashes.
The 53-year-old, from Northwich, has dubbed the area 'Cheshire's Bermuda Triangle' because of the relatively high number of accidents on the "treacherous" stretch of road.
He told ChesireLive:
"I personally know people who have lost their lives and families who have been affected by accidents on this stretch of motorway.

"I am leaning towards the theory that it can be connected to Saxon involvement.

"There are reports of a Roman burial ground and that there was an historic clash between Scottish and English armies. There are so many variables and possibilities.

"For decades now, the amount of accidents on the M6 motorway between junctions 17 and 19 is completely unprecedented and, statistically, this is without doubt one of the worst 'accident black-spots' on any motorway network in the UK."
Highways England is upgrading a 20-mile stretch of the M6 which will allow the authority to adjust speed limits in real-time in an effort to ease congestion and make the road safer.
But Mr Brooker warned accidents in the area will continue because the reason behind the accidents is a supernatural one and plans to investigate to uncover the cause.
He said:
"There appear to be two principal answers that come up, one is that the motorway was built on a Roman burial site and the other, is that it was the site of the slaughter of a number of the Scottish army dating back over 200 years.

"There is no clear evidence either way to support or substantiate these claims but what is clear is that something is very wrong to cause so many accidents on what is to all intents and purposes and fairly straight stretch of road.

"I 'personally' believe there is something supernatural that has attached itself to this particular stretch of motorway… when 'science' holds its hands up and is at a complete loss to explain this plethora of accidents/incidents between junctions 17 and 19 of the M6; there is perhaps an alternate explanation."