Lorraine Warren is known for her investigations of the Amityville Horror house and the haunted Annabelle doll.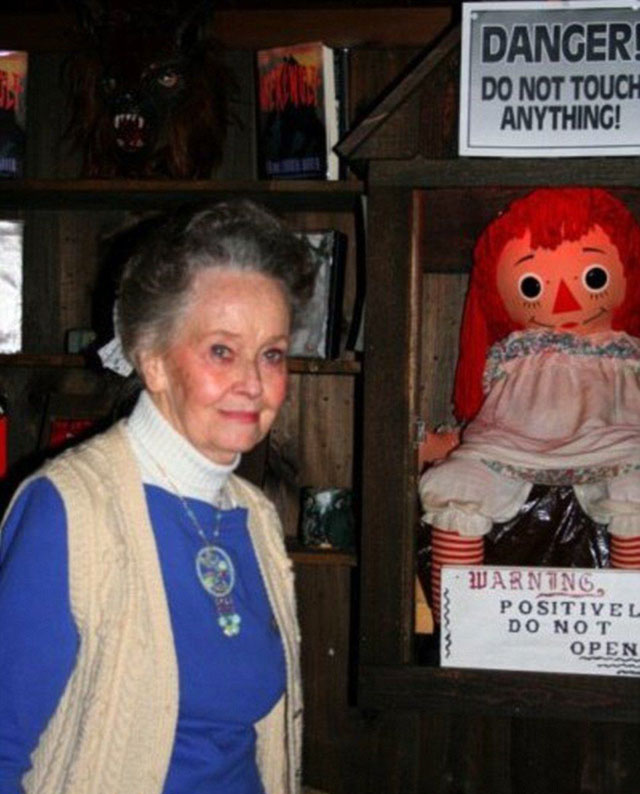 Lorraine Warren in the Warren's Occult Museum with the haunted Annabelle doll
Lorraine Warren passed away last night in her home at the age of 92. Lorraine professed to be a professed to be clairvoyant and medium. Along with her husband Ed, a demonologist, Lorraine founded the New England Society for Psychic Research in 1952 and conducted numerous investigations of paranormal claims such as the Amityville Horror house, the Enfield Poltergeist, and Annabelle the haunted doll. They claimed to have investigated more than 10,000 cases, some of which The Conjuring movies are based on.
Chris McKinnell, Lorraine's grandson and the director of The Warren Legacy Foundation for Paranormal Research, shared a heartfelt message on Facebook this morning:
"Last night my grandmother, Lorraine Warren, quietly and peacefully left us to join her beloved Ed," McKinnell wrote. "She was happy and laughing until the very end. She was my angel and my hero, and she will be deeply missed. Please join us in celebrating her life and honoring her beautiful soul. Remember to treasure those you love while you can. Thank you and God bless you all."