Paranormal Experience: Cradle of Evil
Anomalien.com reader S. (wanted to stay anonymous) shares her story about an encounter with the unexplainable.
The town where I was born is a cradle of evil. I'm sure of it. I've felt it, I've seen things there that just don't happen in real life, only in the movies.
I don't live there now, I got out as soon as I could, but I feel it's pull, I feel it when I go to visit my mom, that angry heavy feeling in the air. It's the only town in the world that gives me goosebumps as soon as I hit the city limits, and I've even been to San Fransisco.
The stories I could tell would fill up this website for years, but for now I'll begin with eight words that start out every ghost story in my hometown.
One night, out at Fort Phantom Hill Lake…
My brother and I were sitting in the cab of my girlfriend's truck. I remember it like I was there just last night. I was wedged between another girl and Cody, smoking a cigarette. My girlfriend and two other girls were in the bed, covered by a blanket to battle the lake-chilled night air.
The girls were laughing and whispering, my brother and I had the back window open so we could still chat with them. The girls didn't seem to want to talk too loud, almost like laughing out into the dark would wake something up. I turned. "What are you girls talking about back there?"
"There's a guy sitting on the back of his car by the water," Rachel answered with a puff of menthol cigarette smoke. "He's been there since we pulled up."
The back of the truck was facing the water. My brother hated watching Lake. Ever since he saw the Lady of the Lake (our own weeping woman, though that's a story for later) Cody hasn't been too fond of Fort Phantom.
He still drove out there whenever we wanted to go, but he was always uncomfortable. That night though he seemed to be in good spirits. So was I. I climbed into the back of the truck, using the window so I wouldn't have to crawl over anyone, and snuggled beside my girl to look down at the other lake-watcher. "What's he doing down there?" I wondered, and Rachel shrugged.
Cody chuckled, glancing back at us over his shoulder. "Maybe he's lonely. How about we offer to let him join the party back at the house?" He said, tapping the brakes to flash our brake-lights in the universal 'follow us' signal.
I laughed. "No way, dude, that's crazy." I said and Cody grinned.
"Oh, come on, where's your sense of adventure?" He dared, tapping the brakes again and making the brake-lights flare a couple more times. My girlfriend nudged me, hard.
"Look!" She whispered fiercely, staring down at the shoreline with wide eyes. I looked. The guy below had opened his trunk and pulled something long out of the open hatch.
-This is Texas.- I thought. -That could be a baseball bat, a shotgun, or a machete.-
"Dude, chill out Bro, I think he just pulled something out of his trunk." I whispered loudly to Cody without turning my head. I couldn't take my eyes off of the guy below, who was currently shutting the trunk of his smaller car. Looked like a volvo or a Nova, something sporty.
I watched him walk around towards the front of the car, slowly, then suddenly the brake-lights of the truck flashed again. "Dammit, Cody, I told you to chill out!" I growled, my head whipping around. Cody was flustered.
"I know, it was an accident!" He yipped, and I knew he was afraid. I was getting scared too. I was still looking back at him when I heard the car door below slam. Rachel held her breath. I just slowly turned to look down at the shore. The guy was just sitting in the car, like he was daring us to flash the lights again.
"Cody," I began quietly, as steady as I could. I moved towards the tailgate a bit so that Rachel and the two girls could hold on a bit better. "Get us the hell out of here." I finally said, a bit too loud maybe. Cody started the truck with no trouble.
The car below and its driver didn't move. I let out my breath, thinking it was just some jerk trying to scare us and that he wasn't going to do anything after all. Then Cody hit the brakes to shift from 'park' into 'drive.'
I wasn't looking at the car below, I was too concentrated on sitting with my back against the tailgate, holding the side in the common 'texas back-end seatbelt' position. Seconds after our brakes flashed, there was a roar.
It sounded like machine and beast made one, like something was howling at us. Cody's head snapped around to look behind him, his eyes wide and I got chills. "GO!" I yelled, just as the car came roaring up the side of the shoreline. It was steep there, no sporty little thing should have been able to do that in mere seconds, but it did.
The car was on us quicker than it should have been, and I felt my teeth rattle as the truck lurched forward, spewing gravel and dust. I held on for dear life as we cleared Johnson Park, swerving wildly onto the side road, over the dam, and deep into the dark belly of Fort Phantom Hill.
The back roads there are pitch black at midnight, and the dark seems to swallow you whole, no matter how bright your headlights are. We pitched onto the dirt roads, speeding down them without really knowing where we were going.
I was blinded by the headlights of the car behind us, deaf from the sound of the beast-engine and the rattle of gravel on the undercarriage of the truck. Cody yelled, and only as he took a sharp left turn did I realize what he'd yelled. "Hang on!" My hand clamped down just in time to keep me from pitching over the side of the truck-bed, and I had to yank to keep steady.
When I looked up I saw the driver of the other car, just for an instant. His eyes were dark and sunken in, his skin looked gray in the light, and his lips were stretched in this ugly grin. Next thing I knew the truck tipped again and I lurched to the other side of the truckbed, my chest banging against the opposite side.
Rachel yelled, sobbing but when I looked up there was no car anymore. Just a trail of dust. I let out my breath, rubbing my chest. "Damn! Good job, bro!" I had to yell, but, man I felt good. My head wasn't splattered across that guy's Nova, so my night was going peachy keen so far.
As we made our way back to the main road, which only took about 5 minutes, we all laughed and talked about how we'd "smoked that guy" and what a great driver Cody was to get that truck to move like that. 5 minutes to find the main road seemed to make us cocky enough to think we could go back to lake-watching.
"Let's go back!" Rachel laughed. "There's no way he's back by now and I came out here to have a good time dammit!" She giggled and I laughed too. Mind you, Rachel is not my girlfriend anymore.
So we went back. Talk about the stupidest thing we could have possibly done.
We cruised up to the park and pulled in, looking around to make sure that we were alone. We pulled up to the shoreline, looked around and I laughed. "Yep, looks like we lost him." I said, then just after I said it I heard the engine. Cody cussed and I looked around wildly, feeling sweat slide between my shoulders. "Where the hell is it?!" I yelled.
I heard Cody cuss again as he put the truck in drive. "Screw this! We're going!" He hit the gas and we sped towards the exit. We were halfway there when headlights hit us, and I saw the car come from out of the trees and brush of one of the lake's trail paths. It roared after us, right on our tail, and out onto the main road. We didn't stand a chance.
It only seemed like we'd pissed him off. I looked back and all I could see through the window of the sports car was two gray hands clutching the steering wheel so hard the knuckles were white, and the cuffs of a high school letter jacket. Everyone was screaming, even me.
I could hear the bumpers scraping, and it made my teeth shiver. I remember yelling stop, then there was a flash of red, a hard bump that threw me forward onto Carol and Rachel, then screeching tires.
We were still moving when I looked back and saw the car do a U-turn and peel out back towards the lake. On the back window I saw numbers separated by a dash. 37-1. What the hell? I still don't know for sure what it means.
I scrabbled to the window and put my head through it to look at my brother who was white like ashes, with both hands clutching the wheel. "What the hell did you do to make him stop!?" I yelled, still half-panicked.
He barely looked at me, his eyes were wide with terror. "I tapped the brakes." He replied in a trembling voice and I sat back, staring at him for a minute.
When we got back to town the panic had worn off, and we skidded to a halt outside of the Denny's. That Denny's is the last bit of civilization you see on the way to Fort Phantom Hill, and it's also the first haven you have upon leaving it. "What the hell did you mean 'I tapped the brakes'?" I asked Cody, who was shaking as he lit a cigarette.
"I remembered that if you're playing chicken with someone then someone has to back off and give over the road before the other stops. I don't know why but I just felt like he was playing chicken with us." He replied and I shook my head, not buying it. Then I thought about it. Why not? This was Texas after all, crazy stuff happened.
Then Rachel got mad. "That's not funny! He scared the crap out of us and Sam almost got killed! We should go back and beat his ass!"
I shook my head some more, stealing a drag from my bro. "No, let's just leave it alone. Frankly, I don't want to mess with someone who was grinning like that when I almost plastered my face onto his hood."
We argued about it for an hour. In the end I lost, and we went back…again. -Stupid, stupid, stupid.- I kept thinking. I was shaking and scared that we'd have to play chicken all over again.
I was wrong.
When we got there, we didn't have to look long to find the sporty little Nova that nearly creamed me. It was parked on the same path it had roared out of before, only this time, there was grass in the tires, one of the tires was flat, the windshield was cracked and there was long soft grass that stood not only around the tires, but nearly up to the grill.
The thing was coated in dirt, when just a little while ago it looked shiny and new, and even creepier, there wasn't anyone in the car or the park. In fact, just us idiots were out at Fort Phantom Hill that night, and that car didn't look like it had moved for years. So the question is:
Phantom Car, or crazy chicken game? You know what I think.
Cradle of evil strikes again.
S.
Singapore: meet father-son duo banishing demons for a prize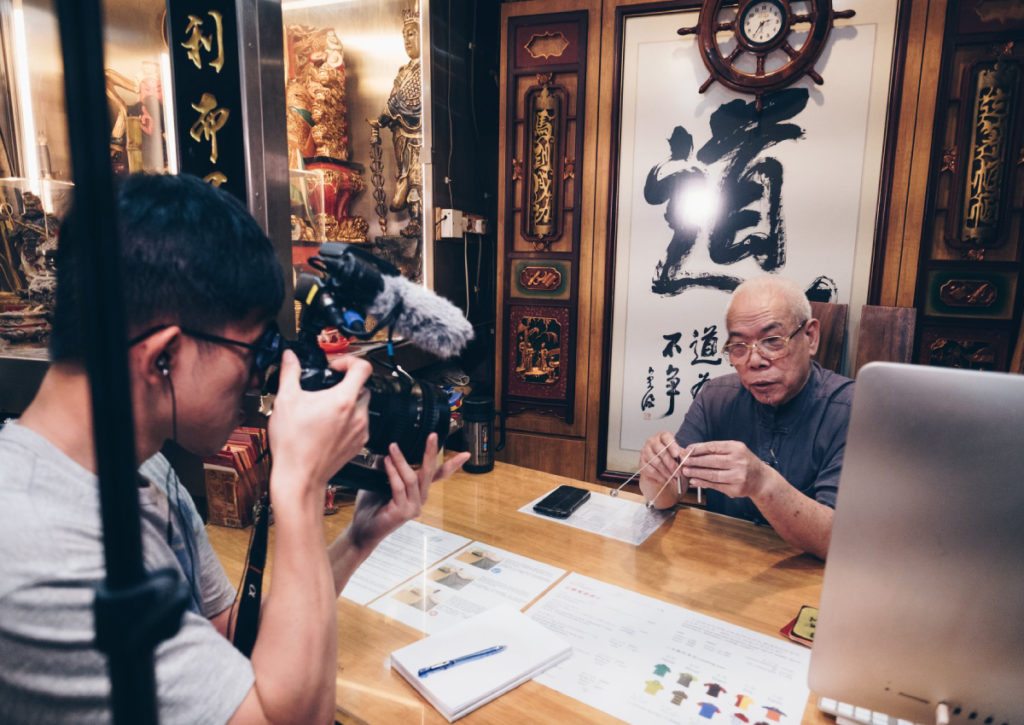 Anderson Lim clasped his hands tightly in a praying position as a spiritual medium made back and forth movements before him.
Lim then chanted indistinctly as the medium set a paper doll – known as a "substitute" – on fire.
The doll, dressed in a blue shirt that belonged to Lim's brother, was part of a Taoist ritual performed to ward off bad luck.
" Recently [my brother] had a very bad fall. He missed a step and his ankle was severely fractured. He was hospitalized for two weeks, "said Lim, a 41-year-old businessman.

"I hope that after this ritual, he will be fine. I have seen too many things that cannot be explained, so there are some things that we have to believe. "
Like Lim, many Singaporeans in the modern city-state still turn to supernatural means, such as traditional spiritual mediums, for good luck, health, and prosperity.
While some of his clients seek feng shui advice for disagreements at home, others seek help when they are unlucky or have career issues, said Jeroen Chew , an exorcist and master of feng shui.
Chew joined unconventional commerce over a decade ago after hearing stories that his father Chew Hon Chin, better known as Grand Master Chew, changed the lives of many people around the world.
"My father showed me that non-Taoists and non-religious believed in him," said Chew, 44. "When we went to the Philippines, there was a long line of people lining up to see him … And I thought to myself that this man can really do something to change people's lives. "
For former Chew, joining the profession was more of a calling. He said he was cursed 16 years ago, and after coming out of the "spell", it was time to help others.
"I was cursed for about 10 years. I couldn't sleep or eat properly, my business failed and everyone thought I was crazy, "said the 72-year-old, who added that he had also attempted suicide.
"Nor did I believe in gods or spirits in the past, I only believed in myself. But one night I dreamed that someone told me that if I got out of the curse, I would need to help people the same way. "
He then created Ghostbuster.
Explaining how the name was born, young Chew said his father originally wanted to "catch ghosts," but that the family business has since evolved to offer not only exorcism services, but also feng shui readings as well. as luck improvement and ancestral prayer services.
The company also offers ba zi reading, reading its date and time of birth, which would allow Chew to "warn customers" of things as if a conflict should arise with their superiors or their bosses.
" [The lectures] will tell them, "Today you are not in a good energy mood with your boss, you have to be careful," said Chew, whose services are offered from 88 Australian dollars (65 US dollars).
"Some people don't take us seriously. But like I said, we help those who want us to help. Those who don't believe us are fine with us. "
Today, Ghostbuster has approximately 1,000 customers of different faiths. On larger events, such as the eighth day of the Lunar New Year, also known as the jade emperor's birthday, attendance averages between 400 and 600 "followers."
According to Chew, 70% of his clients are Christians, even if certain elements of his business are rooted in Taoism.
"We will never tell to you to change religion. We are here to solve your problem. If I solve your problem, I do something that makes you feel good, you feel better and you keep going with your life. You will not change anything, "he said.
Customers ranging from teens to those in their thirties are increasing, said Chew, representing about 60% of his clients.
Most of them ask for help when they face bad business prospects or problems with their family.
Chew added, "Some people feel that they are not reaching their maximum potential … and let's help each client achieve the best they can in their career or family life. "
Among those who turn to such supernatural means is Wilmer Ang, 30, who went to see a master several years ago "out of curiosity". He later consulted with the master when he started his business and when he encountered problems at work.
"I will visit my master occasionally, either to ask for advice on my business or to love life," said Ang, who works in the real estate industry.
He is said to carry certain objects, including precious stones, or to place "lucky charms" in his office to bring him prosperity.
Another believer, Max Tan, 35, first consulted a numerologist in his twenties. Then he thought it would be a "good idea to see what the future holds."
During the consultation, he discovered that he had conflicting character traits and "slowly reconciled" with who he was.
Tan, who is a fashion designer, recently consulted his master again, who confirmed his decision to continue his studies.
Dhylan Boey, a professional metaphysician, who has been in the business for over 10 years, has suggested that the younger generation is more open to such practices because it has "fewer hangups" with taboos and conventions, compared to the older generation.
Boey, who specializes in numerology, crystal healing, tarot and feng shui readings, said, "My Generation Y or Generation Z clients are open to new things that may not be be validated by clinical sciences. "
"On some level, they like to believe that some magic still exists in this world and that as young humans grappling with life problems, and discovering their purpose in life, they may also be doing part of this magic. "
Source: AsiaOne
Unexplained Case Of Stone-Throwing Devil of New Castle Island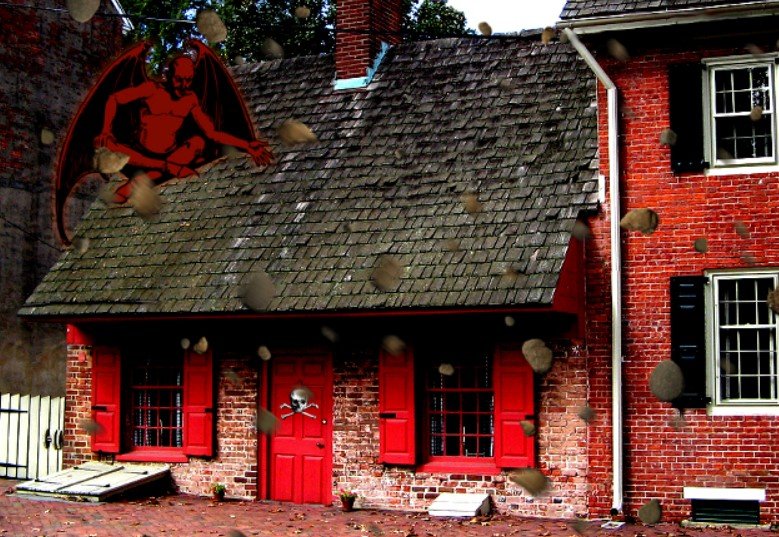 In 1682, stones battered George and Alice Walton's home and crashed through windows in the living quarters above their tavern.
Hails of stones followed them into their fields. Richard Chamberlain, Secretary of the British Colony of New Hampshire, who was staying with the couple documented the events and coined the word, Lithobolia,a Greek-sounding one that translates as Stone-Throwing Devil.
He published a book about the seventeenth century poltergeist.
Stone-Throwing Devil Activity – Summer 1682
George was the stones' target. There were up to one hundred of them in sessions and George was hit as many as forty times. Some were very hot, while some were icy cold.
Their size ranged from small pebbles to rocks as large as a human head. When people put them on a table, they disappeared and reappeared. The Waltons tried to repel the Stone-Throwing Devil by boiling crooked pins in a pot of urine. Twice, a stone hit the pot, spilling the liquid.
A gate from the Waltons' house to neighbor Amazeen's was tossed off if its hinges. A spit from the fireplace disappeared, then fell down the chimney and impaled itself into a log. A wheel of cheese was broken into pieces.
The drainage stopper in George's boat vanished. Household items were tossed into the yard. Witnesses heard rocks rolling in the upstairs room, snorting, heavy breathing and sounds of distant hoofbeats.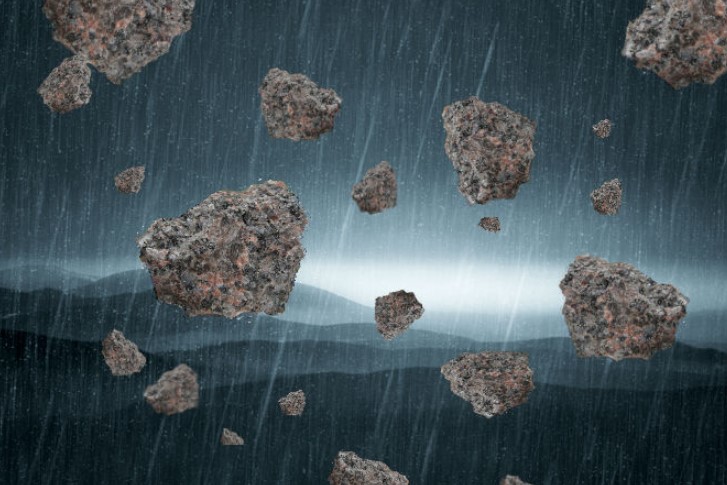 Stone-Throwing Devil and Accusations of Witchcraft
The Waltons were considered wealthy property owners. Goody, a term used for women who didn't have the status of being called missus, Hannah Jones was poor.
They both claimed ownership to a small field. Walton accused her of being a witch when she told him he should never enjoy that piece of land. She countered by accusing him of sorcery.
Some believed this event summoned the Stone-Throwing Devil.
Political Climate in New Castle Island
The islanders, two days before the stone throwing started, petitioned to separate from Portsmouth. It was denied. The heirs of John Mason, who was granted all of the land in New Hampshire, wanted their land returned or to collect taxes from all residents.
Chamberlain, the Waltons' guest, was also the lawyer for the Masons. The Waltons were Masonian sympathizers and Quakers. Members of the sect were persecuted as those suspected of practicing witchcraft were.
Waltons' household included servants an African man and an AmerIndian woman, in an era of great racial prejudice.
Stone-Throwing Devil's Activity Ends
The poltergeist activity ended after Chamberlain returned to England. Two and a half years later, George Walton, who was seventy at the time, signed his property over to Alice and provided legacies to his children and grandchildren.
When he died in the following year, George still suffered from the wounds caused by the stones.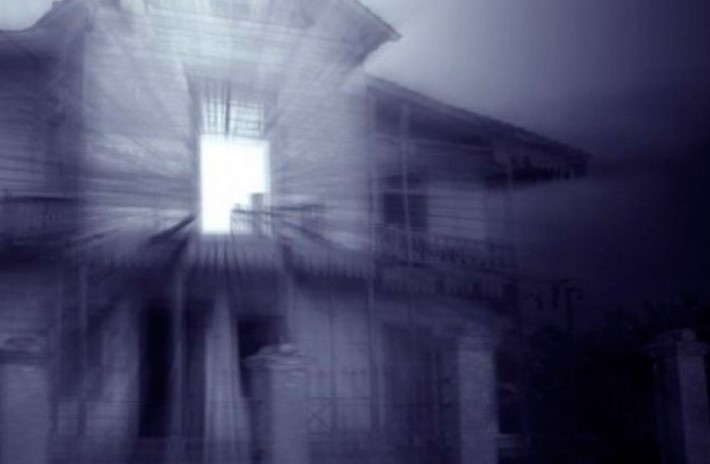 What was the Stone-Throwing Devil?
There were those who believed the stone tossing was caused by the devil. Increase and Cotton Mather, two powerful colonial New Englanders, wrote about the events that many believed were caused by witchcraft.
Cotton played a prominent role in the future Salem Massachusetts witch hysteria involving persecutions, accusations, trials and executions. No record can be found that indicates executions of anyone connected with the Stone-Throwing Devil.
Some islanders believed mischievous humans they dubbed the Boys at Work were the culprits. The Waltons had a houseful of grandchildren. The boys heard the snorting sounds; the girls, awakened by sounds of rolling rocks.
Both ran outside during the hails of stones. The problem with this theory is that stones pelted George in the children's absence.
There is a phenomenon called the rock-throwing poltergeist that has been investigated and documented in modern times. Their activity is limited to stone tossing.
This is a manifestation of PK, psychokinesis, the ability of the mind to affect matter. The agent can be a human or an entity. There is a profile for human agents.
They experience unpleasant emotions such as frustration, anger and feelings of worthlessness, and test above average for PK. Emotions are repressed and released by subconscious PK. The activity may stop spontaneously or by psychotherapy.
By today's standards, this case would be considered as trickery or a poltergeist, not the work of the devil.
A chilling video shows La Llorona in a town in Colombia
La Llorona is a legendary figure with several incarnations. Generally known as 'the woman who cries', it is represented as a type of soul in sorrow: an appearance of a woman dressed in white, which appears in lakes or rivers, sometimes at road crossings, who cries at night for her lost children whom she killed. Her crime was committed in an attack of madness after learning that her lover or unfaithful husband left her to be with another woman of superior status. After realizing what he had done, he committed suicide.
It is described as a lost soul, condemned to wander the earth forever. For some, it is simply a fictional figure used by parents to scare children who misbehave. This popular history has been represented in several forms: in cinema, animation, art, poetry, theater, and literature aimed at both adults and children. The legend is deeply rooted in Mexican culture, but little by little it has been spreading throughout South America and certain parts of the United States. But the question we ask ourselves is: Is there evidence of its existence? Well, the answer to this question may be found in a video that has recently gone viral
'La Llorona' in Colombia
A video recently published on social networks shows what appears to be the silhouette of a "woman crying" on a tree in Colombia, which for many is the evidence that 'La Llorona' is much more than a legend. According to the South American media, the incident occurred in the Colombian municipality of Moñitos last month and became a viral phenomenon on social networks shortly after Christmas.
Although they have not offered many more details, all that is known is that the inhabitants of the small municipality are afraid to leave their homes due to the ghostly sighting. Specifically, it has been suggested that the entity in the video is clearly the terrifying figure of Latin American folklore known as 'La Llorona'.
As we have commented previously, the legend says that this wandering spirit is that of a woman who was rejected by her husband and, in response, drowned her children and then committed suicide. He refused to "go to the other side" and now La Llorona roams the Earth in spirit form, killing anyone who has the bad luck of meeting her.
Like many similar videos that go viral, the opinions of Internet users about sighting in Colombia are divided. While some have found the scene quite scary, the most skeptical criticized the video by ensuring that it is a hoax. However, this is not the first time that the alleged Llorona has appeared in Colombia. In the middle of last year the inhabitants of La Esmeralda, in the Colombian municipality of Arauquita, heard a strange cry and shrieks past midnight. Like what happened in Monitors, nobody dared to leave his house to know what was happening.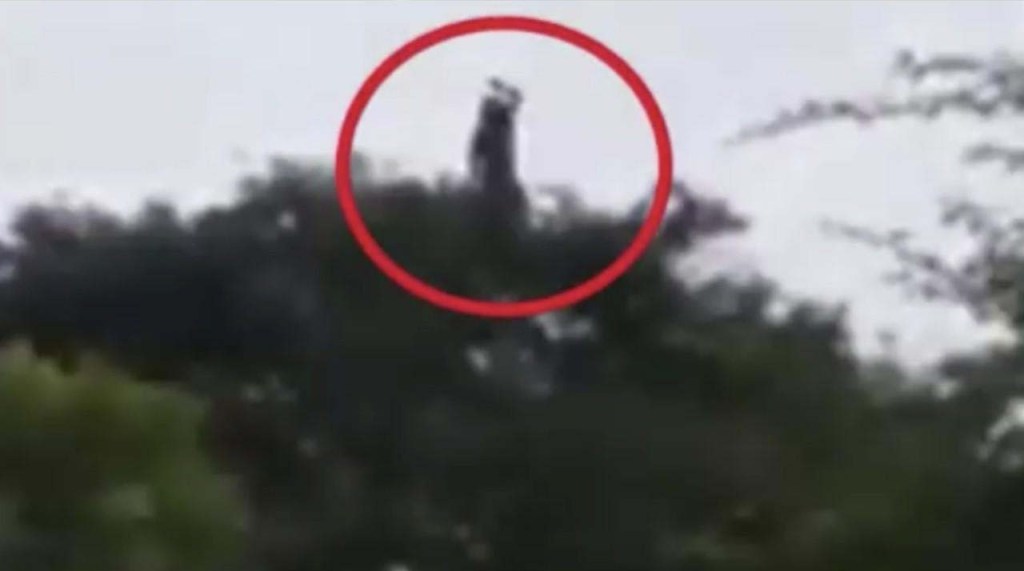 But several witnesses returning home heard a cry and were surprised at the figure of what appeared to be an elderly woman, extremely thin, with long black hair on her face and dressed in a white robe, walking slowly towards the cemetery of the town while crying inconsolably. The men decided to follow her and at one point, the strange woman stood at the grave of a small child. It was at that moment when the woman turned to the men and gave a loud shriek that made them run away from the place.
The truth is that the video is really scary, and if it's fake, we don't know how the real Llorona should be. Maybe it's a ghost, or a mystical being or a demonic entity. Although we can not rule out that it is a strange creature that emits a disturbing sound.
What is your opinion about the video? Is it a real sighting of La Llorona or just a woman standing on a tree? Feel free to share your opinion below.