Pale Humanoid Creature Recorded In The Australian Outback
While out at night, a man claimed he was driving around and came upon something from out of the ordinary. He managed to record a short clip of something crawling around on all fours. This humanoid looking creature, moved fast and was pale colored by appearance. This anonymous man, said he from a small town located in Rocky Gully, Western Australia. The location where the video was taken was within a forested area.
Certainly seeing something such as this, would startle anyone. Many are speculating what it might be. One thing is for sure, it moves fast and is smaller sized. It doesn't appear to be a dog or cat, it is something else.
Perhaps this was merely a kangaroo. They have been known to cross the road at night. There are many wild animals that are nocturnal, maybe this is something rather rare that this man happened to capture on video. It does resemble some humanoid features considering its limbs. What it might be, is nothing more than speculation and mystery at this point.
The man said, he used his smartphone to record this mystery creature. The lights from his vehicle were enough to shine upon this thing. It seemed to come out of nowhere, he explained. When it suddenly appeared, it was swift and moved around on all fours in front of the car. Moments later, it wandered off into the darkness.
This man also said he was very confused by what he had seen. He sat motionless inside his vehicle and pondered over what he witnessed (for a few minutes) before leaving the area. It seems that he didn't chase after where this humanoid looking creature went.
His guess was, this was some kind of unknown monster or alien of some kind. Undoubtedly, he was unable to find any kind of explanation yet and neither has anyone else yet. Speculations are, many biologists and cryptozoologists are having a hard time figuring out what this might be as well.
Grandfather Encounters Tall Pale Humanoid Entity In His Backyard
The experience was something one man will never forget. He was unsure what to make of this thing. It seemed to be about eight feet tall and was pale white by its appearance.
This rather unusual encounter, was posted by u/BuckeyeBrute on Reddit about 2 months ago. They explained that their grandfather lives in a rural coal mining town, located in the southeastern part of Ohio. Where is grandfather lives, is on the edge of the town limits.
Generally, his grandfather was a soft spoken man overall and reserved by nature. However, now he has become more sensitive to anything around him. Nowadays, he is more easily startled by any noise around him. He has good reason to be after encountering something rather bizarre.
In recent times, this man's grandfather will check around his home. Often he checks outside of the windows and he will not go outside unless his dog is with him. He carries around a handgun for protection. While visiting one day, his grandson asked him why he was so jumpy?
His grandfather explained that several times he has seen something sinister. What appeared to be a tall, white and very thing creature was seen on the edge of his property. This entity appeared in his backyard near the treeline.
He went on to say that this thing had small black eyes, that it's around 8' feet tall. Each time he has seen this thing, it would stand there watching his house and then would vanish into thin air.
It happened to him about two months ago and his grandson had only seen him several times ever since then. The grandson admitted he has no experience with anything paranormal related.
This is the very reason why he posted this on Reddit, to ask if anyone else might know what this thing is or what it wanted. He is clearly upset and it has bothered the grandson ever since.
Nobody ever wants to see their grandparents in any kind of trouble. He explained again, just how easy going his grandfather really is. However, he is afraid now of any family or friends staying with him past sundown, due to this entity that might appear.
A firm warning was made by the grandfather who said he doesn't want anyone else to see this entity. Perhaps out of fear, that it might start affecting their lives as well. The grandson simply asked on Reddit if anyone else had advice for whatever this thing may well be and will it go away?
His grandfather said, this thing shows up between 10:00 PM and 2:00 AM at night. The longest it has ever stayed was around 10 minutes before fading away.
The very first time his grandfather witnessed this, it only stood there for a short while. However, it took his grandfather a while before he noticed it. The family has since made arrangements to fortify the home, in hopes that his grandfather will have a better piece of mind about this.
(Source: Reddit)
On Lake Michigan during a storm filmed a strange black creature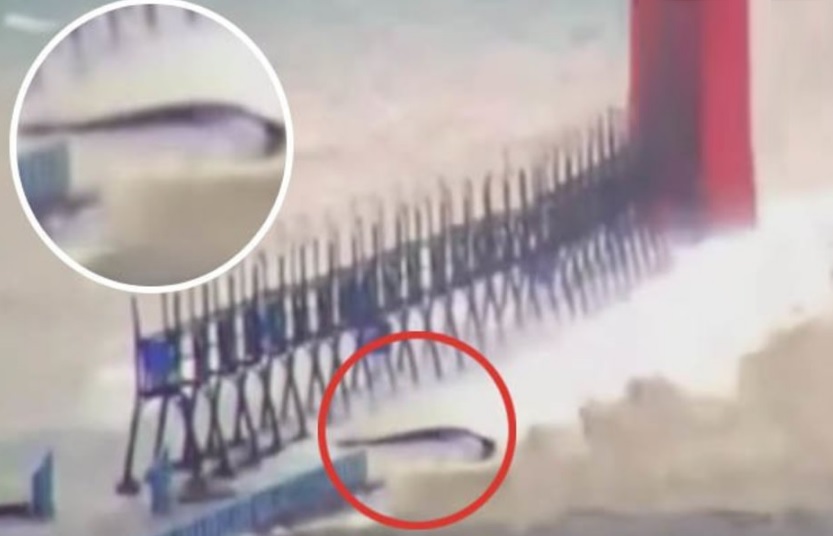 Freshwater Lake Michigan is the largest lake in the USA and belongs to the Great Lakes group. Its depth is up to 281 m, length is 500 km.
Unusual creatures were observed in many large lakes of the world, but to Michigan, surprisingly, there are no such legends about the "water dinosaurs". And nevertheless, it seems that something very long and black lives in Lake Michigan.
This video (see below) immediately caused much controversy. Because on unclear frames it is difficult to distinguish what it is – a huge snake, an eel or a clump of algae.
The camera was installed with a view of the southern pier of the lake and on June 13, 2019, when this recording was made, a real hurricane was raging in the vicinity.
In a social network video posted resident of Michigan Tom Wenzel. He called this strange creature "our local Loch Ness monster."
On the video you can almost immediately notice a long black body in the waves. At some point, even the creature tail is visible. This creature is trying to cope with the waves that inevitably carry it on the supports of the pier. However, he could not get out of there and the waves dragged him through the supports.
After a few seconds, this creature emerges at a quiet pace from the left side from under the pier and hides behind the scenes.
Much indicates that this is not just algae. The creature moves as if alive, deftly twisting its tail, and on its body at the end you can see crests, like a crocodile. But this is certainly not a crocodile, but something much longer and it seems without paws (and crocodiles are not found here).
The mystery of what exactly got on the camera at the pier, still remains one of the most discussed local topics and remains unanswered.
Chupacabra Blamed for Strange Cattle Mutilations in Argentina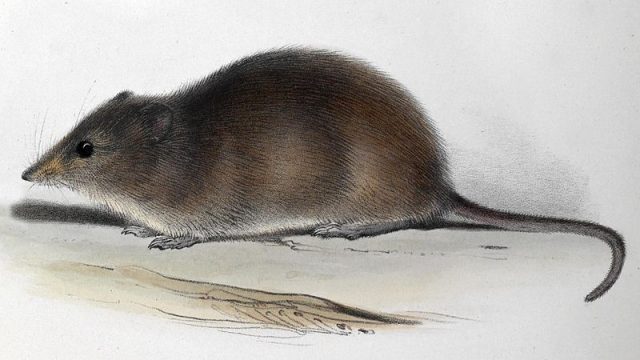 "Blame it on the Chupacabra" sounds like it could be the title of a country western song (note to self: dust off guitar and call agent) but it's more likely to be the lament of farmers – particularly in Puerto Rico, Texas and Central and South America – who have lost goats, sheep and chickens under mysterious circumstances. However, cattle mutilations, at least in the U.S., are often attributed to aliens, especially if they occur in the 37th parallel latitude which is home to many UFO sightings. But not in Argentina, where a particularly brutal cow mutilation last week is being blamed on a Chupacabra. Unfortunately, this is eerily similar to another series of cattle mutilations in September 2018 in Argentina that were also blamed on Chupacabras. Are they connected? Is this story worthy of a song … or an investigation?
"The Chupacabras is back, in action , and with such inexplicable consequences that they never cease to surprise others and others. The precision of the cuts, the state of the animal that does not seem to decompose, the absence of scavengers, are some of the many curiosities that are in suspense to the town of La Paz, in Catamarca where the event occurred."
Infocampo, an agricultural media source in Argentina, appears to be the first to report the incident on the farm owned by Ariel Sorribes in the northwestern province of Catamarca on the Chilean border. (Apologies to them for the poor Google translations.) After noticing the herd count down by one, a worker found the mutilated cow under a tree. Sorribes stated that the cow had been healthy and vaccinated. The site cautioned that the photos were horrific (see them here) and the report listed the missing organs (udder, vulva, anus, eyes, tongue, and maxillary muscle) and complimented the killer on the precise cuts made to remove them – cuts that in the U.S. would be blamed on aliens or a surgeon who dabbles as a weird rustler or a provider of organs to cults. But wait … there's more:
"No one can make such a perfect cut with a scalpel, in addition all the wounds seem sealed. There are even rarer things, for example, no scavenger comes close to the body of the animal. Nothing eh, nothing at all. Not a carancho, not a vulture, nothing. Above, it seems that the meat does not decompose and is all intact."
OK, now it's getting strange … and beyond the powers of a normal Chupacabra. No decomposition, wounds sealed and no vultures. If only there were more pictures …
"In addition to all that, when the pawn wanted to take more pictures, his cell phone was turned off. He thought it was the battery that had run out, but no. Then came a teacher from a nearby school, because she wanted to film the cow, and neither did her cell phone … It is as if it were a magnetic field, or something that prevents taking pictures."
Whoa! This is obviously the work of aliens, right? Farmer Ariel Sorribes asked for an answer and this is what he got from SENASA, the National Service of Agri-Food Health and Quality:
"For similar cases, SENASA has said that it is the work of the snout mouse."
The what? Believe it or not, the Hocicudo is a long-snouted mouse that was blamed for the mutilations last year. Hocicudo are scavengers that like to dine on the soft parts of dead animals and there are plenty of dead animals in cattle country.
What about the dead phones? The precise cuts that seemed to heal themselves? The lack of vultures? The web site La Gran Epoca (The Epoch Times) says the ranchers are nervous because the unexplained mutilations have been going on for years. One explained the financial consequences:
"It's not just in my field, it's in the whole region. Behind the Cerrito killed five, in Malabrigo a while ago killed seven, a neighbor killed two, so they add up and when you get the count are 20 or 30 animals per month … and are 15,000 pesos (about 335 dollars) each heifer."
Would you blame the Chupacabra? Aliens? If not those, then who … or what? What latitude is Catamarca? (28th south.) Does anyone dare follow it to search for more dead cattle?
In the meantime … what rhymes with Chupacabra besides macabre and candelabra?
Source: Mysterious Universe