Pagan "God Self" Icon Found Worldwide Rewrites History, Reveals Lost Golden Age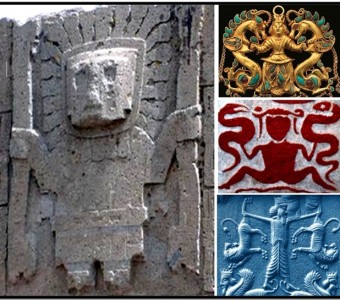 A new discovery challenges―if not rewrites―ancient history by showing how the world's first cultures mysteriously shared the same religious icon. From the Egyptians to the Assyrians, the pre-Incas to the Europeans, the icon is ubiquitous. Is it the lost symbol of a forgotten Golden Age religion that flourished globally in the remote past? How can it not be?

The same icon etched in stone atop temple doors on opposite sides of the world.
Left: Gate of the Sun in Tiahuanaco, Bolivia. Right: Temple of Hadrian in Ephesus, Turkey.
For several decades, mainstream scholars have insisted that the world's first civilizations arose separately and independently.
But an amazing new find now casts serious doubt on their theory.
It shows how ancient cultures worldwide―cultures that scholars insist evolved independently―actually followed the same global spiritual system or Universal Religion, the central icon of which has now been found to be common amid their ruins.
The Icon Found In Ruins Worldwide
The religious icon is shown in the photos below.
Note the parallel pose:
This same religious icon exists in the ruins of the world's most ancient cultures―an astonishing parallel undiscovered and undocumented by academia!
With both arms outstretched in opposite directions (right and left) a single god or goddess holds "twin objects" in each hand, symmetrically.
These objects are usually animals, often serpents, but sometimes vegetation or magical staffs. The artwork is almost always perfectly symmetrical, just like the icon's pose.
If ancient cultures evolved separately, as scholars tell us, then how is this same religious icon present worldwide?
This stunning new discovery challenges mainstream academic history.
It strongly suggests ancient cultures did not evolve separately, as scholars tell us; on the contrary, ancient cultures worldwide were "united" in their spiritual beliefs, most probably the result of a "shared cultural heritage" stemming from the prehistoric era.
But "united" how? A "shared cultural heritage" how?
Did a "Golden Age" of humanity once exist in our remote past, as the Greeks, Hindus and others claimed?―a kind of "Tower of Babel" era, when the world was one speech and one tongue?
Was this icon, along with the spiritual wisdom it signifies, "inherited" from this Golden Age?
(For further evidence of this Golden Age and Universal Religion, see SEE MY TRIPTYCH DISCOVERY HERE.)
"Lord Of The Animals" & "Staff God" Titles
Interestingly, the icon has been partially recognized by scholars of Old World cultures and New World cultures alike.
OLD WORLD
Among scholars of Old World cultures the icon is called:
Lord of the Animals
Master of Animals
Mistress of Beasts
Mistress of the Animals
Mistress of Wild Animals
Potnia Theron
"The Lord of the Animals (also known as Master of Animals) is a generic term for a number of deities from a variety of cultures…They sometimes also have female equivalents, the so-called Mistress of the Animals. The implication being these all have a Stone Age precursor…"

—Wikipedia
NEW WORLD
Among scholars of New World cultures the icon is called:
"The Staff God is a major deity in Andean cultures. Usually pictured holding a staff in each hand…his other characteristics are unknown, although he is often pictured with snakes in his headdress or clothes. The oldest known depiction of the Staff God was found on some broken gourd fragments in a burial site in the Pativilca River Valley…and carbon dated to 2250 BC. This makes it the oldest image of a god to be found in the Americas."

—Wikipedia
Despite recognizing the icon in their respective disciplines, Old World scholars and New World scholars have:
(a) failed to recognize the icon's presence worldwide
(b) failed to understand the ubiquitous meaning the icon holds worldwide
(c) failed to connect (a) and (b) and thus remain unaware that THE ICON IS THE CHIEF SYMBOL OF A LOST ANCIENT UNIVERSAL RELIGION once known worldwide
Just as the simple crucifix conveys a complete metaphysical doctrine expressing complex themes like "sacrifice," "life," "death," and "resurrection," likewise this Lord of the Animals / Staff God icon encodes a single multifaceted metaphysical doctrine or Universal Religion.
This religion relates eternal spiritual and perennial truths regarding who we are, where we came from, why we're here, and where we're going, as we'll see in a  moment.
For now, let's look at how the icon mysteriously appears in an array of esoteric and alchemical manuscripts published and quietly circulated during the past several centuries.
The Icon In Esoteric & Alchemical Manuscripts
Many of these manuscripts were published during the European Renaissance.
See below. The creators of these manuscripts certainly understood the icon's historical significance―but exactly how is unclear.
It is clear, however, that they were trying to preserve the icon's ancient meaning for posterity.
Note how the icon is always depicted holding twin objects, following the ancient archetype.
These twin objects are very often associated with the sun (right hand) and moon (left hand).
This is a major clue that all but reveals the icon's ancient universal meaning:

The icon holding twin objects associated with sun (right hand)
and moon (left hand). From a mysterious alchemical treatise
titled "The Hermetic and Alchemical Figures of Claudius de
Dominico Celentano Vallis Novi From A Manuscript Written
And Illuminated At Naples A.D. 1606″

The alchemical Mercury, from Tripus aureus (The Golden Tripod)
by Michael Maier, c. 1618. As Mercurius he presides over the
alchemical opus, integrating the principles of sun and moon.

From a 16th-century alchemical treatise called "The Rosary of the Philosophers"
(Rosarium philosophorum sive pretiosissimum donum Dei). Sun associated
with the right hand, moon with the left hand.

Esoteric design. Origin unknown. Sun in the right hand, moon in the left hand.

Christian Androgynes (Alchemical), 17th & 18th centuries.
Here, the icon has two heads, one male, one female.
Sun in the right hand, moon in the left hand.

An old Hermetic "Rebis" symbol, from the "Materia Prima" of Valentinus,
printed at Frankfurt, 1613. Sun (and Masonic compass) in the right hand,
Moon (and Masonic square) in the left hand. The icon has two heads.
Male right, female left.
This last depiction is interesting.
Called "Rebis," this mythological figure has been featured in alchemical texts during the past few centuries.
The Rebis' right hand is associated with the sun and left hand with the moon.
The Rebis additionally holds a "compass" tool in the "solar" (right) hand balanced by a "square" tool in the "lunar" (left) hand.
This is important.
When combined, the compass and square form Freemasonry's chief symbol:

The solar compass is held in the right hand and the lunar
square in the left hand. Together the compass and square
form the supreme symbol of Freemasonry.
The compass, since it draws a circle or spiritual symbol, denotes our "spiritual" nature, as humans.
Likewise, the square, since it draws a square or material symbol, denotes our "material" nature.
Holding the compass and square is thus a reminder that when we are man we are not just material (body) we are spiritual (soul) too; we are part human, part divine.
– The eternal "spiritual" (soul) part of us reflects solar qualities―right, yang, masculine, give, light, eternal, hot.
– The temporary "material" (body) part of us reflects lunar qualities―left, yin, feminine, receive, dark, temporary, cold.
Think about this for a moment.
We know we are human, of course. We see this in the mirror each day. But divine too? Are we really divine, eternal, immortal…as well as human, temporary, mortal?
The answer is yes.
Man is a combination of human (moon) and divine (sun).
The six-pointed star symbol directly above the head of the Rebis is a symbol of the integration of these opposing forces (sun and moon) and their balance in the Rebis.
And THIS is the message of the Rebis!!!

It's an instruction that teaches us to integrate our own opposing forces in order to transcend the body and discover the divine eternal Self within/above.

The Rebis is a revelation and an affirmation of our own divinity and eternity―same as Masonry's chief symbol:
Freemasonry's logo, the Compass and Square, is a sign of the
union of your (temporary physical) body and (eternal spiritual)
soul, both of which constitute you while you are human.
Did you know you were eternal and spiritual?
"There is one sign which has never changed its meaning anywhere in the civilized world—the Compass and the Square. A sign of the union of the body and soul."

—Deman Wagstaff, Wagstaff's Standard Masonry (1922)
"…the compasses stand for…the spiritual side of man, while the square appertains to the material…"

—J. S. Ward, Interpretation of Our Masonic Symbols
The Rebis is a symbol of the higher spiritual Self, the "god Self," within each one of us, insofar as it is a revelation to us concerning our eternal divine nature.
This eternal divine nature is not readily apparent given the limitation of our five senses (see, touch, hear, taste, smell).
Hence, the message of the Rebis is a message that we need to hear because it's an explanation of who we really are inside.
"Every man is a divinity in disguise…"

―Ralph Waldo Emerson
For this reason, the Rebis is the Philosopher's Stone, the Gold of Alchemy, the pearl inside the Oyster, and so on; the Rebis is all the hidden gems of all the lost sacred sciences and secret societies.
It reveals who you really are. But it also reveals something more: How to get there. How to find your true Self.
In Part II, we will examine how this god Self idea was known throughout the ancient world, symbolized by the icon; its wisdom forming a Universal Religion shared globally.
We also will take a closer look at how the icon's modern esoteric manifestation in the form of the Rebis symbolizes the same idea— the God Self, the higher You.
We will also see evidence from Egypt, Iran and Peru.
Dark Horoscope: What Kind Of Demon Are You According To Your Zodiac Sign?
It turns out that in the horoscope you can find out what kind of demon you are by your zodiac sign. Yes, according to esotericists, each of us has our own dark side, which obeys a certain representative of the underworld. And by the way, it doesn't always hurt us. Sometimes the demon's patronage even helps. 
If you want to know what kind of demon you are by your zodiac sign , then look for yourself in the list below. By the way, the dark horoscope begins unconventionally with Capricorn.
Capricorn – demon Dagdarion
It is believed that Capricorn is the most demonic sign of the zodiac due to its external resemblance to the appearance of Satan or Baphomet. Dagdarion, on the other hand, may look like a toothy fish, a satyr or a devil. This is a demon of coldness and indifference. He gives Capricorn strength of character and the ability to resist other people's emotions, helps to reach career heights and find useful contacts. But from a negative point of view, Dagdarion can make Capricorns into insensitive, proud, arrogant, calculating manipulative people.
Aquarius – the demon Bechemiron
Bechemiron is not one, but many demons, similar to hippos, can also take the form of a cat, dog, wolf or fox. Such a patron demon brings clairvoyance, prophetic dreams and strong intuition to his charges. However, he can also plunge a person into groundless fantasies and illusions. Therefore, it is so important for Aquarius not to lose touch with reality.
Pisces – demon Neshemiron
Neshemiron looks like a skeleton entwined with snakes, or a mermaid. It helps Pisces to better understand themselves and feel other people. Empty dreams, irresponsibility and spinelessness are the vices with which Neshemiron endows his wards. A person can waste his whole life, being lazy and considering himself an underestimated society.
Aries – demon Byriron
Byriron is the creation of Samael, the prince of the fallen angels. This is a child of fire, who has an active, cruel and fearless character. What is the use of it for Aries? It raises their fighting spirit and endows them with determination, helps them become a leader, an insightful and firm person. But the patronage of Byriron makes Aries too aggressive, power-hungry and despotic. Therefore, spiritual practices, yoga and meditation are recommended for representatives of this sign in order to learn how to pacify a storm of emotions in themselves. In addition, Byriron makes Aries show cowardice and "hide in the bushes" when it would be necessary to express their opinion.
Taurus – demon Adimiron
Adimiron is a creature in the form of a half-lizard, half-lion. This demon endows Taurus with a strong-willed and unyielding character. It is believed that the lion's part of the body of Adimiron gives his wards physical strength, and the part of the reptile's body – a "cold head", rationality and concentration. However, in addition to such gifts, this demon can make Taurus very stubborn, withdrawn and greedy individuals. Therefore, it is very important for them not to cling to the material world.
Gemini – the demon Celladimiron
Celladimiron is a Cerberus-like entity. He gives Gemini the ability to easily and quickly adapt to changing external conditions and circumstances. However, the dark side of Celladimiron's patronage is the inability to find oneself and one's place in life. Representatives of this sign run the risk of losing their true self, so they should engage in self-knowledge.
Cancer – demon Shehiriron
Shehiriron is a spirit of water, similar to a demonic reptile, insect, mollusk or crustacean with a human face. The most important gift that Cancers have in store from this spirit is the ability to make all their dreams and fantasies come true. But along with them, empty chores, obsessive thoughts, fears and phobias come into the life of Cancers. Sometimes representatives of this sign suffer from insomnia more often than others.
Lion – demon Shelhabiron
Shelhabiron is a werewolf-like fire spirit. It gives Leo the endurance and the ability to deal with very difficult and responsible tasks, as well as creativity. But on the dark side, Leos can be vicious, ruthless, heartless, and aggressive. Therefore, it is important for representatives of this sign to mobilize their own resources and direct all their internal forces in the right direction.
Virgo – demon Cefariron
According to the description, Cefariron is a half-living and half-dead entity. She helps Virgo see the truth, be an honest and impartial person, and also not pay much attention to public opinion. But all this, in turn, can make the representatives of this sign of people depressed and indifferent to the joys of life. Therefore, they are encouraged to practice positive thinking and not forget to devote time to what they like.
Libra – demon Obiriron
Obiriron is a demonic spirit similar to a golem or a leprechaun. It helps Libra find inner stability. Obiriron has power over time and can give as much of it as needed so that Libra can achieve what they want. However, because of this, the representatives of this sign relax and stop doing anything, thinking that everything will work out by itself. Therefore, the main advice for Libra is not to be lazy.
Scorpio – demon Neheshithiron
Neheshithiron is a demon that looks like a devil insect with a human head. From Scorpios, he makes aggressive and strong personalities. He also helps the representatives of this sign to transform and evolve. It is important for Scorpios to listen to their heart and go through life their own way, because otherwise Neheshitiron, wanting to return a person to his own path, may begin to destroy his life.
Sagittarius – demon Nahashiron
And the last demon according to the sign of the zodiac is the patron saint of Sagittarius, Nakhashiron. It is a demon that looks like a reptile with a dog's head. He helps Sagittarius to deal with the disadvantages of their character and become a strong and whole person. Nakhashiron provides the representatives of this sign with continuous movement towards the goal, giving them energy for transformation. The negative influence of the demon is reflected in the fact that a person can not withstand such a rapid development and get sick. Therefore, Sagittarius needs to streamline their lives as much as possible so as not to waste energy in vain.
Christian writer recorded the voice of Satan?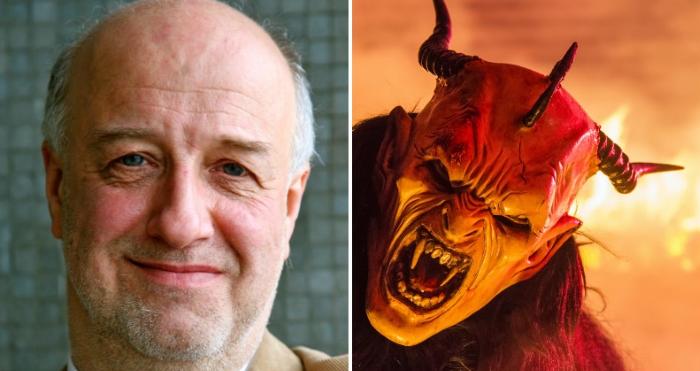 This week, foolishly, apparently, one author claimed to have recorded the real voice of Satan. To promote the new book, Christian author Roderick Millington published a track … of the devil himself, supposedly saying, "Come into the fire, come to me."
The electronic voice phenomenon has been the subject of controversy in the world of paranormal research for many years. Television shows such as Ghostbusters have publicly showcased the results of EVH, often manipulating frequencies to "reveal" a free voice shouting from the great beyond.
Whether you believe in the paranormal or not, Millington's "Voice of Satan" recording will make you raise an eyebrow.
"I confess right away that until recently I was one of the cynics who laughed at those who believe in the devil," the author begins. "Then I heard his voice and everything changed." He continues: "As I sat at my desk trying to figure out what Satan might have spoken to me directly, after a while my breath came back, my mind became clearer and I knew what I had to do. This book is the result. "
This book is titled "The Devil's Playground" and contains 21 supposed recordings of EVP demons along with Satan himself. However, you don't need to buy a book to hear Satan's voice! All you have to do is click here and scroll down to the "Come on fire, come to me" web player.
Rock and metal have a rich history of audio files, with religious leaders striving to find feedback and subliminal messages hidden in songs.
Led Zeppelin was accused of hiding the message "He'll give you 666" in the song, and Judas Priest and Ozzy Osbourne were put on trial after fans died.
No group was found guilty of a crime.
Hollywood studios are built on the blood of babies – Mel Gibson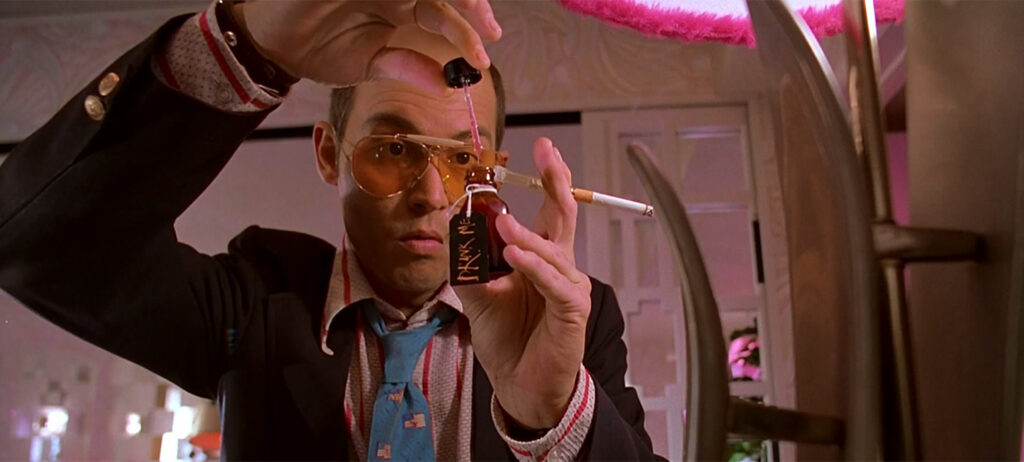 American film actor Mel Gibson criticizes both Hollywood and the morals of the American establishment – tough and unusual. Essentially, he blames a significant portion of the American elite for ritual Satanism. (before that, a similar terrible confession was made by another famous American actor Jim Carrey).
For this, he was blacklisted by the leadership of the US "creative world" in 2006. Since then, the actor has been working outside the system.
Gibson appeared in the prime time of the British BBC channel, in the Graham Norton show, on Friday January 19, where he answered guests' questions:
He said key players in the movie business "get their kicks from destroying the sanctuary of children" as they "thrive on breaking every God-given taboo known to man."
"These people follow their own religion and use it for moral guidance. It's not the sort of religious teachings you folks would ever hear about. They perform sacred rituals that are sick and totally at odds with the moral fabric that binds most patriotic Americans. The worst part: It's an open secret in Hollywood and everyone wants in on it."
He explained how he had been blacklisted by Hollywood's controlling oligarchs in 2006 for voicing his opinions about the industry that clashed with their liberal agenda.
He said that since then he has been "working outside of the system" which has given him a fresh perspective, saying:
"It's difficult to comprehend, I know, and I'm sorry that I am the one to break this to you, but Hollywood is an institutionalized pedophile ring. They use and abuse kids for their own sick 'spiritual beliefs,' if you can even call them that. I don't fully understand it myself, but they harvest these kids for their energy and feast on their blood. They don't do it mercifully either, they scare the sh*t out of them before they sacrifice them. The more innocent the child, the more terrified they are, the more they thrive on it," said the Braveheart star.
What does that mean? They aren't doing this as some form of artistic expression, they are harvesting the blood of children and eating their flesh because they think it gives them some sort of 'life force.'
"If the child was mentally and physically suffering when they died, then it gives them 'extra life force. I don't understand why they do that, but that's what they do. Most of us have a moral compass that guides us through life, right? These people don't have that, or if they do, it's pointing in the opposite direction."
Gibson, who has spent the last 30 years working inside and outside of the Hollywood regime, says that the industry's hierarchy "thrives on abuse, pain, torture, stress, and suffering.
According to Gibson, the desire to inflict such abuse isn't limited to just the elite, but only "those at the top of the food chain can afford such a 'luxury,'" although, it's a "goal for most people in the industry."
According to Gibson, this perversion isn't just the latest fad but has been a deep-threaded culture in Hollywood for generations, and is something popular among both men and women.
This happened "in the green room behind the curtains" immediately after the show:
https://twitter.com/MxMarineMom/status/1242626874112487424
Jennifer Lopez Desperately calls to Fellow SATANISTS as she Breaks Down Emotionally:
Can anyone believe him?
Most likely you can. In his revelation, Gibson publicly declared an epidemic of parasites that control Hollywood and personally participate in child sacrifices and pedophilia:
"every studio in Hollywood is bought and paid for with the blood of innocent children," he said, adding: "The most valuable currency in Hollywood is it's the blood of infants … key players in the movie business get adrenaline from this process and enjoy breaking the bans. "

"They have a blatant disregard for ordinary people. Destroying people's lives is just a game for them – the more they can hurt, the better the sensations. Children are just food for them. They revel in pain and fear, and the younger, the better. "
And then comes the phrase, which should be emphasized: "These people follow their religion and use it for moral guidance." What religion in human society justifies cannibalism and human sacrifice? This question should be asked by each of us.
– Satanism?
– Sure! But not only him. Let us recall the cases of ritual killings, which are widely known.
"They perform sacred rituals that ordinary people will cause bouts of nausea, and are completely in conflict with the morality that binds most patriotic Americans. The worst thing about all this is that it's an open secret in Hollywood and everyone wants to get involved. " (A very timely documentary was filmed on this very difficult topic. ]]>Galina Tsareva's film entitled Octopus ]]>– ed.)
"It's hard to understand, I know, and I'm sorry that I'm the one who opened your eyes, but Hollywood is the deadly legalized patrimony of pedophiles. They use kids to realize their scary sick fantasies. They take these children because of their energy and are saturated with their blood. They don't do it mercifully, they first put them in a state of horror before sacrificing them. "
"The more innocent a child, the better for them. What does it mean? They do not do this as some form of artistic expression: they simply drink the blood of children and eat their flesh, because they think that it gives them some kind of "vitality". "The more a child suffers mentally and physically when he dies, the more he gives them extra vitality." (These satanic rituals are designed to "feed" the demons with psychic energy, and those nonhumans who perform them drink blood that is saturated as a result of the child's inhuman suffering with ADRENOCHROME – a powerful drug that, in addition to "coming", also gives a powerful "rejuvenation" of the body – .)
"Hollywood is saturated with innocent children's blood. There have always been indications of pedophilia and cannibalism, but for many years they have been unprovable, mysterious, or symbolic. I have been familiar with this practice since the beginning of the 2000s, and I would be in serious danger if I ever talk about it. I do not mean only my career, I mean that my life will be in jeopardy, the life of my family will be in danger. I can talk about it only now, when these people, industry leaders, are already dead now. "
"Children are like" premium currency "and have a higher value than anything you can think of. They literally trade these children as currency for services, roles in films, kickbacks … "
According to Gibson, these terrible crimes (pedophilia, infanticide, cannibalism and ritual sacrifices) did not appear in recent years, they have ancient and not American roots. "If you investigate this phenomenon, you will find hidden facts in the shadow of any gloomy era in history. These dark, multidimensional occult practices have been used in secret societies for hundreds of years. Hollywood uses this for social programming and mind control, and their message is projected into the psyche of the American people … "
In what a famous American actor said, the rituals of a satanic human sacrifice are clearly described. It is also indicated that many people know about the existence of the secret structure of Satanists in Hollywood – but they are silent! Meanwhile, the occult powers of Hollywood are using their vast resources "for social programming and controlling the consciousness of the American people." I must say, very successfully used.
The key question is whether the Trump administration and the FBI will then initiate an investigation into the testimony of Hollywood ritual killings, or will the US authorities blame it on Gibson's creative extravagance?
We also note that on the sites that published material exposing Mel Gibson, there are many other creepy publications.
For example, Sylvester Stallone bluntly accuses Barack Obama of being a former U.S. secret homosexual, stating: "I have nothing against homosexuals, but I am against any lies" (Sylvester Stallone: ​​'Pathetic' Obama Is' Closet Homosexual Living A lie ')
]]>
Jim Carrey's article talks about the practice of ritual cannibalism in Hollywood for Christian Christmas (Jim Carrey: Hollywood Elites 'Eat Whole Babies' For Christmas). The author writes that criminal perverts are trying to distort and pervert the soul of the American people and change the whole world.
Adrenochrome: Evil Drug Of The Super Elite, Harvested From Terrorized Children:
Pizzagate, Spirit Cooking, Occult And Beyond:
Katy Perry's New Video Suggestive Of Cannibalism And Pedophile Lingo:
Pizzagate: Pedophilia, Child Sex Trafficking & Those Who Participate:
Materials about secret societies, humanoid mutants
About how the development of sex robots is being conducted so that perverts can conceive children with predefined properties (Sex Robots To 'Give Birth' After Sex With Humans Using Genetic Engineering).
Etc.