Overpopulation: Fact Or Myth?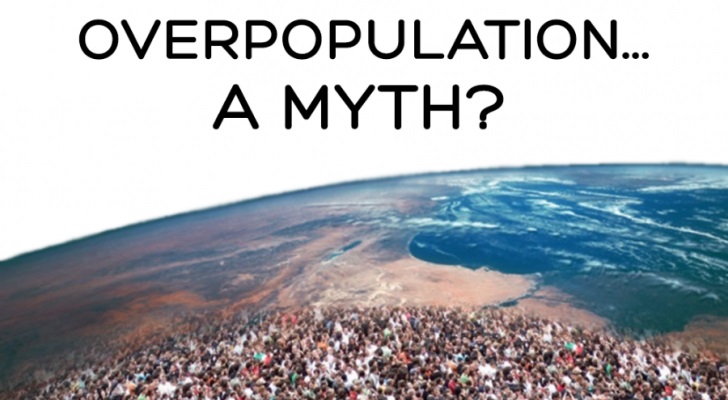 Before starting this article, I wish to specify that it is not because I choose to question the concept of overpopulation that I also question the need to end poverty, overconsumption and environmental destruction. Overpopulation may be a concept, but poverty and unsustainable practices are a reality and my life is geared towards raising consciousness about alternative ways to operate as a society.
However, I believe it is important to question everything; even claims closely tied to the activist and environmentalist movement. Why? Because by questioning theories such as overpopulation, I discovered an even more promising future than the never-ending struggle of trying to merely control the damage we cause to the planet and each other without addressing the cause.
Questioning scare-tactics, even if they seem to be geared towards noble causes, does not necessarily deny our support of the causes themselves. Yet they might save us from getting caught up on issues that distract us from the REAL problems and relevant steps we can take to create meaningful and long-lasting change.
The Overpopulation Scare: How It All Started
The concept of overpopulation originated in England in 1798, when the Reverend Thomas Robert Malthus saw that food production increased incrementally, while people reproduced exponentially. Based on his calculations, he predicted that the world would be out of food by the year 1980. Malthus blamed reduced mortality rates and encouraged population reduction.
In his Essay on the Principle of Population, Malthus calls for increased mortality among the poor:
All the children born, beyond what would be required to keep up the population to this level, must necessarily perish, unless room be made for them by the deaths of grown persons… To act consistently therefore, we should facilitate, instead of foolishly and vainly endeavoring to impede, the operations of nature in producing this mortality; and if we dread the too frequent visitation of the horrid form of famine, we should sedulously encourage the other forms of destruction, which we compel nature to use. Instead of recommending cleanliness to the poor, we should encourage contrary habits. In our towns we should make the streets narrower, crowd more people into the houses, and court the return of the plague. In the country, we should build our villages near stagnant pools, and particularly encourage settlements in all marshy and unwholesome situations. (Book IV, Chap. V) — Read it online. 
Not only that, he believed certain diseases should not sought to be cured for the sake of population control.
"But above all, we should reprobate specific remedies for ravaging diseases; and those benevolent, but much mistaken men, who have thought they were doing a service to mankind by projecting schemes for the total extirpation of particular disorders. (Book IV, Chap. V) — Read it online."
As harsh as this sounds, the push for depopulation was defined by those supporting it as a necessary evil to save humanity and the planet.
In 1968, Paul Ehrlich of Stanford University adopted and propagated Malthus' theory of overpopulation. He claimed that excessive human reproduction has overwhelmed the planet and predicted that the world would undergo massive famines, which would kill off hundreds of millions of people by the end of the 70's.
In his 1968 work The Population Bomb, Ehrlich stated:
"The battle to feed all of humanity is over. In the 1970s the world will undergo famines–hundreds of millions of people will starve to death in spite of any crash programs embarked upon now."
Because of the fear that such an alarming claim triggered, large sums of money were donated to the UNFPA (the United Nations Population Fund), which was founded the year after Ehrlich published The Population Bomb. This fund thrives on a crisis that – despite being "imminent" – keeps on being rescheduled over and over again for the past 200 years.
How "imminent" is this crisis exactly? Is there really too little space, too little resources and too many people? What are the facts and what are the myths? 
Not Enough Space?
1. The Entire World Population Can Sink Into The State Of Texas
Many believe that overpopulation is a question of lack of space. It isn't.
Today, there is approximately 7,268,730,000 people on earth. The landmass of Texas is 268,820 square miles (7,494,271,488,000 square feet). If we divide 7,494,271,488,000 square feet by 7,268,730,000 people, we get 1031 square feet per person. This is enough space for everyone on earth to live in a townhouse while altogether fitting on a landmass the size of Texas. And we're not even accounting for the average four-person family who would most likely share a home!
It is not to say that creating such a massive subdivision would be a smart, sustainable or practical thing to do. Cramming together a population that continues to over-consume, waste and poison the environment the way we currently do would be a recipe for disaster. This is just to give an idea of how it isn't space itself that is lacking. Notice how small Texas is compared to the rest of the world!
Did You Know?
– Every man, woman, and child on earth could each have 5 acres of land. (Calculated from numbers found on: "Central Intelligence Agency" The World Factbook)
– If we wanted to squeeze close, everyone in the world could stand shoulder-to-shoulder on the island of Zanzibar.
– Plankton make up 3 times more biomass than all 7 billion humans combined.
2. Cities Are Overcrowded, The World Is Not
How can this be proved? Easy: Conditions of apparent overpopulation only exist in cities, not in rural areas.
The urban population is on the rise. (see graph here)
Since 2008, more than half of humanity has become urbanized. The reason is because there are more opportunities to make money in the city than in the countryside. A city is crowded because people come from miles and miles away to move there, not because of wreck-less reproduction and overpopulation.
Did You Know?
– Studies show that birthrates are lower in urban areas than in rural areas. [Source]
– Population growth is slowing down and is predicted to decrease by the middle of this century. [Sources 1, 2]
Not Enough Food?
1. Scarcity Is A Myth
The world is abundant of resources and could provide for everyone's need, yet every year rich countries waste more that 220 million tons of food. Meanwhile, the poor still starve to death – not because resources are scarce, but because they don't have the money or have rights to enough land.
Did You Know?
– All the world's nearly one billion hungry people could be lifted out of malnourishment on less than a quarter of the food that is wasted in the US, UK and Europe. (Click HERE for more outrageous food waste facts)
– Abundance, not scarcity, best describes the world's current food supply. Enough grains are produced to provide every human being with 3,500 calories per day – 1,500 more calories per day than recommended by the Food and Drug Administration.
– Both of the world's leading authorities on food distribution (the United Nations Food and Agriculture Organization [FAO] and the World Food Programme [WFP]) stated that there is more than enough food for everyone on the planet.
Think about it: The earth does not concentrate its abundance wherever there is gold or stop seeds from sprouting if they were not owned or paid for. Select individuals proclaiming themselves as "authority" made those rules up. A whole empire designed for the "richest" to exclusively hoard most of the earth's resources is nothing more than a game of monopoly covering the fact that our planet provides more than enough resources for all of its inhabitants to share equally.
"Earth provides enough to satisfy every man's need, but not every man's greed." – Gandhi
2. Overpopulation Does Not Cause Hunger, Unfair Management Does
Sociologists Frederick Buttel and Laura Raynolds published a study of population growth, food consumption, and other variables in ninety-three third world countries. The statistics showed no evidence that fast population growth causes hunger. However, they did find that the populations of poorer countries, and those countries where the poorest 20 % of the population earned a smaller percentage of a nation's total income, had less to eat.
In other words, poverty and inequality cause hunger, not overpopulation.
The theory of overpopulation describes a situation where the number of people exhausts the resources in a closed environment such that it can no longer support that population. A good analogy would be to compare our planet to a barricaded house, with no way to neither enter nor exit. Since the house's inhabitants would be limited to the space and resources within the house, it is obvious that the refrigerator would soon be emptied out and the oxygen would eventually be used up. There would be too many people and too little resources to ensure everyone's survival within the house. But are houses usually barricaded? Are crowded cities or poor countries naturally enclosed?
Or more specifically; did our planet come equipped with authorities and policies preventing food from being transported where it is needed or land to be freely inhabited or farmed according to need? No, no and no. 
"Don't think people starve because the world is overpopulated. The world isn't overpopulated at all. It's just very badly managed." – Max Igan
We blame poverty on scarcity and overpopulation. But seldom do we look at human behavior itself. Seldom do we look at the laws created by none other than humans preventing starving people from having access to food and arable land, or the obvious misdistribution of resources caused by the greed of the minority.
And let's not forget the "debt" that poor countries "owe" to the rich.
"The history of third world debt is the history of a massive siphoning-off by international finance of the resources of the most deprived people. This process is designed to perpetuate itself, thanks to a diabolical mechanism whereby debt replicates itself on an even grander scale, a cycle that can only be broken by cancelling the debt. " – Third World Debt, a Continuing Legacy of Colonialism
Not Enough Arable Land?
It is easy to blame some so-called "natural" phenomena that requires artificial measures such as GMOs to "solve world hunger" or population reduction plans, but how about criticizing the actual values behind our system and ways in which it promotes inequality for the benefit of the few? How about questioning the belief that opportunities and abundance can only exist where money flows, when we live on a spacious planet that could provide for everyone if we were to use it intelligently?
Did You Know?
– Many nations can't realize their full food production potential because of the gross inefficiencies caused by inequitable ownership of land and resources.
– Many of the countries in which hunger is rampant export much more in agricultural goods than they import. Northern countries are the main food importers, their purchases representing 71.2 % of the total value of food items imported in the world in 1992. Imports by the 30 lowest-­‐income countries, on the other hand, accounted for only 5.2 % of all international commerce in food and farm commodities.
– Africa has enormous still unexploited potential to grow food, with theoretical grain yields 25 to 35% higher than maximum potential yields in Europe or North America.
– Beyond yield potential, ample arable land awaits future use. In Chad, for example, only 10% of the farm land rated as having no serious production constraints is actually farmed. In countries notorious for famines like Ethiopia, Sudan, Somalia and Mali, the area of unused good quality farm land is many times greater than the area actually farmed.
Ownership & Control of Land
It is believed that poverty is the result of overpopulation, poor education, racial inferiority or even laziness. But because most people never think to question our current system and the authorities pulling the strings, few realize how the system itself is geared towards enriching the few and enslaving the masses.
The following passage from "The World's Wasted Wealth: the political economy of waste" by J.W. Smith describes this reality very well:
Land Rights And Ownership

"The often heard comment (one I once accepted as fact) that "there are too many people in the world, and overpopulation is the cause of hunger", can be compared to the same myth that expounded sixteenth-century England and revived continuously since.

Through repeated acts of enclosure the peasants were pushed off the land so that the gentry could make money raising wool for the new and highly productive power looms. They could not do this if the peasants were to retain their historic *entitlement* [emphasis is original] to a share of production from the land. Massive starvation was the inevitable result of this expropriation.

There were serious discussions in learned circles about overpopulation as the cause of this poverty. This was the accepted reason because a social and intellectual elite were doing the rationalizing. It was they who controlled the educational institutions which studied the problem. Naturally the final conclusions (at least those published) absolved the wealthy of any responsibility for the plight of the poor. The absurdity of suggesting that England was then overpopulated is clear when we realize that "the total population of England in the sixteenth century was less than in any one of several present-day English cities."

The hunger in underdeveloped countries today is equally tragic and absurd. Their European colonizers understood well that ownership of land gave the owner control over what society produced. The most powerful simply redistributed the valuable land titles to themselves, eradicating millennia-old traditions of common use. Since custom is a form of ownership, the shared use of land could not be permitted. If ever reestablished, this ancient practice would reduce the rights of these new owners. For this reason, much of the land went unused or underused until the owners could do so profitably. This is the pattern of land use that characterizes most Third World countries today, and it is this that generates hunger in the world.

These conquered people are kept in a state of relative impoverishment. Permitting them any substantial share of the wealth would negate the historic reason for conquest — namely plunder. The ongoing role of Third World countries is to be the supplier of cheap and plentiful raw materials and agricultural products to the developed world. Nature's wealth was, and is, being controlled to fulfill the needs of the world's affluent people. The U.S. is one of the prime beneficiaries of this well-established system. Our great universities search diligently for "the answer" to the problem of poverty and hunger. They invariably find it in "lack of motivation, inadequate or no education," or some other self-serving excuse. They look at everything except the cause — the powerful own the world's social wealth. As a major beneficiary, we have much to gain by perpetuating the myths of overpopulations, cultural and racial inferiority, and so forth. The real causes must be kept from ourselves, as how else can this systematic damaging of others be squared with what we are taught about democracy, rights, freedom, and justice?"
Sustainable Agriculture, Housing & City Planning: Creating Abundance for All While Nurturing The Planet
Alternatives to unsustainable agricultural practices do exist. The success of organic farmers in the U.S. gives an idea of the possibilities. Cuba's success in overcoming a food crisis through self-reliance and sustainable, virtually pesticide-free agriculture is another great example. Environmentally sound agricultural alternatives can be more productive than environmentally destructive ones. Permaculture is a great example.
Sustainable housing and city planning is also an alternative that should be globally implemented instead of simply pointing fingers at a growing population. The possibilities are endless; from simple Earthship eco-villages to high-tech eco-cities.
"Humanity is acquiring all the right technology for all the wrong reasons." – R. Buckminster Fuller
Earth's Destruction: Overpopulation Or Unsustainable Practices?
Overpopulation is blamed for the destruction of the planet, yet have we ever thought of pointing fingers at the unsustainable practices WE continue to perform in the name of "profit" despite the many existing alternatives? It is not a question of the number of people inhabiting our planet, it is a question of personal and collective responsibility.
The truth is, if we all shifted towards an earth-friendly lifestyle and designed sustainable cities that would allow for self-sufficiency and collaboration for the good of all, we would no longer be considered a threat to the planet. We would work with nature and not against it. We are a part of nature after all and it is about time we stop feeling guilty for existing. What we should be critical of are our actions and destructive system we continue to uphold – not our species itself – which can all be changed if we stop pretending we are separate from nature and each other.
All of the unconscious actions we do are a result of just that: unconsciousness. Yet we can be conscious. Being conscious IS natural; it is who we are beyond the artificial blinders we put on as we choose to believe what the media tells us to believe.
Power To The People: Let's Create Something New
If we built this world, what makes us believe we cannot build something different? As of now, we use most of our manpower, creativity and intelligence to build weapons of war, unsustainable technologies and meaningless products. We mostly unite forces for military action. We waste incredible human potential inside of small cubicles for tasks that could be automated, or that serve no higher purpose.
What if we used all of our manpower, creativity and intelligence for the betterment of all life instead of using it solely to empower the few at the top? What if we united forces not for war and destruction, but for peace and creation? What if we instead used this same potential to create sustainable technologies, beneficial products and harmonious systems that would allow humanity and the earth to thrive? Imagine if we united as a people, stopped complying and created a more beautiful world—not because of some piece of paper we would get in return but, because it only makes sense.
Whether or not overpopulation is real may be debatable, but there is no debating that something needs to change. However, I don't believe that focusing on merely controlling population growth is very constructive if we don't change the way the population operates on this planet.
We talk about how "terrible" it is to be 7 billion people on the planet, yet we still ignore inequality and corporate profiteering. We still ignore how sustainable technologies are suppressed in the name of power and profit.
So instead of fearing how many people we are… why not use the power of the many to get our act together and CHANGE our ways?
SOURCES:
http://hearttoheartparenting.org/overpopulation-is-not-the-problem-a-sustainable-world-begins/
http://www.prolifeinfo.ie/mcms_print.php?nav=p-25120
http://www.theguardian.com/commentisfree/2010/aug/26/urban-planning-overcrowding
http://www.un.org/apps/news/story.asp?NewsID=40698#.VE0iE4vF-mA
http://factslist.net/2013/03/the-entire-world-population-can-sink-into-the-state-of-texas/
http://overpopulationisamyth.com/
http://www.pop.org/content/debunking-myth-overpopulation
http://foodfirst.org/publication/12-myths-about-hunger/
http://www.globalissues.org/article/7/causes-of-hunger-are-related-to-poverty
http://informationwarfareblog.com/a-simple-solution/
http://leaksource.info/2013/03/09/overpopulation-debunked-every-person-in-the-world-could-fit-inside-australia-with-14-acre-of-land-each/
http://www.globalissues.org/article/205/does-overpopulation-cause-hunger
http://www.tandfonline.com/doi/full/10.1080/03066150.2012.708859
http://theratchet.ca/no-population-bomb
http://www.slate.com/articles/technology/future_tense/2013/01/world_population_may_actually_start_declining_not_exploding
Sprites: Mysterious inhabitants of the Earth's ionosphere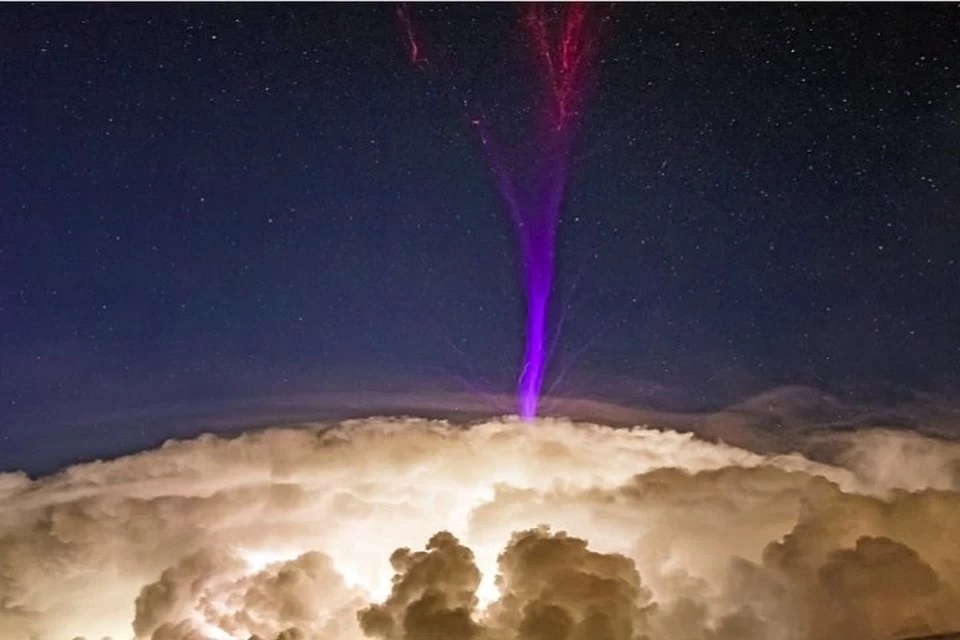 Sprite, "The mysterious inhabitant of the earth's ionosphere," as cryptozoologists respectfully call it, is a ball of fire, a flash, a spot of light that sometimes, successful observers succeed in capturing when observing the sky.
The spot makes strange chaotic movements, dances, draws strange geometric shapes in the sky, and then disappears as instantly as it appears.
Ufologists consider sprites, of course, alien ships, and cryptozoologists, an amazing creature whose body consists of some energy that can exist in both three and four dimensions. Sprites are also called "tigers," "elves," and "blue jets."
They belong to the spirits of the elements, who care about human affairs. Therefore, from the point of view of the most mystically minded cryptozoologists, the appearance of a sprite is a signal that something extraordinary can happen to the observer in the near future – both bad and good. Here and in ancient sources it is said:
"There is a tree named Tsalifa, on which bird eggs grow instead of fruits.
Birds that only fly in the sky and cannot touch the earth hatch out of it, they cut the air of the earth and people's air with their wings, because it is too rough for them, and when such a bird flies, the air becomes thin, and only when such a bird flies and the air becomes thin, the person can hear the voice of God, otherwise the person does not hear the voice of God, since the air at his ears is too dense" (Midrash Talpiot – section of the Oral Torah).
Some cryptozoologists believe that sprites are an alternative form of existence of matter, the primary amoeba of the nascent world of "pure energies", which in the future, will subsequently become the dominant form of life in the Universe.
Official science believes that cryptozoologists see all kinds of nonsense and for their sprites they take the signal lights of aircraft, the rays of searchlights, the glare of car headlights on the clouds and ball lightning.
A strange story about an ominous Japanese TV commercial
Urban legends of a terrible TV commercial of 1985 with a girl and a demon child in Japan are becoming more and more popular every year. This advertisement really causes strange sensations, but is it really so scary?
If you lived in Japan in 1985 and watched TV, sooner or later you would see one of the strangest commercials created for Kleenex cleaning wipes.
There are two characters in the commercials: a pretty girl in a long white dress and a 2-3-year-old child in the make-up of the red-skinned one-horned cannibal demon from Japanese mythology.
Both of them are sitting on the hay, the little "eater" looks angry, while the girl gently throws up napkins or tries to stroke the "eater". They don't pronounce a single word in 30 seconds of each video and all this happens under the melancholy slow song "It's a Fine Day" by Edward Burton and Jane.
As soon as these commercials began to appear on TV, many people began to feel that the commercials scared them and that they had an incomprehensible effect on the psyche. The reaction of the audience was so negative that the videos were soon removed from the show. But the story did not end there, soon various scary stories and stories associated with this advertisement began to disperse throughout the country, which in our days have turned into urban legends.
First of all, it was stated that the song "It's a Fine Day" in the original performance in German was not at all romantic, but contained the refrain "Die, die, everyone will be cursed and killed." It was even said that repeated listening to this song imposes on people a peculiar "mental attitude" to death. Then, unverified but persistent rumors began to appear that many people who took part in the filming of these videos began to die a strange and sudden death. Including it was reported that the boy who played the cannibal demon suddenly lost consciousness and soon died from the failure of the internal organs.
It was said that the director, cameramen and both producers of this advertisement also died. And many other crew members suffered from accidents or various unpleasant things happened to them. The actress who played the girl in a white dress allegedly went crazy and was sent to a psychiatric clinic shortly after filming in commercials.
According to other versions, she committed suicide after giving birth to a terribly mutilated child. Ordinary viewers who saw this ad several times, allegedly, either went crazy, tried to commit suicide or simply disappeared without a trace.
In 2006, the official television version of these commercials was completely destroyed, but soon amateur videos of this advertisement appeared on YouTube. And soon, many people began to say that from watching this advertisement they had cramps, headaches, or even loss of consciousness. Several deaths have even been reported.
Some users noticed another oddity: if you watch this ad at night, then the small details of the video change by themselves. Sometimes a cannibal boy becomes colored blue, and the color of the girl's dress also changes, or interference bars begin to run across the video screen. Some viewers wrote that these commercials do not just feel like something ominous, they allegedly encoded some information aimed at destroying the human psyche or taking it under control.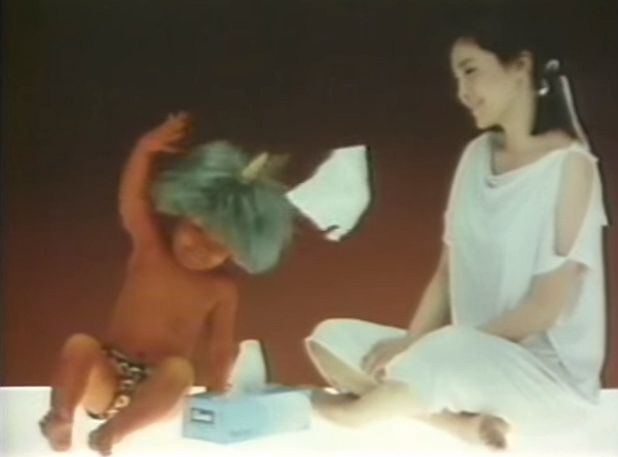 All this is quite frightening, like a plot from a horror movie, but most likely all this is completely (or partially) fiction. The fact is that at least one striking "fact" has not been completely confirmed – the girl in white is the actress Keiko Matsuzaka, who is still alive and healthy and has never been in a mental hospital. At the same time, it was neither possible to confirm nor deny the death of the demon boy or accidents with the film crew. No information was available on them.
The Woman who fell in love with an alien from Venus and gave birth to a hybrid child
While climbing a hill near Johannesburg, a woman saw a low-hanging silver disk there, and then she had a telepathic connection with one of the aliens. He was very similar to a man, they began to love, which led to the birth of a child. The story of Elizabeth Klarer is one of the most bizarre and unusual in ufology. So much so that many suspected Elizabeth of fiction for the sake of self-interest or simply of an excessively rich imagination.
At the same time, the woman herself assured that everything she told was true. Even if there appears a love for an alien, the birth of a child from him and a journey through the colorful star worlds. Some directly accused Elizabeth of being crazy, eccentric, or suffering from some kind of mental problem. At the same time, Elizabeth Klarer was quite smart, competent and educated. She was born in 1910 in South Africa, her parents were of noble birth and a girl from a young age was fond of music and sciences.
Elizabeth was especially interested in meteorology, and when the Second World War began, she worked in the intelligence of the South African Air Force and decrypted secret German radio programs. After the war, she also did not do anything "eccentric or unabashed". But in 1950, a book about UFOs accidentally fell into her hands and she immediately remembered something that had long ago gone somewhere in the very depths of her memory. She remembered that when she was 7 years old, she and her sister saw in the sky a flying silver disk that glowed and soared very low right above their farm.
And this was not a solitary event, but only the first of a whole series when little Elizabeth watched flying disks. These memories and the read book about UFOs turned Elizabeth into a big fan of ufology, however, the strangest events in her life began in 1954. Elizabeth found out that over a hill in a rural area near Johannesburg people often saw UFOs and she decided to go there and explore everything. When Elizabeth arrived there and spoke with the local Zulus, they told her that there was a "lightning bird" on the hill and that their legends had been telling about her for many years.
When Elizabeth herself climbed this hill, she immediately ran into a low-hanging disk-shaped object. He made a humming noise, and in the windows of the ship Elizabeth saw humanoid creatures. She wanted to come closer, but she was suddenly pushed away by a wave of hot air, but at the same time she immediately got a telepathic connection with the creature from the UFO, which said that his name was Akon.
Elizabeth talked with him for a while and every minute realized that she wanted to learn more about these creatures. When the contact ended and the UFO flew away, Elizabeth came to the hill several more times over the next two years in the hope of talking to Akon again. In 1956, she was given a second chance. When Elizabeth came to the hill again, she saw a flying disk coming down, sits on top of the hill, and then Akon stepped out and invited Elizabeth inside. Next to him was his friend, whom Akon introduced as a botanist and astrophysicist, and then they both began to lead Elizabeth around the ship and talk about him.
They said that their disk is a reconnaissance ship and that in the orbit of the planet is a mother ship, which is much larger than this. They flew there and Elizabeth saw a huge cigar-shaped object, the length of which was 8 miles (!), So she was told. Inside this ship everything resembled a huge beautiful city, there were houses, parks with trees, clearings with flowers and even artificial lakes. And of course there were a lot of humanoids. Elizabeth described them as very similar to people, but taller, more beautiful, more polite, gentle, completely not aggressive and not cruel.
Akon and others told Elizabeth that they were actually from Venus and that they lived on her before she turned into a cold piece of stone. When Venus died, they flew to a planet called Meton and now live there. They described that when Venus was a normal planet. there were many plants and it was very similar to Earth. They said that Venus died due to the fact that its orbit has changed and it has come too close to the Sun. And that when they realized that the irreparable would happen, they began to fly away from Venus in search of other worlds, and they used the Earth and the Moon for temporary stops.
Elizabeth found out that Venusians still have their bases on Earth, the Moon, and also on Mars and they regularly visit them because they feel responsible for the fate of earthlings and want to make them more developed. After this detailed excursion, Elizabeth was returned to Earth, on the same hill, but even then she realized that Akon very much attracted her as a man. Akon also had feelings for Elizabeth. In the following months, they met several times and Akon gave her a special ring, with which Elizabeth could telepathically communicate with him at any time.
There were intimate contacts between them, after which Elizabeth once realized that she was pregnant. It was 1958, and when Elizabeth told Akon about the baby, he suggested that she fly to their planet Meton so that Elizabeth could give birth there. So they did.
Planet Meton was very developed and was one of the seven planets inhabited by the Venusians. Elizabeth then described in detail what civilization looks like on this planet and her words painted a perfect society as in utopia. There were no wars, crime, poverty, everyone had equal rights and everyone had equal access to food.
There was no monetary system, and all the houses and enterprises were powered by renewable and unlimited energy. People wore luxurious silk clothes and lived mostly in vast park areas. There were no high-rise buildings in their cities, no factories, and the air was very clean. Children were trained with the help of telepathy and therefore they had neither textbooks nor schools. In an interview with ufologist Stuart Bush, Elizabeth told for example this:
"Meton is similar in size to the Earth, but it's a bit larger and it's covered almost entirely by the oceans. The land there is part of the island, not the mainland. The climate is very good and they keep it under control. They have almost everything you can want, that's true utopia. Not only are they technically more advanced for thousands of years than we are, but they are spiritually very developed. They have no politicians, no laws, no money. Medicine there is a science that is not even considered mandatory for health, they are all healthy anyway. Their way of thinking is different from ours, they are very loving, gentle and creative people.

Everyone does the work that he loves the most. There is no need for law, no crime and no police. Everyone's behavior is controlled only by a code of ethics. They constantly create beauty around them, there is complete harmony with it. Their houses are beautiful and made of transparent walls. They do not have books, but they make up for this by frequent travels throughout the galaxy, and always take their children, even the smallest, with them to learn from their own experience.

They have technologies to look into the past at any moment in history. For example, they can see our planet during the time of the dinosaurs. They paint beautiful paintings and write wonderful harmonic music. They have no problems in learning languages, because communication through telepathy does not require this."
In general, Elizabeth was in a wonderful place and of course she really wanted to stay there forever. However, it turned out that this was impossible, she was explained that Meton's vibrations were completely different than on Earth, and if Elizabeth stays there too long, her heart will weaken. "Elizabeth was forced to say goodbye to Akon with tears in her eyes and leaving her son Isling to return to Earth.
In the following years, Akon and Isling visited Elizabeth many times on Earth, and then Akon and his son went on a long journey through the galaxy. In the mid-1970s, Elizabeth told the whole story to ufologists and became very popular in their community. She was interested in journalists, she attended various conferences about UFOs. Unfortunately, elsewhere, Elizabeth was mostly ridiculed for "fantasy writing".
In 1980, Elizabeth Klarer released a book about herself, "Beyond the Light Barrier", but after it began to insult her even more and even pursue her. Threats were sent to her. intimidated, so soon Elizabeth decided to "go underground." She stopped communicating with ufologists and journalists. In the 1990s, she worked on her second book, The File of Gravity, but did not have time to finish it, having passed away in 1994. The story of Elizabeth Klarer still causes a skeptical smile for many and is read like a fairy tale, but Elizabeth herself, in the words of her entourage, was in her mind until she was old, did not at all resemble an insane dreamer and always said that her words were true.