Over 7000 Earthquakes In Past 30 Days And 66 Volcanoes Are Erupting Right Now
Now Global ELITE are canceling their Meetings!
Side Note: There are also 66 Volcanoes erupting at different stages right now.
7187 earthquakes in all events in the past 30 days. 309 earthquakes in the last 24 hours. Get the latest here: [link to earthquake.usgs.gov]
Today's earthquake fact: A powerful magnitude 7.9 earthquake struck Alaska on November 3, 2002, rupturing the Earth's surface for 209 miles along the Susitna Glacier, Denali, and Totschunda Faults. Striking a sparsely populated region, it caused thousands of landslides but little structural damage and no deaths. Although the Denali Fault shifted about 14 feet beneath the Trans-Alaska Oil Pipeline, the pipeline did not break, averting a major economic and environmental disaster. This was largely the result of stringent design specifications based on geologic studies done by the U.S. Geological Survey (USGS) and others 30 years earlier. Studies of the Denali Fault and the 2002 earthquake will provide information vital to reducing losses in future earthquakes in Alaska, California, and elsewhere.
Listed are all earthquakes over magnitude 5. 7.3 9km WNW of San Agustin, Colombia 2012-09-30 16:31:35 1.920°N 76.355°W 170.0 6.2 96km ENE of Miyako, Japan 2012-10-01 22:21:45 39.853°N 143.047°E 9.7 6.0 112km SE of Gizo, Solomon Islands 2012-09-27 23:53:49 8.825°S 157.557°E 10.0 5.7 166km WNW of Sikabaluan, Indonesia 2012-10-03 13:32:34 0.451°S 97.648°E 10.0 5.5 12km SSE of Cuajinicuilapa, Mexico 2012-09-29 07:11:13 16.355°N 98.388°W 10.2 5.4 296km NNE of Farallon de Pajaros, Northern Mariana Islands 2012-09-30 15:35:53 22.992°N 146.050°E 35.0 5.4 102km ESE of Pondaguitan, Philippines 2012-10-03 18:28:33 5.860°N 126.955°E 144.5 5.4 39km E of Tarata, Peru 2012-09-29 17:48:57 17.480°S 69.660°W 126.0 5.3 281km NNW of Scott Island Bank, Antarctica 2012-10-02 19:41:29 65.008°S 177.926°E 16.6 5.3 91km WSW of Neiafu, Tonga 2012-10-02 03:33:30 18.820°S 174.836°W 96.7 5.3 212km SSW of Mohean, India 2012-09-29 11:24:33 6.115°N 92.810°E 28.5 5.3 202km S of Taron, PNG 2012-10-03 06:26:17 6.277°S 152.746°E 30.5 5.2 18km ESE of Iwaki, Japan 2012-10-01 18:40:52 36.959°N 141.059°E 6.7 5.2 93km NW of Curup, Indonesia 2012-10-02 17:37:24 2.876°S 101.931°E 116.6 5.2 115km SSE of Gizo, Solomon Islands 2012-09-28 23:22:31 8.976°S 157.426°E 10.0 5.1 14km ENE of Rangapara, India 2012-10-02 18:37:40 26.847°N 92.788°E 51.6 5.1 55km ENE of `Ohonua, Tonga 2012-10-02 11:35:51 21.109°S 174.474°W 34.7 5.1 14km NNW of Dumingag, Philippines 2012-10-02 06:25:31 8.293°N 123.314°E 41.1 5.1 107km E of Miyako, Japan 2012-10-01 22:55:51 39.776°N 143.189°E 37.9 5.1 241km SW of Tomatlan, Mexico 2012-10-01 17:32:31 18.713°N 107.151°W 21.3 5.0 South of the Fiji Islands 2012-10-01 17:24:42 24.588°S 179.380°W 461.8 5.0 111km ESE of Kimbe, Papua New Guinea 2012-10-03 21:02:38 5.765°S 151.126°E 56.9 5.0 90km S of Pangai, Tonga 2012-10-02 18:39:08 20.607°S 174.229°W 3.1 5.0 South of the Fiji Islands 2012-09-27 16:54:44 24.893°S 179.256°W 515.1 5.0 16km SW of Tayaman, Philippines 2012-10-04 01:55:20 13.131°N 120.457°E 58.5 5.0 3km NE of Hukay, Philippines 2012-09-29 14:12:04 13.869°N 120.730°E 186.1
Will the Middle East explode on July 24?
On July 10, 2020, the Turkish State Council overturned the decision of the government of November 24, 1934 to change the status of Hagia Sophia in Istanbul, when it turned from a mosque into a museum. Now the cathedral will again become a mosque and on July 24, religious services will resume there. 
Naturally, the news was picked up by all the media, some of which relate to everything as if neutral, some rejoice, some are indignant and grieving.
According to the official chronology, Constantinople fell in 1453 and the building lost its status as a mosque only in 1934/1935 thanks to the personal order of Kemal Ataturk. Well, now it so happened that the Turks canceled the decree, to which they claim they have every right. However, did they need to exercise this right?
If there weren't enough mosques in Turkey, Erdogan's decision could be understood. But in this case, this is a purely political gesture – Turkey's claim to recreate the Byzantine Empire, or something like that.
We cannot blame the Turks for such a desire, since hereditary bosses in many countries rave about such ideas and the Turks are no exception. However, such things as the construction of monuments – this is like the last stone in the empire.
The founder of the modern Republic of Turkey, Mr. Atatürk, ordered Sofia to be given the status of a museum not because he so appreciated the Byzantine frescoes, but because he, like many, knew a prophecy dating back from the Middle Ages (more precisely, several dozen prophecies given, including by Turkish mystics) about that Sofia will change her status several times. Even during the construction of the temple, there was a prediction that it would become a mosque, then again a temple, then a mosque again, after which the Muslims would be expelled and Sofia would become a Christian church for good.
The first of the Turks who became acquainted with this prophecy was Sultan Mehmed II who conquered Constantinople, therefore, even turning the temple into a mosque, he ordered the royal gates of the altar to be sealed, the opening of which appeared in the prophecy. Ataturk was also knowledgeable, so he ordered not to touch anything away from sin there.
And now Mr. Erdogan decided that he was smarter than Ataturk.
It will end very badly for Turkey, because the prophecy has come true and the meter is on. Moreover, there is a suspicion that Sofia is not exactly the idea of ​​Mr. Erdogan, but a "team from the center":
This is painfully familiar to all conspiracy theorists from the cartoon I, Pet Goat II, on the subject of which a variety of opinions were expressed. Most often, Al-Aqsa or something in Iran was seen in this mosque, however, Hagia Sophia was also considered, since the bridge leading to the mosque is very similar to the bridge over the Bosphorus: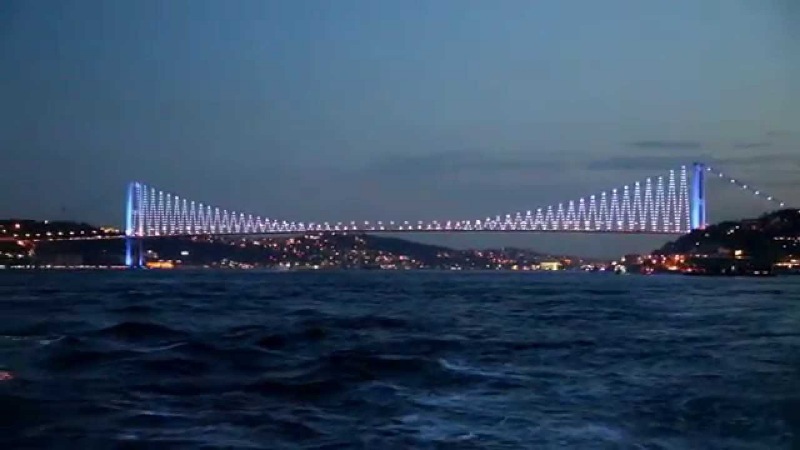 Therefore, we do not exclude that we are talking about the bombing of this particular temple. But will it be symbolic or real – that we do not know.
In addition, Mr. Ergogan chose an extremely successful date for the commencement of services. On this day, comet NEOWIS will approach the Earth as close as possible and will shine, obviously, at its brightest. Meanwhile, this comet, as many people think, is a harbinger of the Third World War.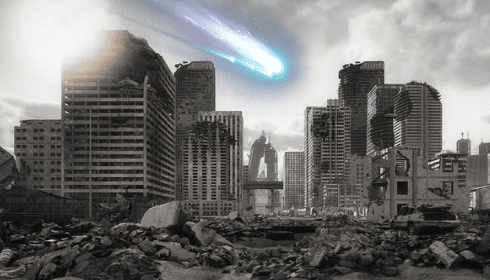 Therefore, based on the foregoing, we think that Turkey's decision to return Sofia to the status of a mosque is part of a global performance whose premiere is scheduled for somewhere around July 24th. On this day, either Sofia or the entire Middle East may explode.
The Third Temple could be built no later than next year
According to the well-known eschatological resource The End Times Forecaster with reference to Mahon ha-Mikdash (a research institute in Jerusalem whose activity is focused on building the Third Temple), both red heifers that can be used to consecrate the Third Temple feel good and now -they have reached the age of three:
According to the rules, heifers can be sacrificed at the age of three, although some rabbis believe that this is not necessary. Nevertheless, based on tradition, the cows will reach three years of age in August 2021. Obviously, at this moment the Third Temple will be built.
Surprisingly, Rabbi Matityahu Glazerson, who studies the Torah codes, completely independent of The End Times Forecaster, came to a similar conclusion.
According to Breaking Israel News, retelling Glaserson's video, Mashiach will come "anytime from the night of Rosh Hashanah, from September 18, 2020 to September 6, 2021.
However, what confused both the editors of Breaking Israel News, and Glazerson himself, when reading the Torah, according to a special algorithm that helps to open hidden messages there, near the time interval 18/09/20 – 06/09/20 and the words "God's time" and "Messiah" also the words "End of Times" are spelled:
It is very unlikely that this is a coincidence, so the appearance of the "Messiah" is definitely not far off and everything is going to that.
Nibiru with satellites spotted near the sun
On the evening of June 22, 2020, at about 19:00 UTC, a gigantic coronal mass ejection occurred on the Sun: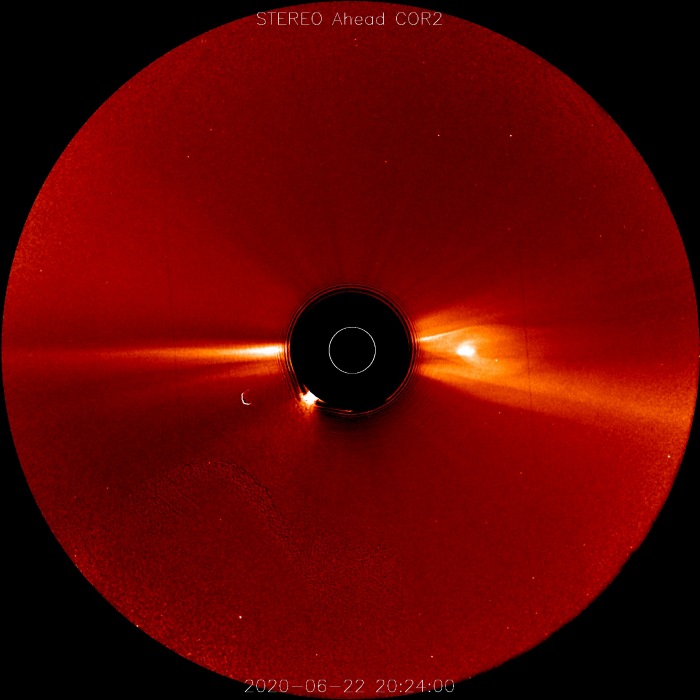 Judging by the frames provided by STEREO satellites, the explosion in the Sun was somehow unexpectedly large, so a number of enthusiasts began to examine these images by downloading from NASA Pictures in full and experimenting with filters. In the end, this is what happened there: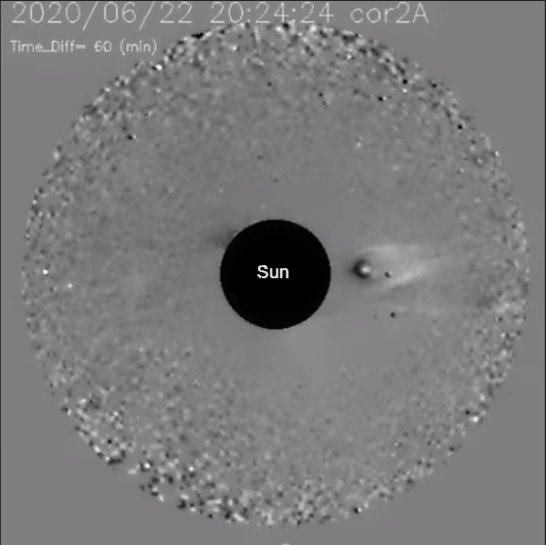 Thus, what was originally interpreted as a flash turned out to be a glow of the atmosphere of a certain celestial body, the proximity of which caused an ejection of solar mass. The body there is clearly not one, but surrounded by satellites:
Now the question arises: what is it? Instead of an answer, NASA began repair work on the service and it shows only the current picture.
Suppose, purely theoretically, that this was a shooting artifact, or rather, three artifacts at once. However, the same satellite on April 8, 2020 showed a similar picture:
Thus, the "artifacts" became somewhat more frequent and the satellites show even more often. Probably, the satellites have broken down and are showing incorrectly, so we will see what people see there on their own, without satellites:
Two suns – Webcamsdemexico #planetx pic.twitter.com/ceUzFwhmBw

— Sweetleaf505 (@sweetleaf_505) June 27, 2020
The photo was taken in Mexico, where now the sky is covered with "dust from the Sahara", so let's see what the cameras in Brazil show, where there is less dust:
Two suns – San Paulo, Brazil #planetx #nibiru pic.twitter.com/nP4IrFdUz7

— Sweetleaf505 (@sweetleaf_505) June 27, 2020
So there seems to be some kind of dust over Brazil too. Moreover, this dust from the Sahara tends to stray into luminous lumps.
We do not know how this will end, but we are afraid that we really need to be afraid not of the pole reversal and the landing of the Anunnaki. The main problem will begin when 7 billion people see it all. And then the real Apocalypse begins, after which the pole shift will seem like a children's matinee.