Out Of This World? Mystery Of Prehistoric Stone Balls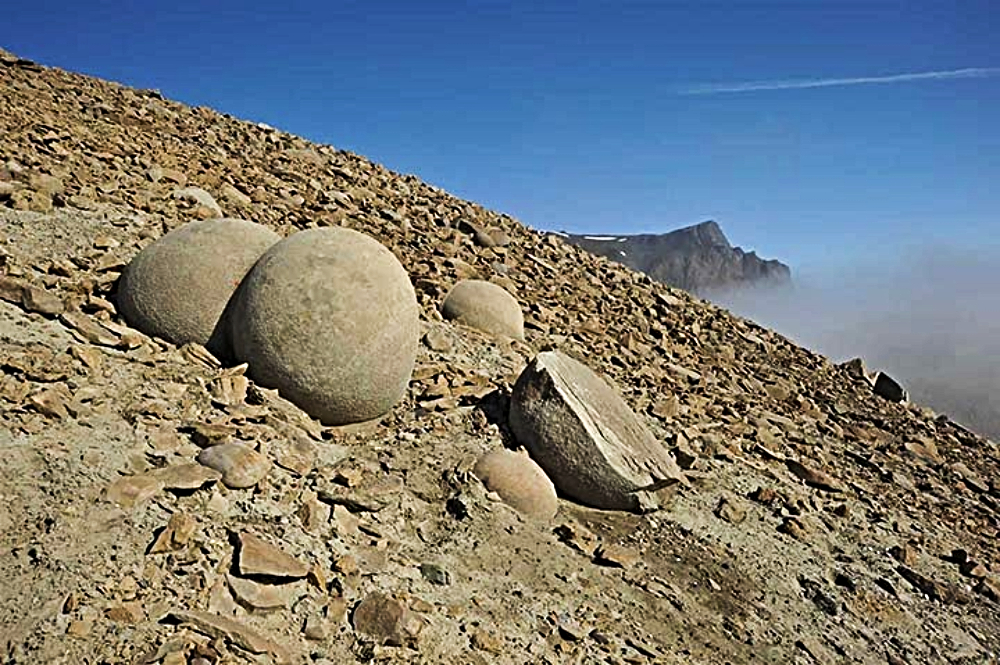 There are few mysteriously formed stone balls known from around the globe. Where in the world did these spheres come from? Or did they even come from this world?
Ancient civilizations have endowed stone spheres with god-like characteristics. Many of the them have been elevated on plinths and worshipped as messengers from heaven. There have been several suggestions to attempt to explain the origin of the stone balls including 'fell from heaven' or formed in mysterious and possibly catastrophic natural events. If these object are manmade than why people were driven to produce stone balls on such a large scale ranging from symbols of wealth or status to geometric aids or because of their serene, harmonic beauty?
Here are few mysterious spheres from different parts of the world which became great archaeological enigma.
Picture ©Russian Arctic (Image Source)
Giant natural stone balls in Russia
Giant natural balls in the Franz Josef archipelago that leave scientists flummoxed. The huge stone balls up to two metres in height are found on appropriately-named Champ island above the polar circle. Perfectly spherical they are scattered all over this northern uninhabited outpost.
From the time they were first seen, visitors to this cosmic landscape named the round rocks 'footballs of the Gods', and at first it is hard to believe that they are natural and not made by man, or possibly giants. Yet the barren 374 km2 (144 sq miles) island was never inhabited and scientists are sure they are not artificial, even if they cannot agree how they were formed. Similar but smaller stone balls were found last year on Heiss island in the same archipelago.
Stone spheres in Costa Rica
Stone balls in the Terraba Plain. The Boruca region, Costa Rica. (Courtesy Doris Stone)
One of the strangest mysteries in archaeology was discovered in the Diquis Delta of Costa Rica. Since the 1930s, hundreds of stone balls have been documented, ranging in size from a few centimetres to over two meters in diameter. Some weigh 16 tons. Almost all of them are made of granodiorite, a hard, igneous stone. The stone balls of Costa Rica have been the object of numerous speculations regarding their origin, however scientist say these objects are monolithic sculptures made by human hands.
A Stone Sphere in Costa Rica © J. Stephen Conn
Stone balls are known from archaeological sites and buried strata hat have only pottery characteristic of the Aguas Buenas culture, whose dates range from ca. 200 BC to AD 800. Stone balls have reportedly been found in burials with gold ornaments whose style dates from after about AD 1000. The spheres number over 300. The large ones weigh many tons. Today, they decorate official buildings such as the Asamblea Legislativa, hospitals and schools. You can find them in museums. You can also find them as ubiquitous status symbols adorning the homes and gardens of the rich and powerful.
Carved stone balls from Scotland
Three Scottish examples, in Kelvingrove Art Gallery and Museum, Glasgow (Image Source)
Carved stone balls from Scotland are an enigmatic class of objects and they have been the subject of much speculation by scientists over the years.
Mysterious artefacts seem to date mainly to the Late Neolithic period (c. 3000 – 2500 BC), and are made of various stones ranging from sandstone to granite. They are all of a relative similar size and are decorated with carved evenly-spaced patterns of circular bosses or knobs around the surface of the sphere. The designs vary with the majority being based around a series of six bosses, but the number of bosses varies from 3-160. Some carved balls are more skilfully manufactured than others, and a rare few have additional decoration. All show an appreciation for symmetry in the design. Over 400 of these unique objects have been found, nearly all of them in the Scotland, with the majority found in Aberdeenshire, however, some samples were also discovered in Britain and Ireland.
Stone balls in Sierra de Ameca Jalisco, Mexico
Piedra Bola atop an earth pillar (Image Source)
In the middle of the forest surrounding the Piedra Bola mine a hundred strange stone balls can be found. They are almost perfectly spherical and range in diameter from about sixty cm to more than ten meters. These symmetrical boulders are unusually large. Some are buried, others partly or fully exposed. In some places, erosion of the surrounding rocks has left a sphere perched precariously atop narrow columns of softer rock, seemingly ready to topple in the next strong wind. These "hoodoos" or earth pillars have been formed as a result of water erosion and they may survive for centuries until the processes of sub-aerial weathering and erosion finally cause them to fall. The origin and purpose of the stone spheres is still unknown.
Stone sphere in Easter Island 
Ahu Te Pito Kura, the world's navel, a perfectly round stone considered the world's navel by the Rapa Nuians. Photo © Bjarte Sorensen (Image Source)
There is a carved stone sphere on Easter Isle at the northern coastal area of the island, just north of the statue quarry at the volcanic crater of Rano Raraku. The site, "Te pito kura" was most likely a ritual centre for the earliest islanders to pray and divine.
The islanders have a legend that the statues were moved by the use of mana, or mind power, and according to one legend, use was made of a finely crafted stone sphere, 75 cm (2.5 ft) in diameter, called te pito kura ('the golden navel' or 'the navel of light'), to focus the mana.
Petrospheres from Bosnia
Stone balls in Teočak (Image Source)
There have been several reporting's of Petrospheres from Bosnia, a country which has been in the limelight following claims of the discovery an ancient pyramid complex near Visoko in Bosnia Hertzogovnia. Although this has fuelled the idea that the Bosnian petrospheres are carved, all such claims have been refuted by geologists.
The largest site in Bosnia known for stone balls is the County Zavidovici, approx. 100 km north of Sarajevo. It is the first place in Europe which has established an "Archaeological Park of Stone Balls". This site contains approx. 40 stone balls of enormous size, all of which are recognised as natural 'concretions'.
Located near the town of Zavidovici , the giant sphere — the largest of a group of such objects — is partially sticking out from the ground, and according to archaeologist Sam Semir Osmanagich, who discovered the stone, it may have a very high iron content and weigh over 30 tons.
Chinese stone spheres 
Geological tests done on the region showed that it formed during the Cambrian period – about 500 million years ago. (Picture: AsiaWire) (Image Source)
A crew of road-builders unearthed the Chinese stone spheres, located in the Hunan Province, while digging the foundations for a new highway. The stones are of various sizes and are so numerous that the hill in which they were discovered was called a 'stone egg mountain.'
The unusual mountain is located in the Gulu Zhai village, where the minority Shui People have lived for about 1,000 years. The 'egg-laying cliff', or 'chan dan ya' in Chinese, is an area measuring 20 metres long (66 feet) and six metres wide (20 feet) on an unnamed mountain in the village. 'Stone eggs' would reportedly grow from the cliff face and eventually drop to the ground.
Where did the Chinese 'stone eggs' come from? And why are they spherical? The difference in time it takes for each type of rock to erode has therefore been attributed to the appearance of the eggs, which comprise heavy sediment deposits, experts say. However, that still does not explain how the rocks appear in smooth round shapes, or how a half-a-billion-year-old geological region managed to contain a calcareous rock formation. Over the years, geologists in China have provided some possible explanations to the cause of the phenomenon. However, none official ones have been announced.
featured image ©Russian Arctic via Siberian Times 
A Mysterious Force is Keeping Distant Galaxies in Sync
If you're someone who believes in synchronicity, then this research is for you. In a big way. Make that a BIG way. To illustrate what a big deal this is in the scientific community, the researchers take the rarely-seen stance of using the word "mysterious" in the title of their paper. Hey, that's OUR word!
"For this mysterious coherence in large scales, we cautiously suggest a scenario in which it results from a possible relationship between the long-term motion of a large-scale structure and the rotations of galaxies in it."
There's that word again, this time in the abstract of "Mysterious Coherence in Several-megaparsec Scales between Galaxy Rotation and Neighbor Motion," published recently in the Astrophysical Journal. The research was led by astronomer Hyeop Lee at the Korea Astronomy and Space Science Institute, South Korea's national research institute in astronomy and space science. However, the key phrase in the abstract is "large-scale structure."
"The observed coherence must have some relationship with large-scale structures, because it is impossible that the galaxies separated by six megaparsecs [roughly 20 million light years] directly interact with each other."
In an interview with Vice.com, Lee explains the team's research – a study of 445 galaxies within 400 million light years of Earth – and their "mysterious" observed synchronicity where many of the ones rotating in a direction toward Earth had neighbors that were moving toward Earth, and vice-versa. There's no known way galaxies 20 million light years apart can exert that kind of gravitational force upon each other, so the team attempted to model a dark energy or dark matter force that could link them. The answer? Large-scale structures. Here's a definition from the Harvard and Smithsonian Center for Astrophysics:
"Up until the latter part of the 20th Century astronomers thought, in the words of the eminent astronomer Edwin Hubble, that the universe was "sensibly uniform." As a result of redshift surveys of large samples of galaxies we now know that the galaxies around us are distributed in an incredible tapestry of filamentary and sheet-like structures called the cosmic web. Massive clusters of galaxies lie at major "intersections" in this web. Galaxies like our own Milky Way are usually found in groups which often lie on the outskirts of clusters or superclusters. The first really large structure, the Great Wall, was discovered by CfA astronomers in the late 1980's and is approximately 300 million light-years across."
A cosmic web of galaxies connected by "an incredible tapestry of filamentary and sheet-like structures." (Let's pause here for a moment to ponder: Which came first: the planetarium or psychedelics? Asking for a friend.) Lee told Vice.com that the "mysterious coherence" the team observed was very slowly rotating in a counter-clockwise direction. Vice.com points out that this is the latest of similar studies reaching similar conclusions about large-scale structures. In a 2014 study led by Damien Hutsemékers, an astronomer at the University of Liège in Belgium, and published in the journal Astronomy & Astrophysics, the Very Large Telescope (VLT) in Chile was used to study nearly 100 quasars and the results revealed that the rotation axes of 19 quasars in this group were parallel, despite being several billion (that's billion with a B) light years apart.
"Galaxy spin axes are known to align with large-scale structures such as cosmic filaments but this occurs on smaller scales. However, there is currently no explanation why the axes of quasars are aligned with the axis of the large group in which they are embedded."
The evidence points to the existence of large-scale structures keeping the galaxies of the universe connected and spinning in synchronicity. The explanation obviously needs more study before it's accepted, but it's worth pondering – with or without the aid of psychedelics.
One more thing to ponder … Axes of Quasars would make a great name for a Pink Floyd tribute band.
Source: Mysterious Universe
Internet puzzled by mysterious howls coming from the woods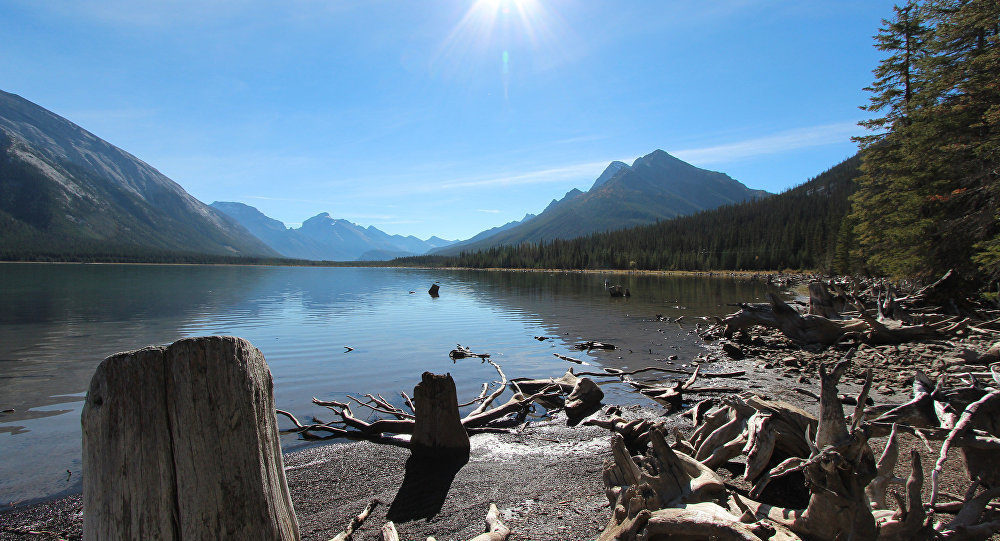 A series of strange and mysterious howls were recently caught on tape by a Canadian hunter, and netizens could not help but speculate about the nature of the sounds – with the craziest theories coming up, including those pointing to such legendary creatures as Sasquatch or Wendigo.
Gino Meekis was hunting grouse several kilometres from Sioux Lookout, Ontario on 3 October alongside his wife and grandson when the family heard the strangest and eeriest sounds, faintly resembling screams. The video, later posted on YouTube, has collected almost a million views, with people left guessing about who or what could have made these sounds.
Meekis, who was later approached for comment by Vice, is an experienced hunter accustomed to different sounds in the Canadian wilderness but even he was confused by the howls.
"When it let out the first scream, I thought it was a moose, but my mind changed when it screamed again and again", the hunter said. He began recording the shrieks almost straight away, as well as his grandson trying to mimic them. The family retreated to their vehicle shortly after the sounds appeared to move closer, as Meekis's wife became particularly scared of the noise.
"I've heard many different animals in the wild but nothing like this. I grew up hunting with my grandfather for the first 12 years of my life", Meekis said.
Although many YouTube users have suggested the sounds could be attributed to a wolf or an injured animal in distress, others alluded to the existence of otherworldly creatures, such as Sasquatch, a werewolf, or even to a malevolent folklore spirit called Wendigo.
"This is what I imagined a werewolf would sound like…" one user wrote on YouTube.
"It's sounds like a grieving Sasquatch", another suggested.
Some netizens, however, were not frightened by the howls captured in the video, joking that it had simply recorded the collective cry of Canadian hockey fans watching their team lose or someone stepping on a lego.
While Canadian biologists from Ontario's Ministry of Resources and Forestry were skeptical about the otherworldly nature of the sounds, suggesting that it could be attributed to a large mammal instead, they remained uncertain of the source, with the video still posing more questions than answers.
Dozens of strange lights in the sky above Honolulu
The moon was big and bright Tuesday night as many across the islands looked up to enjoy the night sky.
While doing so, some people saw strange lights.
Viewers started contacting Hawaii News Now asking about what they'd seen.
Residents statewide saw strange lights in the night sky. (Source: Clau Laz)
Jon Savage, who sent us a photo of the near-perfectly aligned lights, said he saw them around 7:05 p.m. from his Oahu home.
"My wife and I were sitting in our yard stargazing when a line of bright lights came streaming across the night sky over Diamond Head in the direction of Molokai," he wrote in an email.
He noted about 20 to 25 lights, "that resembled a Roman candle shot across the sky," he said.
At least one viewer on Maui also reported seeing them.
Right now, we don't know exactly what they are. The National Weather Service said nothing out of the ordinary appeared on their radar.
We've also contacted the Federal Aviation Administration and are awaiting a response.
Others have speculated the lights were 5G drones, or satellites similar to SpaceX's Starlink Satellites.
Whatever the speculation may be, so far, there's been no official confirmation.
Source: Hawaii News Now