Oumuamua First alien object to visit our solar system is wrapped in strange organic coat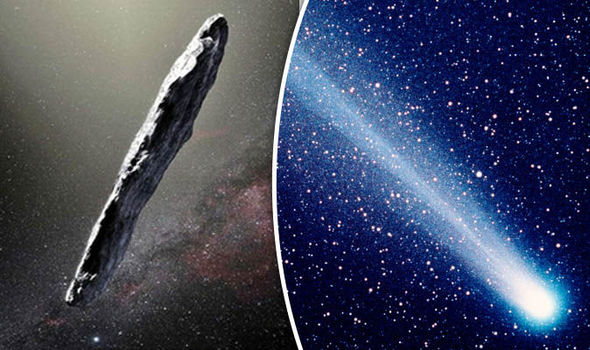 'It was the opposite of what I was expecting we might see'
The first ever interstellar visitor to our solar system is wrapped in a layer of organic insulation, scientists have said.
Oumuamua has enthralled astronomers and the public since it flew through the solar system in October.
As the first alien rock to travel here from another star, it was immediately recognised as highly unusual – but as scientists learn more about the object, they are discovering how strange it actually is.
Its strangeness has even led to suggestions it could be an alien artefact, rather than just an incredibly abnormal natural object.
Very little is known about what Oumuamua is, where it came from, and what it is made up of. Scientists had relatively little time to study the object as it passed through our solar system, and they are continuing to analyse the data that was obtained.
Before the rock arrived, scientists had expected that visitors of its kind would look like comets as they flew through the solar system. Such items would be made up of ice that would leave a visible stream behind them as they travelled past hot stars, they suggested.
But when Oumuamua flew past, no such activity was detected, despite flying close to the sun on its journey.
Now scientists taking part in different studies have released detailed findings on what the rock looks like and what it might be made of.
While it is probably an icy body as expected, it appears to be wrapped in an organic coat that shields the frozen water inside from being hit by the sun, according to the new research.
"In the end this was a nice result because we've expected all along that the majority of objects that would visit our solar system would be icy in nature," said Alan Fitzsimmons from Queen's University Belfast and the lead author of one of two major new studies into Oumuamua.
"It has been a puzzle that this thing looked like a big lump of rock.
"Our study says that this object could well be icy in nature but we didn't detect that ice due to the fact it's been baked by energetic radiation between the stars for hundreds of millions of years, or even billions of years."
It is not certain that Oumuamua has any ice at all – the conclusion of Professor Fitzsimmons' work is only that it can't be ruled out. But that is because it is wrapped by its strange organic coat, and scientists can only see the very thinnest layer at the top of the object.
The coat was examined by using spectroscopy, which looks at the light being reflected from its surface and splits it down into its wavelengths. By looking at those measurements, scientists can work out what the object might be composed of.
"What we didn't see is the signatures of the rocks you'd usually find on Earth, or you might find on the inner asteroid belt surrounding our sun," Professor Fitzsimmons said.
It appeared red, but when looked at through infrared light it became more grey in colour. That was expected – it is what would normally come back from icy objects in our own solar system – but there did not actually appear to be any ice water coming off the surface.
Normally, ice is expected fall off such an object as it flies by the sun and the ice is warmed, forming a miniature comet.
"Looking at it we realised it had been predicted that icier objects exposed to interstellar space should naturally form a thick crust around themselves, said Professor Fitzsimmons.
"When we crunched the numbers we found that this crust should insulate the interior of the object so that if there were any ices inside it, it wouldn't change the form."
Scientists had long expected that we are sometimes visited by such rocks, thrown from elsewhere in the universe into our solar system.
We know that significant numbers of comets and asteroids were thrown out of our solar system when it was formed, and so can reasonably assume that the same thing happened in other planetary systems.
But they are difficult to spot since they are so dark, and none had actually been seen until now, marking an unprecedented breakthrough.
"In some ways we had expected these things for some time," said Michele Bannister, also from Queen's University Belfast and the author of another study of the strange rock.
"Our own solar system has ejected millions of very small rocky bodies,and so we should expect that others do the same."
Both of the new studies attempted to understand how the rock looks and what exactly it might be made of. Professor Fitzsimmons used spectroscopy and thermal modelling to try to understand the rock's composition, while Dr Bannister's research observed the colour of Oumuamua and used that to try to discover how it looked.
Studying the rock also gives a unique opportunity to understand how other stars formed and how objects might cope with the harsh environment of space, by giving us a direct look at something that has endured it.
The work was destined to find something of interest either way, since the rock is such a strange visitor and is very old. "It's travelled for millions or billions of years – it could be older than our solar system," said Dr Bannister.
The work to find what colour it is, for instance, found that the rock appeared to be red. But the exact kind of red – which could indicate what it is made of – appears to vary, with some initial observations suggesting a dark colour while others showed it being more neutral.
Those neutral colours were largely in line with some of the objects we see in our own solar system.
"It's come from a very long way away, but it looks very familiar," said Dr Bannister. "It was the opposite of what I was expecting we might see."
Dr Bannister has been working on a project called the Outer Solar System Origins Survey. That work uses telescopes to measure the colours of objects in the distant reaches of our solar system, and has developed techniques to help understand what those far away rocks might look like – difficult, when they are so dark and far away that little light comes back.
So when Oumuamua flew past, Dr Bannister and her colleagues looked to do the same thing for this rock, and "see if we can put this object in context with this really well-characterised set of objects". They began observations soon after it was first detected.
That was doubly important because the trajectory that the rock was coming towards us from meant that we did not actually see it until it had gone past the Earth.
So there was a rapid effort to turn all the facilities that might help to look at it and learn as much as possible before it was too distant.
Scientists hope they can spot the next object quicker, after waiting 19 years for this one.
Oumuamua was first spotted on 19 October, by the Pan-STARRS project that uses a range of different technologies to observe the sky. Scientists realised very quickly that it was both an unprecedented visit from outside the solar system and that they would have very little time to get a look at it before it disappeared, meaning they rushed to learn as much about it as they could.
"It took a few days for everyone to be convinced that the orbit truly was from outside the solar system," said Dr Bannister. "With the next one, hopefully that'll happen more quickly.
"It's been 19 years, and you do see comets that have interesting trajectories that then turn out to be from our solar system – from the Oort Cloud, 40,000-60,000 times as far from the sun as we are.
"Sometimes comets coming from that that can look like they're coming from outside the solar system, so there was a certain degree of caution."
"What we're hoping for is not to do anything different," said Professor Fitzsimmons. "Astronomers around the world threw everything at it.
"But what we'd really like is more warning. More time means more data, and more ability to figure out what we want to learn."
Spotting another object from outside our solar system will be just as interesting as the first one: going from having seen one visitor to two means that we can start trying to understand how typical or strange Oumuamua is.
"What would be great would be to find another one of these objects where we can say, 'yes, this object came from this particular star or particular region'," said Professor Fitzsimmons. "At the moment the only limit we've got is an upper limit of about 10 billion years – because when our universe started, the materials weren't around to form a solid body like this."
"There's definitely going to be a lot more work to be done," says Dr Bannister. The rock is still being watched as it leaves the solar system, and in useful ways – by tracking its trajectory as it leaves, we can learn more about the path it might have come in on.
"It's too far away now; it can just about be detected by the best telescopes we've got," said Professor Fitzsimmons. "The important thing is for us to be ready for the next one.
"And it might take a few years for the next one to be detected, but the UK is already part of a project building the next-generation survey telescope down in Chile – when that gets finished we're hoping for one a year."
Until then, researchers will keep looking through the detailed and extensive data that has been generated about Oumuamua. We might not know everything until well into next year, when more data becomes available.
The object is very thin and very long – just what you'd design for long-distance space travel – and appears to be taking a strange trajectory. Those strange characteristics have led the Breakthrough Listen project, supported by Stephen Hawking, to point telescopes at Oumuamua and see if any radio transmissions can be heard.
There are enough surprises about the rock already without it being an alien object said Professor Fitzsimmons. And besides, strange though it is, Oumuamua does at least look like what you'd expect to have been created in the violent beginnings of a solar system like ours.
"If you've got a radio telescope why not do that?" he says when asked about the excitement around Oumuamua's potential alien owners. "However, we expect these things to exist, because we expect such things to be flung out of all solar systems when they form planets.
"So we expect these things out there. And looking at this object, the first object that's been detected, it has appearances of these natural objects that we'd expect from another star – this looks exactly what we'd expect."
KOI-5Ab, the curious planet that orbits in a system of three suns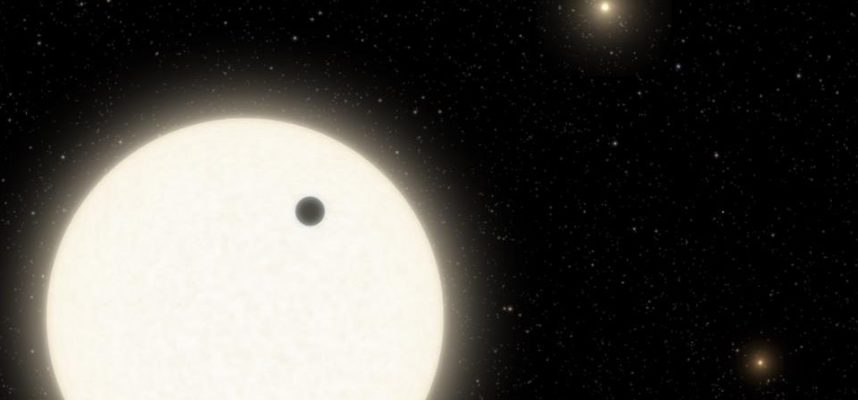 To us, the Sun alone seems perfectly normal, but our solar system is actually a strange exception.
Most stars in the Milky Way galaxy have at least one companion star. In a system 1,800 light-years away, astronomers have finally confirmed the existence of a gas giant planet orbiting stars in a triple star system.
Called KOI-5, the system is located in the constellation Cygnus, and the exoplanet was confirmed ten years after it was first detected by the Kepler space telescope.
In fact, the planet – now known as KOI-5Ab – was discovered by Kepler when it began operations back in 2009.
"KOI-5Ab was dropped because it was difficult and we had thousands of other candidates," astronomer David Siardi of NASA's Exoplanet Science Institute said.
"There were lighter dives than the KOI-5Ab, and every day we learned something new from Kepler, so the KOI-5 was almost forgotten."
Exoplanet hunters tend to avoid the complexities of multi-star systems; of the more than 4,300 exoplanets confirmed to date, less than 10 percent are multi-star systems, although such systems dominate the galaxy. As a result, little is known about the properties of exoplanets in multi-star systems compared to those orbiting a lone star.
After Kepler's discovery, Chardy and other astronomers used ground-based telescopes such as the Palomar Observatory, Keck Observatory, and the Gemini North Telescope to study the system. By 2014, they had identified two companion stars, KOI-5B and KOI-5C.
Scientists were able to establish that the planet KOI-5Ab, is a gas giant that is about half the mass of Saturn and 7 times the size of Earth, and is in a very close five-day orbit around KOI-5A. KOI-5A and KOI-5B, both of roughly the same mass as the Sun, form a relatively close binary system with an orbital period of about 30 years.
A third star, KOI-5C, orbits the binary system at a much greater distance, with a period of about 400 years – slightly longer than Pluto's 248-year orbit.
"By studying this system in more detail, perhaps we can understand how planets are created in the universe."
The discovery was announced at the 237th meeting of the American Astronomical Society.
Why the universe does not fit into science
Science can be compared to an artist painting what he has never seen, or to a writer describing other people's travels: objects that he has never seen, places where he has never been. Sometimes such scientific "arts" turn out to be beautiful and interesting, but most of them will forever remain only theories, because they are beyond human capabilities.
In fact, science has the right only to speculate: how our universe appeared, how old it is, how many stars and other objects it contains.
Universe model
How many stars are there in the sky?
With an unarmed eye, a person can see about nine thousand stars in the sky in one cloudless and moonless night. And armed with binoculars or a telescope, much more – up to several million. However, this is much less than their true number in the universe. Indeed, only in our one galaxy (the Milky Way) there are about 400 billion stars. The exact amount, of course, is not known to science. And the visible universe contains about 170 billion galaxies.
It is worth clarifying that scientists can see the universe 46 billion light years deep in all directions. And the visible (observable) universe includes the space accessible to our eyes from the moment of the Big Explosion. In other words, only this (accessible to human perception) space science refers to our universe. Science does not consider everything that follows.
It is believed that there are supposedly a ceptillion (10 to 24 degrees) stars in our universe. These are theoretical calculations based on the approximate size and age of the universe. The origin of the universe is explained by the Big Bang theory. This is why the universe is constantly expanding and the more time passes, the more complex the universe and its components become.
It is not entirely correct to consider and perceive this scientific theory "head-on". Scientists always claim that that explosion was not exactly an explosion, and the point that exploded was not the only one. After all, it was everywhere, because space did not exist then. And in general – everything happened quite differently from what is described in the Big Bang theory, but all other descriptions of the origin of the universe are even more incredible and inaccurate.
Separate but interconnected
That which is beyond the reach of human perception is usually discarded by science, or recognized as non-existent. Recognizing one thing, science does not want to recognize the existence of the other, although everything in our world is interconnected and is not able to exist separately – by itself.
Each object of the universe is a part of it much more than an independent, separate object.
Any person, like any material object of our world, consists of components: organs, cells, molecules, atoms. And each of its constituent parts can represent the whole world. Separate, and at the same time connected with all the others.
However, science, as a rule, perceives all the components of the universe – people, animals, plants, objects, the Earth, the Sun, other planets and stars – as separate subjects, thereby limiting itself.
Even what is considered the visible universe, one of the atoms of which could be called our solar system, is not subject to the boundaries of human perception. But perhaps the atom is an exaggeration, and our solar system is not even an atom, but one of its elements!
How, being so far from the truth, can one reason about something with the degree of probability with which science tries to reason about the origin of the universe?
An unexplained wobble shifts the poles of Mars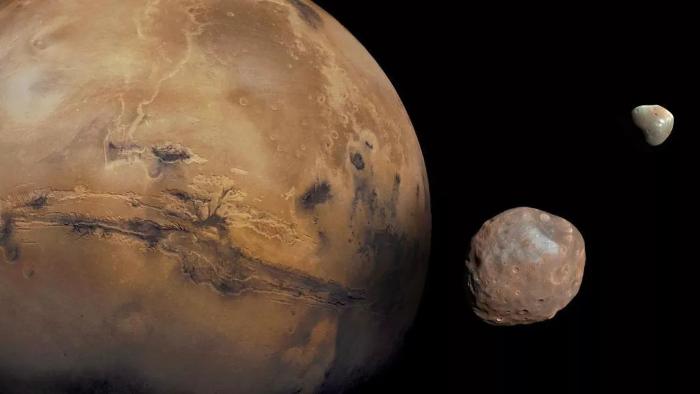 The red planet sways from side to side like a whirligig when it loses speed. The new study allowed scientists to notice that the poles of Mars deviate slightly from the axis of rotation of the planet. On average, they move 10 cm from the center with a period of 200 days.
Such changes are called the Chandler Oscillations  – after the American astronomer Seth Chandler, who discovered them in 1891. Previously, they were only seen on Earth. It is known that the displacement of the poles of rotation of our planet occurs with a period of 433 days, while the amplitude reaches 15 meters. There is no exact answer why this is happening. It is believed that the fluctuations are influenced by processes in the ocean and the Earth's atmosphere.
Chandler's wobbles on Mars are equally perplexing. The authors of the study discovered them by comparing data from 18 years of studying the planet. The information was obtained thanks to three spacecraft that orbit the Red Planet: Mars Odyssey, Mars Reconnaissance Orbiter and Mars Global Surveyor. 
Since Mars has no oceans, it is likely that the Red Planet's wobbly rotation is due to changes in atmospheric pressure. This is the first explanation that researchers have shared. In the future, there should be new details about the fluctuations that have so interested the scientific community.