Oumuamua First alien object to visit our solar system is wrapped in strange organic coat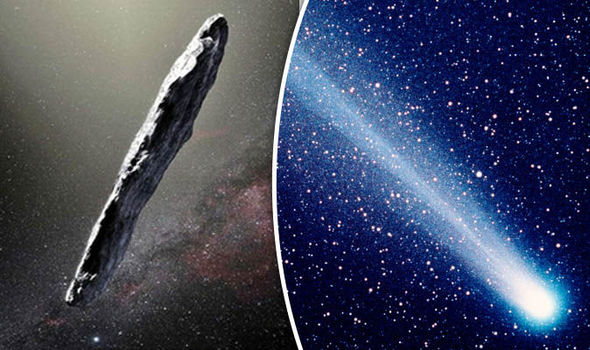 'It was the opposite of what I was expecting we might see'
The first ever interstellar visitor to our solar system is wrapped in a layer of organic insulation, scientists have said.
Oumuamua has enthralled astronomers and the public since it flew through the solar system in October.
As the first alien rock to travel here from another star, it was immediately recognised as highly unusual – but as scientists learn more about the object, they are discovering how strange it actually is.
Its strangeness has even led to suggestions it could be an alien artefact, rather than just an incredibly abnormal natural object.
Very little is known about what Oumuamua is, where it came from, and what it is made up of. Scientists had relatively little time to study the object as it passed through our solar system, and they are continuing to analyse the data that was obtained.
Before the rock arrived, scientists had expected that visitors of its kind would look like comets as they flew through the solar system. Such items would be made up of ice that would leave a visible stream behind them as they travelled past hot stars, they suggested.
But when Oumuamua flew past, no such activity was detected, despite flying close to the sun on its journey.
Now scientists taking part in different studies have released detailed findings on what the rock looks like and what it might be made of.
While it is probably an icy body as expected, it appears to be wrapped in an organic coat that shields the frozen water inside from being hit by the sun, according to the new research.
"In the end this was a nice result because we've expected all along that the majority of objects that would visit our solar system would be icy in nature," said Alan Fitzsimmons from Queen's University Belfast and the lead author of one of two major new studies into Oumuamua.
"It has been a puzzle that this thing looked like a big lump of rock.
"Our study says that this object could well be icy in nature but we didn't detect that ice due to the fact it's been baked by energetic radiation between the stars for hundreds of millions of years, or even billions of years."
It is not certain that Oumuamua has any ice at all – the conclusion of Professor Fitzsimmons' work is only that it can't be ruled out. But that is because it is wrapped by its strange organic coat, and scientists can only see the very thinnest layer at the top of the object.
The coat was examined by using spectroscopy, which looks at the light being reflected from its surface and splits it down into its wavelengths. By looking at those measurements, scientists can work out what the object might be composed of.
"What we didn't see is the signatures of the rocks you'd usually find on Earth, or you might find on the inner asteroid belt surrounding our sun," Professor Fitzsimmons said.
It appeared red, but when looked at through infrared light it became more grey in colour. That was expected – it is what would normally come back from icy objects in our own solar system – but there did not actually appear to be any ice water coming off the surface.
Normally, ice is expected fall off such an object as it flies by the sun and the ice is warmed, forming a miniature comet.
"Looking at it we realised it had been predicted that icier objects exposed to interstellar space should naturally form a thick crust around themselves, said Professor Fitzsimmons.
"When we crunched the numbers we found that this crust should insulate the interior of the object so that if there were any ices inside it, it wouldn't change the form."
Scientists had long expected that we are sometimes visited by such rocks, thrown from elsewhere in the universe into our solar system.
We know that significant numbers of comets and asteroids were thrown out of our solar system when it was formed, and so can reasonably assume that the same thing happened in other planetary systems.
But they are difficult to spot since they are so dark, and none had actually been seen until now, marking an unprecedented breakthrough.
"In some ways we had expected these things for some time," said Michele Bannister, also from Queen's University Belfast and the author of another study of the strange rock.
"Our own solar system has ejected millions of very small rocky bodies,and so we should expect that others do the same."
Both of the new studies attempted to understand how the rock looks and what exactly it might be made of. Professor Fitzsimmons used spectroscopy and thermal modelling to try to understand the rock's composition, while Dr Bannister's research observed the colour of Oumuamua and used that to try to discover how it looked.
Studying the rock also gives a unique opportunity to understand how other stars formed and how objects might cope with the harsh environment of space, by giving us a direct look at something that has endured it.
The work was destined to find something of interest either way, since the rock is such a strange visitor and is very old. "It's travelled for millions or billions of years – it could be older than our solar system," said Dr Bannister.
The work to find what colour it is, for instance, found that the rock appeared to be red. But the exact kind of red – which could indicate what it is made of – appears to vary, with some initial observations suggesting a dark colour while others showed it being more neutral.
Those neutral colours were largely in line with some of the objects we see in our own solar system.
"It's come from a very long way away, but it looks very familiar," said Dr Bannister. "It was the opposite of what I was expecting we might see."
Dr Bannister has been working on a project called the Outer Solar System Origins Survey. That work uses telescopes to measure the colours of objects in the distant reaches of our solar system, and has developed techniques to help understand what those far away rocks might look like – difficult, when they are so dark and far away that little light comes back.
So when Oumuamua flew past, Dr Bannister and her colleagues looked to do the same thing for this rock, and "see if we can put this object in context with this really well-characterised set of objects". They began observations soon after it was first detected.
That was doubly important because the trajectory that the rock was coming towards us from meant that we did not actually see it until it had gone past the Earth.
So there was a rapid effort to turn all the facilities that might help to look at it and learn as much as possible before it was too distant.
Scientists hope they can spot the next object quicker, after waiting 19 years for this one.
Oumuamua was first spotted on 19 October, by the Pan-STARRS project that uses a range of different technologies to observe the sky. Scientists realised very quickly that it was both an unprecedented visit from outside the solar system and that they would have very little time to get a look at it before it disappeared, meaning they rushed to learn as much about it as they could.
"It took a few days for everyone to be convinced that the orbit truly was from outside the solar system," said Dr Bannister. "With the next one, hopefully that'll happen more quickly.
"It's been 19 years, and you do see comets that have interesting trajectories that then turn out to be from our solar system – from the Oort Cloud, 40,000-60,000 times as far from the sun as we are.
"Sometimes comets coming from that that can look like they're coming from outside the solar system, so there was a certain degree of caution."
"What we're hoping for is not to do anything different," said Professor Fitzsimmons. "Astronomers around the world threw everything at it.
"But what we'd really like is more warning. More time means more data, and more ability to figure out what we want to learn."
Spotting another object from outside our solar system will be just as interesting as the first one: going from having seen one visitor to two means that we can start trying to understand how typical or strange Oumuamua is.
"What would be great would be to find another one of these objects where we can say, 'yes, this object came from this particular star or particular region'," said Professor Fitzsimmons. "At the moment the only limit we've got is an upper limit of about 10 billion years – because when our universe started, the materials weren't around to form a solid body like this."
"There's definitely going to be a lot more work to be done," says Dr Bannister. The rock is still being watched as it leaves the solar system, and in useful ways – by tracking its trajectory as it leaves, we can learn more about the path it might have come in on.
"It's too far away now; it can just about be detected by the best telescopes we've got," said Professor Fitzsimmons. "The important thing is for us to be ready for the next one.
"And it might take a few years for the next one to be detected, but the UK is already part of a project building the next-generation survey telescope down in Chile – when that gets finished we're hoping for one a year."
Until then, researchers will keep looking through the detailed and extensive data that has been generated about Oumuamua. We might not know everything until well into next year, when more data becomes available.
The object is very thin and very long – just what you'd design for long-distance space travel – and appears to be taking a strange trajectory. Those strange characteristics have led the Breakthrough Listen project, supported by Stephen Hawking, to point telescopes at Oumuamua and see if any radio transmissions can be heard.
There are enough surprises about the rock already without it being an alien object said Professor Fitzsimmons. And besides, strange though it is, Oumuamua does at least look like what you'd expect to have been created in the violent beginnings of a solar system like ours.
"If you've got a radio telescope why not do that?" he says when asked about the excitement around Oumuamua's potential alien owners. "However, we expect these things to exist, because we expect such things to be flung out of all solar systems when they form planets.
"So we expect these things out there. And looking at this object, the first object that's been detected, it has appearances of these natural objects that we'd expect from another star – this looks exactly what we'd expect."
ESPRESSO spectrograph confirms the existence of an earth-like planet near Proxima Centauri
The ESPRESSO spectrograph confirmed the existence of the earth-like exoplanet Proxima b in the star closest to the Sun. Additional observations made by the tool made it possible to clarify its mass, as well as register a second signal, which theoretically can be explained by the presence of another planet. Accepted for publication at Astronomy & Astrophysics, the preprint is available at arXiv.org.
In 2016, astronomers reported the discovery of the planet at the red dwarf Proxima Centauri, the closest star to Earth, located about 4.2 light-years from Earth. The celestial body revolves around the star with a period of 11.2 days and is in the habitable zone – this means that the conditions on its surface allow the existence of liquid water.
The discovery of Proxima b was one of the most important milestones in exoplanetary astronomy in recent years, but the limited accuracy of the available measurements of radial velocity and the complexity of the simulation required confirmation of the existence of an earth-like planet.
An international group of astronomers used the new-generation spectrograph ESPRESSO, which is part of the VLT complex, to measure the radial velocity of a star with an accuracy of 30 centimeters per second. The data obtained were three times more accurate than the data of the HARPS spectrograph, an instrument of the same type, but of the previous generation, with the help of which the discovery was made. Combining ESPRESSO observations with past measurements showed that the mass of Proxima b is not less than 1.17 earth masses, which is less than the previous estimate of 1.27 earth masses.
In addition, scientists recorded an additional signal repeating with a period of 5.5 days, which so far they have not been able to explain. Hypothetically, it can come from the second planet: if the assumption is true, then its minimum mass is less than a third of the earth, and it is located at a distance of 0.03 astronomical units from Proxima Centauri (one astronomical unit is equal to the average distance from the Earth to the Sun).
In the past, researchers suspected the existence of another planet in the system – this time the super-earth, on which the year lasts about five years. It is five and a half times more massive than the Earth and may have rings similar to the rings of Saturn, but this discovery has not yet been confirmed.
It's time to worry. Planets switched to retrograde motion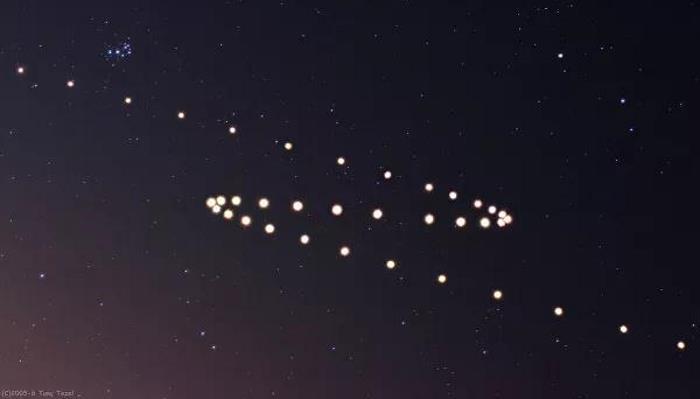 In May, Venus, Saturn and Jupiter become retrograde – they change the direction of motion in the celestial sphere. Previously, it was considered a bad omen. In fact, in the solar system there is only one real retrograde – Venus. But the discovery of retrograde exoplanets was a complete surprise.
Copernicus explained everything
Even in ancient times, people noticed that planets moving in the heavens sometimes behave strangely, loop. Most of the year they follow from west to east (if they are farther from the Sun than the Earth) and suddenly turn around, back down. The moment when this happens is called standing.In 1514, Nicolaus Copernicus proved that the Earth is not the center of the universe, but together with other planets revolves around the Sun.
Each celestial body has its own orbit, and the retrograde movement that is visible to us is the result of their superposition. For example, Mars approaches the Earth every two years as closely as possible and, overtaking it, draws an s-shaped loop in the sky.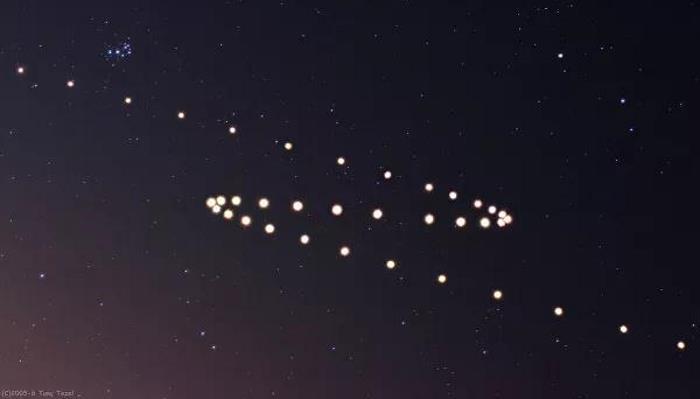 The path of Mars in the celestial sphere in the period from July 2005 to February 2006. It goes from west to east and at the moment of approaching the Earth makes a loop. For a couple of months his movement seems retrograde to us.
Venus and Uranus versus all
All planets in relation to the Earth for a short time move backward, but this is only an appearance. Real retrogrades do not physically rotate like the rest. In the solar system, it is only Venus. If we were above the north pole of Venus, we would see that it rotates clockwise around its axis. Earth and other planets are against.It is believed that planets form together with a star from one protoplanetary disk. In theory, their orbits should lie in the same plane, and the directions of rotation in the orbit and around the axis should coincide. Why Venus is not like this is not yet clear.
Although scientists note its strong similarity with the Earth – these planets are even called twins. One of the explanations is that the processes occurring in the bowels and atmosphere have slowed the rotation of Venus so much that it stopped at some point, and then began to spin in another direction.
The distant ice giant Uranus also looks like a retrograde. It lies on its side relative to the plane of its orbit, and pecks down the north pole, which makes Uranus seem to rotate clockwise. But if you put it normally, it will become normal. Scientists believe that billions of years ago, Uranus collided with a large cosmic body and turned over in space. Another hypothesis is that in the past the planet had a massive system of rings that caused resonance, rocked it and deployed.
General rules apply to planetary moons. For example, the Earth rotates counterclockwise, and so does the Moon around the Earth. But one of the 13 moons of Neptune – Triton – is "against the coat." So, scientists conclude, Triton did not belong to Neptune, was an independent small body, until Neptune captured it from the Kuiper belt. By the way, Pluto, similar in composition to Triton, is also retrograde. In part, this contributed to its transfer to the category of dwarf planets.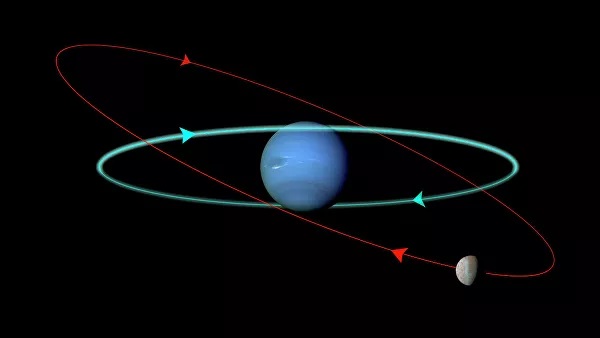 Anomalies of hot jupiters
This is what our system is completely devoid of – planets that would move in orbits against the rotation of the Sun. For a long time, astronomers believed that this should be everywhere. But in 2009, they discovered the first exoplanet with a retrograde orbit at the star WASP-17 in the constellation Scorpio.WASP-17 b is the largest and least dense exoplanet known. Such gas giants are called hot jupiters.
Its retrograde intrigues scientists. Smadar Naoz from the Center for Interdisciplinary Research in Astrophysics at Northwestern University ( USA ) proposed a possible mechanism: the mutual influence of giant planets during migration closer to a star or a brown dwarf. But its implementation requires the coincidence of too many conditions, and this is unlikely. Nevertheless, the astrophysicist put forward a bold hypothesis that such retrograde jupiters are not uncommon – a quarter among those observed. However, the existence of the hot Jupiters themselves is still waiting for its explanation.
A space object that changes the concept of the Universe is discovered: An unthinkable ancient galaxy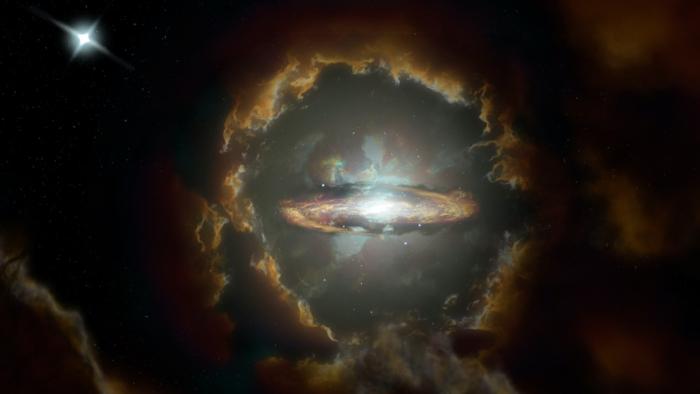 Scientists at the Institute for Astronomy of the Max Planck Society in the UK announced the discovery of the oldest massive galaxy DLA0817g, which arose just 1.5 billion years after the Big Bang. It has a disk, which can change astronomers' ideas about the mechanisms of galaxy formation. An article by astronomers is published in the journal Nature.
Researchers discovered the galaxy using the ALMA (Atacama Large Millimeter Array) radio telescope complex. This ancient object was named Wolf Disc – in honor of the astronomer Arthur Wolf. It has become the farthest spinning-disk galaxy of all detected so far, and its cosmological redshift is 4.26.
The light from it flew 12.2 billion years, but due to the expansion of the Universe, the galaxy is currently at a distance of 24.4 billion light years. The rotation occurs at a speed of 272 kilometers per second, which is comparable to the rotation speed of the Milky Way.
According to modern models, massive galaxies are formed from the mergers of smaller mass galaxies and clusters of hot gas. These collisions prevent the formation of disks characteristic of the Universe of this age.
Therefore, the existence of the Wolf Disc will force astronomers to reconsider the mechanisms of the appearance of such space objects. DLA0817g probably accumulated cold gas, but the question of how he managed to maintain a stable disk with such a large mass remains open.
Scientists also found that the star formation rate in the Wolf Disk is ten times higher than the star formation rate in the Milky Way. According to astronomers, he was one of the most productive galaxies in the early Universe.