Ouija Squeegee-GET THEM DEMONS OUT!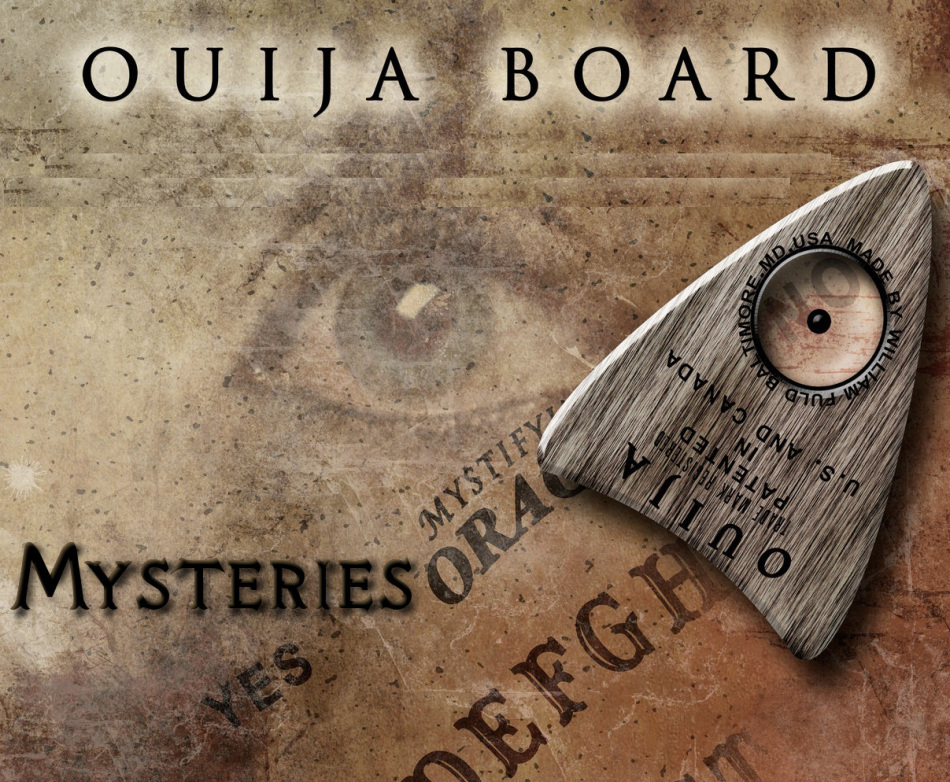 So first I will give a little history, then first hand accounts of what this demonic instrument can do to your life and others around you! It's certainly NO TOY! Then, in the end of the article-FREE yourself of any demonic experiences you have had! A wound needs medicine, not just a bandage!!
PLEASE BE AWARE these videos are NOT for pleasure. They indeed reveal the dangers involved in using this so-called 'TOY'. SO be advised.
Invented in 1890, but earlier there were talking boards (alphanumeric tables with rotating pointers) which dated back to the 1850's. But some tell that the craft goes as far back as 540BC in Greece, Rome and China. Called by many terms such as a witch board, oracle board, spirit board, and most recent would be the channeling board…but most recognize it by the name Ouija Board which was given the name by the patent holder Elijah Bond, and assigned to Kennard Novelty Company's 1890 parlor game.
The pendulum oracle described by fourth-century Roman historian, Ammianus Marcellinus, in his The Later Roman Empire (A.D. 354-378), is the most notable example and is often offered as proof that talking boards existed in ancient civilizations. In Marcellinus' narrative, two unfortunate individuals, Patricius and Hilarius are under arrest for creating an oracle to define who would succeed the emperor. They plead before the court: My lords, in an unlucky moment we put together out of laurel twigs in the shape of the Delphic tripod the hapless little table before you. We consecrated it with cryptic spells and a long series of magical rites, and at last made it work.
The way in which it did so, when we wished to consult it about hidden matters, was this. It was placed in the middle of a room thoroughly fumigated with spices from Arabia, and was covered with a round dish made from the alloys of various metals. The outer rim of the dish was cunningly engraved with the twenty-four letters of the alphabet separated by accurate intervals. A man dressed in linen garments and wearing linen sandals, with a fillet around his head and green twigs from a lucky tree in his hand, officiated as priest. After uttering a set prayer to invoke the divine power which presides over prophecy, he took his place above the tripod as his knowledge of the proper ritual had taught him, and set swinging a ring suspended by a very fine cotton thread which had been consecrated by a mystic formula. The ring, moving in a series of jumps over the marked spaces, came to rest on particular letters, which made up hexameters appropriate to the questions put and in perfect scansion and rhythm, like the lines produced at Delphi or by the oracle of the Branchidae.
Never fails to amaze me! A museum of talking boards? Seriously, it's an actual board and you put your question into the search bar-click:ask and there ya go…instant demon communication. Well, not sure if it works that way on the internet but seems like the Prince of the Air is Satan and what does a computer work from? Hmmm…seems justifiable that it would work the same. http://www.museumoftalkingboards.com/WebOuija.html How can we facilitate the communication with familiar spirits? Let's put a Ouija on the net! Done! Sorcery in a box on a box.
Officials Make Decision Based on Ouija Experience [link]
Possessed by Three Demons [link]
Figure 8 Okay, what's the deal with the swaying of the figure '8'? I never really paid much attention to the swaying of the hands on the board…but it's for a distinct purpose that these spirits use this symbol! The New Age/occult/esoteric love this number! It has many uses. It symbolizes eternity/infinity. Fertility. 8-Fold Path. Witches have 8 sabbats, seasons, festivals, or spokes in the Wheel of the Year. Scientology has the "Technique 88".  Ancient Egyptians have the 8 Primordial deities. Taoism/Chinese have the 8 'Ba gua or 8 symbols. Hindu has the 8 Guardians of the Directions. Chinese also have 8 demigods. Islam, it is the number of angels carrying the Holy Throne of Allah in heavens. Also last but not least…in Christianity, the Antichrist is the 8th King! And that was just to name a few….so this number is very symbolic to the supernatural!
MAGIC 8 BALL As a child, I myself played with this 'toy'…of course not realizing what it was. But it always gave me the creeps! So I wouldn't play with it long. But now, I realize that this has in some way a connection to the Ouija Board! This thing is an occult power tool! Inspiring a child to play with witchcraft is sinful. A small black 'palm-sized; plastic sphere and in some ways considered an oracle with a mysterious 'blue' liquid! And if this wasn't enough, they made KEYCHAINS too! But wait…then they have the 'electronic' version which has '88' different answers.
Turning this 'game' into nothing but a small version of a "FORTUNE TELLER". In one word….witchcraft! Spin off's include; "Madame Zelda's Crystal Ball", and the "Sarcastic Ball".
Regretting The Ouija This story takes place back when I was around 17 to 18. I am now 33 years of age. It all began with my brother Shane and his obsession with an Ouija board we owned at the time. We bought the board more for me since I was the big Ouija freak, but somehow I ended up using it a lot less than everyone else. My mom wouldn't even touch it, fearing something evil would happen. But my kids couldn't keep their hands off of it. You know how teenagers are (defiant and ignorant). My brother Shane, Sister Misty, our cousin Christy and I would sit down and play with the board. Lots of times we were acting silly, laughing as we played. I guess we figured they were fake and not much to them. I wish I had been right, but as it turns out I was more wrong than I had ever imagined. As these little get-togethers on weekends went by, most of us became less interested in playing with the Ouija and more interested in other things. However, Shane had an obsessive thought that he wanted to investigate. He wanted to see if the board would work with only him touching the planchette. I warned him not to do it, but of course, he didn't listen. Shane found out after about 2 or 3 times that the board worked with just him playing it. It was slow at first, but the more he played with it the faster the planchette would move and spell out answers. These sessions served to only draw Shane deeper into his fascination with the Ouija board. Furthermore, he would spend hours by himself with the board.
He started to withdraw and became antisocial. The Ouija became his best friend, or I should say, his only friend. He would sit in his room, door closed for hours on end, even missing meals. Only one thing mattered in his life, the Ouija board. We tried talking to Shane, telling him to put away the board and come out and hang with us. I even tried putting the Ouija back in its box and hiding it, but he'd wait until I was asleep and hunt it down. My mom threatened to burn it if he didn't stop playing with the Ouija, but he was undaunted. Up to this point it was still just a game to me, albeit a game that my brother was obsessed with. However, things were about to change as Shane would turn our normal family life into a nightmare. It began with him saying that he could see a woman in white moving around the house, especially at night. He said, the woman spoke to him and she would tell him things. We asked him about the conversations and he would only say that the woman was disappointed or angry at such and such. He saw her as friend, until the night she appeared looking like she was ready to hurt someone.
At that point I was very jittery and threatening to burn the board myself. Whatever spirit Shane was talking to from the Ouija was obviously playing with his head and starting to show itself in our home. The problems began to escalate on the night my brother told me he had dreams of killing us and was contemplating actually following through with it. I told my mom and we started locking our bedroom doors at night. It was then the knocking began. We started hearing knocking on the windows and doors late at night. It was as if someone was beating the heck out of the front door. I started praying until it would stop. The next time the Ouija spirit appeared as a man. It began with a faint whistling, like someone whistling a song. Of course we all checked with each other and nobody in the house was whistling. At night it would get louder and louder. I could now distinguish that it was definitely a man. In fact, we began to call him Mr. Whistle Man. We had told a few close friends, but no one really believed us. That is until the night my friend Jill was over and experienced what we had been dealing with. Jill was so freaked out that she made me sit up all night with her until her dad could pick her up the next morning.
We couldn't get away from Mr. Whistle Man as he even followed us on vacation. As I discussed the problems with Shane in what I though was a safe haven, it was if Mr. Whistle Man heard us talking about him and suddenly we'd all hear the whistling. Our nerves were constantly on edge at home and the tension was so thick in that even a sword couldn't have cut it. The constant knocking, as well as the whistling and Shane's weird moods were wearing on the rest of my family. My mother and I had decided that we'd had enough and were positive that the root of the problem was the Ouija board. We agreed that it felt as though the problems were escalating and soon it would be an all-out war, but at the moment, neither of us saw any light at the end of the tunnel. Strangely enough, it was soon after that discussion that the Ouija board spirit turned into some sort of Poltergeist. On one occasion, my sister ran screaming from a back bedroom, saying something tried sitting on the bed. She had been in there napping when she heard what she insisted was the sound of heavy cloven feet coming towards the bed. Then, she felt as if someone or something was sitting down and putting pressure on her. Needless to say, she was terrified! My mom was scared too and I didn't help matters, as I went into panic mode. This thing had already gone after Shane and Misty, now I was convinced that I was next. In fact, I didn't have to wait too long to find out.
It was after midnight of the following night and everyone was asleep. I suddenly awoke from a nightmare to see my brother sitting on his bed looking at me. I asked him what he was doing and he said he awoke to see a black shadow with its arms pointed toward me. Apparently it was then the shadow noticed him and vanished. So many questions raced through my mind as a struggled to make sense of it all. What was this thing? Why was it after me and my family? Was this ever going to end? It felt as if this spirit was playing with us, like we were its personal toys. It would appear without warning and take on various forms; it was constantly rummaging through the house unnerving us with all the noise, especially at night. We were exhausted from lack of sleep and always on alert, wondering when and where the next appearance would be. Then came the night it talked to us, more specifically, it spoke directly to me. I had been talking to Shane; just making conversation and we got into a disagreement. Suddenly I heard a voice plain as day angrily growl at me…. leave him alone, it said! It was as plain as if another person had been standing right there with us.
My biggest fear was that this entity would possess my brother, but it had other prey in mind. My sister Misty was the target now. One night my sister hadn't been feeling too good. She went to lie down on the couch and it seemed like she was sick. Suddenly she made an odd request; she wanted me to remove my bible from the couch before she would lie down. I asked why and she said she had the urge to throw it or rip out pages. Well, I felt an urge of my own as I grabbed the bible and put it against her forehead. Misty started screaming and cursing; foam was coming out of her mouth as she threatened to kill. She used language I had never heard come out her mouth before, profane and blasphemous things. My mom held her while I held the bible to her head and prayed out loud. After what seemed an eternity, she finally began to subside. Afterwards she was completely confused as she asked what we were doing to her. We knew we had to do something immediately, so we ran out into the middle of the street. It was well after midnight as we tried to find someone with a phone. We were all worn out and scared and definitely not wanting to go back into the house. My dad wanted to take us all and just leave, but we were afraid the thing would just follow us wherever we went. Somehow we had to fight this thing and we knew we couldn't do it alone. At that point we called our Pastor, David (last name omitted) and his wife Patty. They were a Pentecostal preaching husband and wife. I knew they believed in demons and spirits, as there had been many times at church when they explained to us how they turned their lives toward the Lord after dealing with some dark times, including an encounter with demons. We explained what was going on and they said they'd be there the next day.
When they arrived, they instructed us to stay outside as they went in and attempted to clear the house. Although they weren't exactly sure what they would be dealing with, their preference was for us to be safely away from what they thought might be a demon. Of course we were fine with standing on the sidelines cheering them on. In other words, we were so terrified that we had no intention of even stepping onto the welcome mat outside. After it was over, we asked them what they had seen. They told us they had seen something bad, but wouldn't say what it was. Maybe they didn't want to scare us. I don't know. I do know that the house felt lighter and I was happy to have it leave my family alone. Shane hasn't touched another Ouija board since and my Mother has forbidden having anything of that nature in her home. To this day, I still wonder about that experience and if we are all truly safe from the evil that tried to take over our lives. Sincerely, Tammi (last name omitted)
A Costly Mistake PT1 [link]
Scary Ghost Hunt Turns Bad For Teenage Girl! [link] Two BAD things don't make a good. Ghost Hunt + Ouija Board = Bad News
Ouija Gone Wrong at Halloween [link] Same Guy-Same Outcome [link]
Smoke & Mirrors? [link]
Kid Plays with Oujia [link] Ouija Moves Itself [link]
Ouija Board Gone Wrong [link]
Violent Ghost with Ouija Board [link]
Mama the Ouija Spirit [link]
Moves on it's own [link]
ZOZO Phenomena
John Zaffis on ZOZO [link]
ZOZO [link]
ZOZO-Warning-Explicit Language [link] Wow! I knew how many spirits were there before they asked!
ZOZO Blows out candle [link]
The Ouija Demon ZOZO-The Sallie House LIVE Ghost Hunt, Day 2 Part 3 [link]
ZOZO Ouija Phenomena [link]
The ZoZo is defined as a "blackbird or crow". Recently, a study was done which revealed that these two creatures and sly, devious and very vindictive. People were told to pester one of these birds and then later these birds were set free to fly above them. These creatures not only flew to the exact person who did the deeds to them in the study but proceeded to cause pain to them by attacking them. Here is a video by a YOUTUBER which shows a Raven which VANISHES in mid-air! [link] Are they shape shifters?
In the band Led Zeppelin-Jimmy Page came up with the name "ZoSo" any connections? I think there is. Did you know they bought and lived in the VERY house that Aleister Crowley owned. They bought it specifically because of this and the paranormal phenomena that surrounded the home.
It was her father who had passed. he were testing the spirit asking questions that only she knew the answers to. After 20 minutes it switched over and claimed to be MY mother. Once again answering questions correctly. We were both in tears and before we knew it the spirit switched over and we asked who we were talking to, the pointer went O Z O Z O Z O Z O. we called him Oz , we asked him to blow out a candle to prove himself and before we completed the sentence the candle was out. We asked him the time( neither of us had watches and we had been outside for over an hour) and we ran inside to look, it was exactly right to the minute. He then preceded to tell us that it was him the whole time, not her father, not my mother, him. He said he knew what we were thinking and that's how he gave us the answers to our questions, he was in our heads. By the end of the conversation he began to curse at us so we stopped playing. A few weeks later we used the board again, and instantly Oz was back and he was nasty. cursing at us, saying dark things, we stopped. That summer my sister in law and I both went through series of unfortunate events, we couldn't catch a break, one thing after another, negativity loomed over us.
At the end of the summer we used the board one final time. It was him, and he said that he made all of those things happen to us and that he created the negativity that was following us. we never touched it again. a year later while I was at their house she told me she still had the board in the garage and she asked me to look on the computer for proper ways to get rid of the board. While doing this I realized their were endless websites and stories about ZOZO the Ouija demon. we were both scared and white as a ghost, as I was reading about him to her aloud, my nephew (her son)started running around the house screaming ZOZO ZOZO ZOZO!! and we frantically made him stop. I then read on a website that he will try to claim your first born son, I didn't actually believe that but it surely freaked me out. the next morning my nephew wakes me up and as were waking up he asks if we can go get breakfast so I put him in the car and pull out the driveway, not 2 minutes later a car runs a stop sign and slams in to us. now that could have been coincidence, but it was just too eerie for me to shrug off, ever since then I have developed anxiety and often feel panicky, and when I talk about him I feel the negativity pressing on my chest and my brain. Written By Nynou 2012 Ghost-Space.Com
Although the story has been removed, you can see the comments people have placed on the site of MSNBC for this article. This legend is very real. http://www.msnbc.msn.com/id/46766185/ns/us_news-crime_and_courts/#.T2vBf1wV2Tk
Darren Evans investigates this phenomena. He has a website dedicated to it, and it alone. He reveals that this mysterious word Zo could be a religious term used in early African VooDoo. He also reveals that evidence uncovered in an 18th century French dictionary gives accounts of a demon with this name who was responsible for the possession of a young girl. In another book written in 1906, details Greek tourism at the time mentions Zozo as a 'nickname' described for a demon Pazuzu!
via the TrueGhostTales website: I read with great interest your story and here's why. I live in rural Virginia, where just about every other house has a family cemetery plot on it property it seems. I had just moved here from So Cal. I wanted to create a coffee table with glass top and display some local artifacts underneath that represented the Virginia area and its rich history. I went to a yard sale and bought the table I wanted to refurbish and construct to display some of the items. When I took the top off the table I found a home made ouija board in the hollow space under the top. There was no planchette. At first I thought nothing of it, but when I told this story to a few elder locals they both bristled and told me that when a board is separated from its planchette, its an effort to sever the "access key" of certain spirits that came thru that particular board using that particular planchette. I have a healthy curiosity and interest in the "super natural" but Im not driven by it, nor do I "crave" the adrenalin rush that comes with dabbling in the art.
I constructed the table and one of the object I place in the table was the ouija. The first day I had it on display, along with several other items. I found that all the items were pushed to the very furthest sides of the table and only the board was the focal point of the display. Thinking perhaps someone in the house moved the table and tilted it thus shifting its contents, I simply removed the glass and re-arranged the display items, this time securing them with glue. I let that dry before replace the glass.
Two nights later I heard my dogs growing in the bedroom where I sleep and they were staring at the door. I got up to see what they were upset at, and when It turned on the lights in the adjoining family room, I saw the table. The glass was scratched/etched with something sharp from underneath…and there was no mistaking the letter Z in that etching. I then knew something was up with that board or with one of the objects in the display. I have since dismantled the table and put ALL of the display items, including the board, in a box. There are a few religious items that are in that box now as well. I have had no other experiences, but until I read your story about the entity ZOZO, I had no way of connecting the Z etched in the glass with the ouija. More here [link]
PAZUZU BOARD? This name was at the top of one of the boards in the above videos and I recognized it immediately! Pazuzu in Assyrian and Babylonian 'mythology' is the king of the demons of the wind, and son of the god, Hanbi. Pazuzu is mentioned in a modern form of the necronomicon by a mysterious monk. Then I see Darren Evans research and was astounded that these makers of this board would do such a thing! This is manufactured as a CHILD'S TOY! We must pray for mercy on their souls and for the souls of the many children and young adults who unknowingly, and knowingly use this demonic item!
ZOLAR'S BOARD? This was the name on the top of one of the Ouija Boards in the above videos. I believe there is a demon named Zolar. And we should realize these names aren't put there for trivial reasons. This should be taken as seriously as the board itself.
So, here's the reason for the article; RENOUNCE YOUR ACTIONS!! When we make a free will choice to receive information outside of our own self, it is imperative that we have accurate discernment to know who we are contacting. When this supposition is wrong, it ends up in destroying the innocent, infecting homes and families, and creating a string of problems that continually harasses and follows the person, their loved ones, an item or their home. There is a vast invisible world of good and evil around us every moment of every day. There are unholy Angels (demons) and manipulated ghosts who are all too willing to pretend to be someone they are not, and to mislead and ruin us if left unchecked. Our free will is a shield that can get holes in it, and holes open us up to attack and manipulation by these entities. A portal is where an invitation has been made through use of a material object which now becomes a channel for unholy Angels to move through as they please, as many as they want, for constant attacks. Unholy Angels have been around for thousands of years, they know the history of mankind, and have watched all the choices and interactions of your life too. So they also know what kind of things people have used as aids to contact them. These items are closely monitored by the unholy Angels. This danger can be triggered by dowsing, numerology, palmistry, Wicca, astrology, past life regressions, séances, and Ouija boards, to list a few. If the item is dark, bust it up, put it in the ground, burn it in a safe place, and cover it back up. It must be totally destroyed so no one else could ever use it. How do you close a portal? Find the offending item, the trigger – whether it is a room in the house or the object. Prayer is essential, for this is a war you are fighting, and you must cleanse the area by the authority and confidence you have by faith. It is by the name of Christ that you can cast the demons out, and close the portal. It is not a time for fear. This means if you are afraid, call in those who have a stronger faith than you. When you ask another to do it for you and they agree, a new contract now exists for good, and the cleansing can occur in your behalf. "Not by might, nor by power, but by My Spirit, says the Lord of Hosts."(Zechariah 4:6) A house blessing is essential, a dedication of all things to the God of Love, and a choice of turning away from the things that caused the problems to begin with. "Submit yourselves, then, to God. Resist the devil, and he will flee from you." (James 4:7) Sprinkle dead sea salt at each entrance and exit including windows, and anointing olive oil over each window while reading prayers and scriptures out loud. Be specific about where you are casting out the demons to – do not simply cast them out of your area, or to the desert or back where they came from – send the demons to God to deal with as he sees fit. Put a crucifix, not just a cross, over each door that leads to the outside, and one over each bed. Also be specific in your wording that you know you have the authority as a child of God through the name of Jesus Christ to close the portal and that it will be done.
[Now is a good time to destroy or get rid of any physical gifts or other objects that could hold the soul tie together, such as the Ouija Board, etc. Anything that could hold the bond together between you and those objects. Close the portal. Renounce your connection with those communications with those spirits and burn the objects.]
Heavenly Father, I confess and repent of the sin of ___________ (name the sin which caused the evil soul tie, such as the usage of occult material), and I ask that you forgive me of this sin. In the name of Jesus, and by the power of His blood, I now renounce, break and sever all unholy soul ties formed between ___________ , through the sin of ____________ (name the sin which caused the evil soul tie, such as occult communications with familiar spirits). I now command any evil spirits which have taken advantage of this unholy soul tie to leave me now in the name of Jesus! Thank you Father, and in the name of Jesus Christ cleanse my soul and body. Take away all my sins and forgive me of my trespasses as I forgive those who have trespassed against me. Deliver me from this evil.
DEMON BUSTER: GOOD SOURCE [link]
http://www.museumoftalkingboards.com/ancient.html
DNA and Genealogy Tests Reveal the Identity of a 19th Century Vampire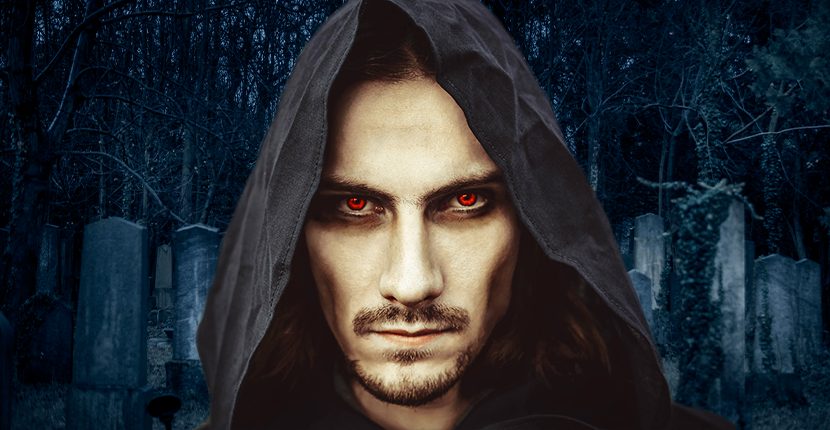 Imagine taking one of those genealogy tests which are so popular these days and finding out you're a descendant of a vampire. You would undoubtedly deny it (or perhaps be proud of it) and seek to prove your point either way with a DNA test … only to find that your DNA matches up to the vampire. If your name is Barber and you have ancestors in New England, you may want to take notes and wear some extra sunblock at the beach this summer because researchers have identified a man buried as a vampire in 19th century Connecticut.
In 1990, an abandoned cemetery was found in Griswold, Connecticut. Researchers determined it to be the private cemetery of the Walton family, which owned and farmed the land from 1690 into at least the 1800s. The remains of 29 individuals were found – men, women and children – and most showed evidence of lives of hard labor. However, one stone-lined grave caught the attention of Paul S. Sledzik and Nicholas Bellantoni, who were doing research for their paper "Bioarcheological and Biocultural Evidence for the New England Vampire Folk Belief," which was eventually published in The American Journal of Physical Anthropology. Why?
"Upon opening the grave, the skull and femora were found in a "skull and crossbones" orientation on top of the ribs and vertabrae, which were also found in disarray. On the coffin lid, an arrangement of tacks spelled the initials "JB-55", presumably the initials and age at death of this individual."
In their study of New England vampire beliefs, Sledzik and Bellantoni found that the descriptions of alleged vampires generally say that the person was wasting away and losing flesh despite leading an active and otherwise normal life. This led to the belief that vampires craved food and ultimately human flesh, which is why relatives of vampires seemed to eventually suffer from the same wasting away. These are also the symptoms of tuberculosis, which was called consumption in those days and ran rampant throughout the unsanitary farms of 18th and 19th century New England. While most cemeteries of that era showed many people suffering from and dying from consumption, only JB-55 had it in the Walton cemetery.
"Several years after the burial, one or more of his family members contracted tuberculosis. They attributed their disease to the fact that J.B. had returned from the dead to "feed" upon them. To stop the progress of their disease, the body of the consumptive J.B. was exhumed so that the heart could be burned. Upon opening the grave, the family saw that the heart had decomposed. With no heart to burn, the bones of the chest were disrupted and the skull femora placed in a "skull and crossbones" position."
According to the paper, the New England way of dealing with suspected vampires was to burn their heart, especially if blood was found in it. In this case, the heart had decomposed, so instead the family rearranged the bones into a skull-and-crossbones formation – the next best thing since decapitation was also a way of keeping a vampire in its grave.
The case of JB-55 intrigued Charla Marshall, a forensic scientist with SNA International in Alexandria, Virginia, who participated in the DNA and geneaology analyses to identify JB-55. In a presentation given recently at the National Museum of Health and Medicine in Silver Spring, Maryland, the findings of Marshall and experts at the Armed Forces Medical Examiner System's DNA laboratory in Dover, Delaware, were revealed.
"When modern tools were used – Y-chromosomal DNA profiling and surname prediction via genealogy data available on the Internet – the experts said they came up with a match for the last name: Barber."
Barber! That made it easy for the forensic experts to check old cemetery and newspaper records. As the Washington Post reports:
"They discovered a newspaper notice mentioning the death there in 1826 of a 12-year-old boy named Nathan Barber, whose father was a John Barber. Researchers had found a grave near JB's containing a coffin with the notation NB 13 similarly tacked on the lid."
SO, JB-55 was not a vampire but a poor farmer and father named John Barber who lost his 12-year-old son and eventually wasted away from tuberculosis, only to be later suspected of vampirically rising from the grave and attacking his own relatives before they dispatched him forever by detaching his skull and rearranging his bones.
All you New England Barbers out there — you don't do things like that anymore, right? RIGHT?
Source: Mysterious Universe
Mary Nohl's Whimsical Sculpture Garden
The Witch's House is a Milwaukee landmark with an eerie legend, but the only magic Mary Nohl was conjuring was her yard full of strange sculptures.
There is a curious old home in the Milwaukee, Wisconsin suburb of Fox Point, a cottage on the shore of Lake Michigan, which has been the source of urban legend for decades. My dad drove me past it when I was a kid. The yard was filled with large concrete sculptures of giant heads and abstract figures. Humans, fish, and other water creatures all made with materials gathered from the beach.
Frightened whispers of countless curious visitors tell a story as chilling as the howling wind that blows in from the lake, the tragic tale of a reclusive old woman whose husband and son drowned in the turbulent waters just offshore from their home. In her grief, they say, the "Witch of Fox Point" constructed the bizarre sculptures to keep watch for her lost loved ones to return.
But Mary Nohl was never married, and had no children. She was an artist who conjured fantastical creations that transformed her home into her masterpiece – which continues to be a thorn in her neighbor's sides to this day.
"Mary cared nothing about conforming, resisted the stereotypical roles for women of her generation," Barbara Manger, author of Mary Nohl: Inside & Out, said in a 2009 interview. "She set her own direction and pursued creating regardless of the views of others."
In that way, maybe Mary really was a witch – a strong, independent woman who lived the life she chose regardless of societal expectations.
And it seems she had a sense of humor about the legend, if the word "boo" formed by beach pebbles on her front step is any indication.
Mary was born to Leo and Emma Nohl in 1914. Leo was an attorney in Milwaukee. The Nohls bought the lot where the house stands now on North Beach Road and built a small prefab cottage as a summer retreat in 1924. It quickly became 10-year-old Mary's favorite place. At the time, the road was little more than a dirt path and wasn't plowed during the winter, so it wasn't an ideal place to live year round.
That changed by the early 1940s, though, and the Nohl's hired an architect to build an addition. There were some delays during construction as World War II caused a shortage in building materials, but the house was eventually completed in 1943. The Nohls sold their Milwaukee home and moved in.
Mary graduated from the Art Institute of Chicago in 1937. She taught art in Baltimore and Milwaukee until 1943, when she decided that making art was more enjoyable. She opened a pottery studio in Milwaukee and moved back in with her parents at the house on North Beach Road, where she would spend the rest of her life.
Mary's parents died in the 1960s, leaving her a sizable inheritance. She didn't have to work anymore, so she began filling the home where she now lived alone with her creations of concrete, scrollsawn wood, driftwood, glass, bone, and other found objects.
The spectacle soon attracted curious visitors, and with them, vandalism. But Mary didn't let that hinder her creativity.
"I was awakened early one Sunday morning to the sound of a crackling fire," she wrote about a particular incident, probably in one of her biannual mimeographed newsletters she sent to friends and family, "and relieved to find that the fire was burning a driftwood figure in the front yard – and not the house. This particular sculpture has been a target for the kids for years – about fifteen feet high and so encrusted with paint and so dried in the sun, that the burning was like a series of explosions. Called the poor, overworked police who sat in three squad cars outside the fence and watched it burn. Sass, Basil and I sat inside and watched from the front window with the aid of a beer. All that was left were two ten-foot pipes anchored in cement, and before the last sparks had drifted off I had plans for my largest cement animal. The two pipes conveniently became the two front legs of a less destructible cement creation."
Mary died in 2001 at the age of 87. She left her home and sculptures to a philanthropic organization called the Kohler Foundation that works in the areas of art preservation, grants, scholarships, and performing arts. Her estate of over $11 million went to the Greater Milwaukee Foundation to oversee the administration of the Mary Nohl Foundation and Mary Nohl Fellowship, providing arts education for children and scholarships for artists.
North Beach Road is a wealthy area, and to Mary's neighbors, her home was an eyesore. They petitioned the city to have it demolished. Instead, the property was granted entries in the Wisconsin Registry of Historic Places and the National Register of Historic Places, and is now protected.
The Kohler Foundation wanted to open it to the public, but a decade-long struggle with residents and zoning laws proved unsuccessful. In 2014, a plan was announced to move the entire house and sculptures to a more accessible site in Sheboygan County, but it has since been cancelled because the art was deemed too fragile to move.
Conservators have cataloged hundreds of individual works of art from inside and outside Mary's home. In her master's thesis on Nohl, Debra L. Brehmer categorized the yard sculptures into four distinct groups: monolithic heads, figures and groupings, mythic animals, and architectural ruins.
Records of Mary's works include descriptions such as, "Man & Fish Conversing," "Tall Horned Figure," "Wall of Faces," "Crowned Heads," and "Mermaids."
"To build these pieces," Brehmer wrote, "Mary first develops a rough idea on paper. She then makes armatures out of metal rods, old pipes, fence wire or tin and fills in the forms with stones she collects by the beach in an old red wagon. She applies concrete in sections, from the ground up, allowing each to dry for two or three days before adding the next. She often combs or trowels a texture into the wet medium and adds subtle decorative flourishes, such as beach stone, marbles or reflector eyes and ornamental bits of pottery or tile."
Among the various exhibitions of Mary's work over the years was the "Greetings and Salutations and Boo" installation at the John Michael Kohler Arts Center in 2017, which included Mary's intricately embellished living room, carefully removed from her home and reconstructed for the exhibit.
That may be the closest most of us will ever get, as the house itself remains a private residence for a caretaker from the Kohler Foundation.
The National Register of Historic Places record calls the Mary Nohl Art Environment "one of Wisconsin's most original and outstanding works of art."
Jin – Real Mythological Creature
The jinn (sometimes spelled djinn) are spiritual beings according to Islamic mythology. Even the Holy Quran mentions them. We in the West know them as genies.
Far from being like the funny cartoon character in Disney's Aladdin, the jinn are considered to be creations of God along with angels and humans. So who exactly are the jinn?
HISTORY AND ORIGINS OF THE JINN
The word jinn itself is Arabic in origin and its root means "hidden or concealed." It refers to a class of spirits below the angelic hierarchy.
These beings were known in ancient Middle Eastern times and often worshiped as benevolent and rewarding gods. Archeologists have even discovered stone carvings and inscriptions giving praise and thanks to them.
According to Islam, God created three categories of beings: angels who were created from light, the jinn who were formed from fire and humans made from earth or clay.
Along with humankind, God also bestowed free will upon the jinn, letting them live and do as they please. Yet they are subject to the same punishments and Day of Judgment as people.
There is even a story about one of the jinn, called Iblis who disobeyed Allah's order to bow down to Adam. As punishment, Iblis was banished from Paradise and known as Shaitan or Satan, the adversary.
Finally the jinn were popularized due to the success of the book One Thousand and One Nights also known as Arabian Nights. Readers were introduced to stories of jinn that coexisted and communicated with humans.
TYPES OF JINN AND HUMAN INTERACTION
Like humans, the jinn also have male and female genders. And just like people, some are benign and some are malevolent, with many falling somewhere in-between.
They may or may not interact with us, just like any other spiritual being. According to some beliefs, each one of us is assigned a personal jinni called a qarin. For those unfortunate souls who have an evil qarin, they are likely to hear whisperings impelling them to do evil.
Although local legends and lore often have their own unique forms of jinn, the major types of jinn include: Ghul, Ifrit, Marid, Nasnas, Shaitan, Shiqq and Silat.
GHUL
The ghul or ghoul is a nocturnal zombie-like shape shifter that often haunts graveyards. It preys on human flesh and is capable of great evil.
According to Arabian lore, the most feared ghul is female, known as a ghula who can appear as a mortal woman and lure men into her clutches, turning them into her prey.
IFRIT
These jinn are cunning and extremely intelligent. Generally evil, they do have the ability to change and can become pious and saintly. The Holy Quran mentions the power that King Solomon had over the ifrit, making them do his bidding.
MARID
The marid are the genies we've come to know and love as wish granting spirits that live in oil lamps and bottles. They are actually considered the most powerful of the jinn.
Blessed with great knowledge and magical powers, they were originally known as sea-spirits and still spend a great deal of time near the water.
NASNAS
Nasnas are a lesser form of jinn with weaker powers. They often appear as human or animal-like hybrids. In the classic One Thousand and One Nights, nasnas appear as a half-bodied humans hopping around on one leg.
SHAITAN
As mentioned before, Shaitan was the name given to Iblis who disobeyed Allah. Shaitan also refers to any malevolent jinni that aligns with demonic forces.
SHIQQ
Like the nasnas, the shiqq are also a lower form of jinn and are only half-formed. They appear as hideous monsters, but have weak powers.
SILAT
Smartest of all the jinn, the silat are expert shape shifters and are the most interested in humans. They love to take on the human form and can do so with ease.
So if a magical stranger either helps you out or brings you trouble, it could be a silat.