Origin Unknown: Study Says Blast Of Radio Waves Came From Outside Our Galaxy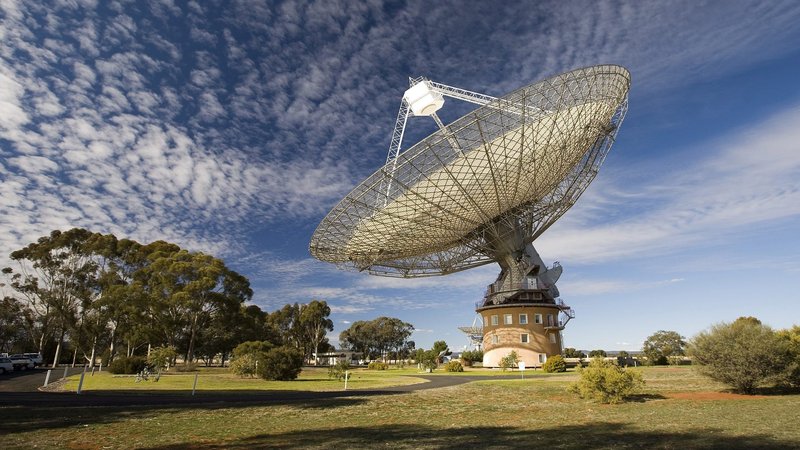 On a graph, they look like detonations. Scientists call them "fast radio bursts," or FRBs: mysterious and strong pulses of radio waves that seemingly emanate far from the Milky Way.
The bursts are rare; they normally last for only about 1 millisecond. In a first, researchers in Australia say they've observed one in real time.
NPR's Joe Palca reports:
"The giant Parkes radio telescope in southeastern Australia detected the burst on May 14 last year. Within hours of the discovery, 12 different telescopes both on Earth and in space were pointed in the direction of the burst, but none recorded any unusual activity.

"Most of the events that astronomers know about that could cause a burst of radio waves, such as an exploding star, would continue to give off light or X-rays or gamma rays for some time.

"Finding nothing only deepens the mystery about what's behind the bursts. Details of the finding appear in the Monthly Notices of the Royal Astronomical Society."
The first of these cosmic outbursts was detected fairly recently, in 2007. Last year, a radio telescope in Puerto Rico detected the same brief and powerful waves the Parkes facility had earlier reported.
Calling fast radio bursts "tantalizing mysteries of the radio sky," the more than 30 researchers who took part in the study say they found last May's FRB "during a campaign to re-observe known FRB fields."
But while the scientists note that the recent FRB was detected close to a previously discovered phenomenon, they concluded that the two are "distinct objects."
"This is a major breakthrough," Duncan Lorimer of West Virginia University tells New Scientist. Lorimer was part of the team that uncovered the 2007 signal. He also argued that it came from far beyond our galaxy.
Astronomers have disagreed about where FRBs come from, with ideas ranging from black hole activity to solar flares.
EarthSky reports, "The astronomers involved with this study, though, say the burst originated up to 5.5 billion light-years from Earth. If that is indeed the case, then the sources of these bursts must be extremely powerful."
Led by Emily Petroff of Australia's Swinburne University of Technology, scientists from the U.S., India, Germany and elsewhere collected data on the FRB's polarized radiation that they believe is intrinsic to the phenomenon.
In the conclusion to their report, the scientists note, "The true progenitors of FRBs remain unknown."
As NPR's Joe Palca noted last year, the study of FRBs has itself been somewhat polarizing, in one instance resulting in "a theoretical paper suggesting the bursts could be generated by intelligent beings intentionally beaming a radio signal directly at Earth."
We'll note that "real time" is an especially relative term when observing events that took place billions of light-years from Earth. Noting that detail, one of the study's co-authors adds that the radiation's delay as it travels through space is the same as other phenomena that might help to explain it (as the Motherboard blog's Becky Ferreira reports).
Scientists detect water vapor on Jupiter's moon Europa
Scientists already had indications that there was a large ocean beneath the ice sheet of Jupiter's moon Europa. Now, with this finding, it could become the first habitable place of our Solar System, in addition to the Earth.
Forty years ago, a Voyager spacecraft took the first foreground images of Europa, one of Jupiter's 79 moons.
These revealed brown cracks that cut the icy surface of the moon, which gives Europa the appearance of a venous eyeball.
Missions to the outer solar system in subsequent decades have accumulated enough additional information about Europa to make it a priority research objective in NASA's search for life.
What makes this moon so attractive is the possibility that it has all the necessary ingredients for life.
Scientists have evidence that one of these ingredients, liquid water, is present beneath the icy surface and that it can sometimes break into space in huge geysers.
But nobody has been able to confirm the presence of water in these plumes by directly measuring the water molecule itself, until now …
Recently, a team led by NASA's Goddard Space Flight Center has detected water vapor for the first time on the surface of Europa.
To do this, the vapor was measured by observing this moon through one of the largest telescopes in the world, the WM Keck Observatory on top of the Mauna Kea volcano, Hawaii.
Confirming that there is water vapor over Europa helps scientists better understand the inner workings of the moon.
For example, it helps support an idea: that there is an ocean of liquid water, possibly twice as large as Earth's, splashing beneath the ice sheet of miles of this moon – an idea that is almost a certainty.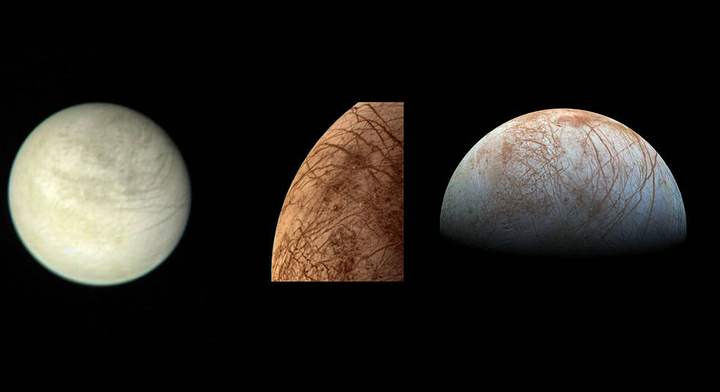 Some scientists suspect that another source of water for plumes could be shallow deposits of melted water ice not far below the surface of Europa.
It is also possible that Jupiter's strong radiation field is removing water particles from Europe's ice sheet, although recent research argued against this mechanism as the observed water source.
«Essential chemical elements (carbon, hydrogen, oxygen, nitrogen, phosphorus, and sulfur) and energy sources, two of the three requirements for life, are found throughout the solar system.
But the third, liquid water, is somewhat difficult to find beyond Earth, "said Lucas Paganini, a NASA planetary scientist and who led the water detection investigation.
"While scientists have not yet detected liquid water directly, we have found the following best option: water in the form of steam."
Paganini and his team reported in the journal Nature Astronomy on November 18 that they detected enough water release from Europa (2,360 kilograms per second) to fill an Olympic pool in minutes.
However, scientists also discovered that water appears infrequently; at least not in quantities large enough to detect them frequently from Earth.
In fact, surface water molecules were detected only once in 17 nights of observation.
"For me, the interesting thing about this work is not only the first direct detection of water on Europa but also the lack of it within the limits of our detection method," Paganini concluded.
Future research
Soon we could find definitive answers about the mysteries of Europa and its habitability level.
The Clipper mission to this moon is expected to be launched in the middle of next year, to finally round off decades of investigation of other missions.
When it arrives on Europa, Clipper will orbit it and make a detailed survey of its surface, interior, atmosphere, subsurface ocean, and other characteristics.
It will also take pictures of the geysers and perform analysis of the atmospheric molecules with mass spectroscopes.
And if that were not enough, it will leave everything ready for the next step, finding an ideal place for NASA to send a robot to collect samples.
Source: NASA
Astronauts may hibernate on trips to Mars
Astronauts traveling to Mars in the near future may have to hibernate, according to a European Space Agency (ESA) scientist.
In interview with The Telegraph, Professor Mark McCaughrean, senior science consultant to the ESA Board of Science, revealed that hibernation could reduce the need for large amounts of food during the seven-month trip to Mars.
He explained:
The idea is that you sleep while traveling and use much less consumables.

Sleep is not the same as hibernation, because if you hibernate, it lowers your body temperature and reduces everything else, oxygen, and so on.
Placing astronauts in this state can also prevent fights between astronauts during the tiring journey, according to Professor McCaughrean.
He added:
If you have 100 people within a few hundred cubic meters for seven, nine months, you will have 20 people at the end, because they will do the Hunger Games. They will kill themselves.
While the idea of ​​hibernating astronauts may seem absurd, ESA is already conducting experiments on animals.
Professor McCaughrean said:
We are now experimenting with artificial hibernation to numb someone for seven months and not worry about food. We are talking about how we would do that. You do this with animal testing and we have programs to analyze how it would happen.
However, there are several obstacles to be overcome before these tests can be performed on humans.
He even said:
We are nowhere near that, because there are all ethical questions about how you would do it.
(Source)
NASA will search for fossils on Mars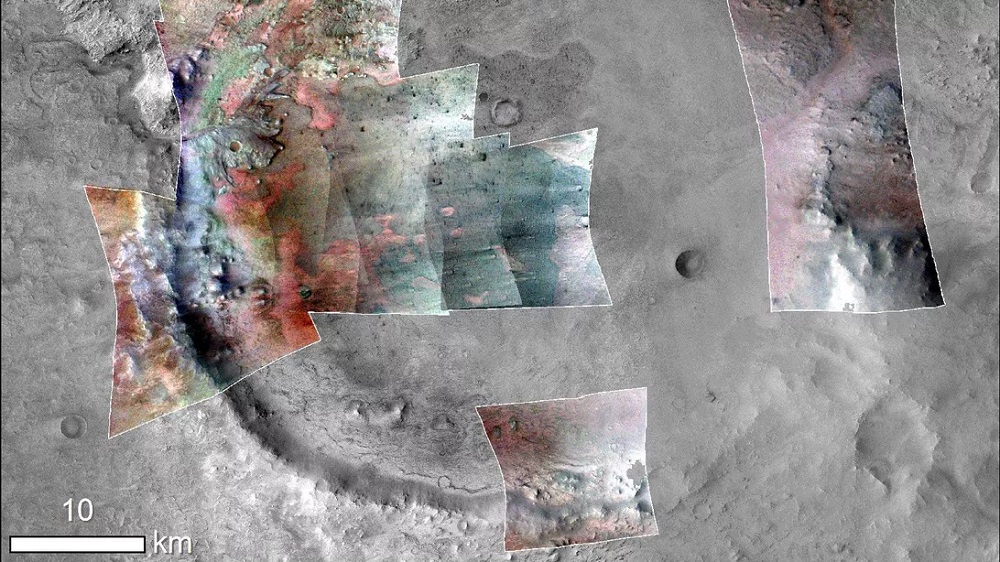 The Mars 2020 spacecraft will investigate an intriguing type of mineral deposit known to produce fossils on Earth.
And when you think of fossils, you probably imagine T. rex skulls and sauropod femurs. NASA's Mars 2020 spacecraft will be searching for fossils on Mars, but not those fossils.
NASA highlighted a new study in the magazine Icarus this week pointing out some fascinating formations around the inner edge of the Jezero Crater, the spacecraft's planned landing site. The agency compares these concentrated carbonate mineral deposits to a tub ring around what was once a lake 3.5 billion years ago.
NASA informed:
On Earth, carbonates help form structures that are tough enough to survive in fossil form for billions of years, including seashells, corals, and some stromatolites – rocks formed on this planet by ancient microbial life along ancient shorelines, where sunlight and water were abundant.
NASA does not expect to find sea shells, but the spacecraft will closely examine the stromatolites. Scientists would be thrilled to discover signs of past microbial life on the currently inhospitable planet. The Jeep's investigation of carbonate deposits may also tell us more about how Mars made the transition from an aqueous to an arid place.
The probe jeep Mars 2020 is developing at NASA with a planned release mid-next year. If it stays on schedule, the spacecraft will reach the crater in February 2021.
Scientists do not know whether carbonates formed in the ancient lake or could have been deposited previously. We will have to wait to find out more. It will be a milestone worth waiting for.