Oppenheimer And Einstein Wrote A Top Secret Document On Aliens And UFOs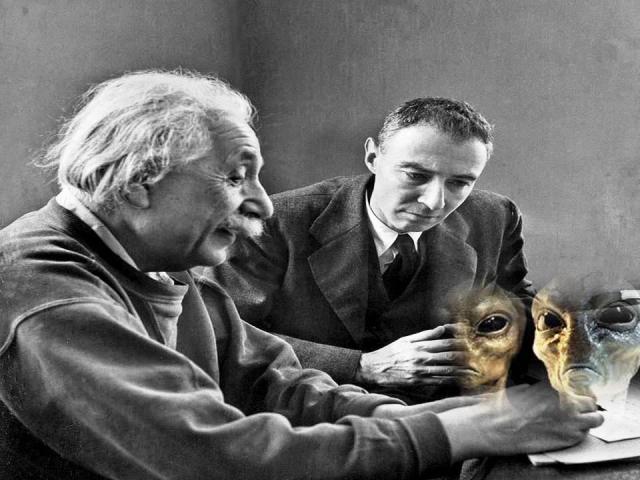 The idea that planet Earth has been visited by beings not from Earth is a concept that has been around for many years. If we look back at history, study and analyze ancient texts from cultures all over the world, we will find that many describe "Gods",'heavenly beings' and other creatures that came from elsewhere in the cosmos to Earth. While these encounters were described as divine in the past, today we try and approach the issue scientifically, something that has proven to be very difficult. But in 1947, two major scientists addressed the issue like never before, considering every single possible outcome and reason why otherworldly entities would come to planet Earth.
But first, before addressing the declassified document let's take a look back in history to see what evidence there is about the subject, and we will see that ancient man had talked about these otherworldly entities and "Flying objects" hundreds and even thousands of years ago.
EXTRATERRESTRIALS AND UFOS IN ANCIENT HISTORY
There are many ancient documents like the Tulli Papyrus which states that in the distant past, in ancient Egypt, otherworldly vehicles visited our planet. Even though this ancient text does not mention whether the ancient Egyptians did in fact establish contact with the otherworldly visitors, it is nonetheless a very important day in history, both for humanity and the ancient Egyptian Civilization. It is important to mention that it is very unlikely that the ancient Egyptians misinterpreted these "fiery disks" with some sort of astronomical or weather phenomena. The Ancient Egyptians were experienced and gifted astronomers, and by the year 1500 B.C., they were already experts in the field, meaning that they would have described an astronomical phenomena in a much different way. Also, in this ancient documents, the "fiery disks" are described as they changed directions in the sky,
so we know that these objects didn't fall, but remained in the Egyptian Sky. "After several days had passed, they became more numerous in the sky than ever. They shined in the sky more than the brightness of the sun, and extended to the limits of the four supports of heaven […] Powerful was the position of the Fiery Disks."
The Popol Vuh is another important ancient text where we can learn a lot about the creation of man. The Popol Vuh was recorded by the priests of the Feathered-Serpent, and translated from the Quiche (a dialect of Maya) into Spanish by Francisco Ximenez. This work attracted the attention of the Abbé Brasseur de Bourbourg, who in turn translated it into French, and it is his rendition that writers of English have used as the basis of their studies
All was immobility and silence, in the darkness, in the night; only the Creator, the Former, the Dominator, the Feathered-Serpent, they-who-engender, they-who-give-being, hovered over the water as a dawning light.
But not only can we see such description in Ancient Egypt and the Americas. All around the world we find evidence in the form of text or depictions of beings and 'objects' that are not native to our planet. For example in the 14th century paintings "The Crucifixtion" located at the Visoki Decane Monastery in Kosovo, we can see a depiction of a man sitting inside some sort of flying craft.
Other paintings like the one present in the Church of the Dominican Monastery in Sighisoara depicts a flying disc that appears very similar to other disk-shaped objects that have been present in historical artwork. We cannot forget the 17th century French getons that seem to depict flying saucers as well, even though historians have "debunked" the French getons stating that these are just depictions of "shields".
Another painting that we find very interesting is the "The Baptism of Christ" by Aert De Gelder. Looking at this painting the first thing that you notice are these strange rays of light that are coming down from a disk shaped object in the sky. It is one of the most interesting paintings and according to the Ancient Alien theory, this painting is a piece of strong evidence which illustrates a Disk Shaped flying object.
The Top Secret Document Written by Oppenheimer and Einstein: RELATIONSHIPS WITH INHABITANTS OF CELESTRIAL BODIES
But details about flying vehicles and 'otherworldly' beings are not exclusive to ancient man. There is a top-secret (now unclassified) document written by Robert Oppenheimer, an American theoretical physicist, and Albert Einstein, a German theoretical physicist who wrote a report about the "Relationship with Inhabitants of Celestial Bodies".This enigmatic six-page document is one of the first to make reference to Extraterrestrial Biological Entities and states that the presence of UFOs is something accepted by the military for a long time.
---
Excerpt from the document:
​ "Relationships with extraterrestrial men presents no basically new problem from the standpoint of international law; but the possibility of confronting intelligent beings that do not belong to the human race would bring up problems whose solution it is difficult to conceive.
In principle, there is no difficulty in accepting the possibility of coming to an understanding with them, and of establishing all kinds of relationships. The difficulty lies in trying to establish the principles on which these relationships should be based.
In the first place, it would be necessary to establish communication with them through some language or other, and afterwards, as a first condition for all intelligence, that they should have a psychology similar to that of men.
At any rate, international law should make place for a new law on a different basis, and it might be called "Law Among Planetary Peoples," following the guidelines found in the Pentateuch. Obviously, the idea of revolutionizing international law to the point where it would be capable of coping with new situations would compel us to make a change in its structure, a change so basic that it would no longer be international law, that is to say, as it is conceived today, but something altogether different, so that it could no longer bear the same name.
If these intelligent beings were in possession of a more or less culture, and a more or less perfect political organization, they would have an absolute right to be recognized as independent and sovereign peoples, we would have to come to an agreement with them to establish the legal regulations upon which future relationships should be based, and it would be necessary to accept many of their principles.
Finally, if they should reject all peaceful cooperation and become an imminent threat to the earth, we would have the right to legitimate defense, but only insofar as would be necessary to annul this danger."
---
What Oppenheimer and Einstein were trying to communicate through their report is, to our understanding at Disclose.tv , that official disclosure of extraterrestrial beings would cause great damage on society and belief systems around the world. While governments around the world might know about the presence of extraterrestrial entities, it is very likely that these opted to keep that information a secret since the damage would be irreversible.
Oppenheimer and Einstein also consider the possibility that if the extraterrestrial entities are more advanced than we are, would it be possible to co-exist peacefully on planet earth? And if these beings actually came to Earth, what would their purpose be considering they are more advanced than we are? Would they come to Earth to annihilate us? Or would they come and offer support? Helping our species to evolve at a faster rate?
"We cannot exclude the possibility that a race of extraterrestrial people more advanced technologically and economically may take upon itself the right to occupy another celestial body. How, then, would this occupation come about?
The idea of exploitation by one celestial state would be rejected, they may think it would be advisable to grant it to all others capable of reaching another celestial body. But this would be to maintain a situation of privilege for these states".
The document ( http://www.ancient-code.com/wp-content/uploads/2015/11/oppenheimer_einstein.pdf ) also talks about Unidentified Flying Objects and their presence on Earth, something the military around the world is very familiar with. Oppenheimer and Einstein question whether the presence of celestial 'astroplanes' in our atmosphere is a direct result of our testing atomic weapons. The two scientists consider the possibility that extraterrestrial entities might have arrived to Earth in order to monitor our progress ( via ancient-code.com ).
​"The presence of unidentified space craft flying in our atmosphere (and possibly maintaining orbits about our planet) is now, however, accepted by our military." 
---
NASA Lies: The "Mars rover" is not on Mars, is the island of Devon, Canada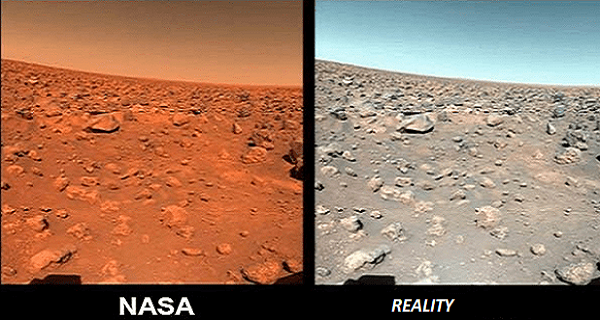 So-called "truthers" believe they have uncovered "solid evidence" that PROVES the space agency's Mars Rovers never reached the Red Planet.
And they have allegedly found where the pictures and video were "beamed back" from.
They have pinpointed a largely uninhabited island, which NASA itself says "resembles the Mars surface in more ways than any other place on Earth".
The bombshell allegations have been compared to claims the Moon landing was faked.
Investigator Harold Saive claims NASA's Mars Exploration Rovers – robots which are supposedly scouring the Martian landscape for signs of water, and possibly alien life – never reached their target.
Instead, they allegedly "fell short" – and landed on Devon Island, in Canada.
Devon Island – the world's largest uninhabited island – lies in the Arctic Circle off the Canadian mainland.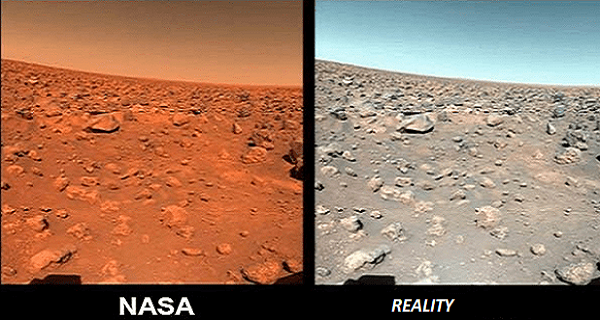 It is characterized by freezing temperatures, barren terrain – and strangely familiar red rocks.
NASA readily admits it has a base there and drives rovers around its rocky surface.
Mr Saive said: "There are an increasing number of people who believe that NASA's rovers never left the Earth in the first place, and the pictures they are allegedly sending back from Mars are taken in remote areas of our planet.
"Evidence suggests that the pictures that we see on NASA's website are not even taken by the Curiosity and Opportunity rovers.
"It is possible that by now, both rovers are stored in a hangar, somewhere at NASA's headquarters."
But the conspiracy theorist goes further – and denies the "Red Planet" is even red.
He says "all amateur telescope pictures" reveal its true color (presumably brown) but NASA Photoshops its pictures of Devon Island to fit our preconceptions.
Mr. Saive even provides a video by fellow truther Danny Wilten showing how it's done.
NASA has had a base at Nunavut, on Devon Island, since 1997 and up to 100 staff work there each summer.
The space agency insists its "mission" to the faraway world of…Canada…is to practice for Mars expeditions.
It says the Haughton Crater on Devon Island provides the perfect terrain for the job.
A spokesman said: "The Haughton-Mars Project exploration program studies the technologies, strategies, and personal training that will be used in human exploration missions to the Moon, Mars, and other planetary bodies.
"HMP researchers test technology prototypes, such as K-10, a robot designed to assist humans before, during, and after human exploration missions.
"Because the environment is harsh, isolated, and poorly mapped, it provides an analog for testing planetary exploration strategies, such as safety and telemedicine."
Professor Lewis Dartnell, an astrobiology at the University of Westminster, who is designing laser eyes for the European Space Agency's own Mars rover, told the Daily Star Online: "NASA's Mars rover program is real, and Spirit, Opportunity, and Curiosity rovers are all on the surface of Mars.
"The radio signals beamed back to Earth from Opportunity and Curiosity are picked up by an international system of radio dishes called the Deep Space Network — so if this was a conspiracy then many different nations would need to be involved, and not just the USA.
"Also, satellites like the Mars Reconnaissance Orbiter can clearly see the rovers on the surface of Mars, and the tracks left by their wheels tracing out across the Martian landscape.
"Any planetary scientist around the world can request images of particular regions on Mars from these orbital probes."
The Cosmic False Flag: Experts Claim Shadow Government Will Fake Alien Invasion
Quoting a report published in Aviation Week and Space Technology on August 17, 1992, aerospace historian Michael Schratt states more than $100 million dollars of tax payer money a day — every day of the year — is being spent on covert operations with no civilian oversight whatsoever.
That's $3 billion a month going to projects that you and I know absolutely nothing about.
Think about that for a moment. Imagine what you could do with that kind of money?
Now try imagine what greedy-power drunk psychopaths could do with that money?
If that's not disturbing enough, it has already been officially acknowledged that trillions of dollars of tax payer money cannot be accounted for…
Of course, this is pretty mind blowing to consider in and of itself. It's actually very difficult to even believe or comprehend how the government can get away with something like this. But sadly they can, and they do.
The obvious question here is, where is all this money going?
According to this documentary, these funds are going into the planning of an unprecedented false flag attack that will "make 9/11 look like a picnic," and ultimately be used to justify an authoritarian government unlike anything the human race has ever seen.
You can watch the trailer below;
The Highest Form Of Ignorance Is When You Reject Something You Know Nothing About
Personally, I have no idea whether this story is true or not, but I did decide to keep an open mind and watch the documentary which I was very impressed with.
Not only does it make a sensible argument to support the theory of a cosmic false flag event in the making, but it also presents strong evidence — particularly in the form of high ranking government/military official testimony — that alien visitation has already taken place, bodies have been recovered, and all of this has actually been hidden in plain sight for decades.
So instead of mindlessly rejecting this information based on your personal narrow minded prejudice, simply hear what these reputable authorities have to say. The highest form of ignorance is when we reject something we actually know nothing about.
Agartha, A Subterranean World Inside Our Planet, Confirmed By Top Secret Nazi Maps And Documents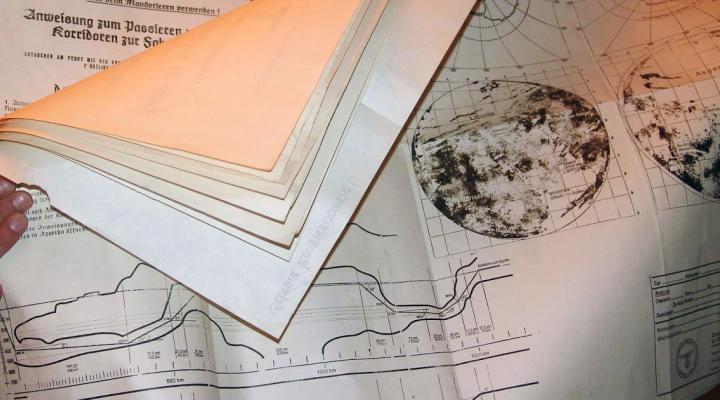 Us humans know a lot about the surface of the Earth. We've drilled oil rigs into it, mapped it, and studied it so many times that we can pretty much find out anything about the Earth from some database out there. However, we know very little about the inside of the Earth, a fact that the Nazis think that they have a lead into.
Map of Neuschwabenland
Nazi maps were recently uncovered that brought up questions as to whether the Earth is partially hollow and inhabited by lifeforms that we might have never seen. There are even stories of these Nazis who explored the polar regions of the Earth and going so far as to create secret bases in Antarctica.Imperial German maps of the Hollow Earth
Imperial German maps of the Hollow Earth
Translation:Maps for the passage of the depths of the seas.Use only during manoeuvers!Instructions to pass spaces and corridors for the voyage to Agartha.
Beyond the Nazis, many other researchers have discovered and published material regarding Operation Highjump and Admiral Byrd's journeys in which technologically-advanced airships and UFO were believed to be seen flying around, and even aggressively engaging with them. In addition, a top-secret map found in a U-Boat depicts many secret passages that were used by the U-boats to explore unknown and mysterious underground regions. All these maps indicated that the center of the Earth is hollow. But why have the Nazis kept this a secret for so long? Such a fact would be of great curiosity to man if it were found true.

This is a close up of the document showing us the NS Seal and advice on how to work with it.
Translation:After returning from the assigment hand in at the secret department!IN CASE OF DANGER DESTROY FIRST!Printed for the Military Navy in an edition of 1300 copies at the special laboratory of the KZ Dachau. January 1944.
Perhaps all this was merely a propaganda scheme made for the war. After all, the Nazis wanted to establish themselves as a master race, and making it look like they had access to underground U-Boat tunnels and that they could communicate with supernatural things such as UFOs would make them look very dominant if that U-Boat were to be captured by the enemy.
This map shows us the main continent of this hemisphere named Liberia. The main ocean here again is also the Valkarian Ocean. On the lower part of the map the city of Shambala is depicted. The Tibetan Monks believe that the City of Shambala is not on our surface but on the inside of the Earth. This map of the Inner Earth shows us the actual position of Shambala confirming the actual existence of this mythical place.Or maybe the Nazis wanted to keep this information secret to us in case they ever needed to use it for military needs in the future. Think about it: having access to secret underground tunnels could lead to more efficient and safe travel over enemy waters.
This is a letter from a German U Boat crewman of U-209. He says in the letter that U-209 commanded by Heinrich Brodda made it to the Inner Earth of Agharta and that they wouldn't be coming back.
Translation: Dear old comrade,This message will be a surprise to you. The U Boat 209 has made it, the Earth is HOLLOW! Dr. Haushofer and Hess were right. The whole crew is doing well, but they cannot come back. We are no prisoners. I am certain, that this message will reach you, it is the last contact with the U 209. We will meet again comrade. I am worried about the people that have to live on the surface, since the Fuehrer is gone.God bless our Germany always.With hearty greetings,Karl Unger
Whether the Earth is hollow or not, the Nazis have left us quite a puzzle to deal with. Hopefully one day we will take a "Journey to the Center of the Earth" and find out!
Translation:
Neuschwabenland, Antarctica and Operation Highjump
More info and translations of all the text on the documents: http://imperialgermans.com/documents.html