Opening Up the Moon: Q&A with 'Moon Rush' Author Leonard David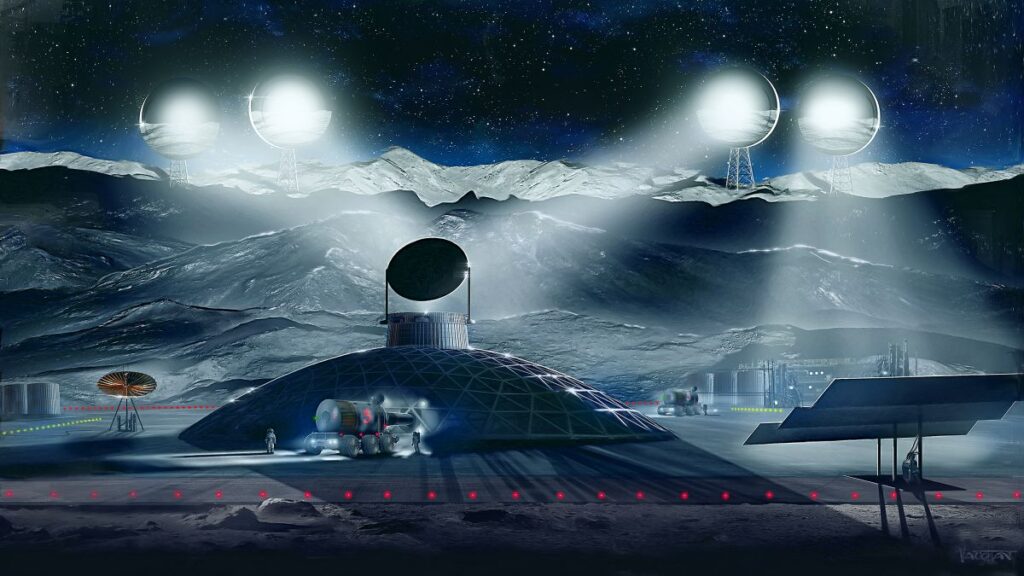 Humanity is poised to take another giant leap.
The moon is back in vogue.
The United States aims to return astronauts to the lunar surface by 2024, and then build up a long-term, sustainable presence on Earth's nearest neighbor. The European Space Agency has repeatedly stressed a desire to establish a "moon village" in the near future, and China has crewed lunar ambitions as well.
And then there's the private sector. Companies such as Blue Origin, Moon Express and Astrobotic are building landers to deliver payloads to the lunar surface. Before too much longer, such craft may carry mining robots that first test, and then exploit, lunar resources such as water ice, which appears to be plentiful on the floors of permanently shadowed polar craters.
And, in case you hadn't heard, SpaceX is building a giant spaceship to ferry people to and from the moon, Mars and other solar system destinations.
Author (and longtime Space.com contributor and columnist) Leonard David looks at these coming developments and much more in his new book "Moon Rush: The New Space Race," which was published this week by National Geographic.
Space.com recently caught up with David to talk about the book and the future of lunar exploration.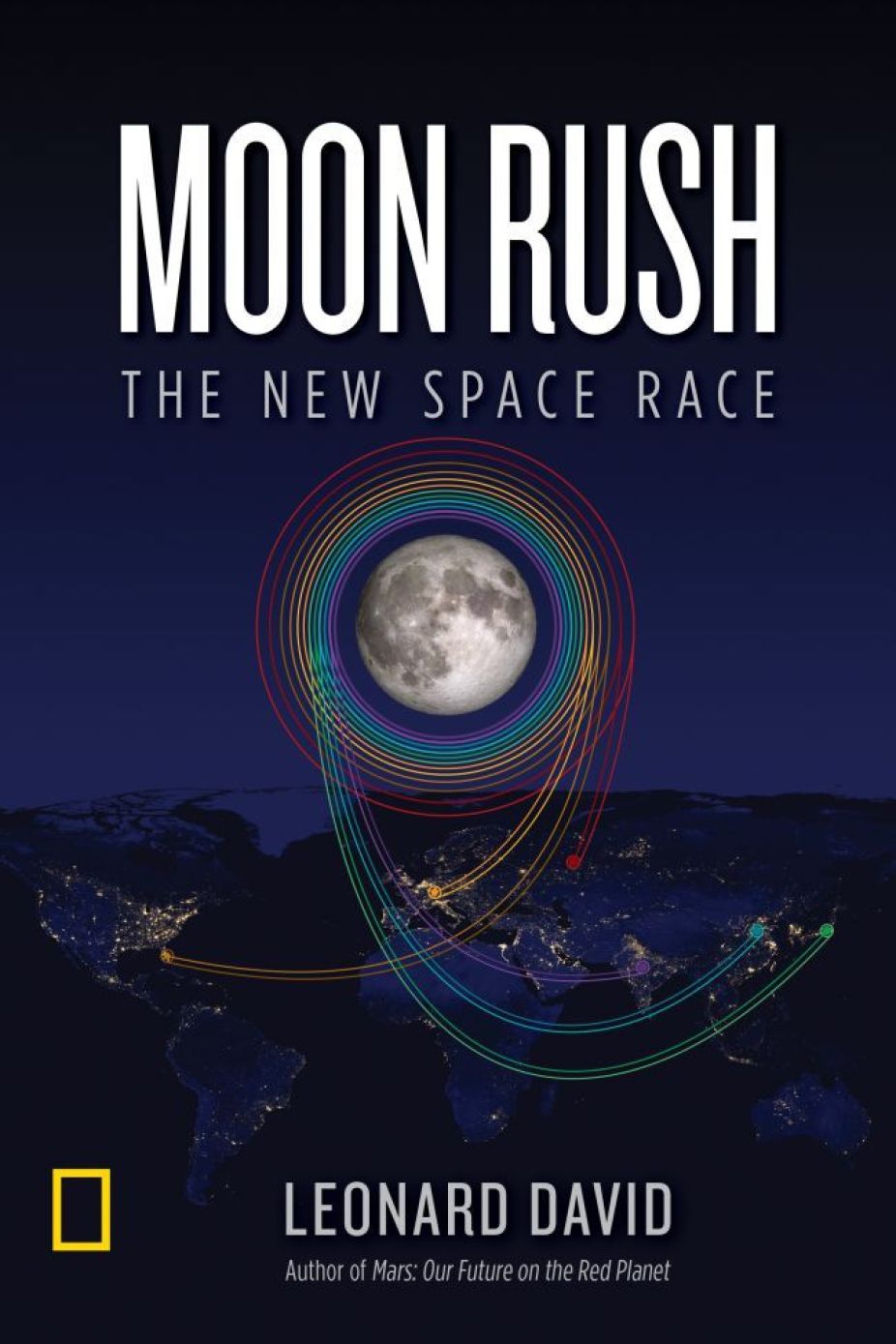 Space.com: People have talked about returning humans to the moon for decades now, since the end of the Apollo program in the early 1970s, but it still hasn't happened. Is there something different about this moment? Or do you think the momentum we see building will stall? 
Leonard David: In some ways, I'm too old and cranky, and it reminds me of other things that have happened in my lifetime, when the moon was in vogue and the program got curtailed. I lived through all the Apollo landings, and, as you know, there were a lot of other plans beyond Apollo 17. We would've gotten a lot bolder — more pinpoint landings on a lot of different parts of the moon.
But I do give credit to the Trump Administration, particularly to the Space Council being re-established. I think that's the new twist in this story — that council and the people that are on it, trying to help guide the administration to make a space program that can be stood up and withstand the test of time instead of falling apart.
Again, I've seen this before, where you get a lot of momentum going and then the monies never arrive, and things start falling apart. Without constancy of purpose, we will relinquish our goal of returning humans to the moon, and other countries are going to fill that void.
Space.com: About those other countries: Apollo was driven largely by a space race with the Soviet Union. Do you see something similar happening today, even if it's not so overt, with China or other nations?
David: I've kind of convinced myself that it's a little bit of a low-latency Sputnik effect. We've got all the makings of a rivalry with other countries, China being on top of the list. And I do think they have a multifaceted program that we haven't focused on. They may actually have a quite capable space-station program, as well as a moon-landing program. They're on the far side of the moon with a probe, and they're going to perhaps launch a [lunar] sample-return mission at the end of the year, depending on how the next Long March 5 launch goes, coming up in July.
It does seem to me to have all the makings of some kind of space race that we're not really cognizant of. [U.S. Vice President Mike] Pence has said "space race," so it's becoming part of the terminology of why we're going back to the moon.
The other thing is, the idea that the European Space Agency is still involved with a "moon village" and opening that up to other nations is interesting, as well as us building the Lunar Gateway, if that becomes a real program. They try to subdivide that into international involvement — kind of a mini-International Space Station.
So, you put all those pieces together — I don't know. I smell space race.
Space.com: And you've also got all the private companies involved now. 
David: Exactly. When we say "space race," there are these companies now, too, with private entrepreneurs. The Israeli lander [Beresheet] crashed, but it does show us what could be forthcoming from a lot of private companies and groups.
But I do think that with that come the lawyers. [There will be] different types of governance that are going to be involved on the moon, and the lawyers are already there, sniffing around the craters. I'm not sure we know yet what is really going to happen with the legal aspect of multiple nations going, particularly when the moon is becoming carved up into projected bases. There are certain points on the moon where you want to be, and you want to be there first, before anybody else.
Space.com: Yeah, that's going to be tricky. There's a lot of talk about mining lunar resources — not just water ice, but also maybe minerals, and perhaps even helium-3. And if there really are billions and billions of dollars to be made there, then there are going to be lots of fights about who owns what. Is it going to be another land rush? We're going to see that play out.
David: That's what I think. You can see that there's going to be tension; it almost seems like "We're going to do whatever we want to do and then ask for forgiveness later."
We've seen this before — claim jumpers and whatever — when you go back in history.
Space.com: So, with all of this going on, do you see something big happening with lunar exploration in the next 10 to 20 years?
David: I do. I think some of it's going to depend on what we find there with the first sorties of humans and more robotic exploration. This lunar ice question is questionable; we're not sure what we're dealing with there. We're not sure what the consistency is, how hard it will be to drag out of the bottom of craters that are ultracold. Can you do that economically?
So, we need a lot more data. If you're trying to predicate the whole economic value of the moon, you better know what you're going to go and dig out.
And there's one thing that's lurking — I kind of touched on it, but I wish would've written more about it — and that's the military utility of the moon. I think that's a sleeper thing. You can see even the generals starting to talk about cislunar space. So, this is another higher ground than where we have been in the past, and now we're going to have cislunar things that the military is very interested in. I think that's another one that's coming that we'll have to keep an eye on.
And then you get into — let's say you do have an economic windfall on the moon. It's to a country's benefit to protect it — make sure nobody tampers with anything. That has all the makings of the conflicts we get down here on Earth.
Space.com: Can we take any lessons about this next giant leap from Apollo? Apollo was so long ago now, it's almost out of living memory. And what we want to do on the moon next is very different — go and stay, not just plant flags and leave footprints. 
David: Unfortunately, as the astronauts die — and these ancient astronauts are dropping; there are only a handful left — the experience of actually being there is sort of getting lost.
A lot of people don't remember Apollo. So, there's an issue of recalling all the things that were actually accomplished. Not just planting flags — setting up instruments, and what kind of data was accumulated, and how hard that environment was to work in, particularly the dust. The dust issue is the one that's always held out as, "This is dangerous." There are ways to mitigate it; people have some ideas. I think new technologies will allow us to counter those kinds of issues.
[Apollo 17 astronaut Harrison] "Jack" Schmitt is a great example. He's trying to go back and document every footstep he took from a geological perspective. He's trying to document the entire benefit of him, as a geologist, going there. And memories are going to fade.
You look at some of the problems we're going to have in trying to establish an economic foothold on the moon; the drawings are cheap. People have a lot of PowerPoints [presentations], how it's going to look. But doing experiments here on Earth and then thinking that's the way it's going to work on the moon — it's probably not going to happen. You're going to have to go to the moon and figure out, "Well, that technique does not work." You have to go there and try out stuff.
Space.com: And lots of the tech we'll test out there will help us push even farther out. NASA stresses that the moon is a stepping-stone to the ultimate destination for people — Mars. 
David: I'm big on the stepping-stone thing. The Mercury and Gemini missions were all stepping-stones to proving out Apollo technology. So, I do see this lunar outpost as something important to deep-space habitation.
To me, the stepping-stones are very critical in this. NASA needs a steppingstone program, because they're not ready. We've been in low-Earth orbit so long, we've lost that feeling, that moon feeling, how to pull off deep-space exploration. Testing the hardware. And we're still learning about the human body, thanks to the space station program.
But the idea that the moon is a "been there, done that" world is flat wrong. We haven't been to that many places on the moon.
I look at it like Seward's Folly, when we purchased Alaska. That was very contentious in Congress at the time, why we were spending that much money. But we didn't know what that wilderness was going to provide. The surprises came later, and that was a windfall for the country instead of some folly. So, maybe that's what the moon may represent — something like wilderness that we're not quite sure what's there yet, and we need to go there and find out, using humans and robots.
We're going to find things on the moon that will surprise us. I'm ready to be surprised.
Space.com: Is there anything else you'd like to mention?
David:I hope the book stirs up conversation. Anytime you write these things, you want people to walk away with maybe more questions than they had going in.
Another thing is the ethics of it all. You've got ethics at some level here on the law side, with who's going to be where and how we can operate together on the moon. Are we all going to hold hands, or will there be claim jumpers? That kind of stuff.
And then you've got some people — it didn't wind up in the book, but I wrote it all — some of the advertising people want to do things with the moon. I've seen some pretty wild ideas — you know, carving out parts of the moon to make a logo so everybody can see it on Earth. That's the kind of thing that makes people in the audience wince when you even bring it up.
And then there's the whole preservation of the moon sites. If you really think, and I do, that tourists will be going to the moon in the future, it'd be nice to visit the Apollo 11 or 17 [landing sites] or whatever, and use those as part of the tourist campaign. There's a pretty good amount of work going on about making the moon a historical site and trying to preserve that for future visitors.
You can learn more about "Moon Rush," and purchase the book, via National Geographic. The book is also available on Amazon.com.
Source www.space.com
Our Galaxy's Black Hole Suddenly Lit Up and Nobody Knows Why
In May, the supermassive black hole at the core of the Milky Way became 75 times brighter in just two hours.
The supermassive black hole that lives at the center of our galaxy has been mysteriously sparkling as of late, and nobody knows the reason.
This dark behemoth, known as as Sagittarius A* (Sgr A*), is four million times as massive as the Sun. Though no light escapes its boundaries, astronomers can observe the hole's interactions with bright stars or dust clouds that surround it.
On the night of May 13, 2019, UCLA astronomer Tuan Do and his colleagues were watching Sgr A* using the Keck Telescope on the summit of Mauna Kea in Hawai'i. In a period of just two hours, they witnessed the black hole become 75 times brighter in the near-infrared band of the light spectrum.
That spring evening, the Milky Way's supermassive black hole "reached much brighter flux levels in 2019 than ever measured at near-infrared wavelengths," according to a forthcoming study, led by Do and published on the arXiv preprint server.
"The brightness of Sgr A* varies all the time, getting brighter and fainter on the timescale of minutes to hours—it basically flickers like a candle," Do said in an email. "We think that something unusual might be happening this year because the black hole seems to vary in brightness more, reaching brighter levels than we've ever seen in the past."
The peak flux, meaning the most luminous phase of the flare-up, soared to "twice the maximum historical flux measurements," Do's team said in the study. In other words, in the 20 years since astronomers have monitored Sgr A*, the next-brightest event has only been half as dazzling as this one.
This unusual sparkle at the galactic core was likely caused by close encounters between Sgr A* and objects surrounding it, according to the team.
The edge of a black hole, called an event horizon, is shaped by intense tidal forces that tear at anything that gets close. Once a black hole starts devouring nearby objects like stars or gas clouds, infalling material heats up at the event horizon, sparking light shows that can be picked up by telescopes.
Do and his colleagues speculate that a star called S0-2, which is about 15 times as massive as the Sun, may have been the object that juiced Sgr A*. In 2018, S0-2 came within 17 light hours of the supermassive black hole, and that close pass may have disturbed gases at the event horizon enough to cause the May 2019 brightening event.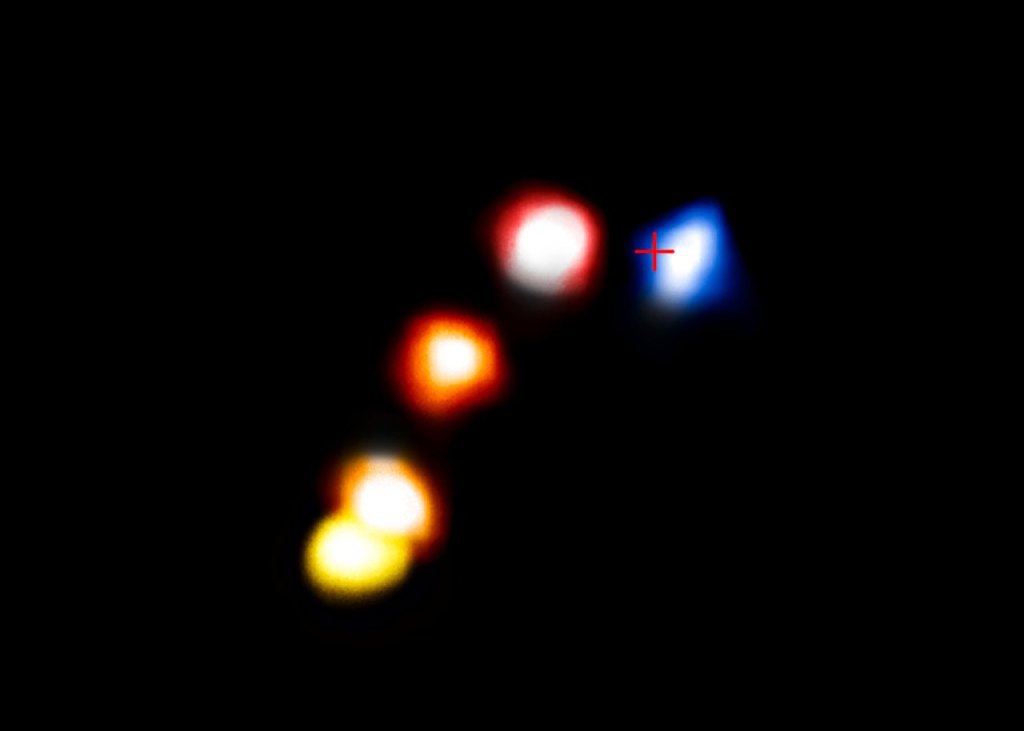 Another possible culprit is a dust cloud known as G2, which passed about 36 light hours from Sgr A* in 2014. Scientists predicted that G2 would be torn apart by the hole, but the results were ultimately described as disappointing and "boring" for astronomers.
That initial letdown may have been premature, though, because we might be seeing the slow-burn "delayed reaction" to the gas cloud's approach, the team said.
"Many astronomers are observing Sgr A* this summer," Do noted. "I'm hoping we can get as much data as we can this year before the region of the sky with Sgr A* gets behind the Sun and we won't be able to observe it again until next year."
"Maybe the black hole is waking up—there's a lot we don't know at this point so we need more data to understand if what we are seeing is a big change in what is feeding the black hole or this is a brief event," he said.
Source www.vice.com
Milky Way galaxy is warped and twisted, not flat
Our galaxy, the Milky Way, is "warped and twisted" and not flat as previously thought, new research shows.
Analysis of the brightest stars in the galaxy shows that they do not lie on a flat plane as shown in academic texts and popular science books.
Astronomers from Warsaw University speculate that it might have been bent out of shape by past interactions with nearby galaxies.
The new three dimensional map has been published in the journal Science.
The popular picture of the Milky Way as a flat disc is based on the observation of 2.5 million stars out of a possible 2.5 billion. The artists' impressions are therefore rough approximations of the truer shape of our galaxy, according to Dr Dorota Skowron of Warsaw University.
"The internal structure and history of the Milky Way is still far from being understood, in part because it is extremely difficult to measure distances to stars at the outer regions of our galaxy," she said.
To gain a more accurate picture, Dr Skowron and her colleagues measured the distances of some of the brightest stars in the Milky Way, called Cepheid variable stars. These are massive young stars that burn hundreds, if not thousands, of times brighter than our own Sun. They can be so bright that they can be observed at the very edge of the galaxy.
Not only that, they also pulsate at regular intervals at a rate that is directly related to their brightness.
This enables astronomers to calculate their distance with great precision.
Most of the stars were identified by the Optical Gravitational Lensing Experiment (OGLE) at Las Campanas Observatory (LCO) in Chile's southern Atacama Desert. Przemek Mroz, a member of the OGLE team, said that the results were surprising.
"Our results show that the Milky Way Galaxy is not flat. It is warped and twisted far away from the galactic centre. Warping may have happened through past interactions with satellite galaxies, intergalactic gas or dark matter (invisible material present in galaxies about which little in known)."
The Polish results support an analysis of Cepheid variable stars published in February in Nature Astronomy journal by astronomers from Macquarie University in Australia and the Chinese Academy of Sciences.
Source www.bbc.co.uk
SpaceX Starship update coming later this month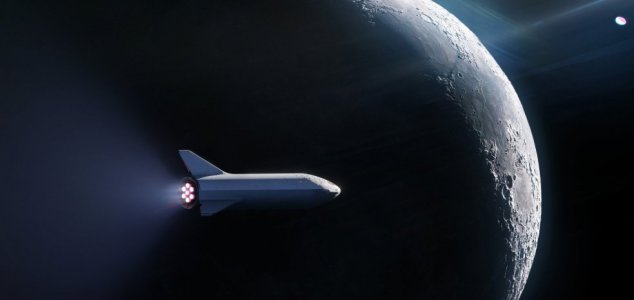 Image Credit: SpaceX / Elon Musk
Starship could carry the first astronauts back to the Moon.
Elon Musk's private space firm has been developing a spacecraft capable of landing humans on other worlds.
Designed to serve as the reusable second stage of the Big Falcon Rocket (BFR), Starship will also be able to carry astronauts and cargo all the way to the surface of Mars.
The spacecraft has undergone several name changes since it was first announced, having previously transitioned from Mars Colonial Transporter (MCT) to Interplanetary Transport System (ITS).
Now Elon Musk has revealed that a full update on the project will be coming on August 24th at either Cape Canaveral in Florida or Boca Chica in Texas, which is where a prototype was recently tested.
Writing on Twitter, he stated that the update would include a "detailed review of the first orbital Starship, explaining the pros and cons of each design decision."
"We should have Starship Mk1 with 3 Raptors almost ready to fly by then," he said.
It will certainly be interesting to see how things are progressing.
Source: Ars Technica