Ooops, Did We Just Close An Airport Over A Ufo Sighting?
Picture this: it's late in the evening on a freezing cold, dark, and windy December night in southern England, and an airport worker at Gatwick — London's second international airport — sees something fly past in the gloom above the floodlights. The weather and darkness makes it difficult to see what the object was, but the report is phoned in to security. What was it? A flock of birds? A piece of plastic litter caught by the wind and blown through the night? In this case, the call is recorded as a drone. Because the magic D-word has been uttered, a security plan swings into action, the airport is put on a high state of readiness, and flights are suspended.
Gatwick by night, on an evening far less inclement than last week. News Oresund [CC BY 2.0].
Thousands of people across the site are put on alert, watching for the drone. And of course, the drone reports roll in, and the story takes on a life of its own. People who have no idea what a drone looks like in the air are now expecting to see one, so of course when a flock of birds or a plastic bag caught by the wind crosses their peripheral vision they too are convinced that it is the drone. Night turns into day, there is a lull in the reports so the airport re-opens, only to be closed again following a fresh spate of sightings. Flights are diverted all across the country, and tens of thousands of passengers are stranded in the terminals.
No, it's not a speck of dirt on your screen, it's a drone! BBC (Fair use)
There follows three days of airport closure drama. No photos emerge despite almost every one of the many thousands of people on the site having a camera phone from which they are Tweeting about the queues in the terminal. There is a grainy video, but it is indistinct, and crucially it doesn't have anything in it that is identifiable as Gatwick. Meanwhile the police are frustrated in their search for the drone operators, who like their drone, prove difficult to pinpoint
During the third night a pair of arrests are announced, a local couple. The police have saved the day, the culprits are under lock and key. Everyone breathes a sigh of relief, the airport re-opens, and that's the end of that. Except of course it isn't, because inconveniently the pair are found to be blameless and released. When pressed during an interview, a police spokesman then makes the embarrassing admission that there is a possibility that there may never have been a drone at all.
YOU COULDN'T MAKE IT UP
You might imagine that this was the fictional plot of a thriller novel, but sadly not. All of the above is a tale of the last few days of events in the British news, save for most of the first paragraph which is our guess at how the first drone sightings may have happened. At the time of writing there remains the possibility that there could have been a drone over Gatwick, but given the current dearth of evidence it is one that seems tenuous. There are reports of drone wreckage, but since readers with long memories will recall UK police once identified RepRap parts as a 3D printed gun we'll wait until we see it before we call it that.
If there was indeed a drone then of course we would like to see its operators brought to justice forthwith. But what concerns us at Hackaday are the implications the episode could still have for those of our community with an interest in multirotors. The usual clamour was made for Government to do something about it, and we know that would have meant a fresh set of onerous regulations for responsible multirotor owners while doing nothing about the criminals, because of course criminals have little regard for laws.
So if we are to glean anything from this sorry mess, we must examine it from several angles. Why is there a lack of drone detection technology in place? How should drone reports initially be treated and investigated on the ground? How should they be dealt with in official inquiries, and how then should lawmakers see them? This will inevitably have a British flavour to it because of the incident in question, but the points are just as valid worldwide.
WHEN A DRONE REPORT COMES IN, WE NEED A RELIABLE WAY TO EVALUATE IT
When we are told something new, it passes a process of evaluation in our minds. We look at the source, and weigh up the story itself. If a guy with crazy hair in the street tells us that the aliens have landed and are controlling the Prime Minister with a ray gun, it will probably be discounted. But if Hackaday tells us that someone has hacked a VGA chipset to work as a software-defined radio we're guessing most of you would be very interested indeed.
When a fresh drone incident is reported it appears that this evaluation process has historically been defective. We have previously discussed official incident reports that come with no physical evidence of a drone, but contain descriptions of drones with capabilities unmatched even by jet fighter aircraft. It seems like any eyewitness report in which the culprit is named as a drone is automatically taken at face value no matter how unlikely it may be. The fact that a report may have come from a pilot is sometimes mentioned as a boost to its credibility, but that is a false assumption. A pilot who is not familiar with either how drones appear from a distance or what the capabilities of a drone are in the air can only be considered an unreliable witness, because while they may know a lot about aircraft they lack the required expertise for this judgement. So what can be done to help boost the quality of reporting and to immediately highlight credible reports while requiring more for dubious ones?
In the case of a near miss in open airspace there may be little effect on ground-based facilities, but at an airport such as Gatwick there can be no chances taken by the authorities. A drone collision on an aircraft on final approach could cause hundreds of fatalities, so upon receipt of a report they must have had little choice but to close the runways. There appears to have been a lack of drone detection technologies in place at Gatwick which means that the only source available to the airport would have been the eyewitnesses themselves, and since we have amply demonstrated the potential for eyewitness reports being unreliable then the current confusion becomes an inevitability. It is imperative that more reliable detection technologies be fitted or developed if necessary. This is especially true when precautionary shut-downs stretch past minutes or hours into world-news-making delays as happened in this instance.
COMPETENT POLICE INVESTIGATIONS AND RESPONSIBLE JOURNALISM ON DRONE REPORTS
The mass media tech story cycle. Our apologies to Gartner. Curve image: Jeremykemp [ CC BY-SA 3.0 ]
Once an incident has started and news of it emerges there is a consequent effect upon members of our community. Legitimate drone fliers away from the airport will find themselves under more scrutiny, and since it is already a common tale to hear of police being called when flying is under way that means they could face harassment and wrongful arrest. Indeed though we do not know all the details of the pair arrested near Gatwick it smacks of their being arrested in a round-up of convenient local drone enthusiasts rather than as a result of meaningful investigation. That the names of the pair were leaked and they became the subject of a media frenzy further shows the danger in which they were placed, as well as the irresponsibility of the reporters who covered their plight.
PERHAPS MOST IMPORTANTLY: WE NEED ACCURATE OFFICIAL INCIDENT REPORTS
Whatever happens in a drone report, whether it be an arrest or an embarrassing debacle, there will inevitably be an official incident report from the Civil Aviation Authority, the regulator of British civilian airspace. This will form the official record of the event, and thus should strive to be as accurate as possible, but here the process falls short for the final time. There appears to be no evaluation step performed on the available evidence and no requirement for physical proof. So if an eyewitness reports behaviors about the drone that no drone ever built could possibly be capable of, it is solemnly recorded as fact. Our previous article on this subject highlights multiple such accounts, and this is an important point because as the official record these reports are what informs legislators. When they make laws pertaining to drones it is imperative that their decisions are based upon accurate evidence, and it is clear that this is not the case. Given that they will no doubt be reviewing drone legislation in the wake of this fiasco it is particularly important that the investigators consult people with specialist knowledge in the field, demand physical proof rather than heresay, and most importantly question accounts that stretch credibility.
It seems obvious that the multirotor hobbyist is caught in a perfect storm of incompetent authorities, deeply flawed investigations, shoddy journalism, and clueless legislators. This incident has laid bare some of the shortcomings, and it is to be hoped that a few lessons might be learned to produce less of a debacle surrounding future drone incidents. It is still a developing story so there may be a breakthrough and the whole narrative will change, and if that turns out to be the case then we hope they find the correct perpetrator this time and send them away at Her Majesty's pleasure for a very long time. We're guessing though that every effort will be made to push it as far under the carpet as possible to save red faces among officialdom. As multirotor enthusiasts we must keep the issue of poor investigation alive though, for if we let it be buried once more it will come back to trouble us again.
Source hackaday.com
Photographs Of A Supposed Alien Ship Dropped in Australia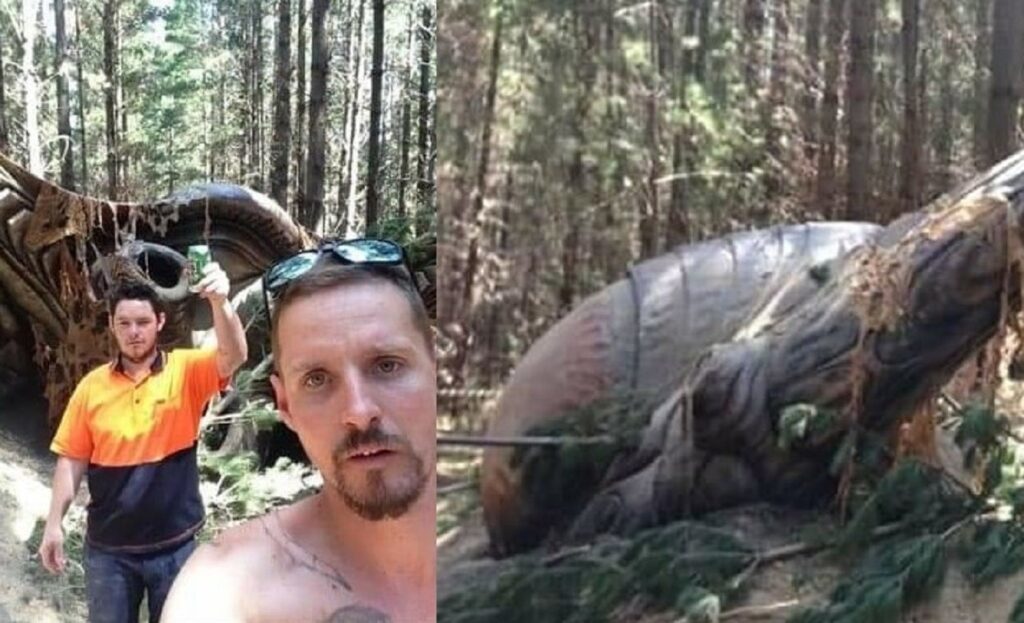 Those who say that UFO photos are always blurred and too far away to be able to identify them can not say the same about the images were taken by two men in Australia.
The photos and selfies are just above what they say are the remains of an alien spacecraft, even its beer can is clearly visible. What is "blurry" now, is exactly what it could be .
This case belongs to MUFON and is the number 99,500, which can also be seen on the UFO Stalker website. Obviously, the report is not made by the actual witnesses/photographers and was submitted two years after the alleged discovery.
"They called some friends and told them that they would come to pick them up to show them the object. When they returned a few hours later, the site had been cleaned and there were no remains of it. There was a police tape but everything else was gone. They took some pictures with their phones before and after. "
The post of MUFON was picked up by the intrepid observers of the UFO portal Texas UFO, who uploaded the photos to their website and social networks, where the skeptics focused on the idea that the supposed debris seemed to come from a movie.
And that's entirely possible since the film crew has used Monte Macedon (the name of the city and the mountain where it sits), especially for the scenes of the 2009 science fiction film "Knowing", the film of terror "Do not be afraid of the dark."
However, those scenes were filmed four years before the alleged UFO accident was discovered, enough time for it to deteriorate (movie sets are not made to last) or to be vandalized.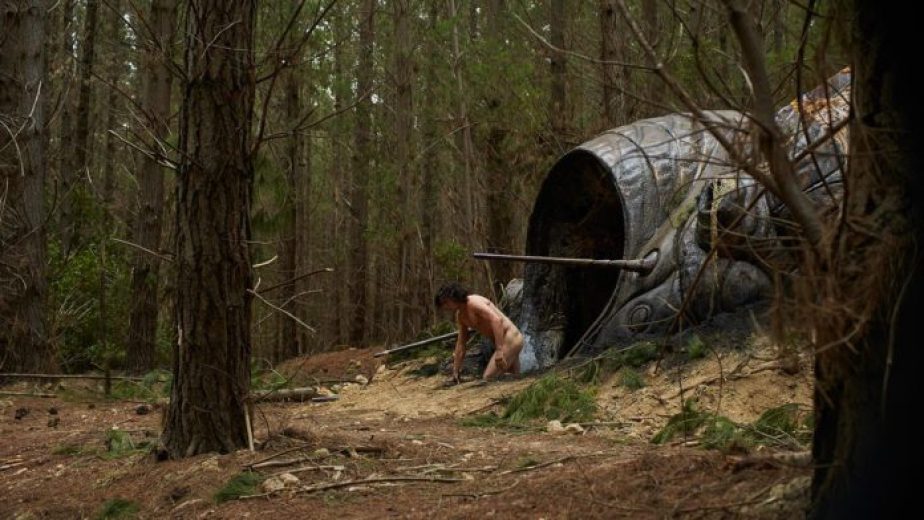 Macedon is also located a few kilometers from the location of Hanging Rock, the famous geological formation that has great spiritual and cultural significance for the Dja Dja Wurrung, Woi Wurrung, and Taungurung tribes.
Then there is the "police barrier tape". That is the strangest part of this report. Why would the police be called to remove a set of old movies and why would they cordon off the area with yellow tape? It does not sound like things were from a movie … or a picnic … Any ideas?
Whatever it is, this sounds like a great argument for a new movie in a beautiful place that is cheaper to shoot than Hollywood. What do you think about it? Leave your comment below.
Source thelifehacker.org
Japanese Ghostbuster Claims She Removes Spirits with an Air Cleaner
If there's something strange in your neighborhood
Who you gonna call?
If that excerpt from a classic movie theme has you googling for the number of your nearest Ghostbuster, you may want to change a few letters and try again after reading what a Tweeter in Japan has to say about the ghost removal powers of her new Plasmacluster. A what?
When I first moved into the apartment I'm living in now, there were a lot of strange happenings that really freaked me out. But then I got a (Sharp) Plasmacluster air purifier, and it all completely stopped. I did some research on ghosts, and I found out that ghosts are kind of like plasma. Isn't it amazing that air purifiers can not only clean the air but also exorcise ghosts?
Shiunoko
@ shinukosan
That Tweet from Shiunoko (@shinukosan) caught the attention of Japan's Sharp Corporation, which makes the Plasmacluster air purifier and it quickly responded to Shiunoko, who offered some marketing advice (poor Google translation):
SHARP Sharp Corporation
@ SHARP_JP
Since I have not verified it, I can not affirm, but I can not repel. maybe.

@ shinukosan
Jun 11
Mr. Sharp, if the sales of the air purifier has grown a little, take a filter behind the air purifier. My guy seems full of spirits …!

SHARP Sharp Corporation
@ SHARP_JP
Jun 11
Sharp does not need to be replaced for 10 years
Would the Ghostbusters (or any spirit mediums) agree that a filter full of ghosts doesn't need to be changed for 10 years? Sounds like a good movie plot but poor advice. The Twitter comments run the credibility gamut, but Sora News 24 points out that the Sharp Plasmacluster releases a plasma discharge full of plus and minus ions which clean the air by suppressing airborne mold particles, viruses, and allergens. Perhaps Shiunoko has confused 'plasma' with 'ectoplasm' – the alleged physical substance that allows ghosts to manifest themselves. However, the Plasmacluster isn't removing plasma or ectoplasm — it's emitting it.
It's more likely Shiunoko is thinking of a study conducted in 2015 which speculated that the mold found in old houses (and aren't most haunted houses old, musty and moldy?) could cause hallucinations (remember, the ergot fungus was used in the initial development of lysergic acid diethylamide – LSD) that give the breathers the sense they're not alone and can possibly create the ghostly images in their minds. According to its ads, the Sharp Plasmacluster can definitely do that:
"Reduce germs, bacteria, viruses, mold, and fungus – Patented Plasmacluster Ion technology attacks impurities throughout the room"
Is Sharp missing a big and growing market for a Plasmacluster Ghostbuster? In the meantime, have some holy water handy when you change the filter.
If you're seeing things running through your head
Who you gonna call?
Plasmabusters!

An invisible man
Sleeping in your bed
Who you gonna call? Plasmabusters!

I ain't afraid of no ghost
I ain't afraid of no ghost
Source: Mysterious Universe
Reptilian like creature recorded in the drainage of Great Britain (Video)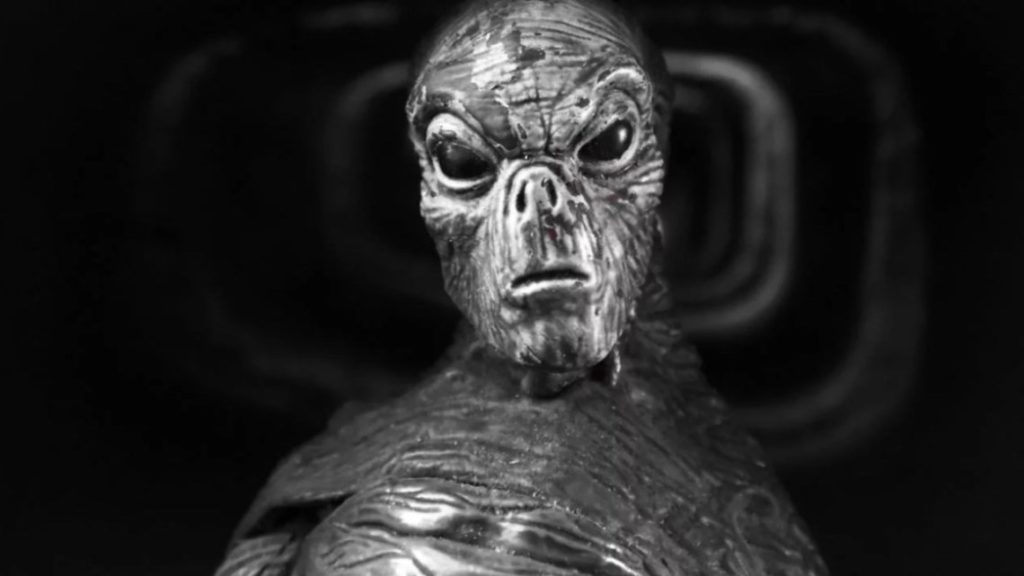 An immense amount of legends that circulate for many years mention strange forms of life that live under the Earth. However, these legends usually stay on the Internet, and do not leave there … except for exceptions.
There are stories of beings that come from a dark hell and possibly are among us since ancient times, which is why one of the most controversial videos in the history of YouTube is, without a doubt, which shows a strange creature of Reptilian aspect filmed in a British drain, video that many theorists have used to confirm the theories that these life forms do live among us.
The most terrifying thing is that it is not a single video, or two, but four recordings that were published on the YouTube platform. Another important point to note is that it was not hung by some ufologist, or by some UFO hunter that, normally, they do not have much credibility.
Those responsible for uploading the recordings was a company, which is responsible for water in the United Kingdom called United Utilities, on March 31, 2011. The next day, the news about the strange events recorded by the company was in every corner of the planet.
Many conspiracy theorists, both in personal blogs and forums, began to discuss and analyze the images, assuring that it was some reptilian creature. Others, however, mentioned some kind of lost animal, even that it was a montage. But what would a wastewater company gain from doing such a setup?
The Leigh Journal media was the first formal source to collect the images and review them, taking statements from the workers and people in charge of the company.
Mike Wood, regional manager of the sewer system at United Utilities, said that several of the employees had reported sightings of some strange animal, so they began to review the entire network of pipes with closed circuit monitoring. But what was seen was not exactly a sewer rat.
Wood explained at that time that the images were uploaded to YouTube, hoping that the general public would help them discover what it was, because they also had the theory that it could be an exotic pet that had gone astray, either from home from someone or from a zoo.
What they did have insurance is that it was feeding on the deposits of fat that were accumulating inside the pipes.
However, as the videos gained more and more reach, the theory that it could be a reptilian creature began to take much more strength among the public, and those who had been interested in the event.
In the images that were uploaded to YouTube you can see a strange creature with a long tail and body very similar to that of a reptile that crosses with the robot camera that the company had used to monitor the pipe network in case some of the the drains have some object stuck or there are nests of rats or other animals.
The event became so popular that even people baptized the creature, calling it "Messie", alluding to the renowned monster of Loch Ness.
However, despite the fact that the first videos were quite … curious, none caused such impact and concern on the entire planet as the fourth video, where you can see the creature in front of the camera, showing long limbs, like legs and arms, with a clear humanoid aspect.
However, when the robot camera moves to focus it better, it retreats at high speed through the drain.
Still no explanation about the event, the company never declared that it was an advertising campaign or something like that and the media did not give more coverage to the topic What was that creature?