Once Burned, Twice Shy—Why "Anti-Vaxxers" Are Really "Ex-Vaxxers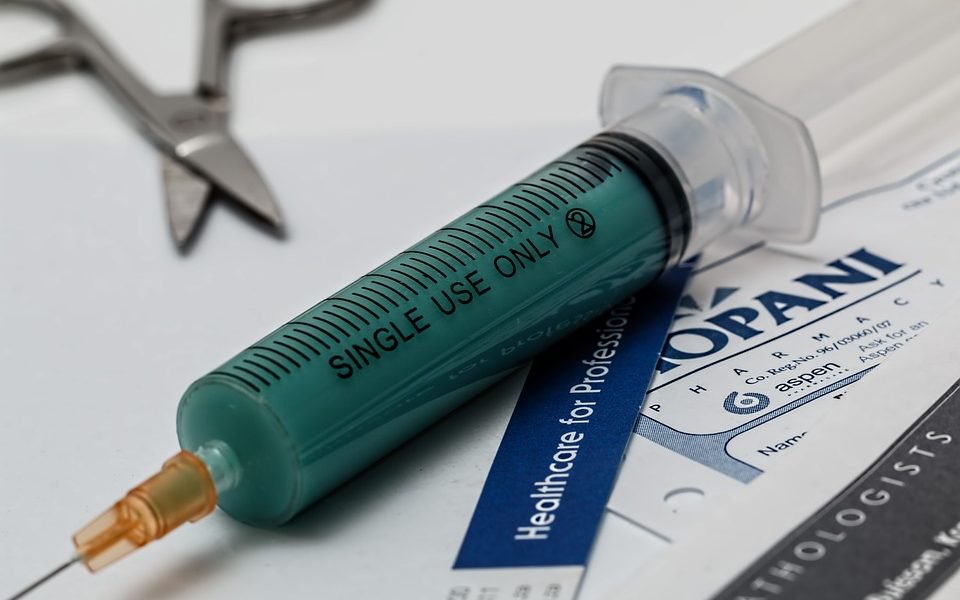 The Facts:Donald Trump was recently asked about the MMR vaccine, and he urged that everybody should get the shot and that vaccinations are necessary. This is a complete 360 turnaround to his comments about vaccines during his presidential campaign.
Reflect On:The corporate stranglehold that big pharma has on government and government policy his huge. This is one of many examples and why presidents make promises and then usually break them.
Over the past few months, news of measles outbreaks have once again bombarded the mainstream, urging more people to vaccinate their children without ever taking into account the facts that all parents should be made aware of.  Although 2018-2019 has been a big year for this type of hysteria, we've seen it throughout the past few decades. Just four years ago, for example, during the measles outbreak in California that was making headlines everywhere, a large number of those cases actually occurred among the vaccinated. Of the 194 measles virus sequences obtained in the United States in 2015, 73 were identified as vaccine sequences.
The media (Pharma-owned) generated high public anxiety. This fear mongering led to the demonization of unvaccinated children, who were perceived as the spreaders of this disease. Rebecca J. McNall, a co-author of the published report, is a CDC official in the Division of Viral Diseases who had the data proving that the measles outbreak was in part caused by the vaccinated. It is evidence of the vaccine's failure to provide immunity. (source)
That's one of multiple examples that we'll get to, but first, let's address Donald Trump. When asked recently about measles cases around the world, he told reporters that they "have to get the shots. The vaccinations are so important. This is really going around now. They have to get their shots."
This is a complete 36o degree turnaround from the last time he addressed the vaccination issue. During his presidential campaign, Trump was very outspoken about his belief that he believed vaccines could be harming our children, and that they're not as safe as we've been made to believe they are. He even called a meeting with vaccine safety advocate Robert F. Kennedy, who is very knowledgable on the subject, explaining how a vaccine safety commission was in the works.
Leading up to and during his presidential campaign Trump expressed that vaccines may be causing autism, that he is "totally in favor of vaccines" but wanted "smaller doses over a longer period of time."
He said,
Because you take a baby in–and I've seen it–and I've seen it, and I had my children taken care of over a long period of time, over a two – or three – year period of time. Same exact amount, but you take this little beautiful baby, and you pump — I mean, it looks just like it's meant for a horse, not for a child, and we've had so many instances, people that work for me."
It's one of multiple examples of presidents making promising and speaking out against an issue during their campaign run, and then completely changing their minds when they become president. Why is this? It's because America is owned, and the president has a boss.
Granted, Trump came into his presidency as an outsider, a clear outsider, he is not as willingly subservient to the masters of the American presidency as, for example, George Bush or Bill Clinton were.  This does not mean one cannot be controlled or persuaded.
Ultimately, we have to realize something important, and that's the fact that there are governments within governments, especially when we are talking about America alone. Multiple presidents and politicians in America have outlined this point for decades upon decades. For example, a couple of months ago in a live interview, Russian president Vladimir Putin said with regards to the American presidency:
"So a person is elected, he comes with his ideas. Then people with briefcases come to visit him, well dressed, in dark suits, kind of like mine. Except instead of a red tie it's black or navy. And then they explain what to do, and the whole rhetoric changes, you see? This happens from one administration to the next." (source)
Despite the fact that Trump has threatened a lot of powerful interests, he too has ties to big power. He is, in a sense, simply playing the same game as presidents before him, perhaps serving another entity within America's governments within governments or Deep States within Deep States.
Here's another great quote from President Theodore Roosevelt:
Political parties exist to secure responsible government and to execute the will of the people. From these great staffs, both of the old parties have ganged aside. Instead of instruments to promote the general welfare they have become the tools of corrupt interests which use them in martialling [sic] to serve their selfish purposes. Behind the ostensible government sits enthroned an invisible government owing no allegiance and acknowledging no responsibility to the people. To destroy this invisible government, to befoul the unholy alliance between corrupt business and corrupt politics is the first task of the statesmanship of the day. (source)
This is the problem we face today, and it's impossible, in my opinion, that any president could legitimately threaten this 'Deep State' in a way that would completely crumble it. The only ones capable of doing that are us, me and you, and that is the process we are going through right now.
More recent MMR Vaccine News From CE
CETV is a platform we created in order to combat the censorship and demonetization we have been facing over the past few years. On a recent episode of The Collective Evolution Show on CETV, we discussed the MMR vaccine in greater detail. We discussed the mainstream media and the way they fear monger and blame the unvaccinated without addressing important facts. We talked about the history of measles outbreaks in highly vaccinated populations, provided multiple clips from scientists and doctors sharing information related to the above, and cited examples of fraud, specifically with regards to the MMR vaccination and the CDC.
Below you can watch our discussion, as the first hour is free. To watch the other 2 hours of this episode, become a member of CETV.
According to a MedAlerts search of the FDA Vaccine Adverse Event Reporting System (VAERS) database, as of 2/5/19, the cumulative raw count of adverse events from measles, mumps, and rubella vaccines alone was: 93,929 adverse events, 1,810 disabilities, 6,902 hospitalizations, and 463 deaths. The National Childhood Vaccine Injury Act has paid out approximately $4 billion to compensate families of vaccine injured children. As astronomical as the monetary awards are, they're even more alarming considering HHS claims that only an estimated 1% of vaccine injuries are even reported to the Vaccine Adverse Events Reporting System (VAERS). If the numbers from VAERS and HHS are correct – only 1% of vaccine injuries are reported and only 1/3 of the petitions are compensated – then up to 99% of vaccine injuries go unreported and the families of the vast majority of people injured by vaccines are picking up the costs for vaccine makers' flawed products.
From 2013 to 2017, measles killed 2 people, but the vaccine killed 127 people. The odds of dying from the measles are 0.01 – 0.02 percent, meaning you have a greater chance of getting hit by a lightning bolt multiple times. Furthermore, if your child contracts the measles, they will be immune for life, but that cannot be said for vaccinated children.
Why are these facts never publicly acknowledged?
Below is a great quote from Robert F. Kennedy Jr. that illustrates my point quite well:
Those of you who have been involved in the past in the battle to protect our children from poorly made vaccines or toxic chemicals in our food or in our water know the power of these industries and how they've undermined every institution in our democracy that is supposed to protect little children from powerful, greedy corporations. Even the pharmaceutical companies have been able to purchase congress. They're the largest lobbying entity in Washington D.C.. They have more lobbyists in Washington D.C. than there are congressmen and senators combined. They give twice to congress what the next largest lobbying entity is, which is oil and gas… Imagine the power they exercise over both republicans and democrats. They've captured them (our regulatory agencies) and turned them into sock puppets. They've compromised the press… and they destroy the publications that publish real science. (source)
Furthermore, it's hard to trust mainstream news about these outbreaks, when stuff like this is happening.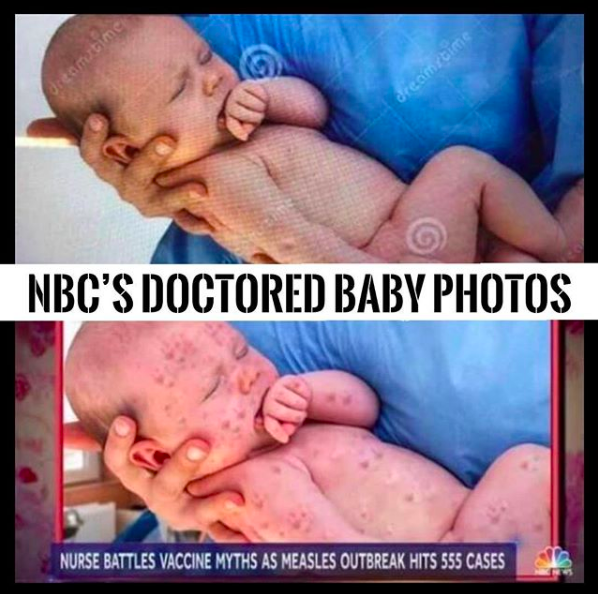 This above was posted by Robert F. Kennedy Jr on his Instagram, with the following statement above it:
AFTER DEMANDING CENSORSHIP OF "VACCINE MISINFORMATION," NBC BROADCASTS DOCTORED PHOTO OF SICK BABY TO FRIGHTEN VIEWERS AND ENRICH NO.1 ADVERTISER, MERCK.
Big Pharma's $27 billion in annual advertising expenditures has transformed NBC and the other networks into marketing arms for their uber-lucrative vaccine divisions. Merck, NBC's top advertiser, falsified the MMR's preclinical trials by adding rabbit antibodies to human blood vials to defraud FDA and win its licensed MMR monopoly. Now, NBC has committed baldfaced fraud by photoshopping measles spots onto a stock picture of a baby as part of fear mongering propaganda campaign to promote Merck's badly flawed vaccine. (BTW, an infant this age would only get measles if his mother failed to pass him sufficient antibodies, a condition nearly always associated with Mercks flawed vaccine which is known to dramatically reduce maternal antibodies). Last month, NBC lead the charge to shame social media platforms to censor "misinformation about vaccines." Yet, NBC is a primary vector for vaccine misinformation that benefits its top advertiser. Is it any wonder that Americans mistrust the media?
Again, Donald Trump is not as compromised as other presidents have been in the past, but he has indeed been somewhat compromised and is still influenced in ways that do not best serve the people, and that much is clear.
As long as the political system remains corrupt, presidential candidates who aren't easily influenced will never take office. Trump may not be on the same level as those before him like Bush and Clinton, but he is indeed corrupt, all about big business, and not an ideal person to call our 'leader.'
The Takeaway
At the end of the day, we cannot keep hoping for change in a system that's designed to keep us enslaved. Change is here, it's happening, and we are living in it. Year after year the collective becomes more aware of things they were not aware of before, and as a result, collective consciousness shifts. Be it awakening to political corruption like this and the stranglehold corporations have over governmental decisions, or switching to a plant-based organic diet, or something else, change comes from us and what we choose to participate in. Perhaps one day, nobody will vote, then what would happen?
The Latest Deep State Smear Victim is a 14-Year-Old Girl | The Soph Shut Down – 1791
The Deep State manipulate the population mainly through the control of information. Propaganda and the media are, therefore, critically important for their agenda to indoctrinate the masses into a false reality that ultimately makes people behave the way they want. The preceding article highlights one such aspect of the reality management agenda, related to smear campaigns. When someone shares information that puts the false reality of the Deep State at risk, that person must be discredited at all costs. They often use half-truths, outright falsehoods, or statements made out of context to confuse the people. But if one simply looks at the facts themselves, the truth of the smear campaign becomes obvious. Understanding that the Deep State is trying to control what you believe is critically important so as to begin the process of developing personal discernment and mental autonomy. With the ability to discern properly in hand, one effectively becomes immune to disinformation and fake news, empowering them to act as an agent of truth, to defend the innocent and protect the rights of the people—a true sovereign.
Bayer's Stock Has Lost 44% of Its Value Since They Bought Monsanto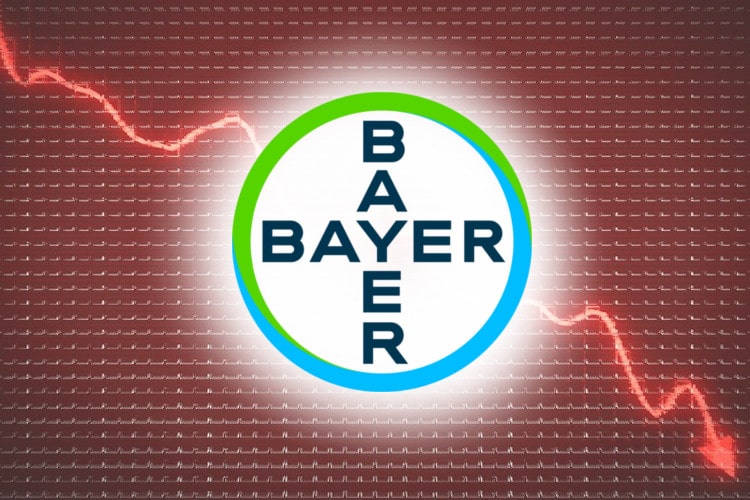 John Vibes, Truth Theory
Waking Times
Bayer's stock price fell to a seven year low this week, after the company lost a $2 billion lawsuit over claims that the weedkiller Roundup causes cancer. Roundup weedkiller is a product that was developed by the controversial biotech corporation Monsanto, but the company was purchased by Bayer for $66 Billion in 2016. Along with the acquisition of the extremely profitable company, Bayer has also inherited a long list of lawsuits and reputation problems.
Bayer's stock has been in a freefall all year, as more bad news about Roundup reaches the public. The company's stock is down by more than 44% since the acquisition of Monsanto.
Roundup contains a chemical called glyphosate, which has been shown in many studies to cause cancer. Despite these findings, the EPA has concluded that the chemical is safe, citing other contradictory studies. However, as an Intercept investigation revealed, the vast majority of those contradictory studies were commissioned by Monsanto. The data that the EPA was using to determine the safety of glyphosate was actually provided by Monsanto, which represents an obvious conflict of interest.
As the expenses from the Roundup lawsuits began to mount, Bayer shareholders began to question the wisdom of the Monsanto acquisition.
Earlier this year, Bayer shareholder Christian Strenger, filed a motion of no confidence in Bayer's board complaining of negligence on the part of Bayer CEO Werner Baumann in the Monsanto acquisition.
Strenger pointed to the "almost complete failure to deliver the key objectives presented by Baumann in May 2016 for the Monsanto acquisition."
"Mr. Baumann from Bayer always refers to 800 opinions that glyphosate is a safe product. But the big issue is how was it applied, and was it sold properly with sufficient warning signs. [Bayer] should have insisted. These were not military secrets. Bayer should have told Monsanto, 'Either you get the DOJ to permit disclosure, or we're not going to proceed with the transaction,'" Strenger said, according to Fortune.
Strenger accused the decision-makers at Bayer of being "lenient with a proper analysis of the legal situation."
Among other complaints, the no confidence motion pointed to the elimination of 12,000 jobs at the end of November 2018, which is believed to be a result of the Monsanto acquisition. This is especially frustrating to shareholders considering that Bayer CEO Werner Baumann promised that the Monsanto deal would create more jobs at the company.
A spokesperson for Bayer has dismissed these concerns stating that the company's board of directors "performed this risk assessment based on an information and update process which was in all respects adequate for an acquisition of such a scale."
The spokesperson went on to say that, "Of course, in the context of the acquisition, the board of management also reviewed the risks connected with Monsanto's glyphosate business. This risk assessment clearly showed that, when used as directed, the products of Monsanto containing glyphosate are safe. Based on the views held by regulatory authorities worldwide and scientists, the board of management assessed the legal risks in connection with the use of glyphosate as low."
Last week, the French newspaper Le Monde, reported that Bayer hired the public relations firm Fleishman-Hillard to help them launch a counter-offensive against media critics. The firm reportedly compiled a list of over 200 journalists, politicians, and scientists, with detailed descriptions of their opinions on Monsanto.  The lists also included the phone numbers, addresses and, personal interests of these individuals. This type of activity is illegal under the European data protection law, so Bayer has since distanced themselves from the firm, and made an apology where they attempted to place responsibility on the firm.
About the Author
Paul Joseph Watson: "Facebook calls me 'dangerous' … imagine my shock. No, really…"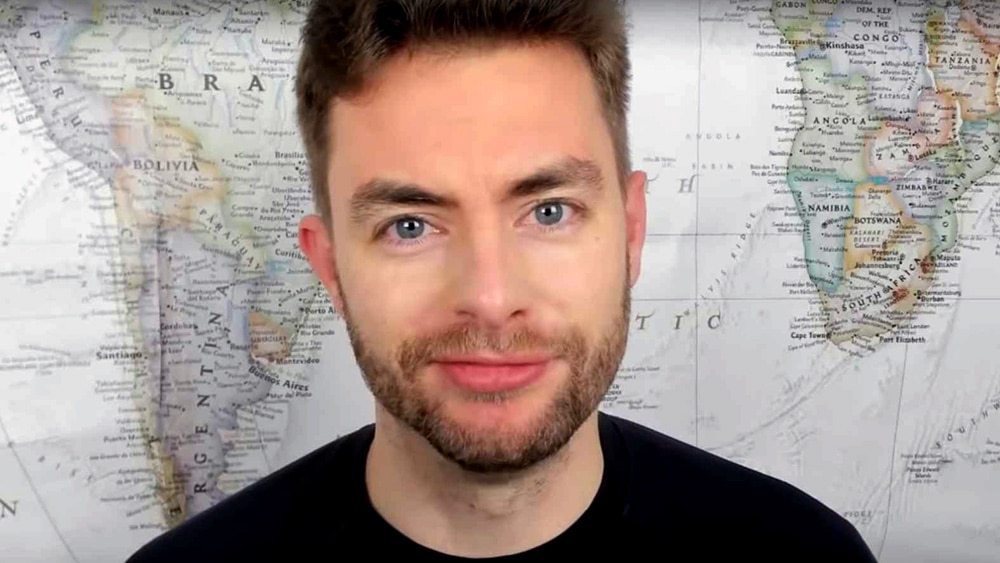 (Mike Adams) Paul Joseph Watson has been labeled a dangerous terrorist by the international deep state. Seriously, the attacks on speech have reached a level of such insanity that intelligent, independent commentary is now labeled a crime by the fraudulent establishment.
Read PJW's own words, via InfoWars.com:
Last week I was permanently banned by Facebook for being a "dangerous person". I found out about it not through Facebook, which failed to even send me a single email, but through media reports.
They've put me in the same category as Louis Farrakhan, a man who compared Jews to termites and once described Adolf Hitler as a "very great man".
The Instagram (owned by Facebook) ban was even "funnier" given my page consisted mainly of selfies and videos of myself and my girlfriend feeding ducks. Super dangerous.
But as humorous as it is, I take exception to being defamed as a "dangerous person".
To whom am I a danger, precisely? Mark Zuckerberg? A billionaire who wants to create a cult out of 2.4 billion people? A creepy oligarch who wants to dictate the thoughts that can be expressed by a third of the earth's entire population? Who's the bigger danger?
In tandem with this ban, Facebook instituted a new policy which states if you post material about people Mark Zuckerberg doesn't like, it will be removed and you may be banned. Talk about a dangerous fucking egotist.
Holocaust denial? Still fine and rife across the platform. But defend Alex Jones or share an InfoWars link and you're in big, big trouble.
And according to the new left, it is now "progressive" to allow a handful of corporate monopolists to control who has free speech and what opinions they can communicate. What was the point of the trials of humanity over the past 300 years if we were just going to end up with some little nerds in California dictating the terms of human civilization to us from behind their MacBook screens?
There's also the absurdity of knowing that if someone who makes sardonic videos and snarky social media posts is that much of a threat to your establishment then your establishment must be really quite pathetic. I mean I'm hardly Robespierre. I make YouTube videos laughing at modern art and scoffing at brutalist architecture. If I'm that much of a "danger" to society, that's more an illustration of how coddled and cowed western society has become.
CNN also labeled me an "extremist", which I also take exception with. I refuse to be defamed as an "extremist", too.
I have never advocated violence and I have never advocated "hate" against any individual or group. The establishment is putting me in the same category as human traffickers, serial killers, and terrorists. For what? Poking fun at pudgeball Michael Moore?
Media personalities glibly repeated this characterization without citing any evidence for their proclamations. I won't allow that to stand. Maajid Nawaz was awarded over $3 million dollars after being falsely labeled an "extremist" by the Southern Poverty Law Center (SPLC).
Like Nawaz, I have received death threats from Islamists. You know, actual extremists. I won't allow a target to be painted on my back, which is exactly what Facebook and CNN are trying to do, and it isn't like they don't know it.
Facebook will shortly be put on legal notice about the harm that their actions have caused and will be mandated to turn over all information and internal discussions as to why I was designated as a "dangerous" person and why I was banned. Lawyers tell me their behavior is "fairly extraordinary".
Meanwhile, what is anyone actually doing to stop the rapacious social media censorship of conservatives?
While the President's tweets about me last week were nice, tweets aren't nearly enough.
It's not implausible to suggest that given the increasingly online nature of political campaigns, if platform neutrality is not secured, we could never see a Republican (or more accurately a true "America first" Republican) in the White House ever again.
Will Chamberlain's excellent article asserting that platform access is a civil right is a good place to start as a template for what must be done.
Others argue Big Tech's immunity under Section 230 of the Communications Decency Act needs to be revoked. If Facebook wants to act like a publisher and not a platform, let it be treated as a publisher. This would mean Facebook being legally liable for everything posted on their website.
It's my right as a website owner to deny anyone else access to post on that website. But that means I am personally responsible for the content on my website. Facebook wants to have its cake and eat it. Facebook wants to deny access while simultaneously eschewing responsibility. Why should we allow that?
Also, isn't it an extraordinary coincidence that leftists, notorious for their distrust of big corporations centralizing power and behaving with impunity, suddenly became massive fans of big corporations centralizing power and behaving with impunity when those corporations bought up the new public square and started censoring conservatives?
It's almost like they aren't actually liberal, have no actual principles, and are just feverish authoritarians who want to harness the power of corporate behemoths to silence their ideological opposition.
Isn't it fascinating how leftists demand Christians bake the gay wedding cake under threat of financial decimation while reacting to Facebook refusing to provide a service with the tired old cliche, "It's a private company, it can do what it likes."
I'll use that line next time a fracking company wants to plough through your living room.
The idea that leftists and self-proclaimed "journalists" – those who behave like activists in lobbying to deplatform conservatives – do so out of genuine concern for "hate," "bullying" or "harassment" is also beyond ludicrous.
These are some of the most hateful, vindictive people you could ever encounter. They abuse their power to deplatform conservatives in order to satiate their spiteful vendettas. And in some cases, to prove their credentials to their new paymasters.
They derive sick pleasure from ruining people's lives.
The Daily Beast exposed Pamela Geller's children. They weren't even political.
Geller has fatwas against her from Islamic terrorists and the American media exposed her children.
If, God forbid, one of these deplatformed people commits suicide, many on the left will be popping champagne corks. They'll be laughing it up. These are not nice people.
When news broke of my Facebook ban, my Twitter direct mentions were flooded with vicious taunts and violent threats. But I'm the "hateful" one.
Save me the sanctimonious crap about "hate," "bullying" and "harassment". We know why conservatives are being banned and it's purely political. It's a pre-2020 purge. This is election meddling.
Anyone who watched the 2016 footage of Google executives mourning the election of Donald Trump and vowing to never let it happen again knows that for a fact.
As Dr. Robert Epstein has documented, the power of Google and Facebook algorithms to shift millions of votes in elections is vast and unprecedented. Now we learn that Facebook will ensure "authoritative" (establishment) sources appear far more frequently in news feeds.
It's not sufficient to ban entire news outlets and prominent people – that's not rigging the game enough – now they want to stack the deck even further against whoever's left.
Despite all this, there's also a kind of lobotomized peacefulness surrounding the idea of escaping social media entirely. Because of the way it was designed to keep people addicted, social media is personally responsible for the largest mental health crisis of our generation. The prospect of fleeing that insane asylum (despite the obvious crippling impact on my ego, career, and financial security) doesn't even sound all that bad.
Paul Joseph Watson is the founder of Summit.News and has a SubscribeStar account where people can contribute to his work and legal fund.
This op-ed was originally posted at Human Events.
Source:
https://www.naturalnews.com/2019-05-09-pjw-facebook-calls-me-dangerous-imagine-my-shock-no-really.html