On the Paranormal Prowl with South Africa's Ghost Hunters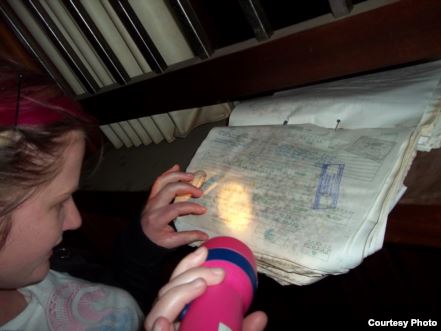 Darren Taylor
PRETORIA, SOUTH AFRICA — A pouting Marilyn Monroe looks down with smoldering eyes from a wall poster on two bulky, bearded men tucking into bloody T-bone steaks at the bar counter of a suburban restaurant in Pretoria.
The venue is filled with people who are eating, talking and laughing – blissfully unaware that the popular hangout is apparently haunted in recent years by two ghosts said to have terrified staff members cleaning up after hours.
"The pub's said to have one very dark spirit at the bathroom area; he died there during a fight over (a game of) pool," said Taryn Oliver, case manager for the Gauteng Paranormal Society (GPS). "The other spirit is in the bar area – an old guy who likes to touch women. A medium confirmed this."
A photograph taken by a GPS member during the group's investigation of the premises shows a long, dark but translucent shadow hovering high above customers near a fireplace.
"This is a common manifestation of a spirit as captured with our photographic equipment," said Olivier. "You usually won't see it with the naked eye."
The GPS probes supernatural sightings and "paranormal events" across the province of Gauteng.
"Paranormal to us means anything from poltergeists to demons, but mostly we come across your normal ghosts – the spirits of people who have died that haven't found rest yet," Olivier told VOA.
Energy spikes on the K2
To gather solid evidence of the paranormal, the GPS uses electromagnetic field (EMF) meters, digital video and still cameras, night vision telescopes, digital audio recorders and laptop computers.
But perhaps the organization's most important apparatus is a K2 – a type of EMF meter that uses LED lights to measure the strength of an energy field. Olivier describes paranormal entities as "bundles of energy."
"The K2 catches energy spikes," she says. "The moment we walk into a site, we will do a base reading. Normal areas with no electricity leakages will have readings of between zero and one. So, the moment we have an investigation and the meter spikes up to three, seven, we know obviously something is there…"
Olivier recalled visiting a house where an EMF meter peaked to a reading of 1,500. "That was shocking, considering that the highest we (previously) ever got was 32. Our technical guys established that there were no electrical leakages in that house that could cause that dramatic energy spike."
Olivier added that the GPS has so far been unable to establish the nature of the paranormal phenomenon present in the house.
"I think it would be a very powerful spirit, and very active, or it could be that there are multiple spirits there," she speculated. "We'll have to investigate further, maybe using a medium to contact the spirits as well."
Heavy breathing ghost at an abandoned hospital
Olivier said she'd been involved in many "fascinating" cases but one that "sticks" in her mind is a probe of "weird happenings" at an abandoned hospital in Kempton Park, east of Johannesburg.
"We also made audio recordings there and there was something very strange on one of those tapes. It was very loud, like a man that took in his breath. We have no logical explanation for that sound."
Then, at another private residence she said she recorded a tune being whistled by an invisible entity.
"I played it (the audio) back to the (home) owner… and she said her (deceased) father used to hum that tune.  That's how we knew that her father's spirit was active in that house," said Olivier.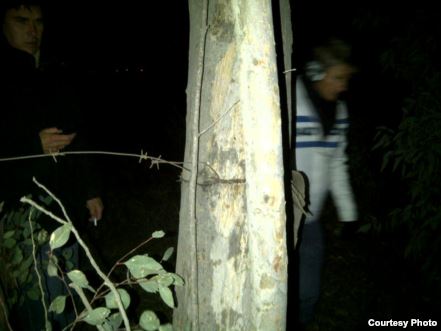 Haunted hotel and decapitation
The GPS had one of its "greatest" experiences at an old hotel in KwaZulu-Natal province's majestic Drakensberg Mountains, according to the case manager.
"Our two lead investigators walked through the kitchen, into the ballroom and up a staircase. And then just half way up the stairs the apparition would disappear. It was like a loop that the entity was walking. They caught it with the K2 meter.
"We have it on video. You can see the light from that entity on the video. You can see Chris (an investigator) standing still and the lights on the K2 going haywire. Then you see a big ball of light moving in front of the camera."
On another occasion the GPS set up its equipment at a site near De Deur, south of Johannesburg, where "something terrible" happened a few years ago, said Olivier.
"A farmer had a teenage daughter, and at night she would slip out to visit her boyfriend and they would go on motorcycle drives – even though her father had forbidden her to do this. The farmer decided to do something to scare them.
"So he had taken barbed wire and put it around a tree. From one tree he span (sic) it over the road, to the other tree – just to knock them off the motorcycle. But unfortunately when they were driving past (they were going very fast and) it actually decapitated both of them…"
Since then, said Olivier, there had been regular reports of paranormal activity near the scene of the deaths.
"If you are on that road in the evenings you'll see a ball of light coming up to that area, and then just vanish. Some of our team members have seen it. There are some of the public that I know have seen it." They tried to capture it on their equipment "… but we didn't get anything…"
Demons and Satanism
Olivier is concerned with an increase in people contacting her to report "very violent" paranormal incidents. She described people being pressed down on their beds, others with unexplained scratch marks on their bodies, and "A lot of people report being thrown around by an unseen force…"
She maintained that such physical, supernatural assaults are evidence of attacks by demons.
"The first thing I ask people who report such things is: 'Have you played Ouija board or have you been involved in Satanism?' Dabbling in Satanism and playing games where you try to contact the dead is very, very dangerous," Olivier asserted, because they "open people up" and allow "demonic entities to come through."
She said the demons then "attach" to these people to "feed" on their energy.
"A lot of people might get sick. Some people will get angry easily; that demonic presence will have a massively negative influence in your life. You might start drinking heavily and taking drugs; you may lose your family and your job; get violent…"
To any skeptics Olivier smiles and comments: "We human beings think we've found all the answers to everything. But we haven't even scratched the surface of everything that's out there…"
More afraid of criminals, than ghosts
Olivier said the GPS would "love" to do more to help people suffering because of the paranormal, "but as we explain to them, our job is as researchers. Our job is to collect information that will give people a better understanding of paranormal events in South Africa.
"There are other people such as priests and demonologists and mediums who are much better-qualified to help people overcome supernatural threats than we are, and we refer our clients to those people."
In the near future Olivier said the GPS planned to focus on "boosting investigative capacity" and buying better-quality equipment, as it continues its quest to capture incontrovertible evidence of paranormal activity.
And, despite constant involvement with mysterious forces that would terrify most people, Olivier emphasized: "Hunting for ghosts isn't scary at all when compared with the other dangers we face out there in the field in Gauteng."
She explained, laughing: "Like if we want to go to a graveyard, we're more afraid of being hijacked (carjacked) there than of seeing a ghost!"
Reality show to be filmed in medieval "haunted castle" in Wales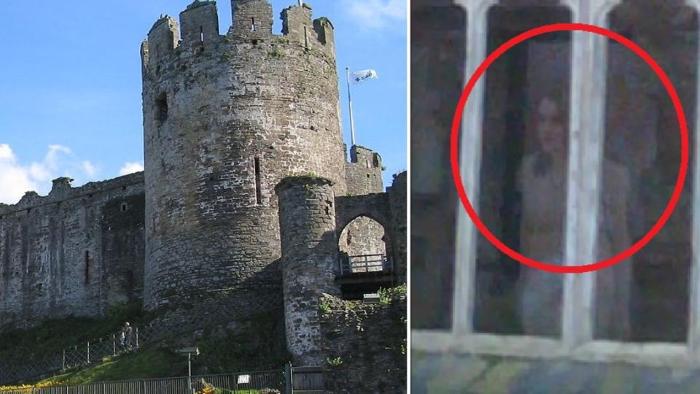 British celebrities will take part in a reality show at the medieval castle of Grich in the city-county of Conwy (Wales), which, according to legend, is full of ghosts. It is reported by The Sun.
According to data from open sources, the castle was built in 1283-1289 by order of Edward I of England. For four years one and a half thousand people erected the fortress and walls. The castle is surrounded by a stone wall with round towers and loopholes.
According to local residents, the ghost of the previous owner, Countess Dandonald, who died in 1924, wanders around the castle. According to legend, the woman's spirit is angry because her husband took the valuables out of here. 
About ten years ago, a mysterious silhouette appeared in the photo, which was noticed on the first floor of the castle in the former banquet hall. In addition, it is rumored that objects are moving mysteriously in the castle. Also, fans of everything mystical believe that there you can meet the ghosts of gamekeepers and a maid who died after falling from a horse.
The creators of the reality survival show I'm a Celebrity … Get Me Out of Here! Became interested in the legends of the ancient castle, in which celebrities perform creepy tasks. 
The producers are delighted with Greich Castle. It is planned to spend almost 1 million pounds and six weeks to prepare the location for filming.
Loftus Hall is the most famous haunted house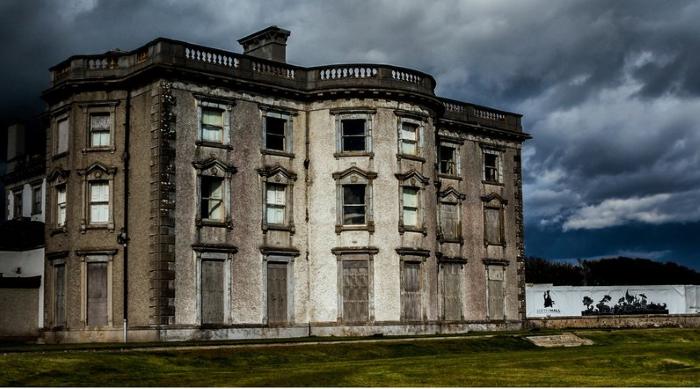 Almost any house built 150 years ago is tempting to think of ghosts. Of course, if it was not restored beyond recognition. But a special pleasure is to visit, or at least look at photographs of a house in which ghosts are definitely found. Well, exactly: in the opinion of its owners and those who live nearby.
Loftus Hall is one of those. Even if, in the opinion of the locals, ghosts were not found in it, they would be worth inventing again – this is how the atmosphere of this gloomy house located on the windswept and washed by waves of the Hook Peninsula in the Irish County of Wexford has to do this.
But, before we tell you what is so paranormal in this Loftus Hall, we suggest that you familiarize yourself with real historical events related to the house. Moreover, they are worthy of attention without any devilry.
We can say that the history of the house began in 1135, when the Norman knight, Raymond Le Gros, landed on the peninsula. To assimilate faster, the knight renamed himself the more familiar to the Irish ear by the name Redmond.
The castle, built by the knight, stood for two centuries, until in 1350 the descendants of Redmond built a new house in its place. It is interesting that they were building right during the Black Death – a plague pandemic that arrived in Ireland by ship from Bristol a year earlier. The new house, Redmond Hall, was named.
Three centuries later, in 1650, the house became the site of one of the fiercest sieges of the Irish Uprising. The owner of the house, 68-year-old Alexander Redmond, with his two sons, a couple of local activists and a tailor who happened to be in the house at an unfortunate time, barricaded himself and bravely repulsed the attack of almost 90 British for several days.
In all fairness, most of these Englishmen have crawled into neighboring villages, indulging in robbery and violence, instead of laying siege to an impregnable home.
The attack was repulsed with the help of the Irish forces arrived in time, which attacked the British under the cover of a thick fog, which in time fell on the Hoek Peninsula.
According to local chronicles, Alexander repelled several more attacks. When the British nevertheless conquered Ireland in general, and Redmond Hall in particular, Cromwell even let Alexander die in peace in his own house – for his courage.
Well, after the death of Redmond, his relatives were evicted from the house and soon the house was sold to a family of Englishmen named Loftus, who live nearby.
Subsequently, the Redmond repeatedly tried to sue Loftus Hall back, but to no avail. But as compensation, they were given land in the neighborhood.
The Loftuses moved rapidly up the court stairs. If in the 18th century the head of the family was called Baron Loftus of Loftus Hall, then already in 1800 the title of Marquis of Eli was created especially for the Loftus.
Actually, the 4th Marquess of Ely gave the modern look to Loftus Hall. A major renovation was undertaken by the Marquis in the second half of the 19th century: he very much hoped that Queen Victoria would come to visit. After all, the Marquis's mother was her maid of honor!
The Queen never came. But the 4th Marquis of Ely became the owner of a luxurious house with such unprecedented conveniences as flush toilets at that time. And, alas, the owner of huge debts. Soon the house had to be sold and its wanderings began among different owners.
In 1917, the house was sold to the monastery order of the Sisters of Providence. In 1983, the house was converted into a hotel. Well, in the early 2000s, it was acquired by the Quickly family. In 2020, it became known that the house was again put up for sale. Moreover, Quickly emphasize that they will not choose a new owner, but "the house will choose him." And that's why…
The story of how the devil sailed to Loftus Hall and what happened after his visit dates back to the 19th century. It sounds like this.
On a cold rainy night, a dark-robed rider rode up to Loftus Hall on a dark horse. He said that his ship was caught in a storm and had to dock in a nearby bay. The Loftuses were away, the family of their distant relatives, the Tottenham, lived in the house. They sheltered the rider and offered him shelter and bread.
Tottenham's daughter, young Anna, immediately fell in love with a mysterious stranger. A couple of days later, in the evening, everyone sat down to play cards. During the game, Anna dropped the map and, bending down to pick it up, saw that the stranger had cloven hooves instead of legs.
The stranger realized that he had been discovered. He immediately soared up, surrounded by devilish flames – and, as expected, made a huge hole in the roof.
It would seem that the devil is expelled, you can live on. But Anna, after the disappearance of the stranger, became not herself. She went crazy by leaps and bounds. The family, frightened by this development of affairs, locked the girl in her favorite sewing room.
There Anna sat, almost motionless, clasping her knees with her hands and soon died.
According to another version of the legend, before her death, she managed to give birth to a child – that is, the devil did not lose time during two days in the house.
Anna was not buried in an ordinary coffin: they could not straighten her and buried her in a sitting position, in which she spent the last months of her life.
Since then, according to numerous testimonies of guests and owners of the house, ghosts of a girl have been walking around the house. And the house itself has become a place of attraction for lovers of everything paranormal and creepy – excursions, especially popular on Halloween, are regularly conducted in Loftus Hall.
If you consider yourself a mystic, but do not have the opportunity to visit Loftus Hall yet, we recommend watching the gothic horror film The Lodgers 2017. It is filmed entirely in the luxe and eerie interiors of Loftus Hall, and has received excellent critical reviews. Here's the trailer:
The ghost of the Haycock Manor Hotel: a beautiful legend about a frequent visitor to an ancient building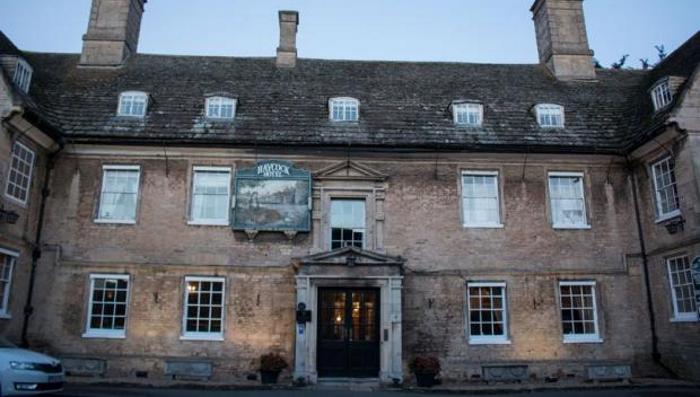 For decades, the Haycock Manor Hotel, located in the small English village of Wansford, has attracted tourists by claiming to be the home of the ghost of Queen Mary Stuart.
Mary of Scotland, aka Mary Stuart, according to legend, visited the Haycock Hotel on the way to Fotheringay Castle, where she was executed. Why, in this case, she chose a hotel in a small village as her last refuge , and not a stone castle, is anyone's guess. Nevertheless, visitors to the hotel claimed to have seen the ghost of Queen Mary, the Mirror writes.
The last resting place of Mary Stuart
Because of her intrigues against Queen Elizabeth I of England, Mary Stuart was put on trial and sentenced to death, which took place at Fotheringay Castle. On the way to the castle, Mary of Scotch stopped at the Haycock Hotel.
Despite the fact that the woman spent only one night in the hotel, this is the place she, for some reason, decided to choose as her last home. At least that's what those who encountered her ghost say.
Manifestations of supernatural powers
Many of the hotel guests, who ventured to spend the night in the last refuge of Mary Stuart, complained about strange things that happened to them.
Some guests claimed to have seen a ghost, which they identified as Mary of Scotland. Why they were so sure that the ghost was exactly Mary Stuart is not clear, because the history of England has a large number of women rulers, and it is simply impossible to remember them all.
Other hotel guests recall seeing an obscure ghostly cloud-like figure in the oldest part of the hotel. They also shared that they often encountered the feeling that there is someone else in the room – someone who cannot be seen, but can be felt.
Guests also reported that they heard quiet voices and footsteps, although there was no one else in the rooms.
Despite the fact that such stories can scare ordinary people, they are not of interest to real seekers of the paranormal, since they can easily be explained by the dilapidated state of the building.
Haycock Manor is currently closed for renovation, which means that if the phenomena of supernatural forces could be explained by the state of the hotel, then after the renovation they should disappear.