OMG!GMO (Monsanto Exposed)

GMO finally has the OMG (oh my god) effect
OMG !!! Since our initial "Need to Know" article on the subject of GMO (Genetically Modified Organism) there has been a MASSIVE shift to the general "approach" of GMO and whether this is just "conspiracy" or "fact"… (see original article here)
Now, we must add that since the beginning for many of us this has never really been a question at all. However this is, or better said WAS, not so much the case for the larger public.
This has now finally changed and the term GMO has flipped to OMG!

For over two years now, French researchers have secretly studied this subject and 200 rats were fed with transgenic maize and Roundup. Tumours, serious disorders and in general simply horrific results!!!
The results were shared publicly (just search the news for this and you will see) and at the same time completely exposed the GMO industry and in our opinion particularly Monsanto & Co.
Now, before we go into the "hard to swallow" results of the study, we feel the need to share some facts about Monsanto and its "roots", for those that do not already know this…
The Monsanto Company is an American multinational agricultural biotechnology corporation. It is a leading producer of the herbicide glyphosate, which it markets under the Roundup brand. Monsanto is also a leading producer of genetically engineered (GE) seeds.
Some have said, that it has been Monsanto's aim to fully "own" all seeds across the globe and put it under a so called "copy right" agenda… making it illegal for a regular farmer to produce and harvest his own seeds for further re-production and forcing him to go through or via Monsanto or one of it's manufacturers…
Monsanto's history and roots. It's actually rather disturbing to even allow such a company to be in partial control, let alone be involved in the production of food and nourishment.
However, here is a summary (as short as we could make it), all of this information is publicly available and acknowledged:
Monsanto was founded in 1901, by John Francis Queeny, a man who attended school for a full 6 years and is crowned a 30‑year veteran of the pharmaceutical industry…
One of the first products distributed by Monsanto was the artificial sweetener saccharin, which was sold to the Coca-Cola Company. Studies in laboratory rats during the early 1970s linked saccharin with the development of bladder cancer in rodents. As a consequence, all food containing saccharin were labelled with a warning. In 2000, this was then removed again, as new studies showed that rats are not all that alike to humans after all… oddly enough though; in the meantime it's been made public that rats are the perfect test subjects, to compare and test the effects of a product on a human… but the labels have not been put back on…
In 1919 Monsanto expanded to Europe. Entering into partnerships with companies to produce vanillin and aspirin with its raw ingredient of salicylic acid and then later rubber processing chemicals.
Continuing on this nature friendly path, they ventured into basic industrial chemicals like sulphuric acid, PCBs and laundry detergent.
However, one of their really "great" achievements must be their involvement in the Manhattan Project, the development of the first nuclear weapons and, after 1947, the Atomic Energy Commission.
Monsanto also partnered with German chemical giant Bayer to form Mobay and market polyurethanes (flexible, high-resilience foam seating, wheels, tires, suspension, adhesives, synthetic fibres (e.g., Spandex), hard-plastic parts, hoses and skateboard wheels etc…).
Of course they did not stop there and started to produce insecticide (DDT) which was soon banned in the US due to its toxicity. The PCB's (coolants and insulating fluids) that were being produced were also banned…
But to continue on a more "glories" path; Monsanto was also one of the most important producers of Agent Orange for United States Military operations in Vietnam. Agent Orange simply put was a herbicidal warfare program that killed or maimed an estimated 400,000 Vietnamese people and 500,000 children born with birth defects as a result of its use.
Moving on, an important advancement was made, by developing the compounds for  L‑dopa, which is currently the main drug used to treat Parkinson's disease, but to be honest, not sure of how much of an improvement we have seen in that field…
On the other hand, Monsanto did become the first company to start mass production LEDs, which are not such a bad thing, from what we have gathered so far… we all saw some wonderful if not hypnotising demonstration and display of that at the 2012 Olympics…
Now, just like that, Monsanto scientists became the first to genetically modify a plant cell in 1982 and five years later, Monsanto conducted the first field tests of genetically engineered crops.
In 1996 Monsanto purchased Agracetus, the biotechnology company that had generated the first transgenic varieties of cotton, soybeans, peanuts, and other crops.
Monsanto first entered the maize seed business when it purchased 40% of DEKALB in 1996; it purchased the remainder of the corporation in 1998.
In 1998 Monsanto also purchased Cargill's seed business, which gave it access to sales and distribution facilities in 51 countries.
In 2005, it finalized the purchase of Seminis Inc, a leading global vegetable and fruit seed company. This made it the world's largest conventional seed company at the time.
In 2007 Monsanto and BASF announced a long-term agreement to cooperate in the research, development, and marketing of new plant biotechnology products.
"Well DONE" Monsanto for all you achievements!
As an additional note to this, part of the current listed board of director's members, in Monsanto listed on Wikipedia are: South Dakota State University, Connected Energy Networks at Cisco Systems, McDonald's USA; Health Technology Networks, The Procter & Gamble Company.

Now to the Results of the French studies of GMO and Roundup:
First of it must be mentioned that one of the initial challenges was to get hold of GMO corn from any manufacturers… as Monsanto imposes that the corn must NOT be used for TESTING…
Also, the strain of GMO that was tested is that which is consumed mostly in the US but also the one that has been accepted for import into Europe.
The effects only started showing after month 4 of testing, all previous test run by Monsanto, usually ran for 3 months…
There were 6 times more deaths of the GMO rat groups compared to the controlled groups.
94% of the tumours found in the rats could be translated to 20cm and plus tumours in humans and typically found as breast cancer in a woman and kidney cancer in a man.
The major finding though, is the fact that, contrary to expectations, it wasn't even so much the pesticides that seemed to have these terrible effects. But by interfering with the plants genetics which the rats consumed it obviously affected the rats and kill them. This lifts the thought that eating GMO food directly affected the rat's genetics, being the real cause of these horrible deaths!
We suggest you watch this video though to see for yourself! You can find additional detail to the video at http://www.ogm-alerte-mondiale.net/?lang=en (also available in Portuguese and French).
Yours
Wake Up! Message (.com)
A strange story about an ominous Japanese TV commercial
Urban legends of a terrible TV commercial of 1985 with a girl and a demon child in Japan are becoming more and more popular every year. This advertisement really causes strange sensations, but is it really so scary?
If you lived in Japan in 1985 and watched TV, sooner or later you would see one of the strangest commercials created for Kleenex cleaning wipes.
There are two characters in the commercials: a pretty girl in a long white dress and a 2-3-year-old child in the make-up of the red-skinned one-horned cannibal demon from Japanese mythology.
Both of them are sitting on the hay, the little "eater" looks angry, while the girl gently throws up napkins or tries to stroke the "eater". They don't pronounce a single word in 30 seconds of each video and all this happens under the melancholy slow song "It's a Fine Day" by Edward Burton and Jane.
As soon as these commercials began to appear on TV, many people began to feel that the commercials scared them and that they had an incomprehensible effect on the psyche. The reaction of the audience was so negative that the videos were soon removed from the show. But the story did not end there, soon various scary stories and stories associated with this advertisement began to disperse throughout the country, which in our days have turned into urban legends.
First of all, it was stated that the song "It's a Fine Day" in the original performance in German was not at all romantic, but contained the refrain "Die, die, everyone will be cursed and killed." It was even said that repeated listening to this song imposes on people a peculiar "mental attitude" to death. Then, unverified but persistent rumors began to appear that many people who took part in the filming of these videos began to die a strange and sudden death. Including it was reported that the boy who played the cannibal demon suddenly lost consciousness and soon died from the failure of the internal organs.
It was said that the director, cameramen and both producers of this advertisement also died. And many other crew members suffered from accidents or various unpleasant things happened to them. The actress who played the girl in a white dress allegedly went crazy and was sent to a psychiatric clinic shortly after filming in commercials.
According to other versions, she committed suicide after giving birth to a terribly mutilated child. Ordinary viewers who saw this ad several times, allegedly, either went crazy, tried to commit suicide or simply disappeared without a trace.
In 2006, the official television version of these commercials was completely destroyed, but soon amateur videos of this advertisement appeared on YouTube. And soon, many people began to say that from watching this advertisement they had cramps, headaches, or even loss of consciousness. Several deaths have even been reported.
Some users noticed another oddity: if you watch this ad at night, then the small details of the video change by themselves. Sometimes a cannibal boy becomes colored blue, and the color of the girl's dress also changes, or interference bars begin to run across the video screen. Some viewers wrote that these commercials do not just feel like something ominous, they allegedly encoded some information aimed at destroying the human psyche or taking it under control.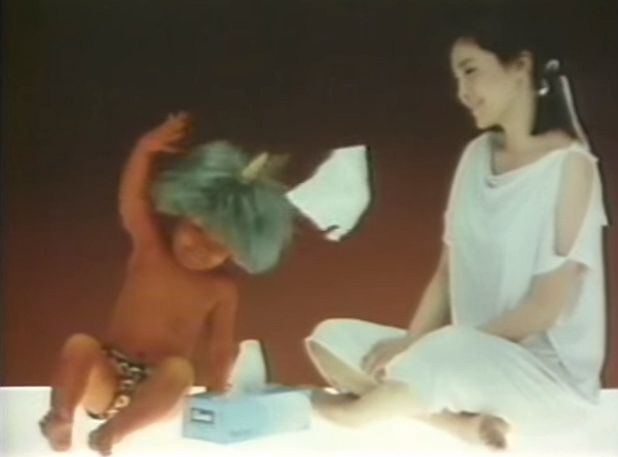 All this is quite frightening, like a plot from a horror movie, but most likely all this is completely (or partially) fiction. The fact is that at least one striking "fact" has not been completely confirmed – the girl in white is the actress Keiko Matsuzaka, who is still alive and healthy and has never been in a mental hospital. At the same time, it was neither possible to confirm nor deny the death of the demon boy or accidents with the film crew. No information was available on them.
The Woman who fell in love with an alien from Venus and gave birth to a hybrid child
While climbing a hill near Johannesburg, a woman saw a low-hanging silver disk there, and then she had a telepathic connection with one of the aliens. He was very similar to a man, they began to love, which led to the birth of a child. The story of Elizabeth Klarer is one of the most bizarre and unusual in ufology. So much so that many suspected Elizabeth of fiction for the sake of self-interest or simply of an excessively rich imagination.
At the same time, the woman herself assured that everything she told was true. Even if there appears a love for an alien, the birth of a child from him and a journey through the colorful star worlds. Some directly accused Elizabeth of being crazy, eccentric, or suffering from some kind of mental problem. At the same time, Elizabeth Klarer was quite smart, competent and educated. She was born in 1910 in South Africa, her parents were of noble birth and a girl from a young age was fond of music and sciences.
Elizabeth was especially interested in meteorology, and when the Second World War began, she worked in the intelligence of the South African Air Force and decrypted secret German radio programs. After the war, she also did not do anything "eccentric or unabashed". But in 1950, a book about UFOs accidentally fell into her hands and she immediately remembered something that had long ago gone somewhere in the very depths of her memory. She remembered that when she was 7 years old, she and her sister saw in the sky a flying silver disk that glowed and soared very low right above their farm.
And this was not a solitary event, but only the first of a whole series when little Elizabeth watched flying disks. These memories and the read book about UFOs turned Elizabeth into a big fan of ufology, however, the strangest events in her life began in 1954. Elizabeth found out that over a hill in a rural area near Johannesburg people often saw UFOs and she decided to go there and explore everything. When Elizabeth arrived there and spoke with the local Zulus, they told her that there was a "lightning bird" on the hill and that their legends had been telling about her for many years.
When Elizabeth herself climbed this hill, she immediately ran into a low-hanging disk-shaped object. He made a humming noise, and in the windows of the ship Elizabeth saw humanoid creatures. She wanted to come closer, but she was suddenly pushed away by a wave of hot air, but at the same time she immediately got a telepathic connection with the creature from the UFO, which said that his name was Akon.
Elizabeth talked with him for a while and every minute realized that she wanted to learn more about these creatures. When the contact ended and the UFO flew away, Elizabeth came to the hill several more times over the next two years in the hope of talking to Akon again. In 1956, she was given a second chance. When Elizabeth came to the hill again, she saw a flying disk coming down, sits on top of the hill, and then Akon stepped out and invited Elizabeth inside. Next to him was his friend, whom Akon introduced as a botanist and astrophysicist, and then they both began to lead Elizabeth around the ship and talk about him.
They said that their disk is a reconnaissance ship and that in the orbit of the planet is a mother ship, which is much larger than this. They flew there and Elizabeth saw a huge cigar-shaped object, the length of which was 8 miles (!), So she was told. Inside this ship everything resembled a huge beautiful city, there were houses, parks with trees, clearings with flowers and even artificial lakes. And of course there were a lot of humanoids. Elizabeth described them as very similar to people, but taller, more beautiful, more polite, gentle, completely not aggressive and not cruel.
Akon and others told Elizabeth that they were actually from Venus and that they lived on her before she turned into a cold piece of stone. When Venus died, they flew to a planet called Meton and now live there. They described that when Venus was a normal planet. there were many plants and it was very similar to Earth. They said that Venus died due to the fact that its orbit has changed and it has come too close to the Sun. And that when they realized that the irreparable would happen, they began to fly away from Venus in search of other worlds, and they used the Earth and the Moon for temporary stops.
Elizabeth found out that Venusians still have their bases on Earth, the Moon, and also on Mars and they regularly visit them because they feel responsible for the fate of earthlings and want to make them more developed. After this detailed excursion, Elizabeth was returned to Earth, on the same hill, but even then she realized that Akon very much attracted her as a man. Akon also had feelings for Elizabeth. In the following months, they met several times and Akon gave her a special ring, with which Elizabeth could telepathically communicate with him at any time.
There were intimate contacts between them, after which Elizabeth once realized that she was pregnant. It was 1958, and when Elizabeth told Akon about the baby, he suggested that she fly to their planet Meton so that Elizabeth could give birth there. So they did.
Planet Meton was very developed and was one of the seven planets inhabited by the Venusians. Elizabeth then described in detail what civilization looks like on this planet and her words painted a perfect society as in utopia. There were no wars, crime, poverty, everyone had equal rights and everyone had equal access to food.
There was no monetary system, and all the houses and enterprises were powered by renewable and unlimited energy. People wore luxurious silk clothes and lived mostly in vast park areas. There were no high-rise buildings in their cities, no factories, and the air was very clean. Children were trained with the help of telepathy and therefore they had neither textbooks nor schools. In an interview with ufologist Stuart Bush, Elizabeth told for example this:
"Meton is similar in size to the Earth, but it's a bit larger and it's covered almost entirely by the oceans. The land there is part of the island, not the mainland. The climate is very good and they keep it under control. They have almost everything you can want, that's true utopia. Not only are they technically more advanced for thousands of years than we are, but they are spiritually very developed. They have no politicians, no laws, no money. Medicine there is a science that is not even considered mandatory for health, they are all healthy anyway. Their way of thinking is different from ours, they are very loving, gentle and creative people.

Everyone does the work that he loves the most. There is no need for law, no crime and no police. Everyone's behavior is controlled only by a code of ethics. They constantly create beauty around them, there is complete harmony with it. Their houses are beautiful and made of transparent walls. They do not have books, but they make up for this by frequent travels throughout the galaxy, and always take their children, even the smallest, with them to learn from their own experience.

They have technologies to look into the past at any moment in history. For example, they can see our planet during the time of the dinosaurs. They paint beautiful paintings and write wonderful harmonic music. They have no problems in learning languages, because communication through telepathy does not require this."
In general, Elizabeth was in a wonderful place and of course she really wanted to stay there forever. However, it turned out that this was impossible, she was explained that Meton's vibrations were completely different than on Earth, and if Elizabeth stays there too long, her heart will weaken. "Elizabeth was forced to say goodbye to Akon with tears in her eyes and leaving her son Isling to return to Earth.
In the following years, Akon and Isling visited Elizabeth many times on Earth, and then Akon and his son went on a long journey through the galaxy. In the mid-1970s, Elizabeth told the whole story to ufologists and became very popular in their community. She was interested in journalists, she attended various conferences about UFOs. Unfortunately, elsewhere, Elizabeth was mostly ridiculed for "fantasy writing".
In 1980, Elizabeth Klarer released a book about herself, "Beyond the Light Barrier", but after it began to insult her even more and even pursue her. Threats were sent to her. intimidated, so soon Elizabeth decided to "go underground." She stopped communicating with ufologists and journalists. In the 1990s, she worked on her second book, The File of Gravity, but did not have time to finish it, having passed away in 1994. The story of Elizabeth Klarer still causes a skeptical smile for many and is read like a fairy tale, but Elizabeth herself, in the words of her entourage, was in her mind until she was old, did not at all resemble an insane dreamer and always said that her words were true.
Is COVID-19 a direct proof of the existence of the Matrix?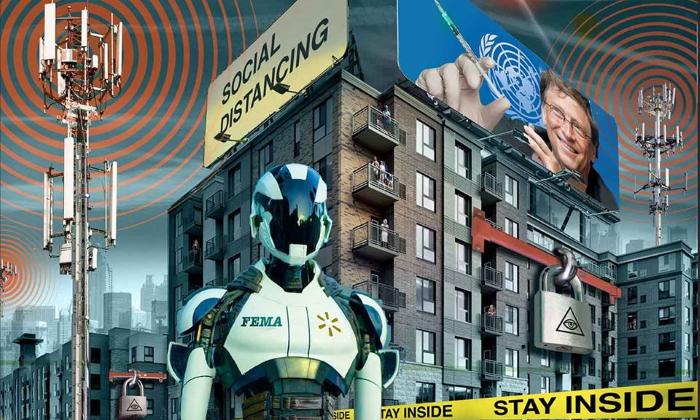 The COVID-19 pandemic since its inception is full of mysteries, however, the biggest of them is the name of the pathogen itself, which does not fit into the framework of the generally accepted taxonomy of viruses.
Moreover, the name of the virus changed several times and there was even an attempt to rename the current COVID-19. Nevertheless, the name has remained the same and therefore many conspiracy theorists think that the name COVID-19 is fraught with something. But what?
In an attempt to answer this question, with a nickname Clawspiracy on May 25, 2020 he laid out his view of the situation for general discussion and invited all conspiracy theorists to follow the traditional path of Freemasonry and lay out the so-called "magic square" from an incomprehensible word:
The square is selected with a size of 5X5 characters, the numbers are discarded, and the word COVID is sequentially written five times in the forward and reverse sequence. And to the great surprise of the author, the picture was surprisingly symmetrical.
The center of symmetry of the square is the sequence VVVVV, which, obviously, stands for Vi veri universum vivus vici or, in Latin: "By the power of truth, I, the living, have conquered the universe." The original quote is Dr. Faust, but it is better known for Aleister Crowley, who chose VVVVV as his magical motto.
The next element of the square is the obvious digital sequence 01010/10101 – that is, an explicit binary code that clearly indicates something and, as it were, hints at the Microsoft digital identifier, patent application for which has the number 060606:
Continuing experiments with this binary code, Clawspiracy first translated the resulting sequences into English text, receiving the letters F and K, which can be understood as a hint of the word "f *** k", and then tried to convert the binary string to Windows-12- code 52, as a result of which he received the symbol ™ … that is, a trademark.
The third side of the magic square contains a DCD sequence. Most often, this abbreviation stands for Developmental Coordination Disorder. This is also called dispraxia – impaired movement in children in the absence of impaired muscle tone and paralysis. At the same time, children experience difficulties in performing various complex movements, they have a violation of coordination, therefore one of the names of the pathology is "clumsy child syndrome".
DCD can also be understood as the Compulsory Declaration of Disease System or as Donation after death from circulatory arrest   and involves the removal of organs for transplantation from patients whose death has been diagnosed and confirmed using cardiorespiratory criteria.
At the moment, the study, of course, is not the most profound and not exhaustive – the author only drew the attention of the public to things that are obvious and striking. Nevertheless, even a cursory acquaintance with the subject is enough to see some hidden meaning in the word COVID-19 – there is more than enough symbolism there and for sure conspiracy theorists will still have a lot of wonderful and surprising discoveries.
But at the moment, the most important thing and one thing is not clear: such hidden links and parallels in the name COVID-19 – is this a conspiracy of globalist Illuminati, or is Artificial Intelligence behind the pandemic?
 Or maybe the world around us is not real, but some kind of digital, in which all things are invisibly interconnected and controlled only by the laws of computational mathematics?