Olive Leaf and Longevity. Major Health Benefits Discovered in Recent Research

Scientists have isolated the unique molecule that provides olive oil with its multitude of health and life-extending benefits. Known as oleuropein, it is the polyphenol that can help lower bad cholesterol and blood pressure, prevent cancer, protect against oxidative damage, and help guard against cognitive decline.1,2 Oleuropein provides the distinctive tangy, pungent, almost bitter flavor found in high quality extra virgin olive oils.2 It's also responsible for most of olive oil's antioxidant, anti-inflammatory, and disease-fighting characteristics.2-4 In fact, when oleuropein was given to animals with tumors, the tumors completely regressed and disappeared in 9 to 12 days!5
The olive tree (Olea europaea) produces oleuropein abundantly in its leaves as well as in the olive fruit itself, and special processing techniques now allow for the extraction of a stable, standardized form of oleuropein. That means that consumers can have access to one of the most beneficial components of olive oil without the necessity of consuming excessive amounts of olive oil.
Olive leaf extracts and their oleuropein constituents are best known for their blood pressure-lowering effects, but the latest studies reveal their health benefits extend well beyond that. Additional anti-inflammatory and antioxidant properties offer promise in fighting atherosclerosis, diabetes, cancer, neurodegenerative diseases, and even arthritis.
Blood Pressure
Animal studies demonstrate that olive leaf extracts lead to significant drops in elevated blood pressure.6,7 Remarkably, these effects are evident when supplementation occurs either before or after the animals develop hypertension. This means that the extracts have the ability to both prevent and treat high blood pressure.8
The drop in blood pressure is accompanied by reduced pressure in the heart's left ventricle. This results in improved blood flow to the heart's own coronary blood vessels. Additional human studies demonstrate the ability of olive leaf extracts to significantly reduce blood pressure measurements.9
One particularly fascinating study was conducted among identical twins with borderline hypertension (blood pressure in the range of 120-139 mmHg over 80-89 mmHg).10 Studies of identical twins virtually eliminate genetic variations which may impact study results. After 8 weeks, placebo recipients showed no change in blood pressure from baseline, but patients supplemented with 1,000 mg/day of olive leaf extract dropped their pressures by a mean of 11 mmHg systolic and 4 mmHg diastolic.10 The supplemented patients experienced significant reductions in LDL cholesterol.
A human study measured olive leaf extract against captopril, one of the conventional drugs used for treating hypertension.11 In this study, patients with stage-1 hypertension (140-159 mmHg over 90-99 mmHg) took either 500 mg of olive leaf extract twice daily, or 12.5 mg of captopril twice daily, which was increased as needed to 25 mg twice daily. After 8 weeks of treatment, both groups experienced a drop in mean blood pressure from baseline (11.5 and 13.7 mmHg systolic; 4.8 and 6.4 mmHg diastolic, respectively), with no significant difference between the two groups. In other words, the olive leaf extract performed as well as the prescription drug. A closer look in the laboratory reveals the reason for this equivalence. Although they utilize different mechanisms of action (oleuropein acts as a natural calcium channel blocker and captopril is a well-known ACE-inhibitor), both oleuropein and captopril function inside the vasculature to decrease the tension in the walls of blood vessels and promote widening of the vessels (vasodilation), ultimately lowering blood pressure.12-15
Important!
The proven blood pressure-lowering effects of olive leaf extracts are potent enough to warrant caution if you are taking prescription blood pressure drugs.60 If you are on blood pressure medication, it's essential that you speak to your prescriber before starting supplementation.
Arterial Health
Blood pressure is only one measure of cardiovascular health; arterial health is equally important. The endothelial cells that line arterial walls play a key role in maintaining blood flow and pressure; they also regulate the distribution of smooth muscle cells and sustain an even flow of blood through vessels. Endothelial dysfunction is one of the earliest stages in hardening of the arteries (atherosclerosis), which occurs when plaques build up in the arterial walls. These plaques eventually block blood flow and can trigger a heart attack or stroke.
Olive leaf extracts fight endothelial dysfunction at multiple levels. They increase the production of nitric oxide, a signaling molecule that helps relax blood vessels.16,17 They reduce the production and activity of a class of molecules known as matrix metalloproteinases, or MMPs.18–20 Excessive MMP activity literally dissolves the gel-like matrix that holds cells together, making vessel linings increasingly vulnerable to plaque damage. They also help prevent the oxidation of LDL-cholesterol, which is one of the earliest events in developing atherosclerosis.21–23 Oxidized LDL triggers inflammation, further damaging arteries, and olive leaf extract has multi-targeted anti-inflammatory effects.20,24,25
Polyphenol compounds found in olive leaves have been shown to help directly prevent the formation of arterial plaques (and thereby reduce the risk of heart attack and stroke) in two ways. First, they reduce the production and activity of a series of "adhesion molecules."26–28 These substances cause white blood cells and platelets to stick to arterial walls, resulting in early plaque formation. Second, they reduce platelet aggregation (clumping) by multiple mechanisms, which reduces the risk that tiny clots will form at sites of plaque to produce a stroke or heart attack.29,30
Diabetes
The diabetic (and pre-diabetic) state of chronic blood sugar elevation imposes substantial oxidative stress throughout the body, triggering inflammation and tissue damage that rapidly accelerates aging. Treatments for diabetes have two main goals:
lowering blood glucose to normal levels, and
limiting the damage done by the inevitable blood sugar spikes that still occur.
Olive leaf extracts are showing real promise in both of these areas. In animal and basic lab studies, olive leaf extracts and oleuropein have been found to lower blood sugar through several mechanisms.31–34 They slow the digestion of starches into simple sugars, slow absorption of those sugars from the intestine, and increase the uptake of glucose into tissues from the blood.31,32 They protect tissues from the oxidant damage caused when glucose binds to proteins in the process called glycation.33,34 They also increase levels of other natural antioxidant systems in the body, broadening the degree of protection.33
These mechanisms have directly observable benefits. Studies show that diabetic animals supplemented with olive leaf extracts experience significant reductions in blood sugar and cholesterol.33,35 In a dramatic head-to-head study, diabetic rats were treated with either olive leaf extract or glyburide (Diabeta®), a common glucose-lowering drug.35 By the end of the study, the antidiabetic effects of the extract proved superior to those of the drug.35
One intriguing study showed that when lab rats were fed a high-fat, high-carbohydrate diet, they developed all the signs of metabolic syndrome (excessive abdominal fat, hypertension, abnormal lipid profile, and impaired glucose tolerance).36 But when animals were fed that unhealthy diet along with olive leaf extracts, virtually all of the metabolic abnormalities improved or, in some cases, normalized.36
Human studies reveal that supplementing with 500 mg of olive leaf extract once daily resulted in significant reductions in hemoglobin A1c levels, the standard marker of long-term exposure to elevated blood sugar in diabetic people.31 Supplementation also lowered fasting plasma insulin levels, an important point because chronic insulin elevations may contribute to diabetics' higher cancer risks.31,37
Cancer
The Mediterranean diet is renowned for its ability to reduce the risk of cancer.38,39 While numerous aspects of the diet contribute to this risk reduction, there's growing evidence that olive oil—and specifically its oleuropein content—are key components of the diet's anti-cancer effects.
Studies show that oleuropein's antioxidant effects help it battle cancer formation at its earliest stages. Olive leaf extracts inhibit DNA damage from reactive oxygen species, which is the very first step in development of malignant cells.40 Once cells become cancerous, they rely on a host of chemical signaling factors that promote their growth and organization into tumors. Olive leaf compounds are known to inhibit growth factors and disrupt signalling pathways.41–43 Oleuropein also suppresses an enzyme cancer cells rely on to derive and store energy from dietary carbohydrates.44
Oleuropein and olive leaf extracts have numerous other mechanisms of action against cancer:
They help prevent inflammation, another major promoter of tumor growth.41
In breast cancer cells specifically, oleuropein reduces malignant cells' ability to respond to estrogen, the female hormone that many breast cancer cells depend on for their survival.43
Oleuropein inhibits the production of the "protein-melting" enzymes that cancer cells need in order to invade healthy tissues and metastasize to distant parts of the body.19
These mechanisms have now been shown in laboratory and animal studies to reduce the rates of occurrence, and subsequent development, of a broad variety of cancers, including those of the brain, head and neck, breast, liver, bladder, prostate, and skin, as well as leukemia.42,43,45–49
In one especially vivid study, mice with a high spontaneous cancer rate were orally supplemented with oleuropein.5
The tumors completely regressed and disappeared in 9 to 12 days! When the tumors were examined before they vanished, they were found to have a disordered, crumbly consistency, and no cancer cells remained alive within.
Neuroprotection
Olive extracts help protect the brain and central nervous system from the destruction brought on by strokes and age-related degenerative conditions such as Alzheimer's and Parkinson's diseases.50 They accomplish this by suppressing inflammation and reducing the damage done by oxidative stress.
In acute brain injuries such as those caused by a stroke or trauma, damaging processes such as oxidative stress occur within minutes of the original event—and, ironically, are worsened by the return of normal blood flow to the area.50,51
Researchers found a number of positive effects in animals that were pre-treated with olive leaf extract and then induced with a stroke. Compared with untreated animals, the treated animals experienced a sharp reduction in markers of oxidation and an increase in normal cellular antioxidant systems.52,53 Microscopic examination of brain tissue revealed a similar decline in injury to brain cells and up to a 55% decrease in the volume of dying brain tissue.50 Similar results are shown in experimental spinal cord injury in animals pretreated with oleuropein.53
Olive leaf extracts offer similar protection for neurodegenerative diseases. Oxidative stress occurs more gradually in neurodegenerative diseases. However, the effects add up over a lifetime, producing inflammation and other changes that result in the accumulation of abnormal proteins that interfere with brain function and kill neurons. Olive leaf extracts help prevent these abnormal proteins from assembling into the neurofibrillary tangles seen in the brains of people with Alzheimer's and similar diseases.54–56
Arthritis
Olive leaves and their extracts have long been used in the Mediterranean as folk remedies for arthritis. Now, scientific evidence has proven that olive leaf extracts can in fact interfere with the development of several different kinds of arthritis, including gout, rheumatoid arthritis, and osteoarthritis.
Gout is caused by the accumulation of uric acid crystals in joints, the byproducts of impaired recycling of DNA and RNA in cells. In a mechanism identical to that of allopurinol (the gold standard drug therapy for gout), oleuropein prevents the buildup of uric acid by inhibiting xanthine oxidase, the enzyme responsible for converting DNA and RNA into uric acid.57
Oleuropein has also been found to help prevent and treat symptoms of rheumatoid arthritis. When administered at the earliest sign of arthritis in animal models, oleuropein prevented symptoms from developing and also produced marked improvement in the microscopic appearance of joint tissue from affected animals. When administered after arthritis was fully developed, there was significant improvement in inflammatory changes to joints, compared with untreated animals.58
Oleuropein had similar benefits on osteoarthritis. In animal models of this degenerative joint disease, olive leaf extract improved joint swelling, improved the microscopic appearance of joint tissue, and prevented the production of inflammatory cytokines.59
Summary
The Mediterranean diet reduces your risk for virtually every condition associated with aging. Olive oil is a major component of that diet. Olive leaves contain higher amounts of oleuropein, a polyphenol with unique health-improving attributes. These extracts have been used in traditional medicine for centuries to improve age-related diseases.
Now, scientific evidence has shown that these extracts have a remarkable impact on blood pressure and heart disease—and they can help protect against other age-related chronic conditions as well. Convincing evidence now shows that oleuropein-rich olive leaf extracts help prevent many of the underlying factors leading to diabetes, cancer, neurodegenerative diseases, stroke, and arthritis.
Extra-virgin olive oil and olive leaf extract should be considered an important component of one's health and longevity program.
Scientist Peter Scott-Morgan is set to become "the world's first complete cyborg"
Two years ago scientist Peter Scott-Morgan was diagnosed with motor neuron disease, also known as Lou Gehrig's disease, and today he is still fighting for a new life, not just for survival.
This October, Dr. Scott-Morgan is on track to become the world's first full-fledged cyborg, potentially giving him more years of life.
The world's first complete cyborg
It was in 2017 that Dr. Peter Scott-Morgan (a brilliant robotics writer, scientific writer, and talented speaker) was diagnosed with degenerative motor neuron disease that ultimately paralyzed his entire body except his eyes.
The diagnosis is understandably grim, especially considering that he has only two years to live, but he has not given up the fight.
Teaming up with world-class organizations with expertise in artificial intelligence, Dr. Scott-Morgan is transforming himself into what he calls "the world's first fully fledged cyborg."
"And when I say 'Cyborg', I mean not just that some kind of payment will be implanted in me, I mean that I will become the most advanced human cybernetic organism ever created on Earth for 13.8 billion years. My body and brain will be irreversibly changed, "says Dr. Scott-Morgan.
What does it mean to be human
According to Dr. Scott-Morgan, he will become part robot and part living organism. Moreover, the change will not be one-time, but with subsequent updates.
"I have more updates in the process than Microsoft ," says Dr. Scott-Morgan.
AI-powered creative expression
The cyborg artist is a great example of the power of human-AI collaboration. AI uses the data that make up Peter's digital portrait ( articles, videos, images, and social media ) and is trained to recognize key ideas, experiences, and images.
Peter will introduce a theme, AI will suggest composition, and Peter will apply images to suggest style and mood. Peter will direct the AI ​​to render a new digital image that none of them could create alone.
A unique blend of AI and human, reflects Peter's creative and emotional self – a critical aspect of what it means to be human.
Peter 2.0
This October, Dr. Scott-Morgan will undergo what he calls the latest procedure that will transform him into "Complete Cyborg".
October 9 he tweeted a photo of himself, writing the following:
"This is my last post as Peter 1.0. Tomorrow I will trade my vote for potentially decades of life as we complete the last medical procedure for my transition to Full Cyborg, in the month that I was told statistically I would be dead. I am not dying, I am transforming. ! Oh, how I LOVE science !!! ".
Japan has developed an inflatable scooter that weighs practically nothing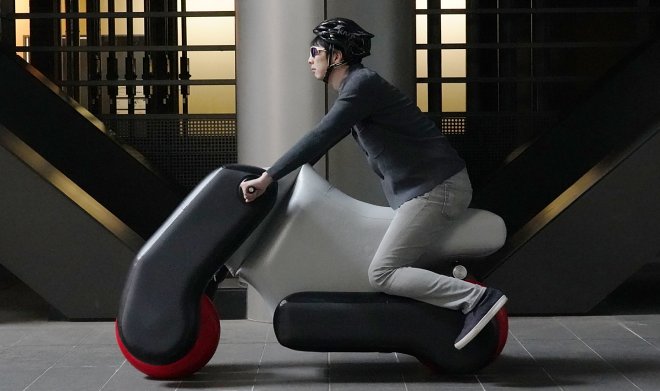 The University of Tokyo engineers have developed the Poimo inflatable electric scooter, which is created individually for each owner. It is enough to send your photo to the manufacturers – and a personal optimized model will be assembled for you.
The scooter is designed with a special program for the body size of a particular user and his specific fit. Moreover, each owner is free to make any changes to this model. If he makes any changes to the drawing, the program will automatically redesign the electric bike to maintain its strength, stability and controllability. When the model is finished and approved, it is handed over to the manufacturer.
The scooter consists of seven separate inflatable sections that are constructed from durable fabric and sewn with straight stitch. It remains to add electronic components – in particular, a brushless motor and a lithium-ion battery.
The finished electric scooter weighs about 9 kg and can travel at speeds up to 6 km / h (that is, slightly faster than a pedestrian). It can work for an hour on one charge.
This is how the current version of Poimo looks like in action:
Excerpts from Elon Musk's speech at the Martian Society convention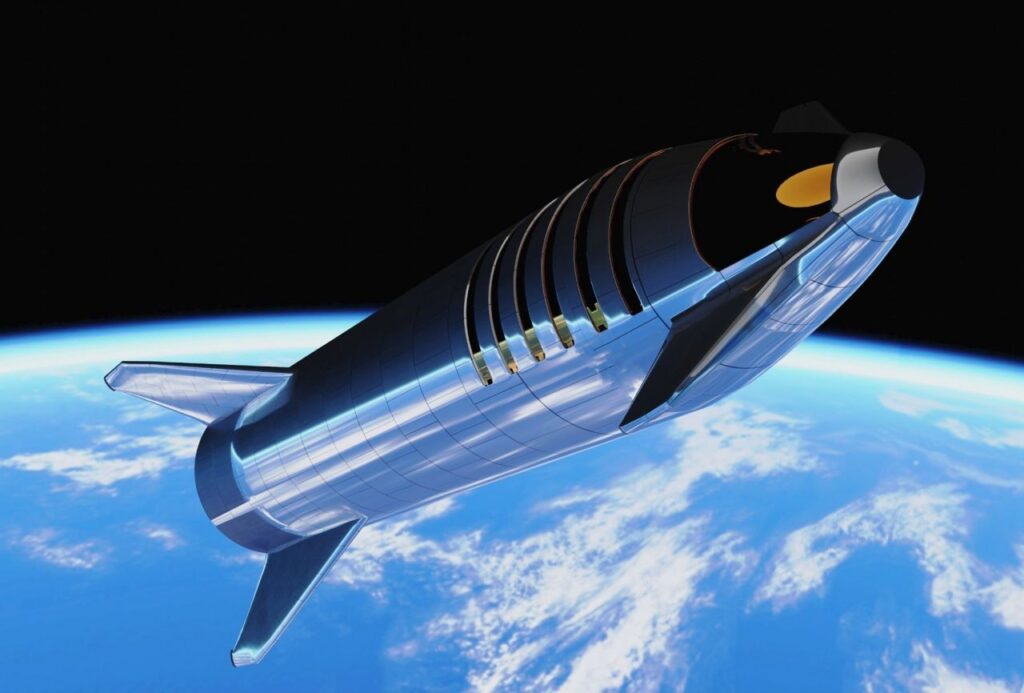 Elon Musk's comments with questions relayed from the Mars Society Membership by Dr. Robert Zubrin, James L. Burk, and Carie Fay. Following Elon's 30 min time, Dr. Zubrin took additional questions. This special event was part of the 2020 Mars Society Virtual Convention from October 14-18, 2020.
About Starship Test Schedule:
– entering orbit – with a probability of 80% -90% will take place in 2021
– the probability of the return of the ship and the 1st stage in this flight is 50%
– test of refueling in orbit – 2022
– Starship lunar version – 2022 or 2023
– Starship flight to Mars – around 2024
The goal of the Starship is to build a self-sufficient settlement on Mars as quickly as possible. Musk does not rule out the possibility that this will not be achieved during his lifetime. According to his rough estimates, to create a self-sufficient city, it will be necessary to deliver 1 million tons of cargo, which corresponds to 4-5 million tons in a low Earth orbit. Modern single-use launch vehicles are capable of removing less than 1% of this value.

"Disposable launch vehicles are completely stupid. They are a waste of time. I think people need to stop wasting time on this. If you try to sell a disposable plane, you will be thrown out of the office. If you try to sell a disposable car, you will also be thrown out of the office. "
A series of questions and answers followed:

What is the best landing site on Mars?
– I'm not sure about that. But I can name the criteria. The first of these is latitude: most likely it will be in the northern hemisphere, far enough to the north to have water ice, but to still have enough sunlight.It also needs to be low to get the most benefit from atmospheric braking.
How do you prioritize mission priorities: research, infrastructure construction, and science?
– The first will be the construction of a fuel plant.

A question from a teenager who wants to become an engineer and robot maker with a dream to work at SpaceX: what is the most important education in order to become an engineer?
– There are many varieties of this profession: you can be an aerospace engineer, in the field of electronics, software, or a chemical engineer involved in creating safe production of fuels. I think physics is a good foundation for critical thinking.
Boring Company was originally conceived as a tunnel manufacturing firm on Mars?
– No. It was originally something of a joke. I thought tunnels were a good solution to reduce the traffic problem in cities and improve the quality of life by turning parking lots into green parks. To do this, you need to go to 3d [get away from the "flat" infrastructure – approx. per.]. I think tunnels are good for Mars too. But there you need a lot lighter equipment: you don't care about mass on Earth, but you will have to take care of it a lot when going to Mars.
At Boring Company, have you learned a lot of technology that might come in handy on Mars?
– I think, yes.
Do you have any tips for young people who love Mars but don't know how to participate in its settlement?
– I think any strong advocate of the need to conquer Mars matters. People often don't even think about it. I often talk to people who don't even know about it. Therefore, I consider it important for humanity and consciousness in general to bring a discussion about this to society. Talking about it with friends and acquaintances – I think this is what we should do. In my estimate, we will spend less than 1% of our efforts on Mars exploration, exactly less than healthcare, perhaps even less than cosmetics – this will be enough to make life multi-planetary. But this requires people to start talking about it 100 times more often. I think this is what really matters. [the entire cosmonautics of the world is $ 424 billion a year, while cosmetics is $ 532 billion, and tobacco production is $ 849 billion – approx. per.]
What's the coolest part about Starship development?
– I think the coolest detail is the ability to work with a great group of engineers and come up with interesting solutions. I think the best thing is the opportunity to work with smart and creative people who come up with solutions that were not available before. This is a great reward.

What do you focus on when hiring, especially with regard to engineers?
"We're looking for signs of exceptional ability. Or at the very least, striving to do exceptional things at SpaceX.
Are you planning to make a Mars-Earth communication system like Starlink?
– Yes, I think we will use a laser, probably launched into orbit, to avoid atmospheric diffraction. Thus, it will be a laser beam going from the orbit of the Earth to the orbit of Mars. And also relay satellites in solar orbit, since the laser beam cannot be sent through the Sun [when it is between Mars and Earth – approx. per.].
Can Starship be used for other destinations like Venus and other planets?
– Starship will be able to travel to any target in the solar system that has a solid surface when fuel depots appear. It is not the kind of transport that will take us to other stars, but when we become a multi-planetary species, we will create a demand for innovation in space travel that will ultimately lead us to interstellar travel.