Of mysterious lights in the sky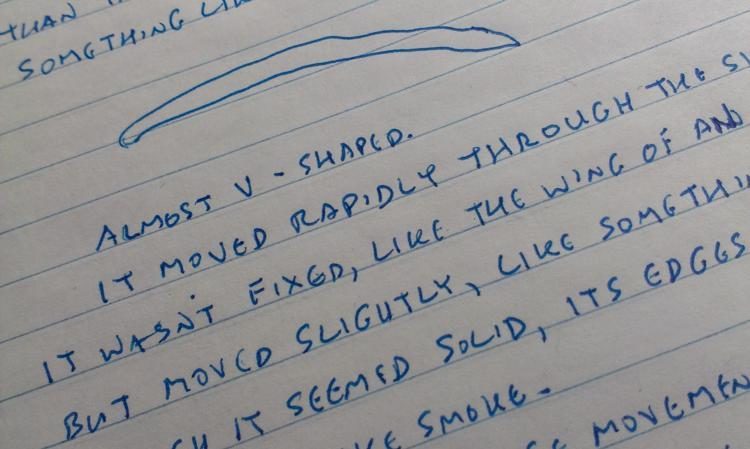 © Mick Scott
Mick Scott
Winston-Salem Journal
Last week I dug up an old observation log from March 2012 with this entry:
The object was dark, just a bit lighter than the sky. It was long and thin, something like this:

[And I drew, basically, a boomerang. ]

Almost V-shaped.

It moved rapidly through the sky. It wasn't fixed, like the wing of an airplane, but moved slightly, like something organic. Though it seemed solid, its edges were blurred, like smoke.

It moved so quickly, it was gone within three seconds. It appeared in the south, just east of Saturn, and flew almost directly north.
Yes, friends, I saw a UFO.
It was, literally, an unidentified flying object. I don't know what it was, except a thrilling sight.
I dug up my old log after learning recently, from a story in our sister paper, the Greensboro News & Record, that North Carolina is a hotbed of UFO activity. Our state just misses being on the list of top 10 states for such sightings, according to the National UFO Reporting Center in Davenport, Wash. There have been 2,822 documented UFO sightings in North Carolina since the 1940s, the organization says, and some of them come from Greensboro and Winston-Salem.
A sampling of descriptions includes sparkling lights, disks, rectangles and cigars, hovering, spinning and circling. They all defy identification, but Peter Davenport, director of the reporting center, is quoted as saying, "Mankind is just beginning to awaken to the fact that we appear to have guests, and they appear to be here on a frequent basis." Many others have reached similar conclusions.
Last December, the U.S. Department of Defense released long-classified reports from a program that studied UFOs, including a dramatic video taken by a Navy pilot that will make your hair curl – he followed an oblong-shaped object that moved erratically before veering away at rapid speed. The pilot concluded he'd witnessed "something not from the Earth."
The reports warrant further examination, for their national security implications alone. But concluding extraterrestrial visitation seems to me to be a step too far. As former Sen. Harry Reid, who worked with the DOD on its program, said, "If anyone says they have the answers now, they're fooling themselves. We do not know."
I've actually seen other mysterious objects, as has my friend and fellow astronomy buff, Ken Mohan:
Around 12:30 p.m. on August 23, 1993, my ex and I observed a large, silver, seemingly round object gleaming in the sunlight and traveling northbound and close to the ground parallel to Highway 19/23 near Asheville. As we drove, it appeared to flatten out into a disc shape, as if we had been viewing it from the top or bottom initially. It maintained its roughly parallel course in relation to the highway for a minute or more before rapidly shrinking as it moved off to the east. Trees eventually blocked our view.
Last week, I spoke to Dave Morgan, the president of the Forsyth Astronomical Society, who spends a lot of time looking at the sky. "I've been watching meteor showers seriously since about 1972," he told me, "and am familiar with atmospheric turbulence, sun dogs, ice crystal haloes, ball lightning, sprites, bows and other visual phenomenon."
Morgan shared with me a story about watching an object low on the horizon "changing color rapidly, changing position in the sky. … There were three or four of us there, all experienced observers, going, 'what the —- is that? A plane can't move like that.' It wasn't until it rose high enough that it was identifiable as [the planet] Venus."
"My general position," he added, "is I'm very skeptical, but I'm open-minded. That being said, I've never seen any convincing evidence for extraterrestrial UFOs that hasn't been refuted."
The night sky is not static. Along with the stars and planets, observers like Dave, Ken and I regularly sight the International Space Station and artificial satellites, as well as occasional meteor showers. And sometimes we see things that make us say, "What the —- is that?"
But while I grew up on the science fiction of Gene Roddenberry and Edgar Rice Burroughs and would be thrilled to discover life from other worlds, I can't honestly conclude that's what I've witnessed. Given the distance of 4.22 light-years to the closest star, Proxima Centauri, and the cosmic speed limit, 186,282 miles per second (the speed of light), it seems very, very, very, very, very unlikely that life from another solar system could ever reach us. It's more likely that the nation of Wakanda is real.
Sometimes, the most honest and accurate thing to say is "I don't know."
We people are not very good at that. We want answers.
But not knowing can be part of the fun.
'Area 51' among 2019's most searched terms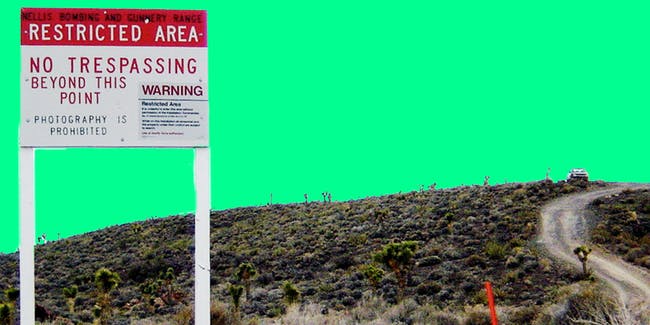 Area 51 generated a great deal of interest this year.
Google has revealed the events, people and things that were searched for the most over the last 12 months.
As the year draws to a close, search giant Google has released a breakdown of its most searched terms – some of which being relatively predictable and others not so much.
Interestingly, the infamous 'Storm Area 51' event from back in September managed to attract so much attention that the term 'Area 51 raid' made it to 4th place on Google's news search service.
The search phrase 'what is Area 51 ?' also managed to rank #1 for 'what is' questions, while the phrase 'where is Area 51?' ranked #3 for 'where is' questions.
It's interesting that what started out as something distinctly tongue-in-cheek ended up generating one of the most talked about subjects of the year and thrust the secretive base firmly into the limelight.
Overall, Google's top 10 general search terms for 2019 were as follows:
Disney Plus
Cameron Boyce
Nipsey Hussle
Hurricane Dorian
Antonio Brown
Luke Perry
Avengers: Endgame
Game of Thrones
iPhone 11
Jussie Smollett
Source: ABC news
APOLLO 11 photographed an Alien Base on the Moon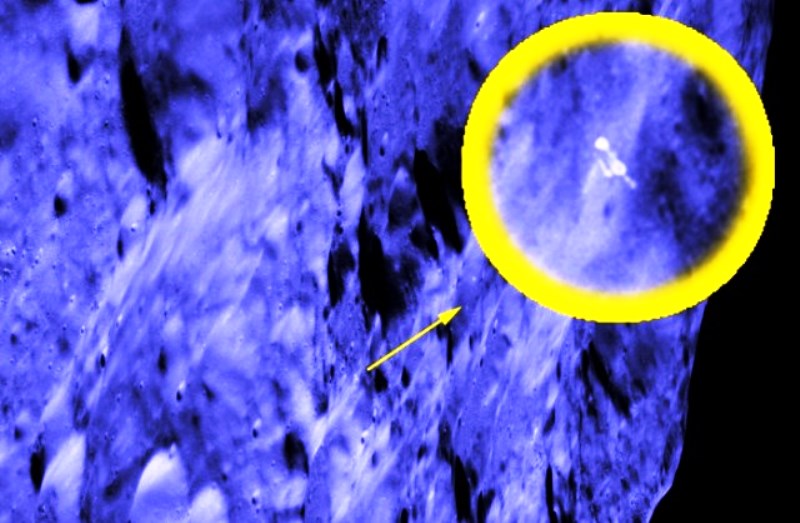 A photograph taken from the online archive of the Apollo 11 mission reveals what appears to be a base (or outpost) on the far side of the moon. The object appears to be on the surface of the moon and is well lit. It is symmetrical with a long separate shaft, as if they were corridors joined by two small spheres, one in the center and one at the end.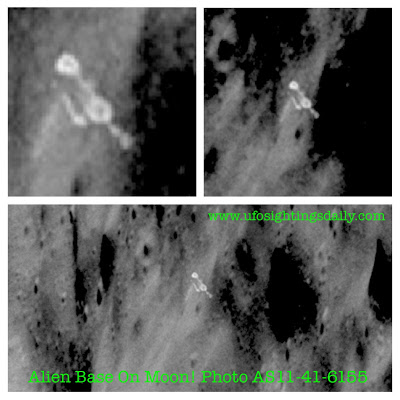 Photo AS11-41-6155 is significant but informants (insiders of NASA) stated that the space agency regularly destroys images that show any evidence of alien life or unknown artificial structures. The photo taken from the Apollo 11 mission does not seem to have been digitally modified in any way and can be a surprising visual proof of alien life on the far side of the moon. Here's what the Skywatcher Scott Waring, who first discovered the photo, commented on his discovery:

"I need to introduce you to my discovery, and what appears to be some sort of unknown Object on the Lunar Terrain or UFO, which appears on one of the images of the Apollo 11 mission. So I took some screenshots so I could see the object in excellent details. It looks to me like some sort of crystal tube with something that looks like an antenna or some kind of special weapon … I don't know what it is, but we can't understand. The first image is the original one, which shows a lot of unknown objects on the surface of the Moon! ".
The object is well lit and symmetrical and appears to be an artificial structure of some kind. Significantly, researchers and personalities linked to NASA environments have come forward to affirm that the space agency itself and the affiliated government agencies have a precise policy, that is to destroy or alter the photographs that reveal artificial structures on the moon or in space.
Karl Wolfe, for example, claims that he witnessed the removal of images related to alien structures detected by the Apollo mission. NASA, the NSA and the US Air Force cooperate to remove these images of the Apollo mission, in addition to satellite images when they are assimilated. The Washington Times had the opportunity to publish the testimony of informant Karl Wolf, a former Air Force sergeant who was assigned to the National Security Agency. Wolf said that mysterious structures were discovered on the far side of the Moon when the United States mapped the lunar surface before the Apollo landing in 1969.
Another informant, Dr. Ken Johnston, who was a manager of the photo analysis and data control department at NASA, said that in one of the many photos, there was one showing artificial structures on the Moon and later, he was asked to destroy the images. Johnston refused and was fired by NASA.
If the tampering and destruction of Apollo 11 photographs, in addition to satellite images of the moon's surface, is a regular policy implemented by NASA and various US government agencies. Wolf and Johnston declare that the image AS11-41-6155 may have remained unchanged in the object it represents. Certainly, the two informants confirm, this image may have escaped NASA (see image above). The photo is very large (40 megabytes) and a careful examination is needed to discover the anomalous object. In conclusion, the Apollo 11 mission and the image AS11-41-6155 may be the test, or the smoking gun, concerning the presence of an alien base on the far and dark side of the Moon.
'Discovery' Space Shuttle photographed an Alien Spaceship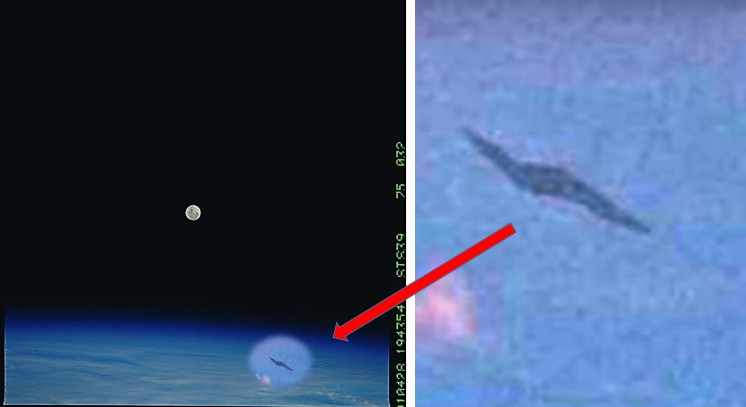 The UFO researcher and Alien hunter Scott Waring, has found photographic material from the NASA archive, coming from the 'Discovery' Space Shuttle, where mysterious presences can be observed in the space.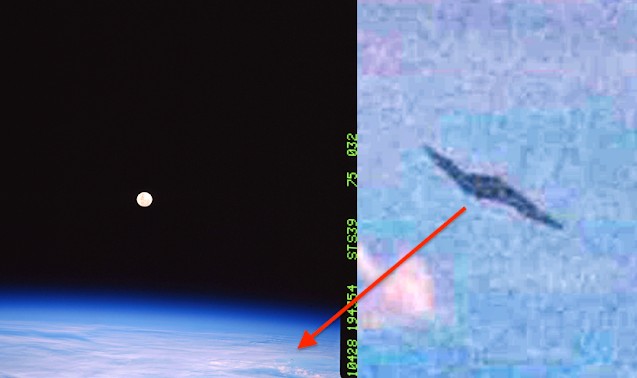 "I was looking through the NASA archive photos and saw this beautiful photo on the Moon taken from the Discovery Shuttle. I didn't think I would find anything at the time, I just thought it was a beautiful photo. I zoomed in and set it to auto focus and found something extraordinary"
"There was a huge object, a UFO, visible in the lower right corner of the photo. I have never reported a UFO of this form. It is very rare and unlike anything I expected. And yet, there it was, above the clouds of sunset in Earth's orbit, visible in a photograph at the NASA website. This is 100% proof of the existence of beings from other worlds who watch over the earth ". by Scott C. Waring