Of mysterious lights in the sky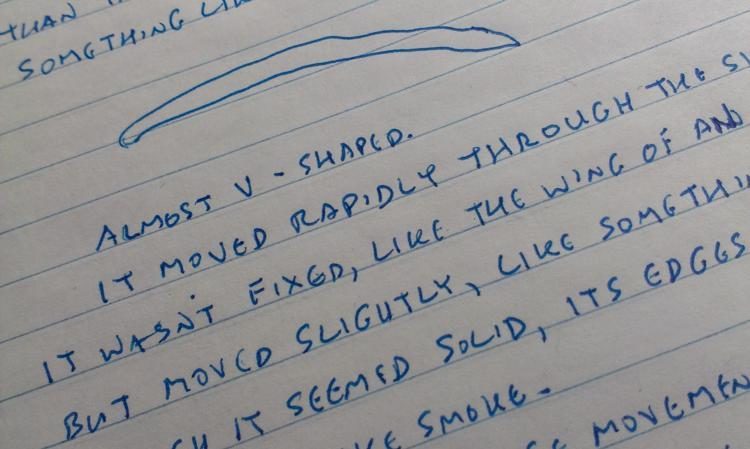 © Mick Scott
Mick Scott
Winston-Salem Journal
Last week I dug up an old observation log from March 2012 with this entry:
The object was dark, just a bit lighter than the sky. It was long and thin, something like this:

[And I drew, basically, a boomerang. ]

Almost V-shaped.

It moved rapidly through the sky. It wasn't fixed, like the wing of an airplane, but moved slightly, like something organic. Though it seemed solid, its edges were blurred, like smoke.

It moved so quickly, it was gone within three seconds. It appeared in the south, just east of Saturn, and flew almost directly north.
Yes, friends, I saw a UFO.
It was, literally, an unidentified flying object. I don't know what it was, except a thrilling sight.
I dug up my old log after learning recently, from a story in our sister paper, the Greensboro News & Record, that North Carolina is a hotbed of UFO activity. Our state just misses being on the list of top 10 states for such sightings, according to the National UFO Reporting Center in Davenport, Wash. There have been 2,822 documented UFO sightings in North Carolina since the 1940s, the organization says, and some of them come from Greensboro and Winston-Salem.
A sampling of descriptions includes sparkling lights, disks, rectangles and cigars, hovering, spinning and circling. They all defy identification, but Peter Davenport, director of the reporting center, is quoted as saying, "Mankind is just beginning to awaken to the fact that we appear to have guests, and they appear to be here on a frequent basis." Many others have reached similar conclusions.
Last December, the U.S. Department of Defense released long-classified reports from a program that studied UFOs, including a dramatic video taken by a Navy pilot that will make your hair curl – he followed an oblong-shaped object that moved erratically before veering away at rapid speed. The pilot concluded he'd witnessed "something not from the Earth."
The reports warrant further examination, for their national security implications alone. But concluding extraterrestrial visitation seems to me to be a step too far. As former Sen. Harry Reid, who worked with the DOD on its program, said, "If anyone says they have the answers now, they're fooling themselves. We do not know."
I've actually seen other mysterious objects, as has my friend and fellow astronomy buff, Ken Mohan:
Around 12:30 p.m. on August 23, 1993, my ex and I observed a large, silver, seemingly round object gleaming in the sunlight and traveling northbound and close to the ground parallel to Highway 19/23 near Asheville. As we drove, it appeared to flatten out into a disc shape, as if we had been viewing it from the top or bottom initially. It maintained its roughly parallel course in relation to the highway for a minute or more before rapidly shrinking as it moved off to the east. Trees eventually blocked our view.
Last week, I spoke to Dave Morgan, the president of the Forsyth Astronomical Society, who spends a lot of time looking at the sky. "I've been watching meteor showers seriously since about 1972," he told me, "and am familiar with atmospheric turbulence, sun dogs, ice crystal haloes, ball lightning, sprites, bows and other visual phenomenon."
Morgan shared with me a story about watching an object low on the horizon "changing color rapidly, changing position in the sky. … There were three or four of us there, all experienced observers, going, 'what the —- is that? A plane can't move like that.' It wasn't until it rose high enough that it was identifiable as [the planet] Venus."
"My general position," he added, "is I'm very skeptical, but I'm open-minded. That being said, I've never seen any convincing evidence for extraterrestrial UFOs that hasn't been refuted."
The night sky is not static. Along with the stars and planets, observers like Dave, Ken and I regularly sight the International Space Station and artificial satellites, as well as occasional meteor showers. And sometimes we see things that make us say, "What the —- is that?"
But while I grew up on the science fiction of Gene Roddenberry and Edgar Rice Burroughs and would be thrilled to discover life from other worlds, I can't honestly conclude that's what I've witnessed. Given the distance of 4.22 light-years to the closest star, Proxima Centauri, and the cosmic speed limit, 186,282 miles per second (the speed of light), it seems very, very, very, very, very unlikely that life from another solar system could ever reach us. It's more likely that the nation of Wakanda is real.
Sometimes, the most honest and accurate thing to say is "I don't know."
We people are not very good at that. We want answers.
But not knowing can be part of the fun.
"Canadian Roswell": Jacques-Yves Cousteau family investigating a UFO crash near Shag Harbor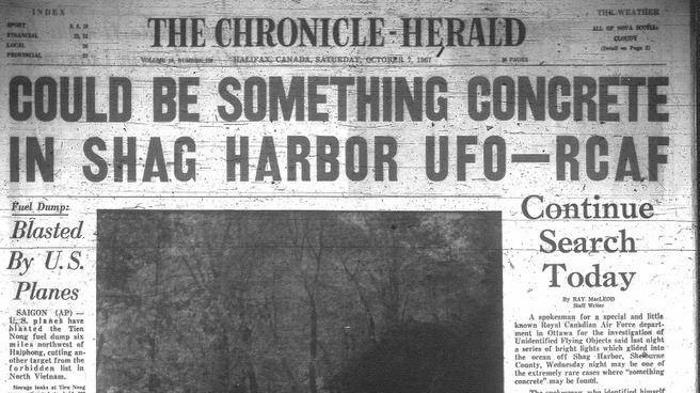 Jacques-Yves Cousteau gained worldwide fame as one of the largest and most successful explorers of the sea and depths. His grandchildren decided to devote themselves to the study of a completely different sacrament.
Already in August, they are going to go to the waters near Shag Harbor, a small fishing village on the coast of the Canadian province of Nova Scotia, in search of an unidentified flying object (UFO) that allegedly crashed into the sea here in 1967.
As reported by the Shag Harbor Incident Society, which is still investigating the case, the grandchildren of the famous explorer of the seas, Selina and Fabian Cousteau, announced their upcoming visit to the traditional UFO Conference of Shag Harbor "and said they want to take a direct part in the research and search at the alleged crash site of an unknown object".
Background
At about 11 pm on the night of October 4, 1967, local fishermen and residents of the village of Shag Harbor watched in the clear and moonless night sky the crash of a brightly luminous object that fell into the sea. Among the witnesses were three members of the Royal Canadian Mounted Police (RCMP), as well as civilian pilots who were flying over the southwest coast of Nova Scotia at the time.
Despite the undertaken searches, no wreckage or bodies were found, therefore the observation is still considered inexplicable today – 51 years after the incident. True, countless government and military protocols and documents are dedicated to the incident, which is why it is considered one of the most extensively documented UFO incidents in the history of Canada.
According to the president of the research society and one of the witnesses of the incident, Lauren Wickens, Cousteau's grandchildren will visit the scene in preparation for the filming of a series of new investigative documentaries.
"On their arrival, Brother and Sister Cousteau will dive accompanied by local diver David Queta, who has been involved in the investigation of the incident since 1967."
Another TR-3B? Huge triangular UFO flew over New York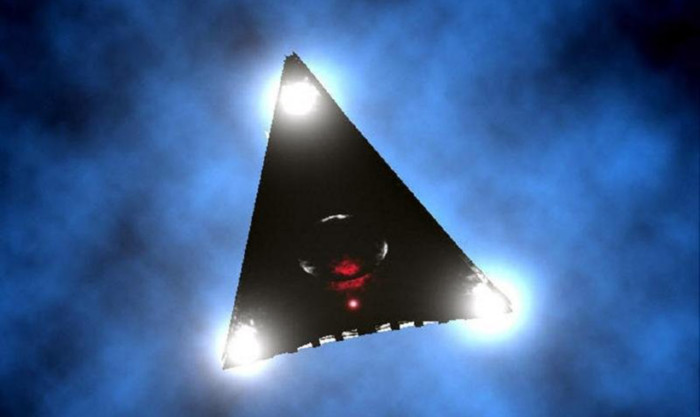 A resident of Bronx, New York, on January 16, 2021, saw three UFOs above the houses in his area, moving synchronously in the form of a huge triangle. The brightly shining points were very clearly visible in the night sky.
The man managed to capture a triangle slowly floating in the sky on video (see below) and posted it on his YouTube channel.
Since he was a very modest blogger who had only a few subscribers, his video went unnoticed for several days by UFO lovers, until finally it was re-posted on social networks, and from there it got to news sites.
The video shows how the author of the video is very surprised by what is happening, he looks up into the sky and says:
"They fly nearby and look like stars. It's a triangle and I don't know what it is."
Then he tried to ask someone from the passers-by about whether they knew that it was in the sky, but they could not answer either.
On social networks, this video caused a lot of comments from curious people who offered their versions of what they saw. From the fact that someone has programmed the drones to move in the form of a triangle, to the fact that they are actually Chinese lanterns.
The lantern version was quickly criticized, as the lights move at such a high altitude that Chinese lanterns could not continue to burn so brightly.
The drone version also drew a lot of criticism, because in order to launch several large drones over residential buildings in New York, you need to obtain special permission and it is not so easy.
The most popular was the theory that what he saw was a secret American reconnaissance aircraft TR-3B, about which there have been many rumors for a long time. Allegedly, it was developed on the basis of an alien ship that fell in Roswell, it can move silently and is practically invisible to radars.
Indians and aliens – "I was told that there are four aggressive species in the universe, and humans are one of them."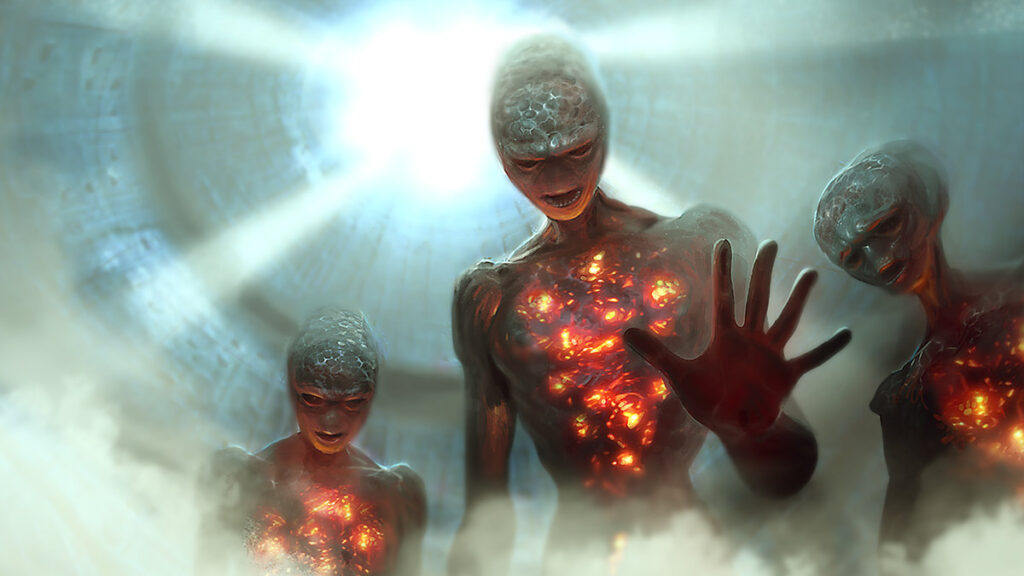 Dr. Ardi Sixkiller Clarke, professor emeritus at Montana State University, who is a native of the Cherokee tribe, has studied Indian stories about the "Star People" and collected stories of encounters between aliens and native Indians over the years.
Here is one of the stories she recorded, which she recorded from the words of a female elder named Tali:
I have seen star creatures all my life. The first time I was about 8 years old. I picked berries by the river. I watched the ship descend and land across the river. I crossed the river, stepping carefully over the rocks so as not to get my feet wet. I was curious; I've never seen anything like it.
As I approached, the door opened and I went inside. I remember that the star beings greeted me. There were two women. One combed my hair and said that I was beautiful. After that, I often met with them.
Sometimes I brought them flowers, sometimes stones. My grandmother told me that stones have a soul, and I tried to explain it to them. I don't think they understood. But they taught me to heal with my hands. Star doctors taught me how to treat diseases with my hands. They taught my grandmother how to heal.
When my grandmother died, the star beings were very saddened and I was tasked with continuing her work and learning about herbs and healing people naturally and metaphysically.
They are light, tall and thin. They are much smarter than us, but they are interested in our development. They travel the stars and learn from others throughout the star system. They collect information about the aging process of earthlings. They are trying to understand why we die so young.
Star people live much longer than we do. The normal age for them is 1000 Earth years. They do not have such diseases as we do. Their civilization does not consume alcohol and tobacco.
They choose who they will be, their job and stay on it forever. They become experts in their field, which leads to many discoveries that improve their lives. Star physicians visit Earth constantly. They mostly watch, but all over the world there are "helpers" who serve them. Both my grandmother and I were their assistants.
Star people call themselves observers.
They weren't cruel. I was told that there are four aggressive species in our universe. People are one of them."
Dr. Clarke ends the story like this:
"For the next five plus years, I frequently visited the reservation to meet Tali. She remained strong and mobile until her death at 95. On the day of her funeral, several people saw a UFO appear and hover in the sky. I was one of them."
Observers
In the stories of many people who have come into contact with representatives of extraterrestrial civilizations, there are references to the fact that they are just observers. It seems that some of these creatures are just curious observers of planet Earth, collecting data, as if some of them are carrying out scientific missions to bring information about other planets and civilizations back to their planet.
We are not alone in the universe. Perhaps one day we ourselves will become aliens for someone exploring another planet.
Can we change?
As for the fact that humans are one of the most violent species in the universe … We are empathetic beings with tremendous potential for good. We really can, but we do not change, and if you were an alien watching what is happening on our planet, you would probably be intimidated by how aggressive and cruel we are …
It is a pity that we are in a group of worlds characterized as aggressive, but I really hope that we will change. People can change, but only by standing at the edge of the abyss and realizing that if they do not change, human civilization will simply disappear. We are already on the edge of the abyss. We have actually destroyed the house we live in and the name of this house is Earth.
Humanity has only two ways – to change or die out.