Nutrition Nonsense: 10 'Health Foods' That Are Killing You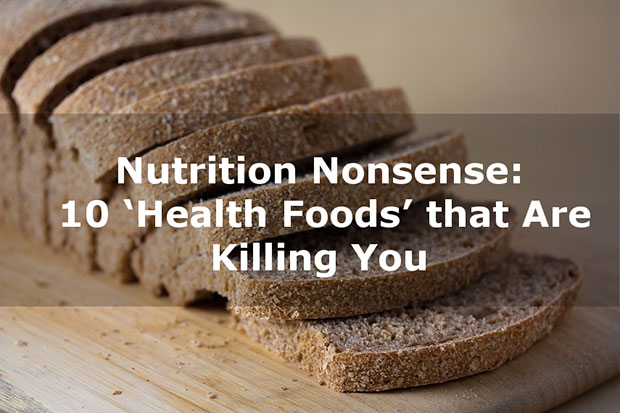 by Christina Sarich
Sometimes you have to be wary of the 'health' food advice you hear rumored in the blog-o-sphere. While many of the foods touted as 'healthy' do indeed offer sound nutrition, even a greater number of them are merely false representations of actual healthy food. This false information will forever circulate with new foods, so we must always work to learn what is truly healthful. Here are 10 foods that, while said to be good for us, really aren't that healthful at all. Many of these foods actually hurt us.
1. Orange Juice from the Grocery Store
Unless you squeeze orange juice from fresh, (hopefully organic) oranges, you aren't getting enough nutrition from the juice you are consuming. Store-bought OJ contains the same amount of sugar as a can of Coca-cola, and many times it is added sugar. Many OJ makers are also selling you 'natural' juice that isn't natural at all.
Tropicana recently faced a lawsuit for false-advertising their OJ as '100 % juice.' Much of their juice is full of some strange ingredients, like 'flavor packets' that help juice keep its flavor even when it has been sitting around for a year or more. Consuming store-bought juice full of sugar can cause diabetes, obesity, and heart problems. Skip the store-bought juice, including OJ, apple juice, 'fruit' juice, and others. These juices aren't good for you, and a fresh squeezed fruit juice with vegetable juice or brown rice protein added is much healthier.
2. Whole Wheat Bread
If you are consuming whole wheat bread or other wheat products, it is likely you are one of 18 million Americans who have developed a gluten intolerance. There is no GMO-wheat on the market, but Big Ag wheat is nothing like its predecessor. You are really eating 'junk-wheat' full of pesticides and altered DNA. Normal gluten is a protein made up of the peptides gliadin and glutenin. It is found in many grains such as wheat, semolina, spelt, kamut, rye, and barley. Our bodies used to know how to digest those proteins because they were made by nature – not mad scientists and greedy corporations. It's estimated that 5% of the proteins found in hybridized wheat are new proteins that were not found in either of the original wheat plants. These "new proteins" are part of the problem that has led to increased systemic inflammation, widespread gluten intolerance, and higher rates of celiac disease. Skip the altered wheat and try some gluten-free recipes.
3. Gluten-Free Junk Foods
Skipping gluten? Great! But beware. Since food manufacturers realize more and more that people are now gluten intolerant, they have devised a whole slew of gluten-free foods, but they aren't all good for you. Many contain high levels of refined sugars, chemicals, and other un-fabulous ingredients. Don't replace one bad habit with another. Junk is still junk. Shop around and use a gluten-free cook book so you can make some delicious foods at home that aren't full of the industry standards – MSG, sucrose, fructose, GMO, etc.
4. Sugar-Free Products that Contain Agave
While its noble that you should try to ditch the refined sugar since it is toxic and basically as addictive to the body as crack cocaine, many foods labeled as 'sugar free' actually contain agave nectar that is loaded with unnatural amounts of fructose, and can spike your glucose levels. Our liver has to metabolize glycogen. When it is over-taxed by eating too much of the stuff, the liver can't do its job, and it simply turns to fat. This can lead to diabetes and obesity as well as numerous other health issues. Agave nectar can be just as damaging as high fructose corn syrup and refined sugar. Even Dr. Oz, who once touted agave as a health remedy, has retracted his statements touting its benefits.
5. Low-Fat Foods
You've got to hand it to the food industry, they are experts at fooling the public into eating food that isn't actually beneficial. When the 'low fat' craze began over a decade ago, people tried to consume fewer fats as a way to stay in better shape, but little did we know that many foods advertised with this label were worse than we would ever think. While the fat is reduced, guess what they replaced 'fat' with to keep your foods tasty? Sugar – and loads of it. They also put more chemicals and artificial sweeteners in the food to keep it 'low fat.' Aside from the fact that our bodies need healthful fats, these 'low fat' foods are extremely damaging – sometimes even causing you to be MORE FAT! Skip the low-fat foods. They often contain: bad salt (see the differences between good salt and bad salt here), high fructose corn syrup, modified food starch (GMO origins), free glutamates (MSG, hydrolyzed vegetable protein, natural flavors), diglycerides (sugar), gums (guar and xanthan) and other questionable ingredients.
6. Sports Drinks for Athletes
While it is true that fitness nuts and professional athletes alike burn loads of glycogen and lose precious electrolytes when they sweat their way through a tough workout, sports drinks are not the answer for replenishing them. Many sports drinks contain as much refined sugar as soda. They also typically contain high-fructose corn syrup (HFCS), artificial flavors and food coloring, none of which contribute to optimal health. Additionally, drinking down loads of sugar after a workout can cause insulin sensitivity and lower human growth hormone (HGH) production. They also can be full of processed salt, not natural salt (like Himalayan sea salt) that contains important trace minerals your body needs.
7. Vegetable Oils Containing too many Omega 6s
Many vegetable oils on the market are called 'heart healthy,' but this is a complete lie. For over 4-5 million years of hominid evolution, people's diets were abundant in seafood and other sources of omega-3 long chain fatty acids (EPA & DHA), but relatively low in omega-6 seed oils. Anthropological research suggests that our hunter-gatherer ancestors consumed omega-6 and omega-3 fats in a ratio of roughly 1:1. It also indicates that both ancient and modern hunter-gatherers were free of many modern inflammatory diseases, including heart disease, cancer, and diabetes, which are the primary causes of death and morbidity today. You can find a list of oils that contain high levels of Omega 6s, here. They aren't all bad. Just be sure you are consuming Omega 3s and 6s in the correct ratio.
8. Fake Butter (Margarine)
That's right, it is time to go back to real, organic, grass-fed butter – not margarine! Margarine is made by heating a very cheap vegetable oil that is already damaged to extremely high temperatures (creating free radicals), strong pressure is applied, and the hydrogen is forced into the structure of the oil to make it solid. This might not sound so bad, but they need to use toxic chemicals, nickel oxide, for example, to force the change in molecular structure so that you end up with margarine. Go back to real butter. It is so much better. Real butter contains high levels of Vitamin K and other nutrients, and fake butters do not. Check out NaturalSociety's post Butter vs. Margarine to learn more.
9. Low Carb Foods
Have you tried the Atkins diet and failed at losing weight? It shouldn't be a big surprise when you realize what is in many of this company's foods as well as others in the industry promoting the 'low-carb' diet. Here is an ingredient list for an Atkins bar – doesn't look like food at all does it? A balanced diet full of whole, nutritious foods is always a better way to lose weight without stuffing your body full of toxic, carcinogenic chemicals that can wreck havoc on your endocrine system and make losing weight even harder.
10. Vitamin Water
It even sounds healthy, but Coca-Cola's Vitamin Water is one of the biggest marketing scams ever invented. Even the company's own lawyer admits this fact. In response to a recent lawsuit against Coca-Cola filed by the Center for Science in the Public Interest (CSPI), Coke's attorneys replied in court briefings that, "…no consumer could reasonably be misled into thinking vitamin water was a healthy beverage." So what's the problem? The beverage should really be named artificially colored and flavored sugar water. Besides, it contains only trace amounts of synthetic, chemical vitamins which most people's bodies can't assimilate, so skip the pricey bottle, drink some real, purified water, and eat some greens. You'll be better off. What's more, the company recently shelled out over $3 million to defeat GMO labeling – do you want to support a company who doesn't want you to know what is in your food?
Source:
Polar vortex: "wild" winter is coming in the US, Northern Europe and East Asia after the 16th of January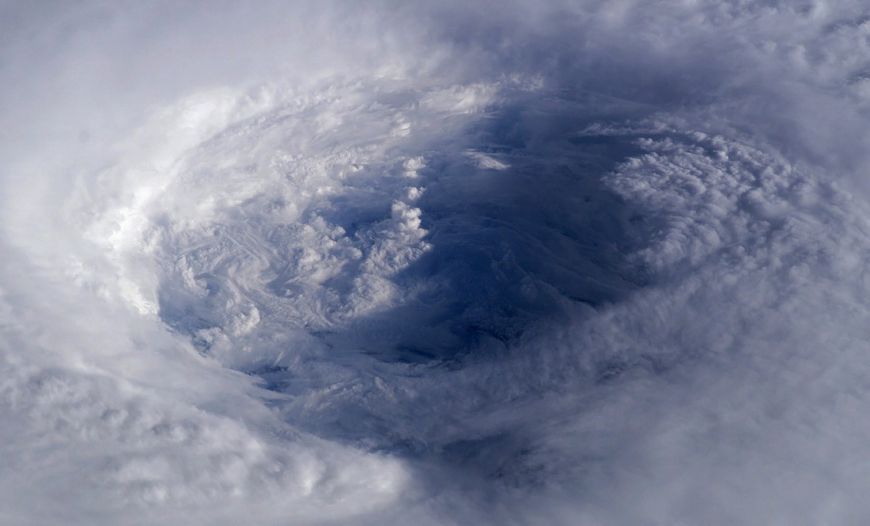 In the upper atmosphere above the North Pole, experts saw a rapidly swirling vortex of cold air that could bring severe frosts to the United States, Northern Europe and East Asia. Serious cold snap and snowy weather are expected after January the 16th.
Snowfalls and a cold snap hit South Korea since the start of 2021, hitting historic snow maximums and temperatures. In the country, for the first time since 1964, television and newer communications are sending people cold snap warnings:
The situation is similar in Japan, where a new snow storm hit historic highs:
On January 7, the thermometer In Beijing dropped to -20 degrees Celsius, breaking the 1966 record. In other regions of China, the temperature is also not sugar, and you can only move around in special uniforms:
The cold even reached Taiwan, where the temperature in some areas dropped below freezing point, snow poured down and people realized that rice terraces can be used as a ski jump:
Even more snow went to Spain, where on January 6, 2021, a temperature of -34.1 ° C was recorded – the lowest on record. After that, a snow storm hit the country, which has not been seen for 80 years:
The same thing happens in Canada and in the northern states of the United States:
It seems that after a stratospheric warming, the subpolar vortex began to split:
The vortex itself is a standard phenomenon. However, this time experts were surprised at his movement. It is possible that in the near future it will be divided into two parts. 
Scientists associate the strange behavior with the changed climate in the Arctic, which has become warmer. From September to December, the amount of ice cover decreased significantly.
The polar vortex is a low-pressure region located in the stratosphere and filled with cold air. When the jet stream of air that holds the vortex weakens, the low pressure area moves south. 
As the ice shrinks, more moisture will move inland. It will turn to snow, so snowfalls are expected. Snow, in turn, reflects heat, leading to a cold snap.
Hospital in Naples was evacuated after a new, huge sinkhole appeared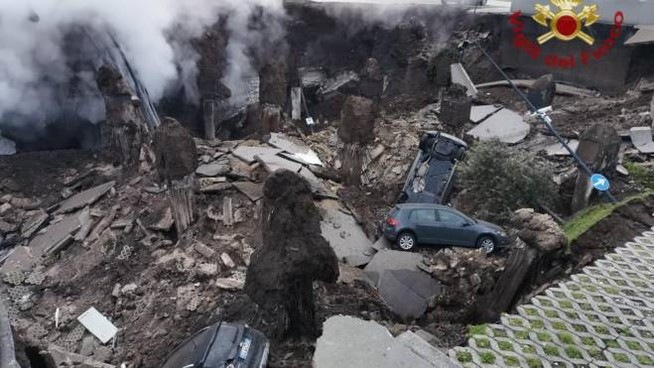 Eyewitnesses said they heard a loud crash at dawn when a huge hole in the ground formed outside the Ponticelli Ospedale del Mare hospital in eastern Naples.
Early in the morning of January 8, 2021, a sinkhole occurred in the parking lot of a clinic in Naples. The depth of the formed cavity is about 20 meters, the total area of ​​the hole is about 2,000 square meters.
No casualties were found at the scene; firefighters say the sinkhole "affected an area of ​​about 500 square meters" and engulfed several cars parked near the hospital.
As the press writes and as a little can be seen from the videos, rescuers and firefighters were running around the pit together with the governor of the area.  But who should be there in the forefront are Italian geologists, since Naples stands in the very center of the volcanic system known as the Phlegrean Fields.
If the surface collapsed, moreover – the surface reinforced with concrete and reinforced from below with some kind of communications, then we are talking about serious soil deformations caused by the activity of magma.
Italy has been in doubt since the summer of 2020, because swarms were observed there in very atypical places in May, and according to the forecasts of old Italian seismologists, who had witnessed many strong earthquakes, it should have boomed in the August region.
Fortunately, nothing bad happened to Italy and there was no big earthquake. But, since there are swarms, it means that something is being prepared, the magma is gathering strength. 
Following this particular sinkhole event – an obvious sign that a major earthquake in Italy is already very close.
A new great pandemic cycle has begun (again) in China
In the first months of 2020, the whole world with a certain fright followed the events unfolding in China, where people fell on the streets during the day and astronauts wandered, and in the evening crematoria began to smoke. And now, with the onset of December, the cycle seems to be repeating itself.
Shunyi area in Beijing, where the authorities announced "wartime status" the day before. As you can see in the videos, thousands of people are lined up in the queue for mandatory testing:
Dalian city, where "wartime" is also declared. Neighborhoods are blockaded, people are walled up in entrances, familiar characters of George Lucas roam the streets:
Chinese 'rescuers', before performing a combat mission:
Chengdu City:
Daluo Port, Yunnan – tourists came for adventure and they received the 'time of their life' after leaving the ramp:
If something happens in Beijing, it does not mean that tomorrow the same will happen everywhere. However, the trend towards such dynamics is observed and, as the practice of the first wave of the pandemic has shown, all countries and people, to one degree or another, have taken into account the 'Chinese experience'.
Therefore, one must think that everything will now be in peace, as in spring – a new global round of the fight against the Covid has begun in China, a new great pandemic cycle!