Not for the Faint of Heart: How the Human Body Decays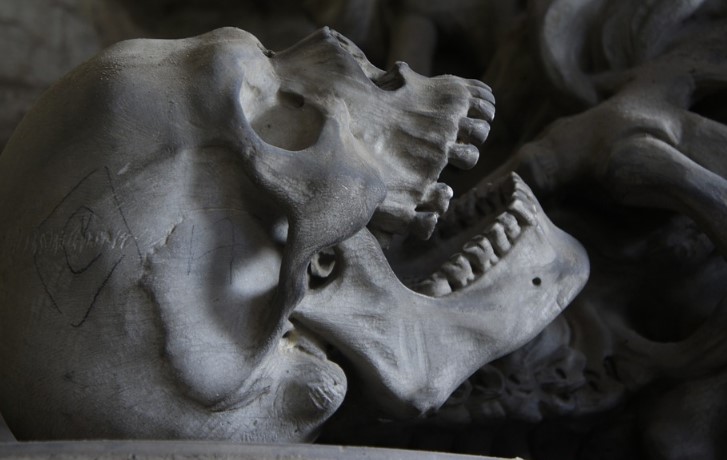 Researchers at the Anthropological Research Facility at the University of Tennessee (the Body Farm) are charged with studying how the process of decay on human bodies takes place.
There, donated cadavers are observed and examined outdoors under various conditions to determine just what happens at specific times to a body in the process of decaying.
Among other uses this information is invaluable in helping law enforcement officials accurately determine time of death in criminal cases. While the process is not for the squeamish it provides a interesting glimpse into how our bodies are reclaimed by the earth.
Death and Rigor Mortis
The moment a person dies their body begins to cool at the rate of about 1.5 degrees Fahrenheit per hour. This cooling process continues until the cadaver reaches the same temperature as the air around it.
Rigor mortis, the stiffening of the bodies muscles due to a lack of ATP (adenosine triphosphate), begins within 2 to 4 hours after death at the head and neck. The process proceeds down the entire length of the body until finally disappearing within 10 to 48 hours.
Flies and other insects quickly arrive at a cadaver and lay larvae at bodily orifices where the maggots can most easily gain entry to the body's interior. These entry points include the eyes, mouth, genitalia, and any open sores. The goal for the insect larvae is the fat that lies just under the skin which they can then feed and grow on.
Autolysis, The Body Eats Itself
In a living human body enzymes within cells metabolize various substances which are then used to fuel the body. When a person dies the cells no longer have the ability to control these enzymes and they begin to break down the cell walls with the interior fluid leaking out.
The liquid from the eyes is one of the first things to go in a cadaver, spilling out of the eye sockets. "Skin slip", or "gloving", occurs as this cellular fluid leaks between layers of skin and loosens them. Entire sections of skin can then slough off a cadaver.
Autolysis is the process of self-digestion that occurs within a cadaver as all this leaking fluid provides food for bacteria located throughout the body; in the lungs, the intestines, and on the skin for example.
Feasting on all this food, bacteria migrate throughout the body causing it to bloat as it fills with gasses that the bacteria expel as waste. A living human being expels this gas on their own, but with no working digestive system a cadaver just fills up with gas.
The most bloating takes place where the largest colonies of bacteria live, typically in the stomach, the mouth (making the lips and tongue bloat), and the genitals.
Bloating continues for about a week until some part of the cadaver gives way, usually the intestines or the torso itself splitting open releasing the pent-up gas. During all this autolysis and bloating the insects have been busy feeding with larvae continually growing larger and more numerous.
Putrefaction and Decay
Putrefaction is the dissolving of the body's organs that takes place as bacteria continue to eat fluids that have leaked out of the cells. Because of their high concentrations of bacteria, the lungs and digestive organs liquefy first. The brain goes quickly also, as the bacteria in the mouth work through the soft upper palate, feeding on the organ from below.
Eventually the organs in the torso have all dissolved into an unrecognizable, soupy mixture. Meat-eating insects along with bacteria will also attack the muscles for food.
Depending on the environment and weather conditions the skin may or may not be consumed. With this the process is nearly complete and the body has quietly returned back to the earth from where it came.
We Have a Cure for the Deadliest Form of Tuberculosis
The Food and Drug Administration just approved the third and final part of a new drug regimen shown to cure the deadliest strain of tuberculosis.
The regimen involves taking five pills every day for six months straight, but that's nothing compared to the existing treatment, which requires 40 daily pills for two years, according to The New York Times. And in a small clinical trial, the new treatment was shown to cure the rare, deadly XDR strain of tuberculosis in 90 percent of people, suggesting that the disease could soon become much more manageable.
Tuberculosis is still a major problem in a large chunk of the world. The disease is the most common infectious cause of death on Earth, the NYT writes, and the XDR strain had already built up a resistance to all four types of antibiotics that doctors currently use to treat it.
Ten million people catch XDR tuberculosis every year. Three-quarters of those people die before they get any treatment, per the NYT, and existing cures only worked on just over a third of the remainders.
The new treatment requires three separate drugs, the newest of which just got FDA approval. Gerald Friedland, one of the scientists who discovered the XDR strain told the NYT that he thought the recent experiment was "a wonderful trial."
"If this works as well as it seems to," he said, "we need to do this now."
New Virus Takes Screenshots of Users Online Porn Searches
'Sextortion' in the making…
via sputniknews:
A new harmful virus is going after naughty victims searching for porn online, or using any other sex-related website in the most unexpected, low-blow way.
Slovakia-based IT security company ESET has warned French users about a new virus, dubbed Varenyky that allegedly records their device screens when it detects key words used to search for porn (i.e. XXX, pornhub, sex).
When these words appear, the malware could record the screen using an FFmpeg executable and then upload the video to the command-and-control (C&C) server using a downloaded Tor client.
As soon as the Spambot Trojan, which was first detected in May in France, makes its way onto people's computers, it can get access to their passwords and emails, and potentially send the X-rated snaps to a victim's family or friends – or even use them for blackmail.
A spike in ESET's telemetry led our researchers to discover #Varenyky, a #spambot able to spy on victims' screens while they watch sexual content, enabling very real #sextortion campaigns. @welivesecurity @ESETresearch https://t.co/W8WQ79oazg pic.twitter.com/gU0S4g8WCO

— ESET (@ESET) August 8, 2019
The malware, which is still being developed by unknown hackers, also sends spam emails pretending to be invoices or bills, and once people open an attachment, it is able to extract usernames and passwords.
"Researchers observed a spike in ESET telemetry data regarding malware targeting France. After further investigations, we identified malware that distributes various types of spam. One of them is leading to a survey that redirects to a dodgy smartphone promotion while the other is a sextortion campaign. The spam targets the users of Orange SA, a French ISP. We notified them before the release of this publication", ESET said in a report.
Even though the Varenyky malware is able to spy on victims' screens, at this point ESET is not aware of any kind of sextortion activity.
NASA Figured Out How To Make Food Out Of CO2 – It Could Feed Billions
A company from Finland, Solar Foods, are planning to sell food created from carbon dioxide (CO2). They are, quite literally, creating food out of thin air! The company has plans to bring a new protein powder, Solein, to market. It's made out three simple, cheap, and readily available ingredients – CO2, water, and electricity. While this may not sound appealing at first, it's actually incredibly nutritious. Essentially, its a high-protein, ingredient, resembling flour, that contains 50 percent protein content, 5–10 percent fat, and 20–25 percent carbohydrates.
There are a massive number of potential uses for an ingredient such as Solein and it is expected to be the main component of a lot of foods when it hits the shelves in 2021. It's most likely to first appear in protein shakes and yogurt, both of which are simple foods to add it to. This may be a very exciting development as the creation of Solein is carbon neutral but it also helps remove CO2 from the atmosphere, being beneficial in two respects!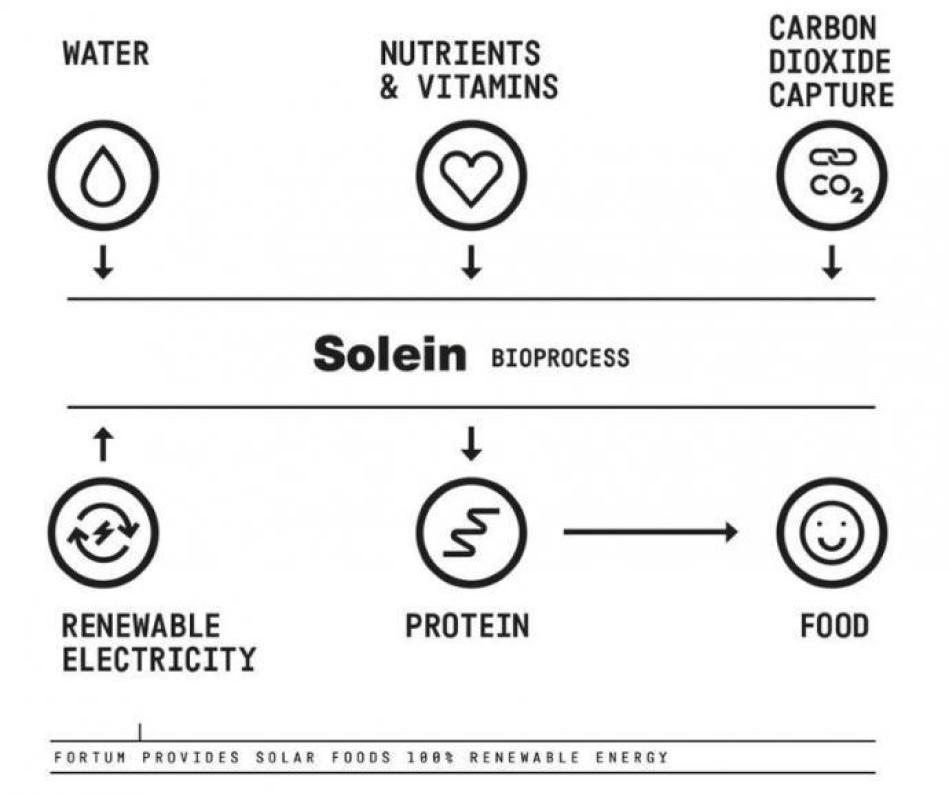 Beginning in 2018, Solein has come so far since it was created. NASA actually came up with the idea first and Solar Foods has since taken it to a commercial level. With plans to release the product as soon as 2021 and produce 2 million meals every year, it won't be long before Solein is in everything. By 2050, the company has high hopes to be providing sustenance for up to 9 billion people as part of a $500 billion protein market. At the rate things have taken place so far, there's no doubt that Solar Foods will achieve their targets.
To create Solein, Solar Foods extracts CO2 from the air using carbon-capture technology. Then, they combine the carbon dioxide with water, nutrients, and vitamins, using 100 percent renewable solar energy from their partner, Fortum, to promote a natural fermentation process similar to the one that produces yeast and lactic acid bacteria. This is such a natural process, needing no man-made products, that it could single-handedly solve the world's food crisis.
Furthermore, Solar Foods has claimed that their product is completely free from agricultural limitations, and they aren't lying! Solein can be grown indoors so there's no need for arable land, and it's not dependent on favorable weather either. In fact, this seems so promising that the European Space Agency has already started working with the company in an attempt to develop foods for off-planet production and consumption. This could be the answer that they have been looking for.
Source www.disclose.tv