The Noömass Hypothesis: Is Dark Matter Made of Knowledge?
. . . In that Empire, the Art of Cartography attained such Perfection that the map of a single Province occupied the entirety of a City, and the map of the Empire, the entirety of a Province. In time, those Unconscionable Maps no longer satisfied, and the Cartographers Guilds struck a Map of the Empire whose size was that of the Empire, and which coincided point for point with it. (Borges, "On Exactitude in Science")
I've argued previously that the idea of expanding spheres of colonization—ships full of families settling on new planets, having more families, etc.—fails to reflect our own destiny as immortal creatures and thus may be an unlikely agenda for extraterrestrial civilizations either. Yet if we confine interstellar "expansion" to the expansion of the noösphere, the enlargement of knowledge of the cosmos, then a more realistic picture emerges, one that conforms not at all badly to the long history of human interaction with seemingly nonhuman technology (leaving aside humanoid visitors—I'm referring mainly to orbs, spheres, and other technologies that don't seem like they have little pilots inside).
Mathematical models (such as presented in a recent article by two mathematicians in Scotland, Arwen Nicholson and Duncan Forgan) dictate that the earth should long ago have been visited by extraterrestrial Von Neumann probes. As I suggested in a post on such probes, it seems reasonable to assume that since long before there were people and even long before there was life here, this planet has played host to automated surveillance technology, roving science platforms, probably having multiple origins but "living" right here. And we'd be unexceptional—just one of billions of worlds similarly swarming with intelligent surveillance machines taking various forms.
Needless to say, such a knowledge-gathering project undertaken for billions of years by numerous separate ET intelligences would produce, over the aeons, more than mere mountains of data. There would need to be some material or energetic substrate or "server" to support this knowledge. What if the invisible "dark matter" that is needed to make our current cosmological models consistent consists partly or even entirely of noömass, matter/energy that has been metabolized into information and that advanced intelligences have perhaps sequestered into the very folds of spacetime?
Borges imagined a map as big as the country it represented; perhaps there are already many maps nearly as big and as detailed as the rest of the (dwindling) universe. It may not be only a known universe but a multiply known universe—known and re-known many many times over, in such detail that it can be inhabited and manipulated and remade for countless alien experiencers, countless knowers ancient and immortal, some of whom arose long before our planet even formed. Their ubiquitous drone science platforms scour and record "all that is knowable" and, ultimately, may assimilate the rest of the universe (what is left, what we still see with our telescopes).
The Russian Cosmist
Vladimir Vernadsky, who first coined the term noösphere, was referring to the collection of human scientific knowledge, the sheath of "thinking matter" that surrounds the earth; it is a concept that has been compared to the "Akashic Record" consulted by clairvoyants in the Theosophical and Anthroposophical tradition. What if the collected record of the entire Cosmos, mechanically archived and updated by the ancient machines of dawn sentiences, is really out there (and everywhere)?
"V'ger" in the first (and I think way underrated) Star Trek movie was an ancient, autistic machine intelligence scouring the galaxy to "know all that is knowable," assimilating everything into a vast, hyper-detailed representation. I wonder: Could just a few thousand or a few million V'gers across the universe, all with the same idea, end up devouring the whole thing, metabolizing the unknown into the known?
The "known universe," in other words, could be just that, literally: known, and in far greater detail, by someone else, or lots of someone elses. What's missing from what we see—all that "dark matter"—could be precisely their knowledge of what we see, which includes their knowledge of us.
Perhaps we should give up looking for radio signals and dim Dyson Spheres (imagining advanced extraterrestrials to still be biologically based "civilizations" huddled around their stellar campfires) and start looking for pure information, something like the Akashic Record, more massive than the visible universe, enfolded in the fabric of spacetime itself.
NASA Images shows a huge cube shaped UFO approaching the sun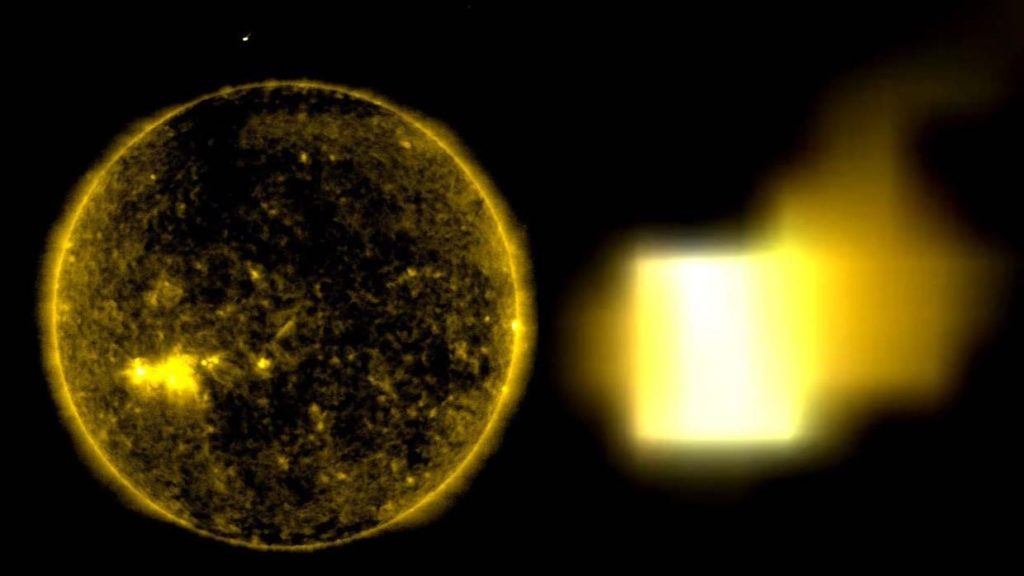 As a cutting-edge space exploration agency, NASA is also in the crosshairs of all kinds of extraterrestrial conspiracies. And so, every year, to find out what the US space agency is hiding, people search Google for the phrase "hidden NASA. " And among so many conspiracies, one of the most popular theories is that extraterrestrial civilizations are feeding on the energy of our Sun. But, incredible as it may seem, this hypothesis is not as farfetched as it seems. In 2016, scientists discovered a strange microbe in the depths of a gold mine in South Africa.
Known as Desulforudis audaxviator, rod-shaped bacteria grow 2.8 kilometers underground in a habitat lacking the things that drive the vast majority of life on Earth: light, oxygen and carbon. Instead, it obtains energy from the radioactive uranium in the depths of the mine. For, scientists this finding provided a model of how life could survive in seemingly unlivable environments throughout the cosmos. But it could also show that life in other parts of the universe could be "feeding" on the radiation of space, like that of our nearest star. And maybe the discovery of the bacteria can also explain the mysterious cube-sized structure that has appeared near the Sun.
The extraterrestrial cube shaped UFO
Popular UFO researcher Scott C. Waring has seen a cube-sized structure accessing the Sun in one of the images sent by NASA's SOHO Solar and Heliospheric Observatory. Waring said that the structure similar to a cube is approximately the same size as Earth. Interestingly, the strange pixelated object seems to be perfectly cut into a square shape. Also, it seems to leave a trail behind it with a white glow around it.
"Today I found a UFO the size of Earth near our Sun," writes Waring in his blog UFO Sightings Daily. "Will you wonder how it is possible? Because its size is like Earth's. It is not necessary to say that it is great. If you use the SOHO icon to compare, then it is a little bigger than Earth, but I want to not make a mistake … and I mean it is the size of Earth. Do you feel better?"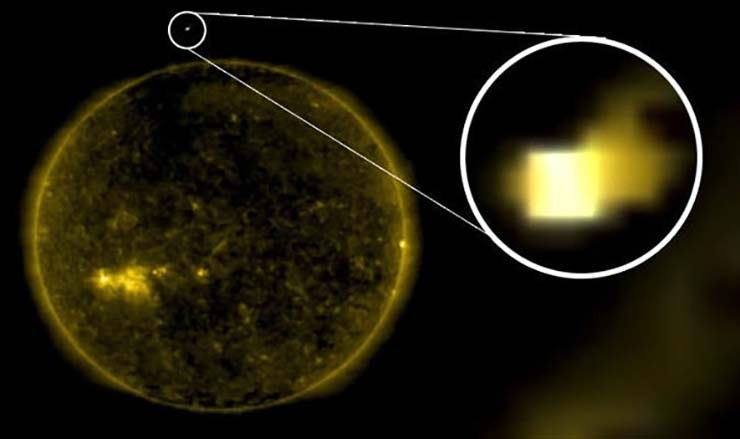 The independent researcher also added that the extraterrestrials have advanced technology capable of withstanding the extreme temperature of the Sun.(cube shaped UFO)
"How do aliens do something this big? Easy, the aliens live forever, "Waring continues. "They tell a robot to create the spacecraft, it tells him the size and requirements. Time is not important in its construction. A robot builds 10 more robots. Those 11 robots build more robots and so on until there is an army of thousands of robots working to obtain materials, make technology and build this giant ship. What could take millions of years to finish? But since you do not die, millions of years will pass quickly … so while you enjoy your life, those little robots of yours are creating a spaceship the size of Earth. There you have it! "
Related to the closure of the National Solar Observatory in Sunspot, New Mexico?
A few weeks ago, the sudden closure of the National Solar Observatory in Sunspot, New Mexico, caused all kinds of speculation about whether NASA had found something strange near the Sun. As we published, the past 6 In September, the FBI entered Sunspot, New Mexico, with a Black Hawk helicopter, and evacuated the solar observatory. In addition, a nearby post office and a dozen homes were also evicted. The FBI did not confirm or deny such a mysterious operation. The Association of Universities for Research in Astronomy (AURA), responsible for managing the installation, also gave no further information, only explaining that it was a  "security problem".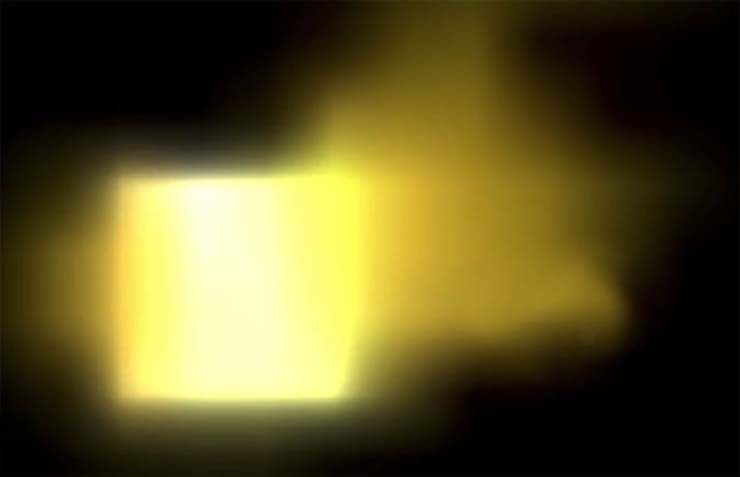 This led some conspiracy theorists to suggest that the FBI took quick action to close the observatory by the presence of extraterrestrial spacecraft near our nearest star. What's more, an astronomer corroborated this theory, claiming to have seen a huge UFO followed by a fleet of smaller ships passing behind the Sun.(cube shaped UFO)
So, if we take this theory for granted, maybe the square is hiding a large alien spacecraft. However, skeptics argue that the strange cube-sized structure could be the result of a technical failure. And the truth be told, everything is possible.
Is it an extraterrestrial spacecraft absorbing the Sun's energy? Or do you think it could be a technical failure?
Historic Paintings That Clearly Depict UFOs
Many old historic paintings are believed to portray weird flying objects. Many of these images, especially the ones showing religious events, are recognized as an authorized piece of art.
According to many believers, these are nine artworks that clearly show remarks of unidentified flying objects.
1. The Annunciation With Saint Emidus – 1486.
The Italian artist Carlo Crivelli created this painting in 1486. It illustrates Virgin Mary briefly before she understands she is going to give birth to Jesus.
The opinions over the ray of light emerging from a spherical hole in the sky to Mary's head are divided.
According to the mainstream artists, the light is, in fact, the halo of the Lord.
On the other hand, UFO enthusiasts believe the beam of light is a disc-shaped UFO. Some of them even theorize that Jesus is not divine but rather engineered when Mary was taken and impregnated by aliens.
2. The Crucifixion Of Christ (Kosovo) – 1350.
The Crucifixion of Christ is one of the many historic paintings for which the UFO believers have a rather alternative opinion.
This artwork is located above the altar of the Visoki Decani Monastery in Kosovo and it illustrates the suffering of Jesus with a mysterious floating craft in each top corner of it.
It even seems like a person is operating each of the crafts. For example, the alleged pilot in the top right corner seems to look back at the other craft behind him. Both of the pilots look like they are wearing some sort of space suit.
However, in the era when this painting was created, such a belief would have been regarded as blasphemy for sure.
3. The Baptism Of Christ – 1710.
1710's The Baptism of Christ by Dutch artist Aert de Gelde, according to UFO pursuers, clearly shows an unknown object glowing luminous lights toward the baptism spectacle.
Gelde was a student of the famous painter Rembrandt. Many people consider his paintings to communicate the deep secrets of the Vatican's art records.
The painting is currently located in the Fitzwilliam Museum in Cambridge, UK.
4. The Madonna With Saint Giovannino – the 1400s.
In this painting, flying object can be perceived behind the left shoulder of the Madonna. Moreover, there is a man looking towards the craft, with his dog obviously barking at it. Many concluded this is a sign the object does not represent something divine.
According to some explanations, the pose of the Madonna implies she is guarding her children against the dangerous beams coming out of the craft.
5. La Tebaide – 1400s.
La Tebaide is one of the historic paintings created in the mid 15th century by Paolo Uccello. It shows a combination of scenes depicting particular features of religious consciousness.
In particular, there is a part of this painting showing Jesus Christ on the cross. UFO pursuers managed to detect a red disc-shaped UFO at the corner of this specific scene.
Mainstream scholars explain that the red craft is, in fact, the traditional cardinal's hat. The person who kneels in front of the cross is wearing such a hat which looks like a craft.
On the contrary, the other opinion suggests that the UFO leaves red trails that represent erratic actions.
To sum up, La Tebaide is currently on exhibit at the Academy of Florence, Italy
6. The Crucifixion Of Christ (Georgia) – 1600s.
The Crucifixion Of Christ is located in Svetishoveli Cathedral in Mtskheta, Georgia. On it, there is a flying object visible on each side of the Cross.
Similar as the Crucifixion Of Christ of Kosovo, it also shows as there were two pilots in either of the crafts.
This particular concept of extraterrestrial motifs in Jesus's paintings is an idea especially imposed by the supporters of the ancient alien theory. In fact, they believe Jesus was a mix between a human and an alien.
7. Glorification Of The Eucharist – the 1600s.
The Glorification of the Eucharist was created by the artist Ventura Salimbeni in the 1600s in the Church of San Pietro in Montalcino. According to the UFO theorists, this is one those historic paintings that imply alien life is real.
Namely, they believe that the globular object between Jesus and the Holy Father represents an apparatus for supervising. As a matter of fact, in the down left corner of the object, there is a telescopic 'eye'.
Some people even suggested a resemblance between the globe and the first satellite into space globally famous as Sputnik 1. This similarity, then again, they say it could signify that our ancestors were able to predict the future.
8. 'Israel, Put Your Hope In The Lord' Painting – the 1600s.
Being one of the most mysterious historic paintings, 'Put Your Hope On The Lord' depicts a vast disc-shaped object just over a burning church.
This painting is currently located in the Church of the Dominican Monastery in Sighisoara, Romania. For those that don't know, this place belongs to Transylvania – the legendary place of birth of 'Vlad III Dracula'.
There is no known reciprocity between Dracula and the painting, however, many suggest there is.
Dominant scholars explain that the object is nothing more than smoke coming out of the burning church. But do you actually believe them?
9. The Miracle Of The Snow – 1428–1432.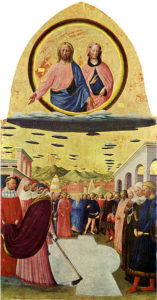 The Miracle of the Snow was painted by Masolino da Panicale. It illustrates the fable of a snowy blizzard that suddenly happened in Rome on a summer day in August.
The painting further depicts how Jesus and Mary sit on a cloud, observing the stunned people as they were cleaning after the snow.
Nevertheless, ufologists argue that there are several disc-shaped clouds or as they prefer, objects, right behind Jesus's cloud.
The MUFON World UFO Center receives a strange report from an "Extraterrestrial Entity"
A strange report was presented at MUFON, the world's largest UFO research organization. The report comes from a person who claims to be an alien to the Extraterrestrial Entity that would have stranded on Earth. The Mutual UFO Network, MUFON, a UFO research organization and Alien Contact, commonly regarded as the world's largest organization that investigates reports of aliens and UFO sightings may have recorded the first extraterrestrial contact to receive a strange relationship presented by someone who claims to be an extraterrestrial entity This report was sent on February 8, 2016. The case ID is 74362.
The relationship of this apparently afflicted "alien" and is identified as "Mogay" seems to ask for help, and according to MUFON, it is the first time that the organization has received a relationship of an "entity" that claims to represent a form of intelligent extraterrestrial life.
Mogay claims to have arrived on Earth because of an apocalyptic event on his planet and he needs urgent help, having arrived in September 2015 from a distant sector of the galaxy. Morgay at the moment says he is waiting for an answer from MUFON, Mogay resides in a human body, says that occupies the body of a human with his consent. Mogay has revealed that in its natural state it exists as an electromagnetic wave (or energy field) and is also able to take control and reside within the bodies of humans and other extraterrestrial species.
The strange being seems to have difficulty learning English in his new human body (which he supposedly borrowed). Al MUFON wrote: "I am an alien adopted by humanity. You can call me Mogay. " Explain that he and a group of his species were refugees from a distant world called Matif. They escaped to Earth after a catastrophic collision between their homeworld Matif and a celestial body that hit him. Mogay writes in characteristic English: "We remain like an electromagnetic wave, and normally we use replaceable bodies to work with.
A celestial body made the majority of our team unable to work, we tried to escape from Matif, but we failed and the celestial body (perhaps a comet or asteroid) hit our planet. Despite the adverse effects of the celestial body, we had time to take refuge using a transfer system. The disaster in Matif brought us to Earth. "
Mogay also reported that the group of Matif's alien refugees arrived on Earth in September 2015, but nobody was aware of their presence because they are like pure electromagnetic waves, and they do not look like little green men as Earthmen think. But Mogay apparently found a human being who was willing to "adopt" him.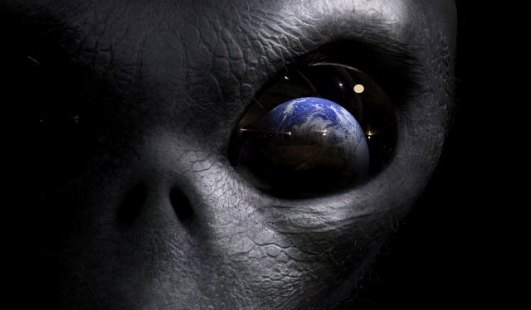 "We are extraterrestrial beings who do not have enough protection on Earth and we need your help. I live in a human body now, and this is also the reason why your people have adopted me. I learned their languages in this body, so I can talk to you, "writes Mogay. But despite having found a human body and the opportunity to learn about human culture and language, I have not been able to convince governments that I really am an alien from a distant galaxy that needs help. In the end, Mogay decided that the best way to get in touch with the government was through the largest organization in the world of UFO researchers, namely MUFON.
MUFON admits on its website that it often receives false reports. Therefore, MUFON officials say it is very likely that this SOS of Mogay is just another false alarm.
The MUFON verdict
MUFON on its reporting website UFO has cataloged this report as HOAX, or False. However, on 15 February (2016) the same supposed extraterrestrial entity that calls itself Mogay sent another report (with case ID: 74503), this time claims to be interested in getting in touch with UNOOSA ("Office of United Nations for space affairs. "Mogay also tells MUFON that if they help him, they will get a good reward and that if they wish, they can prove their identity, which is why a presumed letter (e-mail) provided by the Nations Unite, is attached to the report and is shown below:
The sender of the previous post (it has not yet been confirmed that it was really her) is Kerith McFadden, associate librarian of the Dag Hammarskjöld Library of the United Nations. Presumably, she would have replied to Mogay's emails, but nothing has been confirmed yet.
Mogay also claims to have a Twitter account, where he can receive private messages from MUFON officials if they wish. Although this story has all the clues of being a farce; the case to date is still under investigation. Above all, the authenticity of the email attached to the report should be validated, so MUFON experts consider authentic emails. Is all this true or false? Or is it just a joke at MUFON?