Nine of the Most Haunted UK Roadways 
If you're planning a journey along these strange highways, you'd better cross your fingers and reach for a four-leaf clover.
Because you can consider yourself extremely unlucky if your car breaks down on one of these lonely stretches – as you could end up with more than just a mechanic for company! Car breakdown experts at leading UK recovery firm 24|7 Vehicle Rescue have combed through the archives of paranormal sightings to compile this list of the "UK's most haunted roads". And one East Yorkshire road makes it on the list.
Spokesman Ranjen Gohri says: "Britain is a land steeped in superstition, myth and legend.
"So it's no surprise to learn that there are thousands of strange and unexplained sightings on our roads, with many reports coming from isolated highways that cut through barren stretches of moor and mountain.
"Breaking down by the side of the road is clearly never an enjoyable thing.
"But we imagine the situation is made even worse when you're seeing things through your windscreen, or rear view mirror, that really shouldn't be there!"
East Riding of Yorkshire: B1249 between Driffield and Staxton Hill
Real life wolves roamed the wooded farmland of the East Riding of Yorkshire up until the 15th century, when they were hunted to extinction. But it's wolves of the supernatural kind that get glimpsed there now.
One werewolf report from the 1960s, and documented by author Charles Christian, describes how a lorry driver was left terrified when a red-eyed hairy creature tried to smash its way through his windscreen as he drove along the remote road.
Then in August 2016, motorist Jemma Waller, 24, described seeing a monster which looked "like a big dog, ­probably bigger than my car, but it had a human face" in the nearby village of Halsham.
Dartmoor: B3212 between Dunsford and Yelverton
Dartmoor is described as the most remote location in southern England. And the B3212 which cuts through it is home to mysterious "hairy hands" myth – with motorists describing how a disembodied pair of mitts grabs their steering wheel and tries to run them off the road.
In 1962 holiday-maker Florence Warwick was driving the route when she stopped the car to look at a map. She recalled: "I looked up and saw a pair of huge, hairy hands pressed against the windscreen. I tried to scream, but couldn't. I was frozen with fear."
Another eyewitness in 2008, Michael Anthony, told how a pair of "paws" appeared over his own hands while driving.
Kent: A229 at Blue Bell Hill
The ghost of a young bride has been terrifying motorists – and baffling police – on this stretch of road between Maidstone and Chatham since 1974.
The legend began when 35-year-old bricklayer Maurice Goodenough ran frantically into Rochester Police Station claiming he's just knocked down a young woman in her mid twenties near Blue Bell Hill.
He told cops: "The girl's just walked out in front of me from the edge of the road. My car hit her with one hell of a bang". Yet police and tracker dogs found no trace of any victim.
The same thing happened again in 1992 when 54-year-old coach driver Ian Sharpe experienced a similar thing.
At the time, PC Roger Ginn reported: "Once we were satisfied there was no sign of an accident, no damage to his car, and particularly in view of where it had occurred, we just had to write it off as another sighting of the Blue Bell Hill ghost."
Surrey: A3 at Burpham
In December 2002, Surrey Police investigated reports of a car seen swerving off the A3 near Burpham.
They eventually found a car in a ditch containing the remains of a driver – but the motorist had perished some five months previously, leading to speculation the sighting had been a ghostly re-enactment of the crash which killed him.
Sergeant Russ Greenhouse, of Surrey Police, said: "The car was discovered as a result of a report from members of the public who thought they saw a car's headlights veering off the road.
"The officers could not identify that collision but they had the presence of mind to search on foot."
Greater Manchester: The A6 at Stockport, near Mersey Square
For years the A6, which runs between Manchester and Buxton, has been the haunt for a phantom female motorcycling hitchhiker, who thumbs a lift before vanishing into thin air.
Eyewitness Harold Smith recently recalled his run-in from the early 1990s, saying: "As I came down the long hill, I saw a figure on the left-hand pavement.
"She was slim with dark, straight shoulder-length hair, wearing a short jacket and trousers and holding a helmet.
"As I approached, she walked to the kerb and stuck her thumb out. People don't usually thumb lifts from motorcyclists.
"When I stopped in the lay-by and looked back over my shoulder, I couldn't see her any more. I waited, revved the engine, but gave up and rode home. The whole thing was very strange."
Northumberland: The A696 near Belsay
In August 2015 Gateshead-based radio presenters Rob Davies and Chris Felton had a run-in with a ghost dressed in RAF uniform on this remote rural road.
Rob explained: "We saw a man standing at the side of the road. We both actually jumped at first because we didn't see him until very late.
"He was dressed in a beige colour from head to toe. He was sticking his arm out for a lift, but we could not stop in time due to being at 60mph.
"We turned around and I started filming on my iPhone as it seemed a bit odd. We couldn't remember how far back he was, but we saw him again and slowed.
"He was dressed in what I can only describe as RAF gear and was holding something under his arm, which looked like a helmet or some kind of bag. It was only seconds and no other car had been past, but when we turned around he was gone."
Scotland: The A75 'Kinmount Straight'
Dubbed the "most haunted highway in Scotland", the A75 is apparently home to "screaming hags, eyeless phantoms and a menagerie of unearthly creatures", according to local paranormal investigator Kathleen Cronie.
The most famous sighting came in 1962, as reported by Derek and Norman Ferguson. They witnessed a chicken flying towards their windscreen before dematerialising, as well as giant cats and a furniture van that also disappeared into the ether.
Cheshire: The M6 between Crewe and Knutsford
Many motorists have been distracted by what looked like Roman Soldiers marching on the side of the highway, while others have reported hitting "translucent" figures with their vehicles.
One report, from an eyewitness travelling home to Wirral, told last month: "It was a really freaky experience. I was driving on the M6, around junction 17, when I thought I saw a figure ahead.
"I immediately slowed down. I could seen that this 'person' was in the middle lane. To me, it looked like the figure had run across the lanes and was now waiting for me to him them – as if they were suicidal.
"But as I got closer the figure didn't look like a solid figure. It looked almost translucent. And then the figure just vanished. There was nothing there. I literally blinked and it had gone.
"I checked my mirrors and there was nothing behind me. I don't logically believe in ghosts and the supernatural. For now I'm telling myself that my brain was playing tricks on me.
"But my brain was suitably convinced that something was amiss that I slammed on the brakes and swerved to avoid hitting whatever was in my way."
Sheffield: The A616 at Stocksbridge
This stretch of road has been described as "the Killer Road" in recent years.
The Stocksbridge bypass was completed in 1989 and has been called "an accident black spot", with large numbers of fatalities.
The stories of a paranormal nature began during the building of the road when two security guards tasked with keeping watch over building materials claimed they saw a group of children dancing beneath a pylon in the early hours, they had their claims laughed off when they called Deepcar police station, with officers saying they would be better off phoning a priest"
Drivers on the road have stated they have seen a monk staring blankly over the valley beside the road, with some even stating they have seen the apparition beside them in their vehicle!
Sophie Kitching
Hull Daily Mail
Reality show to be filmed in medieval "haunted castle" in Wales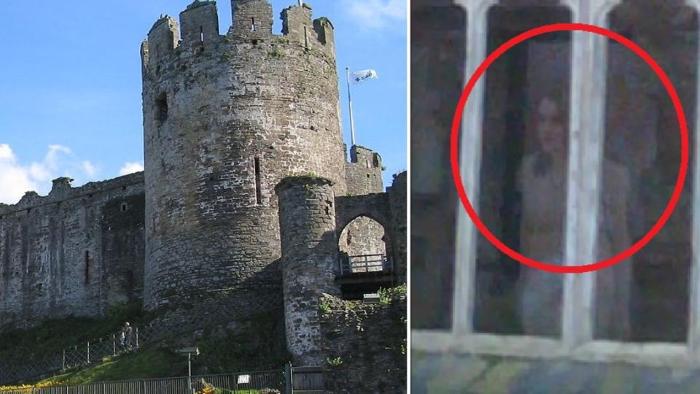 British celebrities will take part in a reality show at the medieval castle of Grich in the city-county of Conwy (Wales), which, according to legend, is full of ghosts. It is reported by The Sun.
According to data from open sources, the castle was built in 1283-1289 by order of Edward I of England. For four years one and a half thousand people erected the fortress and walls. The castle is surrounded by a stone wall with round towers and loopholes.
According to local residents, the ghost of the previous owner, Countess Dandonald, who died in 1924, wanders around the castle. According to legend, the woman's spirit is angry because her husband took the valuables out of here. 
About ten years ago, a mysterious silhouette appeared in the photo, which was noticed on the first floor of the castle in the former banquet hall. In addition, it is rumored that objects are moving mysteriously in the castle. Also, fans of everything mystical believe that there you can meet the ghosts of gamekeepers and a maid who died after falling from a horse.
The creators of the reality survival show I'm a Celebrity … Get Me Out of Here! Became interested in the legends of the ancient castle, in which celebrities perform creepy tasks. 
The producers are delighted with Greich Castle. It is planned to spend almost 1 million pounds and six weeks to prepare the location for filming.
Loftus Hall is the most famous haunted house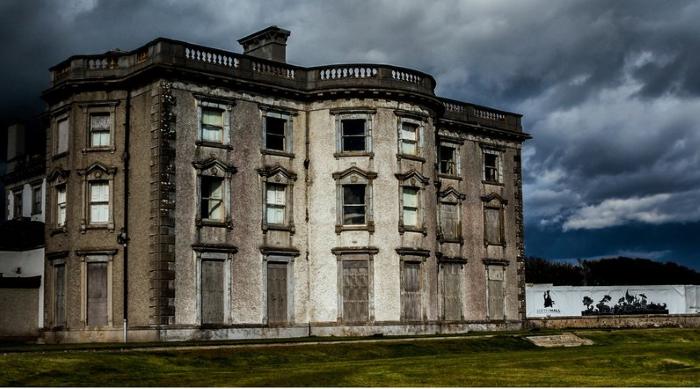 Almost any house built 150 years ago is tempting to think of ghosts. Of course, if it was not restored beyond recognition. But a special pleasure is to visit, or at least look at photographs of a house in which ghosts are definitely found. Well, exactly: in the opinion of its owners and those who live nearby.
Loftus Hall is one of those. Even if, in the opinion of the locals, ghosts were not found in it, they would be worth inventing again – this is how the atmosphere of this gloomy house located on the windswept and washed by waves of the Hook Peninsula in the Irish County of Wexford has to do this.
But, before we tell you what is so paranormal in this Loftus Hall, we suggest that you familiarize yourself with real historical events related to the house. Moreover, they are worthy of attention without any devilry.
We can say that the history of the house began in 1135, when the Norman knight, Raymond Le Gros, landed on the peninsula. To assimilate faster, the knight renamed himself the more familiar to the Irish ear by the name Redmond.
The castle, built by the knight, stood for two centuries, until in 1350 the descendants of Redmond built a new house in its place. It is interesting that they were building right during the Black Death – a plague pandemic that arrived in Ireland by ship from Bristol a year earlier. The new house, Redmond Hall, was named.
Three centuries later, in 1650, the house became the site of one of the fiercest sieges of the Irish Uprising. The owner of the house, 68-year-old Alexander Redmond, with his two sons, a couple of local activists and a tailor who happened to be in the house at an unfortunate time, barricaded himself and bravely repulsed the attack of almost 90 British for several days.
In all fairness, most of these Englishmen have crawled into neighboring villages, indulging in robbery and violence, instead of laying siege to an impregnable home.
The attack was repulsed with the help of the Irish forces arrived in time, which attacked the British under the cover of a thick fog, which in time fell on the Hoek Peninsula.
According to local chronicles, Alexander repelled several more attacks. When the British nevertheless conquered Ireland in general, and Redmond Hall in particular, Cromwell even let Alexander die in peace in his own house – for his courage.
Well, after the death of Redmond, his relatives were evicted from the house and soon the house was sold to a family of Englishmen named Loftus, who live nearby.
Subsequently, the Redmond repeatedly tried to sue Loftus Hall back, but to no avail. But as compensation, they were given land in the neighborhood.
The Loftuses moved rapidly up the court stairs. If in the 18th century the head of the family was called Baron Loftus of Loftus Hall, then already in 1800 the title of Marquis of Eli was created especially for the Loftus.
Actually, the 4th Marquess of Ely gave the modern look to Loftus Hall. A major renovation was undertaken by the Marquis in the second half of the 19th century: he very much hoped that Queen Victoria would come to visit. After all, the Marquis's mother was her maid of honor!
The Queen never came. But the 4th Marquis of Ely became the owner of a luxurious house with such unprecedented conveniences as flush toilets at that time. And, alas, the owner of huge debts. Soon the house had to be sold and its wanderings began among different owners.
In 1917, the house was sold to the monastery order of the Sisters of Providence. In 1983, the house was converted into a hotel. Well, in the early 2000s, it was acquired by the Quickly family. In 2020, it became known that the house was again put up for sale. Moreover, Quickly emphasize that they will not choose a new owner, but "the house will choose him." And that's why…
The story of how the devil sailed to Loftus Hall and what happened after his visit dates back to the 19th century. It sounds like this.
On a cold rainy night, a dark-robed rider rode up to Loftus Hall on a dark horse. He said that his ship was caught in a storm and had to dock in a nearby bay. The Loftuses were away, the family of their distant relatives, the Tottenham, lived in the house. They sheltered the rider and offered him shelter and bread.
Tottenham's daughter, young Anna, immediately fell in love with a mysterious stranger. A couple of days later, in the evening, everyone sat down to play cards. During the game, Anna dropped the map and, bending down to pick it up, saw that the stranger had cloven hooves instead of legs.
The stranger realized that he had been discovered. He immediately soared up, surrounded by devilish flames – and, as expected, made a huge hole in the roof.
It would seem that the devil is expelled, you can live on. But Anna, after the disappearance of the stranger, became not herself. She went crazy by leaps and bounds. The family, frightened by this development of affairs, locked the girl in her favorite sewing room.
There Anna sat, almost motionless, clasping her knees with her hands and soon died.
According to another version of the legend, before her death, she managed to give birth to a child – that is, the devil did not lose time during two days in the house.
Anna was not buried in an ordinary coffin: they could not straighten her and buried her in a sitting position, in which she spent the last months of her life.
Since then, according to numerous testimonies of guests and owners of the house, ghosts of a girl have been walking around the house. And the house itself has become a place of attraction for lovers of everything paranormal and creepy – excursions, especially popular on Halloween, are regularly conducted in Loftus Hall.
If you consider yourself a mystic, but do not have the opportunity to visit Loftus Hall yet, we recommend watching the gothic horror film The Lodgers 2017. It is filmed entirely in the luxe and eerie interiors of Loftus Hall, and has received excellent critical reviews. Here's the trailer:
The ghost of the Haycock Manor Hotel: a beautiful legend about a frequent visitor to an ancient building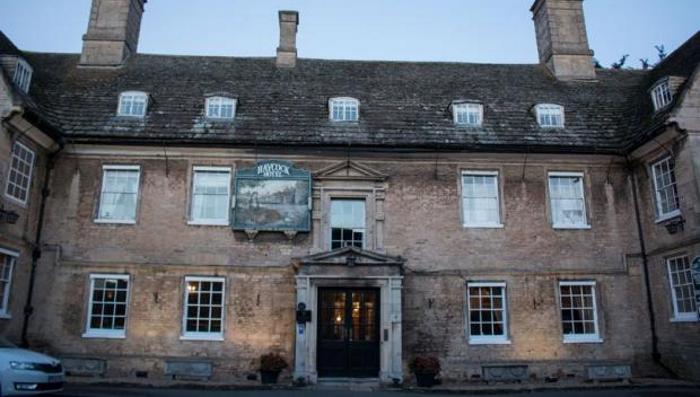 For decades, the Haycock Manor Hotel, located in the small English village of Wansford, has attracted tourists by claiming to be the home of the ghost of Queen Mary Stuart.
Mary of Scotland, aka Mary Stuart, according to legend, visited the Haycock Hotel on the way to Fotheringay Castle, where she was executed. Why, in this case, she chose a hotel in a small village as her last refuge , and not a stone castle, is anyone's guess. Nevertheless, visitors to the hotel claimed to have seen the ghost of Queen Mary, the Mirror writes.
The last resting place of Mary Stuart
Because of her intrigues against Queen Elizabeth I of England, Mary Stuart was put on trial and sentenced to death, which took place at Fotheringay Castle. On the way to the castle, Mary of Scotch stopped at the Haycock Hotel.
Despite the fact that the woman spent only one night in the hotel, this is the place she, for some reason, decided to choose as her last home. At least that's what those who encountered her ghost say.
Manifestations of supernatural powers
Many of the hotel guests, who ventured to spend the night in the last refuge of Mary Stuart, complained about strange things that happened to them.
Some guests claimed to have seen a ghost, which they identified as Mary of Scotland. Why they were so sure that the ghost was exactly Mary Stuart is not clear, because the history of England has a large number of women rulers, and it is simply impossible to remember them all.
Other hotel guests recall seeing an obscure ghostly cloud-like figure in the oldest part of the hotel. They also shared that they often encountered the feeling that there is someone else in the room – someone who cannot be seen, but can be felt.
Guests also reported that they heard quiet voices and footsteps, although there was no one else in the rooms.
Despite the fact that such stories can scare ordinary people, they are not of interest to real seekers of the paranormal, since they can easily be explained by the dilapidated state of the building.
Haycock Manor is currently closed for renovation, which means that if the phenomena of supernatural forces could be explained by the state of the hotel, then after the renovation they should disappear.