Nikola Tesla ∴ Secrets and Interaction With Aliens | Great Genius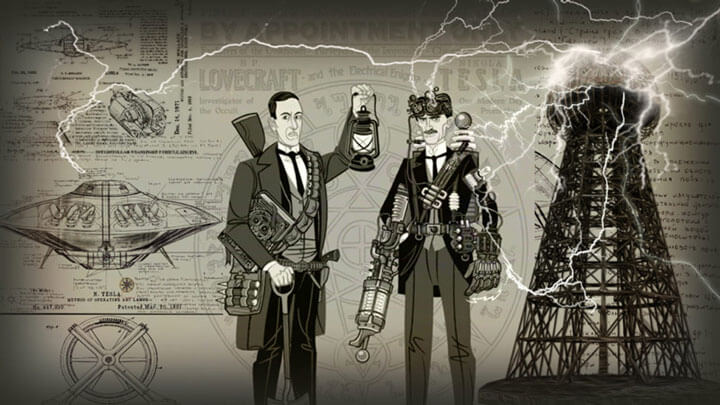 Tesla was undoubtedly the greatest genius of the twentieth century. Our lifestyle nowadays, the technology that we take for granted, all are possible thanks to this remarkable man coming from Europe. However, despite all these contributions in the field of science, his name is very little known outside the fields of electronics and physics. In fact, Thomas Edison is mistakenly attributed to his school textbooks the inventions that have been developed and patented by Tesla.
---
Nikola Tesla (1856 – 1943)
Most researchers admit that they did not know much about Tesla because of its extravagance and fantastic choices from the years of its decline that concerned communication with other planets and the rays of death.
It is known that many of these unusual inventions of Tesla are scientifically and operationally accurate.mankind simply took more time to come up with the stunning inventions of a genius who died in mysterious conditions in 1943.
It is known that Tesla had financial problems over the years of maturity. Because of these problems, Tesla had to move several times when she could no longer afford to stay in those locations.
Hotel Waldorf Astoria in New York has been Tesla's home for twenty years; however, he had to move in 1920 when he could not stay in that place. Tesla then moved to Hotel Regis but was forced to leave due to lack of financial support.
Being forced to move from one hotel to another, he left boxes of documents where he had to leave as a guarantee for his debts.
These crates, which were sought after Tesla's death, became the key to deciphering the mystery of Tesla's true identity and the incredible life that he had secretly bought.
When Tesla died on January 7, 1943, at the age of 86, representatives of the American Property Office, at the request of the Federal Investigation Office, went to the New Yorker Hotel and seized all of his personal belongings.
Two trucks loaded with papers, furniture, and manufactured items were sent under sequester to the Manhattan Storage and Storage Company.
This cargo was added to almost thirty barrels and packs that had been stored since 1930, and the entire cargo was seized on the order of the American Property Office.
After Tesla's death, the US government made every effort to find all the scientist's documents, notes, and research before they were found by foreign forces.
Tesla's nephew, Sava Kosanovic, confessed that before arriving at the American Property Office representatives, someone else had clearly testified among Tesla's personal belongings and had stolen an unknown number of personal scraps and documents.
It was already known by the Federal Investigation Office that the German Intelligence Service had stolen a significant number of documents containing research some years before his death.
It is believed that these stolen materials would have contributed to the development of the Nazi flying saucer.
Tesla Funeral
The United States wanted to make sure this was not going to happen again.
However, more than half a dozen boxes containing Tesla's personal belongings left at hotels like Waldorf Astoria, Governor Clinton and Regis had already been sold to merchants to pay Tesla's huge bills.
Anything that had the closest connection to the great scientist was quickly confiscated and lost among the American secret networks in the run-up to the Second World War.
However, more than half a dozen boxes containing Tesla's personal belongings left at hotels like Waldorf Astoria, Governor Clinton and Regis had already been sold to merchants to pay Tesla's huge bills.
Most of these boxes and the secrets they contained were never found. In 1976, four seemingly missing boxes containing documents were taken to the auction house of an individual named Michael P. Bornes.
Very little is known about this Mr Bornes except that he had been a bookseller in Manhattan. This action took place in Newark, New Jersey, and their boxes and contents were auctioned to Dale Alfrey for twenty-five dollars.
Alfrey had no idea what the boxes contained when he bought them under the impulse of a whim. When he went on, he was surprised to learn that these papers contained what appeared to be Tesla's laboratory papers and personal scraps.
Some of Tesla's lost testimonies were once again uncovered. However, because of ignorance, they were to be lost again.
Although in 1976, in America, Nikola Tesla's name was unknown to many people. Alfrey had no idea how important the documents the owner had been.
Running the impressive number of documents, he initially thought he had gone over the writings of an SF writer. What he read seemed so stunning that it seemed impossible for any document to be true.
Showing too little interest in what he had bought, Afrey stored the boxes in the cellar thinking he would go through the documents inside them later when he had more time. Twenty years have passed before Alfrey has time to open up the strange boxes. Unfortunately, the time had been ruthless with the so important materials contained in the boxes.
Documents had been seriously damaged by mould and the ink had been wiped off because of the fact that they had been stored for so many years in a humid basement. Alfrey was determined not to make these materials disappear forever and started a thorough job trying to transcribe the information before it was too late.
Showing too little interest in what he had bought, Afrey stored the boxes in the cellar thinking he would go through the documents inside them later when he had more time. Twenty years have passed before Alfrey has time to open up the strange boxes.
Alien messages intercepted by Tesla
However, Alfrey found himself caught in reading these impressive documents. Tesla's notes are shocking by the revelations he provides about the secret life of the scientist.
A life that Tesla had lived before had never been mentioned or documented by Tesla's biographers after his death.
Tesla wrote about the years of research made to interpret strange radio signals, and his attempts to alert the government and the armed forces to the things he had discovered had not resulted in any results.his letters remained apparently unanswered.
Tesla secretly held talks with several of his benefactors, including Colonel John Jacob Astor, who owned the Waldorf Astoria Hotel.
These benefactors listened to Tesla and secretly funded what would be the beginning of the first battle of mankind to regain control of one's destiny.this battle was initiated by Nikola Tesla.
Although this information seems absolutely incredible, Tesla has made some hints about the difficult situation in which she is in various interviews with newspapers and magazines.
Tesla may have provided more details on the subject in an article titled "Communicating with the Planets" in the weekly Colliers (March 1901).
These lost notes revealed that while in Colorado Springs, Tesla intercepted messages from extraterrestrial creatures that secretly controlled mankind.
These creatures were slowly preparing people for final conquest and domination, using a program that had existed since the beginning of mankind, but which began to develop due to the scientific advances of the planet.
Nikola Tesla

WHILE I WAS IMPROVING MY APPLIANCES TO PRODUCE INTENSE ELECTRICAL ACTIVITIES, I WAS ABLE TO FIND WAYS OF OBSERVING AS SIGNIFICANT AS POSSIBLE. ONE OF THE MOST EXCITING RESULTS, AND ONE OF GREAT PRACTICAL IMPORTANCE, WAS THE DEVELOPMENT OF CERTAIN DEVICES THAT COULD INDICATE FROM A DISTANCE OF MANY HUNDREDS OF MILES A STORM THAT WAS APPROACHING, THE DIRECTION IT WAS TAKING, THE SPEED OF TRAVEL, AND THE DISTANCE ON WHO WENT THROUGH IT.

I DISCOVERED THOSE MYSTERIOUS EFFECTS THAT MADE ME FEEL SO ALIVE FOR THE FIRST TIME THAT I WAS WORKING ON THIS PROJECT. I HAD IMPROVED MY DEVICE THAT I HAVE BEEN REFERRING TO SO FAR IN MY LABORATORY IN THE COLORADO MOUNTAINS THAT I FELT THE PULSE OF THE EARTHLY GLOBE AS IT CAME, OBSERVING EVERY ELECTRICAL CHANGE THAT OCCURRED WITHIN A RADIUS OF A THOUSAND MILES (APPROXIMATELY 1769.3 KM). I WILL NEVER FORGET THE FIRST EXPERIENCES I HAD WHEN I REALIZED I HAD NOTICED SOMETHING THAT COULD HAVE ENORMOUS CONSEQUENCES FOR MANKIND.

I FELT AS IF I HAD PARTICIPATED IN THE BIRTH OF A NEW SCIENCE OR THE REVELATION OF A GREAT TRUTH. MY FIRST OBSERVATIONS REALLY FRIGHTENED ME BECAUSE THEY CONTAINED SOMETHING MYSTERIOUS, NOT TO SAY SUPERNATURAL, AND I WAS ALONE IN MY LAB AT NIGHT, BUT AT THE TIME, THE THOUGHT THAT THESE DISTURBANCES WERE SMARTLY CONTROLLED SIGNALS DID NOT COME INTO MY MIND.

THE CHANGES WE OBSERVED TOOK PLACE PERIODICALLY AND WITH AN EXACT SUGGESTION OF NUMBERS AND ORDER THAT THEY COULD NOT BE LIKENED TO ANY CAUSE I KNEW. I WAS, OF COURSE, AWARE OF SUCH ELECTRICAL DISTURBANCES AS THOSE PRODUCED BY THE SUN, AURORA BOREALIS, AND THE CURRENTS OF THE EARTH, AND WE WERE CERTAINLY CERTAIN THAT THESE VARIATIONS WERE NOT DUE TO ANY OF THESE CAUSES.

THE NATURE OF MY EXPERIMENTS EXCLUDED THE POSSIBILITY THAT THESE CHANGES WOULD BE CAUSED BY ATMOSPHERIC DISTURBANCES, AS SOME HAVE HURRIEDLY SUGGEST. IT WAS ONLY AFTER A WHILE THAT THE THOUGHT THAT THE DISTURBANCES I NOTICED MIGHT BE DUE TO INTELLIGENT CONTROL. THOUGH WE CANNOT DECIPHER THEIR MEANING, IT WAS IMPOSSIBLE FOR ME TO THINK THAT THEY HAD OCCURRED ABSOLUTELY ACCIDENTALLY.

I'M GETTING MORE AND MORE FEELING THAT I WAS THE FIRST TO HEAR GREETINGS FROM ONE PLANET TO ANOTHER. THERE IS AN END BEYOND THESE ELECTRICAL SIGNALS. "
The interstellar transmitter of Tesla
Dozens of years later, on his birthday in 1937, Tesla announced:
Nikola Tesla

I SPENT A LOT OF TIME IN THE PAST YEAR THAT I HAVE PERFECTED A NEW COMPACT AND COMPACT DEVICE WHEREBY ENERGY CAN NOW BE EMITTED IN IMPRESSIVE AMOUNTS IN INTERSTELLAR SPACE AT ANY DISTANCE WITHOUT DISPERSING AT ALL.
Tesla did not make public any details of the improved transmitter, but in the announcement made in 1937, revealed a new formula, showing that:
THE KINETIC AND POTENTIAL ENERGY OF A BODY IS THE RESULT OF A MOVEMENT AND IS DETERMINED BY ITS MASS PRODUCT AND THE SQUARE OF VELOCITY ITS. IF THE MASS IS REDUCED, AND THE ENERGY IS REDUCED IN THE SAME PROPORTION. IF THE MASS IS REDUCED TO ZERO, AND THE ENERGY WILL ALSO BE ZERO FOR ANY FINITE SPEED.
Why was Tesla's conviction that she had intercepted extraterrestrial radio signals so little? Perhaps the truth was kept secret.
Source www.matrixdisclosure.com
Antarctica is being monitored by UFOs, official document confirms
During the year 1965 various countries reported UFOs approaching military bases in Antarctica. Countries like Chile, Argentina and Great Britain informed their superiors of these facts, however the story reached the press. A file that was declassified by the British contains the entire story.
Conspiracy theories, Assassination, NASA, Internet, Fascinating, Incredible
The conspiracy theories are more prevalent on the Internet. The space they occupy is huge. We found some conspiracy theories that we consider being more fascinating and incredible.  
Many people would give their lives to prove whether it is true or not. 
The JFK assassination
The President John Fitzgerald Kennedy is connected with so many conspiracy theories about his assassination. The assassination which happened on November 22, 1963, has spurred numerous conspiracy theories. The most often theory is that there was more than one shooter involved. The Warren Commission concluded that Lee Harvey Oswald was the only person responsible for assassinating the President. Other theories are that it was an organized act by a group of people.
It was also considered that perhaps some important state institutions are responsible for the assassination. Some of these institutions were the FBI, the Soviet Union,  Cuban Prime Minister Fidel Castro or the Mafia.
The September 11 attacks were an 'inside' job
The leading conspiracy theory concerning the terrorist attacks on the US on September 11, 2001, it's related to the collapse of World Trade Centre Tower 7. The first and official version is that flaming debris of burning skyscrapers flew into the several floors in the building. The National Institute of Standards and Technology concluded: the heat brought the tower down. People are not convinced in the official story given to them by their own government. 
The moon landings were faked
Moon landing conspiracy theories claim that some or all elements of the Apollo program and the associated Moon landings were directed by NASA or maybe some other organizations. Some beliefs are that NASA and the Government of US faked the moon landing in July 1969. It is claimed Apollo 11 astronauts Neil Armstrong and Buzz Aldrin are just actors and models. Because all the images were filmed in a studio.
The Roswell incident
On daily basis, there are so many UFO-related conspiracy theories. But there is one case that is often mentioned in the public press it's about the Roswell incident. In 1947, a United States Army Air Forces balloon crashed at a ranch near Roswell, New Mexico. Witnesses and the army saw that flying object. The following week, the title came out: 'RAAF Captures Flying Saucer On Ranch in Rosewell Region.' The next day another press release was issued, with claims that it was just weather balloon.
The Illuminati control the world
They are considered to be very influential people. People in the sphere of economics, politics and many celebrities. According to some claims, they exist in order to rule the world and attempting to control humanity. Illuminates originate from the mid-1700s, founded by Bavarian law professor Adam Weishaupt. His purpose was to create a smart and modern society with different with different views of the church. Nowadays they are considered to be a society based on power, money and influence.
Flat Earth
Since the days of Greek antiquity, it's known that the Earth is round.  In 1522, Ferdinand Magellan's circumnavigation of the globe by ship provided experiential proof that the world was round. The flat Earth model is an archaic conception of Earth's shape as a pancake. Flat Earth Theories begin to be polemized at the end of the 20th century.
Planet X (or Nibiru) and the end of the world
The end of the world (according to the Internet) is at least once a year. Over the years, NASA discovered that there is one more planet in the solar system and it's called Planet X or Nibiru. The existence of this planet is grounded in order to destroy the planet Earth and its inhabitants. The belief was that the cataclysm would occur on April 23, 2018, but four months passed and the planet Earth still exists.
Paul McCartney was killed and replaced with a lookalike
The Revelations of Aaron Russo before being "Eliminated" by the Illuminati
Since 1776, the Illuminati have murdered millions of people. Most of them have died as a result of hunger, disease and war, the instruments that the Illuminati normally use to eliminate people, whom they consider little more than cattle.
But some murders attract attention because of the prominence of the murdered individuals. The most worrying fact in recent years is that they can cause cancer in a person without anyone noticing with a directed energy weapon without anyone ever knowing who it was. For example, Aaron Russo (February 14, 1943 – August 24, 2007) was an Anglo-American filmmaker and libertarian political activist. He received numerous awards for his achievements, a Grammy, a Tony, an Emmy and six Oscar nominations. He described himself as a "freedom fighter." His political career began in the 1990s and he died on August 24, 2007.
In a historical interview with Aaron Russo in 2005 and shortly before dying of cancer, he deepened the knowledge of privileged information given him by a member of the Rockefeller family.
Russo told him – before 9/11 – of the plans to carry out terrorist attacks, invade foreign nations, and give impetus to a state-of-the-art police grid control that would account for populations, every movement with implantable RFID microchips. This presentation full of information, is full of images never seen before. Throughout the film, Alex Jones breaks the latest activities of the New World Order and the way relations in what Russo predicted.
Aaron explained how the elite has created the women's liberation movement to break up the family and receive a woman's work tax. Russo is opposed to the deception of democracy – which is no more than the law of the street guaranteed to produce tyranny. Russo also exposes the Federal Reserve and the IRS. The explosions of the unconstitutional and predatory institutions that have paralyzed the North American republic and crushed the people with false taxes, inflation and the loss of privacy.
Russo explains that he himself was persecuted in the 1980s by a criminal "retroactive" tax regime that tried to impose new taxes on the years that have passed. At nightfall on the Republic, Aaron Russo offers a strong appeal to the forces of freedom to rise up and crush tyranny. Only then can the Republic be restored.
Russo also comments that "many people in Hollywood know the truth, but they do not do what they should do because they lack courage, they are afraid of losing their materialistic life". "The key to hope is that THEY need us, the population, to cooperate with their plans, so they wash our brain daily with TV, if we do not collaborate, they are lost."
Finally Aaron Russo reminds us of a wise phrase "Evil can only prosper if good men do nothing" (Edmund Burke). We must stop these bankers and liars thieves, we have to unite all good people to overthrow evil. "If you do not fight against corruption and for what is right in life, you end up being a servant, a slave, you are worthless and you leave your children a world in which you would be ashamed to live"