NIBIRU 'THE TRUTH' Shocking video 'showing Planet X heading to Earth' goes viral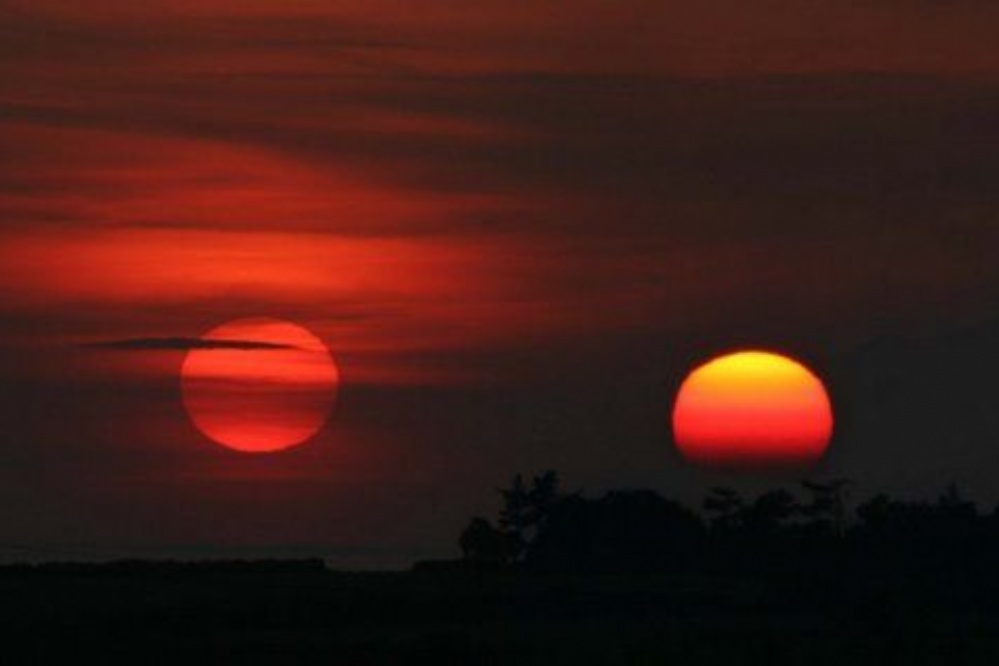 A VIDEO that it has been claimed shows a mythical planet heading towards Earth is going viral online after being uploaded to social media. The Nibiru or Planet X theory is that a mini solar system consisting of a sun, planets and moons is lurking on the edge of our own solar system with a huge 3,600 miles orbit of the sun.
Nibiru believers are convinced the "rogue system" is making its way from the outer solar system inwards, where it will wreak havoc on Earth as it passes at about four million miles away.
They say the planet will cause the poles to switch, sparking great earthquakes and volcanic eruptions.
But a series of false alarm arrival dates have come and gone, with conspiracy theorists now claiming it will be later this year.
Now, a video has surfaced online that some claim could show the mythical planetary system appearing behind the sun.
In the clip, the narrator explains how he used a drone fitted with polarised lens to uncover the phenomenon, Dailystar.co.uk reports.
The camera pans round and we see the sun glowing bright in the distance.
But as the filter darkens, two other objects appear alongside.
The man claims one of them is apparently Nibiru, and it's getting closer, alongside another planet from the legendary mini star system.
YouTube
An optical camera effect has been hailed as proof of Nibiru by believers.
This footage actually got my attention. They must be coming closer.

Video viewer

It was uploaded to YouTube Channel That Is Impossible and later shared to website Disclose.tv today.

The video has racked up around 50,000 views.

Some viewers were amazed.

One comment read: "This footage actually got my attention. They must be coming closer."

And another simply added: "Wow amazing, but terrifying."

The man behind the camera tries to suggest the "triple sun effect" cannot be a lens flare, or reflection, as it does not change when the camera moves.

However, Express.co.uk can reveal it is nothing more than a reflection of the sun itself inside the camera that is projected back onto the recorded image.

Sightings of the disastrous Nibiru cataclysm

In January 2002, a dull star in an obscure constellation suddenly became 600,000 times more luminous than our Sun

It is a common occurrence when a camera is aimed directly at the sun.

Previous similar reflections filmed on video have led to other false Nibiru videos being uploaded that were shared thousands of times.

Scott Brando, who runs debunking website Ufoofinterest.org said the reflections were caused by extra lenses being over the camera.He said: "It is a reflection of the sun using a multilayer glass that reflects the solar discs."The stunning footage was captured in Colorado, USA, on April 21st 2017, but has only just come to light after being posted online.

And, being filmed ten months ago, it is further evidence that no mythical planet is drawing nearer to Earth as it would have reached us by now.

The Nibiru myth emerged in 1976, when writer Zecharia Sitchin claimed that two ancient Middle Eastern cultures – the Babylonians and Sumerians – told of a giant planet – Nibiru – which orbited the Sun.

NASA insists that the conspiracy theorists are completely wrong, and the Nibiru myth is an internet hoax.

NASA scientist Dr David Morrison said: "There is no credible evidence whatever for the existence of Nibiru."There are no pictures, no tracking, no astronomical observations.

"I can quite specifically say how we know Planet X or Nibiru does not exist and does not threaten Earth.

"Firstly, if there was a planet headed into the inner solar system that was going to come close to the Earth, it would already be inside the orbit of Mars, it would be bright, it would be easily visible to the naked eye – if it was up there it would be easy to see it, all of us could see it."
Russia unveils its LASER CANNONS that can destroy targets 'within fractions of a second'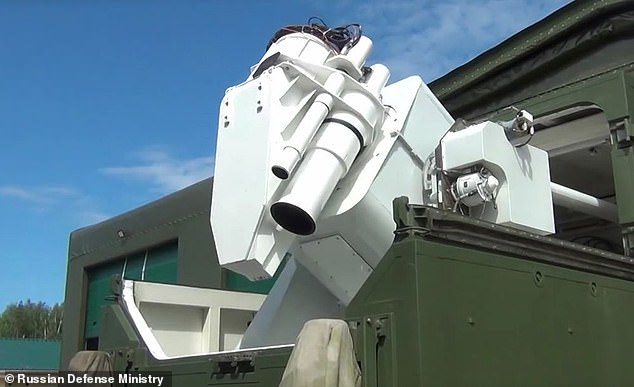 Russia has unveiled a powerful new laser weapon which it claims can take down targets 'within fractions of second'.
The space age laser, named the Peresvet after a sixteenth century Russian warrior monk, is already being deployed and used by Russia's armed forces – according to the country's government.
Remarkable footage showing the weapons system in action was posted on the Russian defence ministry's social media account on Wednesday.
It showed the advanced laser system being brought out of a hangar and activated remotely by a soldier.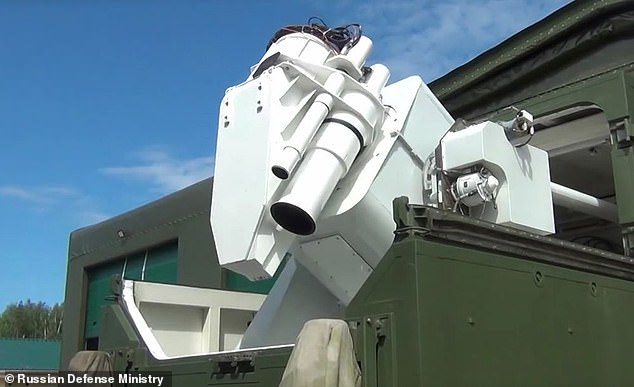 Little is known about the potency of Vladimir Putin's latest piece of kit as the Russian government has revealed nothing about its capabilities.
However, similar weapons systems which have been developed in other countries are used to take down planes and missiles by disabling their electronics from miles away.
Russian Deputy Defense Minister Yuri Borisov told his ministry's newspaper Krasnaya Zvezda on Monday that the machine can 'take down targets within fractions of a second'.
'We can talk a lot about laser weapons and movies were made about them a long time ago and fantastic books have been written, and everyone knows about this,' Borisov said.
'But the fact that these systems have started entering service is indeed today's reality.'
'Starting from last year laser systems have been entering service that allow disarming a potential adversary and hitting those facilities, which are the targets,' he added, saying such a device could take out targets 'within fractions of a second.'
The Peresvet programme has been shrouded in secrecy, with Vladimir Putin playing his cards close to his chest about the potential of the technology in a speech earlier this year.
During his State of the Nation Address on March 1, Russian President Vladimir Putin said that 'significant progress' was achieved in Russia's laser weaponry program and 'there are all reasons to believe that we are one step ahead our rivals in this sphere.'
However, he gave no further details, saying only that the time was not ripe at that moment.
'I do not want to reveal more details. It is not the time yet. But experts will understand that with such weaponry, Russia's capacities for defending itself have multiplied.'
Read More: https://www.dailymail.co.uk/
Where to Find Complete Libraries Online for FREE (and a New Website to Check Out)
The libraries presented in this article were first discussed in the comments of the Part 9 article and need to be presented in their own article.
Editor's Note: This is the final article of The Information Specialist Series. Anon 411 has written 9 information-studded articles on this website and he's moving on to his own site, RestartCivilization.org. All of his future articles will be published at RestartCivilization.org. and  I hope that you will all go over there and support his efforts to gather resources that could change everything if society as we know it was to collapse. Best of luck, Anon 411! ~ Daisy
Collections of Books and Articles out of Copyright
Survivor Library
The Survivor Library is a library of about 15,000 books in PDF files that are all out of copyright or are otherwise in the public domain. The author of this site, who is known as The Librarian, is a very friendly fellow and his blog articles are interesting. The site is organized into a hierarchy of folders and subfolders as categories. You can freely download as many or as few PDF books as you like.
"The library contains thousands of books on technologies that can be produced by most reasonably skilled craftsman using tools not as sophisticated as what can be found in many modern home workshops."
A complete copy of the current collection is available to purchase on a flash drive or on multiple DVD disks. The price for these seem very reasonable to me. I purchased the flash drive last summer and it contained 14,656 files in 175 folders/categories and consumed 224GB. It's not clear to me how I can go about finding books added since I purchased the flash drive so I can download the new addition.
Collections of Resources for Third World Groups
The CD3WD library consists of 36 DVDs containing some 651,000 files totaling 151 GB, broken out into eight categories.
The core library is almost 26 GB and it took me some 8 hours to download and contains 6,000 files. The other material is primarily material for teaching children from pre-school through high school. Most of the files there are .avi (video) files.
To download the files click on links in the chart below. Then click on the link ISO IMAGE and download the files there one at a time. You will need the program 7-zip, free at 7-zip.org, to unzip the ISO files. You can just create a folder structure on your hard drive for these or direct 7-zip to write the files to a DVD disc. I created the folder structure on my hard drive then copied the whole thing to a flash drive.
Below is a chart of the different sub-libraries with a file count and number of DVD disks.
All future articles I write will be published at RestartCivilization.org.
The first nine articles can be found here https://www.theorganicprepper.com/category/preppers/the-information-specialist-series/  or here https://restartcivilization.org/prior-articles/
Source:
Sir David Attenborough warns global warming will cause the COLLAPSE of civilisation
Climate change will cause the collapse of civilisations if governments do not agree to drastically cut greenhouse gases, Sir David Attenborough has warned in a stark speech to world leaders.
Speaking at the opening ceremony of a UN summit on climate change, the legendary broadcaster, 92, warned that the extinction of much of the natural world is 'on the horizon'.
Delivering the first ever 'People's Seat' speech, Sir David made a powerful and passionate plea for action, warning that Earth faces its 'greatest threat in thousands of years'.
He was speaking in Katowice, Poland, calling for leaders and decision-makers to take charge on driving down greenhouse gas emissions.
Sir David said: 'Our greatest threat in thousands of years: climate change.
'If we don't take action, the collapse of our civilisations and the extinction of much of the natural world is on the horizon.
'The world's people have spoken, their message is clear, time is running out, they want you, the decision-makers, to act now.'
Antonio Guterres, UN Secretary-General, who also gave a speech, said the world is 'way off course' to prevent catastrophic climate change and that 'we are in trouble, deep trouble'.
Sir David was speaking on behalf of the UN's 'People's Seat' initiative to give ordinary people a voice at the international talks by gathering their thoughts, ideas and concerns through social media and polling in the past two weeks.
His strongly worded speech to the congregation continued: 'Time is running out. [The people] want you, the decision makers, to act now.
'They are behind you, along with civil society represented here today.
'Supporting you in making tough decisions but also willing to make sacrifices in their daily lives.'
The UN has launched an 'ActNow.bot' which helps people discover simple everyday actions they can take to tackle climate change.
'The people have spoken: leaders of the world, you must lead, the continuation of our civilisations and the natural world upon which we depend are in your hands.'
United Nations Secretary-General Antonio Guterres warned negotiators at the meeting that the world was 'in deep trouble' with climate change.
'Climate change is running faster than we are and we must catch up sooner rather than later, before it's too late.
'For many people, regions and even countries, this is already a matter of life and death.'
Continue Reading: https://www.dailymail.co.uk