New Theory on a Hidden Door into the Great Sphinx and Possible Tunnels to Pyramids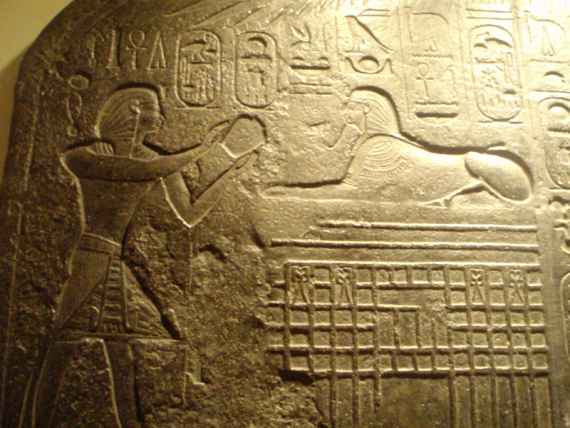 The origin story of the Great Sphinx of Gaza has a few holes in it … and apparently so does the Sphinx itself. While the hole in its head has been explained, other holes and doorways continue to hide their true purpose. A new theory has emerged recently that there is a hidden doorway in front of the Sphinx that opens to a passageway into the monument and may also connect to secret tunnels into the Great Pyramid and possibly a second one. Is this the whole story or are there any holes in this hole story?
This new claim comes from amateur historian Matt Sibson on his YouTube channel Ancient Architects. He bases his conjectures partly on a book entitled "Operations carried on at the pyramids of Gizeh in 1837" written by Howard Vyse and partly on two stelae (a stele is a standing stone tablet) that were created by Ramesses the Great around 1200 BCE and once in front of the Sphinx but were removed in the 19th century and taken to the Louvre, where they remain today. A third, the older Dream Stele, still stands at the foot of the Sphinx.
Howard Vyse was an early archeologist (to use the term loosely) of the pyramids and Sphinx who used gunpowder to blast holes in various monuments in the 1840s. It's believed he drilled and then blasted a hole on the back of the Sphinx about 4 feet behind the head. Called Perring's Hole after his engineer, the drill went in 27 feet before getting stuck, and Vyse's gunpowder couldn't remove it. The rod was extracted in 1978 by Zahi Hawass, archeologist and former Minister of State for Antiquities Affairs, who found it had reached a cavity containing a part of the Sphinx's headdress. Sibson claims in an interview with the Daily Star that "Operations" contains a drawing of one of the Louvre's stelae and it shows a now-hidden doorway. (You can read the document in three parts online here and here and here.)
"There's a Sphinx on the top of a platform, with Rameses the Great next to it and giving an offering. The Sphinx is sitting on top of what looks like a doorway. On the Dream Stele, there is also a doorway beneath the Sphinx which backs it up."
Vyse claims that French engineers had discovered a door in front of the Sphinx but were unable to continue exporing t and it was eventually covered by sand. Hawass found a passage beneath the casing stones leading under the Sphinx, but he believes it may have been partially dug by Vyse. Sibson thinks the second stele at the Louvre contains more information about the tunnel or tunnels, but it doesn't appear he's been able to gain access to it or even see it in photographs or drawings.
"What does the other one show? It needs to be re-analysed and brought back to life. It could shed more light on the doorway. I think there is something underneath there, there are loads lots of tunnels under the Giza plateau."
Are there holes in Sibson's tunnel theory? Possibly, but it's also quite plausible. Zahi Hawass is still a leading Egyptian archeologist and could help in both gaining access to the second stele and in cutting through the red tape so archeologists can dig through the sand where the doorway and passage might be.
Those interested in the Sphinx for its historical significance and its tourism value are just glad that no one is using gunpowder on it anymore.
Source: Mysterious Universe
A large underwater observatory in Baltic Sea mysteriously disappears without a trace
A large monitoring station used to collect important scientific data in the observatory in Baltic Sea mysteriously disappears.
The underwater observatory, which had been at the bottom of the sea since December 2016, is managed by the GEOMAR Helmholtz Center for Kiel Ocean Research and the Helmholtz Geesthacht Center (HZG). On August 21 at 8:15 p.m. local time, broadcasts from the 300,000-euro station suddenly stopped. The divers were sent to the site, only to discover, to their surprise, that the entire structure had disappeared, except for a shredded transmission cable, according to a GEOMAR statement.(observatory in Baltic Sea mysteriously disappears)
The observatory was in a restricted area off the north coast of Germany. Ships, including fishing vessels, are not allowed in the area, the BBC reported. That someone, or a group of individuals, has removed the observatory remains the most plausible explanation. Other factors, such as a massive storm, strong currents or even marine animals, were ruled out as potential causes due to the weight of the instrument. Who or what eliminated the scientific station, and why, is a complete mystery. German police were alerted to the incident and are now investigating, according to GEOMAR.
The Boknis Eck Observatory is, or at least was, located at the exit of Eckernförde Bay, which is north of Kiel, Germany, and south of the Danish border. It was 1.8 kilometers from the coast, planted at a depth of 22 meters, the BBC reported.
The station collected data on water temperature, nutrients, salinity, water flow rate and chlorophyll and methane concentrations. These data are used to assess the health of the ecosystem in and around the southwest of the Baltic Sea. By monitoring these changes, scientists can be alerted to possible problems and take the required countermeasures. Scientists have been collecting data in the bay since the 1950s. The observatory is also used in the COSYNA (Coastal Observation System for the North and Arctic Seas) network of the HZG.
" [At the beginning] we thought of a transmission error, " said Hermann Bange, project coordinator for the Boknis Eck Observatory, in the GEOMAR statement. This caused a dive mission to the site, revealing the disappearance. " The devices were gone, divers could no longer find them, " he said. " When the divers reached the bottom of the sea last week at the observatory location, they only found the ground wire torn off. I was completely crushed . "
The lost observatory consists of two racks, one weighing 250 kilograms and the other 100 kilograms each. The racks include a frame that supports the power supply (along with a heavy cable that connects the station to the coast) and a frame to hold the sensors. Both racks were "removed with great force from their position," according to the GEOMAR statement.
Bange described the data collected by the observatory as "frankly invaluable." GEOMAR and HZA conducted their own search for the lost station, but without luck. Scientists are now asking for help from the public, asking anyone to know something about the incident that arises.
The disappearance is reminiscent of sunken naval ships that are also disappearing from the ocean floor. In those cases, it is suspected that the looters tore the boats to discard them. Something similar may be happening here, although it is not clear what value this monitoring station, equipped with a variety of scientific instruments, could have for looters.
Or, it could be the result of an infamous military operation carried out by an unknown state actor, but that is pure speculation. Hopefully, more details will emerge about this strange story in the coming days and weeks.
Oregon cattle killings, mutilations alarm ranchers
© Silvies Valley Ranch/David Zaitz Photography
Diana Kruzman
Oregon Live
Silvies Valley Ranch is a 140,000-acre property in Oregon's largest county, where cattle outnumber people 14-to-1.
When the first dead bull turned up at the end of July, it didn't raise an alarm at the Silvies Valley Ranch.
Cattle sometimes die suddenly on the ranch's 140,000 acres in Harney County — struck by disease or felled by a broken leg and unable to find a way out of the rugged, forested terrain.
But by the time ranch hands discovered four more dead bulls within 24 hours, they knew they were likely dealing with deliberate, premeditated killings.
They're still baffled by the circumstances. There were no wounds. No signs of a struggle. And the bulls' genitals and tongues had been carefully removed.
The killing and mutilation of the 4 and 5-year-old Hereford bulls in the prime of their productive lives has since spurred a multi-agency investigation in eastern Oregon, but detectives have turned up no leads and haven't yet even settled on a cause of death.
"How somebody put these bulls on the ground at what would be arguably a fairly close range — and to do it in a way that didn't leave any signs, no trace evidence, no footprints, no struggle marks from the animal, no broken limbs — I have no idea," said Colby Marshall, vice president of the Silvies Valley Ranch.
The mystery deepens because there's no obvious reason someone would want those animal parts. They aren't prime targets for black market sales, authorities said.
The deaths are eerily similar to a rash of livestock killings and mutilations across the West in the 1970s, when hundreds of cows and bulls turned up dead, also of seemingly unknown causes and with their genitals and tongues missing.
Back then, theories ran the gamut from a government conspiracy and UFOs to natural deaths and scavengers. Today, the circumstances at Silvies Valley Ranch point to humans as the probable culprits because of the precise cuts on the bulls.
Anything else for now is speculation, including ideas of what might have killed a bull without leaving marks. Marshall said he wonders if the killer used poison darts.
"We think that these are very sick and dangerous individuals and they need to answer for this horrible crime," he said.
Silvies Valley Ranch, about 40 minutes north of the county seat of Burns, has put up a $25,000 reward for information on the bull killings that leads to an arrest and conviction, and the Oregon Cattlemen's Association has offered its own $1,000 reward.
The investigation has pulled in Oregon State Police as well as the U.S. Forest Service because the cattle were grazing on a federal allotment in the Malheur National Forest.
The ranch is owned by veterinarian Scott Campbell, who bought the enterprise in 2006. Since then, it's expanded into tourism with a golf course and resort on site, but still maintains around 4,500 head of beef cattle, including around 100 bulls.
The five dead bulls were found on July 30 and 31, in a wooded area about 15 miles from U.S. 395, the nearest major road. They were each about a quarter mile apart, and the first two weren't found until several days after they had been killed — but Marshall believes the last three were discovered within 24 to 48 hours of their deaths.
The delay in finding the animals is not unusual in such a remote area, where ranchers are tasked with patrolling large tracts of land, said Jerome Rosa, executive director of the Oregon Cattlemen's Association. Harney County is Oregon's largest county, covering more than 10,000 square miles where cattle outnumber people 14-to-1.
"These are huge, vast, steep landscapes with lots of rock and trees and brush," Rosa said. "Ranchers may not see their cattle for long stretches of time."
Beef is Oregon's largest agricultural commodity, drawing in nearly $1 billion a year – and most cattle crimes typically involve theft, Rosa said.
This makes the deaths at Silvies Valley Ranch particularly bizarre, he said, because the bulls were worth a lot of money alive, particularly for breeding.
Marshall estimated their value at up to $7,000 apiece and said they would have sired at least 100 calves each over the remainder of their lives.
"Their productive life was a huge economic opportunity for the ranch, and now that's completely lost," he said. "We're talking hundreds of thousands of dollars."
© Silvies Valley Ranch
The five dead bulls were found on July 30 and 31, in a wooded area about 15 miles from U.S. 395, the nearest major road. Their genitals and tongues had been cleanly removed.
Marshall has heard from several other Oregon ranchers who reported similar killings on their property over the past few decades — including cows that had been found with their udders, vulvas and tongues removed.
One of these ranchers, Terry Anderson, found a dead cow on land he was renting near Pendleton in 1980. Its udder had been cleanly removed and Anderson could see no clear evidence of what had killed the animal.
"There was no visible bullet hole or anything there," Anderson recalled this week. "It was so unusual. It just left you with an eerie feeling."
The hundreds of cattle deaths in the 1970s — largely concentrated in the Midwest — caused a media sensation as ranchers roiled by an economic crisis blamed a government conspiracy, according to Michael Goleman, a history professor at Somerset Community College in Kentucky who researched the phenomenon.
Because the killings were scattered across different states, investigators reached no overarching conclusion on the cause of the deaths, but Goleman said some people believed the government was conducting weapons tests on the cattle.
Facing pressure from ranchers, the FBI opened an investigation in 1979 into the deaths of 15 cattle in New Mexico, ultimately concluding that there was no evidence of intentional mutilation by humans and the animals had likely died of natural causes.
Since then, scattered reports have made headlines, including the discovery of several mutilated cows in Kansas in 2016 and five cows in 1990 that had been killed and dissected on a farm in Washington. Goleman said conspiracy theorists have pinned the blame on everything from satanic cults to aliens.
But Silvies Valley Ranch isn't placing its bets on paranormal activity, though Harney County Sheriff's Deputy Dan Jenkins said he's gotten a few suggestions that Sasquatch may be responsible. He's received around 20 calls from around the western U.S. since news about the deaths started spreading.
Jenkins, the lead investigator on the case, said the lack of physical evidence at the crime sites — no footprints, no tire or ATV tracks — means authorities are relying on witnesses to call in to the tip line and report any suspicious activity they might have seen in the area.
David Bohnert, a professor at Oregon State University who studies beef cattle, said two things typically kill livestock: poisoning from eating toxic plants and people.
In this case, poisoning is unlikely, given the number of bulls involved and the plants in the area, he said. Larkspur typically flowers earlier in the year, while hemlock, another deadly plant, grows only around rivers and streams — not the dry forests where the bulls were found.
Plus, the fact that all five cattle killed were bulls, Bohnert said, is statistically unlikely to occur in nature — they make up only about 4% to 6% of a herd.
That leaves human activity as the most likely cause, he said. Adding to the evidence is the surgical precision with which the genitals and tongues were removed. Scavengers would leave obvious signs of tearing with teeth, claws or beaks, he said.
Bohnert said he has heard rumors of bull testicles being considered an aphrodisiac, and both tongues and genitals can be eaten — the famous "Rocky Mountain Oysters" come to mind. But he could think of no reason why someone couldn't just legally buy the animal parts.
Yet the human explanation comes with its own difficulties.
Taking down a 2,000-pound bull is no easy feat, and Marshall said there were no signs of a struggle — the bulls were all lying on their sides as if they had just fallen over and died.
He said he could only think that some kind of toxic dart might kill a bull from a distance. But he has no proof of it and may never find it. It's not clear if a dart would leave a detectable imprint.
In the meantime, tissue samples taken from the carcasses are still being analyzed for toxins and no results are available yet, Marshall said. Even with the tests, the killings may remain an enigma. The bulls had been left to decompose for several days, making a toxicology screen difficult to do, he said.
Until a suspect is found, ranch employees are on high alert, particularly those who patrol vast areas alone on ATV or on horseback.
Rosa said the news had also concerned other ranchers — but that greater awareness could also lead to faster answers in the tight-knit ranching community.
"The neighbors and the folks that are in those areas know each other," Rosa said. "And when there's someone strange or different that's out and about, they take notice of that, and they let each other know."
Researcher Discovers Giant 'Alien Face' in Antarctica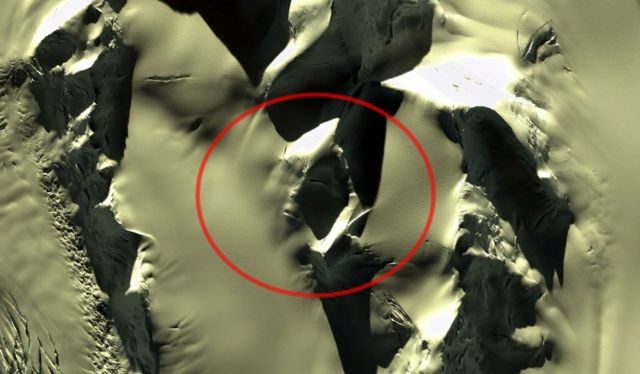 While looking at images of Antarctica on Google Earth, a researcher noticed what appeared to be a mountain-sized face that resembles an alien.
According to coasttocoast the weird find came to light on August 20th when it was posted on the Instagram account 'ufo_scandinavia.'
This alien face discovery brings to mind the 'face on Mars' which was first photographed by the Viking 1 in 1976, just a random coincidence?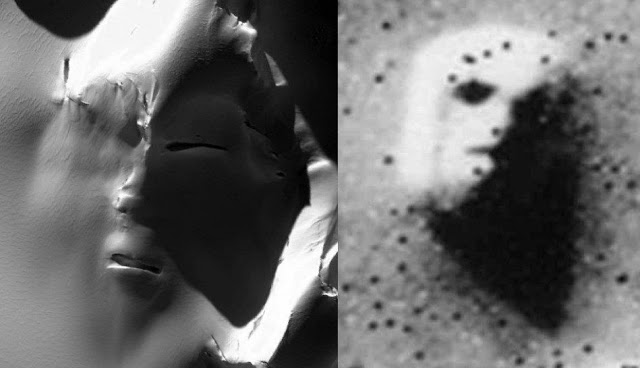 Coordinates on Google Earth: 72°00'36″S 168°34'53″E
Referenced from UfoSightingsHotSpot