New Mexico Hunters Have ET Encounter on Pot Mountain
Let's answer a few of the obvious questions right away. Yes, there really is a Pot Mountain in New Mexico. No, it has nothing to do with marijuana. Yes, that may absolve the two ET-spotting hunters from accusations that they were high when they claim to have seen two tall big-headed, half-black/half-white aliens on Pot Mountain. No, they weren't trying to be politically correct with that description. Yes, one saw the creatures and both saw something that was either their tent or their means of transportation. And no, they didn't take any pictures. However, it's an interesting story and UFO expert believes their sincerity in telling it.
"We're a couple of guys that don't believe in much, but we believe now."
Josh Brinkley and Daniel Lucero were still in their bow-hunting camouflage clothing when they told their story to the Taos News. The friends and co-workers have been hunting together for elk for years, but this was Lucero's first time on Cerro de la Olla – an inactive volcanic mountain northwest of Taos named Mountain of the Pot or Pot Mountain because of its pot shape. Brinkley brought him there a few days before the September 1 opening day of elk season to scout for some good spots. However, he was alone and wondering why there were no elk around when he had his first close encounter.
"[I noticed the] very tall shapes of these beings, standing side by side, staring right at me. The shape that would be like their heads, it looked like they had huge hoods on. It looked like two ribbons coming off either side to a point at the top and bottom (like a banana). The right side was black, left side was white and a little shiny. Torsos were kind of black, I couldn't see many details. It definitely looked like clothes. In middle of the oval was just gray."
Brinkley estimated the creatures were 35 feet from him. As he walked around a bush to get a better look, they disappeared. He told the Taos News that he returned to Lucero but hesitated before telling him about the unbelievable encounter with the two tall beings. They returned to the same area the next day and still saw no elk. That's when both hunters had a close encounter of the tent kind.
"It's this big tent structure, like a circus tent, 50-60 feet tall. Coming off the left of it was this long building, almost like what you would build for an archery lane for target practice. It was a third the height, but really long, maybe a couple hundred feet."
As they drove around to get closer, they lost sight of the structure for less than five seconds. When they had a view again of where it was … it wasn't.
"When we topped the hill, it was gone. Just gone. There was no dust, there was nothing, I just know it was real. It was huge and white and then gone."
They had no further encounters. In addition to the Taos News, they told their story to Peter Davenport, the executive director of the National UFO Reporting Center, who was intrigued by the witnesses claiming to see actual alien creatures and added this comment to the report of the call.
"NUFORC was impressed with what we perceived to be the apparent sincerity of the caller during the telephone conversation with him."
One discrepancy between the two accounts – NUFORC says there were three witnesses while the Taos News says there were only Brinkley and Lucero. That might be cleared up with an official written account to NUFORC by the witnesses, but that hasn't happened yet.
What did Josh Brinkley and Daniel Lucero see? Taos is well-known as a center for New Age beliefs, but it and New Mexico in general have had their share of strange incidents and alien encounters, ranging from the mysterious Taos hum to the Roswell UFO crash to extraterrestrials living in caverns near Dulce to the alleged 1948 'flying saucer' crash in Hart Canyon near Aztec with 14 to 16 small humanoid corpses found in the wreckage.
Is the incident on Pot Mountain just a good title for a major motion picture or a real close encounter? It would have helped their case to have photos instead of drawings and another witness who is not also a friend and co-worker. It would have also helped if there were footprints of the ETs and imprints or other evidence of the mysterious tent.
Keep looking up … unless hunting season has started.
Source: Mysterious Universe
An incredible invasion of Aliens began in the sky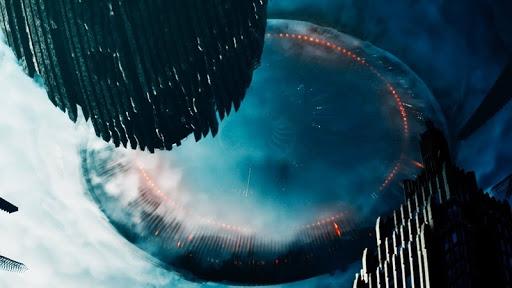 Over the course of two weeks or so there is a tremendous and unprecedented amount of cases with strange multiple lights in the sky. These lights look different each time, but in general terms, something like this:
At first glance, the lights resemble Starlink, as they move synchronously and more or less in one line. However, after a short period of joint movement, they begin to disperse, and very often fly apart in pairs.
With satellites this can not be the case. They are also not drones, since such UAV clusters cannot fly simultaneously all over the world. And this is exactly what happens:
The same scene was seen in Britain, in the South of Europe, in Asia and in America.
Finally, the most amazing thing is that the ISS sends similar frames, which drones cannot see in principle, since UAVs do not fly at such a huge height:
Now some videos from Earth. Colombia:
Mexico:
Peru:
Scotland:
Indonesia:
All the above videos were for the period of March 15-31. They were filmed in different places, but what they have in common – UFOs are grouped in clusters, groups of relatively small vehicles.
Some hefty alien ships are also observed in California on March 31:
Spain, March 15:
ISS, March 24:
As you can see – the situation is somehow very strange, UFOs sharply became frequent and at the same time they gather in groups – like around a shark sinking steamer. On the boat, there is epidemic and the passengers are locked in cabins.
UFO flotillas near ISS and a Black UFO flying over Fairview, Texas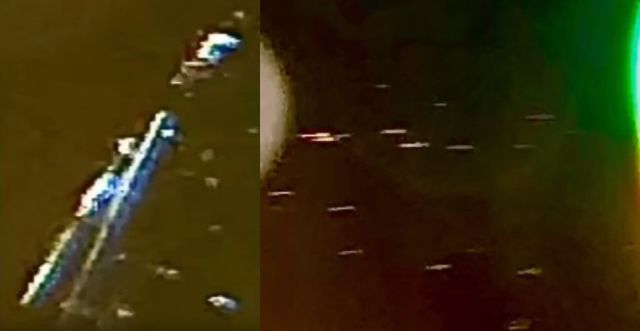 In outer space near the Earth and near the Sun, the incredible activity of entire UFO flotillas continues, which is fixed by cameras installed on the ISS and this has been going on for more than two months. Now, eyewitnesses record the appearance of many UFOs directly in our sky.
Gina Colvin Hill from Salem, Indiana, shared some shots taken on March 24, 2020, showing numerous UFO ships in the sky.
Gina used various filters to capture these ships, otherwise you do not see them, since most of them are hidden by a masking system.
Black UFO flying over Fairview, Texas, USA
A black ship flew over a car standing at a traffic light. An eyewitness took two photographs of clouds and on one of them caught a dark UFO.
The UFO must have moved very fast, because it was not directly visible at first. Many UFO researchers believe that UFOs are all around us on this planet, but they fly so fast that the human eye cannot see them, but the camera lens can.
An eyewitness writes:
"I took 2 photos of the clouds with an interval of a few seconds. The clouds looked strange. The first UFO picture is clearly visible. The second photo taken immediately after that, does not show it. The time noted in both photos is 5: 41pm . It looks like a black Millennium Falcon. This is definitely not something on the windshield or camera lens. That would be in both pictures, but it's only on one! "
A mysterious bright UFO suddenly appeared on the surface of the moon
A mysterious bright object, similar to a UFO, suddenly appeared on the surface of the moon, captured live by the telescope on March 29, 2020.
Strange "lights" have been seen on the moon before, and often this phenomenon is associated with UFOs or extraterrestrial activity on the moon.
A possible explanation for these lights is the so-called "transient lunar phenomenon", which is a short-term light, color, or change in appearance on the surface of the moon.
Allegations of short-term lunar phenomena date back at least 1000 years ago, with some of them observed independently by several witnesses or authoritative scientists. Most lunar scientists acknowledge that transient events, such as gas emissions and the formation of impact craters, do occur over geological time: the contradiction lies in the frequency of such events.
It has been suggested that effects associated with an electrostatic charge may be able to explain some of the transient lunar phenomena.
It is possible that strange light is such a "transentral lunar phenomenon", but it cannot be ruled out that the object is of extraterrestrial origin.