New Brunswick, one of the smallest Canadian provinces at 72,908 square kilometers, is nestled on Canada's eastern shores between Nova Scotia and Quebec, sitting atop the American state Maine like a pompadour. First Nations peoples have lived in the area since at least 7000 BCE. New Brunswick was also part of Vinland, a section of North America explored by the Vikings around 1000 CE. The province is covered by 15 million acres of forestland, more than 60 rivers, and boasts the Bay of Fundy where tourists flock to watch whales. New Brunswick's Saint John was the first incorporated city in Canada. Famous people from New Brunswick include two Fathers of Confederation, Peter Mitchell and Samuel Leonard Tilley, founders of Canada's oldest candy company Gilbert and James Ganong, actors Walter Pidgeon and Donald Sutherland, father of Canadian poetry Sir Charles G. D. Roberts, and Brenda Robertson, the first woman elected to the Canadian legislative assembly. It's also home to unexpected creatures.
Mountain Lion
Mountain lions exist. We know this; we see them in zoos, on nature programs, and sometimes – at least in Western North America – up close and personal. European farmers who immigrated to North America killed the Eastern Mountain Lion (also called the Eastern Cougar or Eastern Panther) to protect their livestock, much like the Australians did to the Thylacine. By the late 1800s, the Eastern Mountain Lion was considered endangered. A specimine was last seen in New Brunswick in 1932 and in Maine in 1938. By 1940, this subspecies was gone, although it wasn't declared extinct until 2015.
But is it extinct?
Naturalist Bruce Wright was bigger than life. A life-long outdoorsman, Wright became a forester through the University of New Brunswick, working as a forest biologist after graduation. During World War II he came up with the idea for "frogmen" who would use scuba gear to infiltrate enemy territory. During the war, he used his disposition in Myanmar (then Burma) to study marine life. After the war, he studied black ducks in the Canadian Maritimes (eastern provinces), but one of his personal interests was extinct species he believed could still be alive. One he was particularly interested in was the Eastern Mountain Lion.
During Wright's quest for the endangered (and assumed extinct) animal led him to collet hundreds of sightings and indeed discovered what is widely considered as the last Eastern Mountain Lion. When that cat died, the entire species was considered dead as well.
Since then, there have still been reports of mountain lions in New Brunswick, although they are credited to a species of mountain lion from the western portions of North America that have wandered far afield.But are they?
Lake Utopia Lake Monster
Lake Utopia, in Charlotte County near the Maine border, is a seven-kilometer-long, three-kilometer-wide body of water that reaches an average depth of around 11 metres. A popular destination for recreation, Utopia Lake is also known for the Lake Utopia Lake Monster, Old Ned.
Stories of the creature began before the arrival of European settlers when the local Maliseet First Nations tribes claimed a large underwater creature that looked somewhat like a whale would chase people canoeing on the lake. European settlers began reporting encounters with the monster in the 1800s, and they continue to this day, usually every three to five years. Although the whale explanation is a stretch, it could be possible. Lake Utopia is connected to the Bay of Fundy via the Magaguadavic River, although it wouldn't exactly be smooth swimming for a whale.
One of the most famous sightings was in 1867 when sawmill workers saw a nine-metre long, three-metre wide creature splashing in the lake. Similar sightings occurred a year later in 1868, again in 1872, and 1891. Modern sightings include a 1996 report from a couple, Roger and Lois Wilcox, who saw a 15-metre-long creature swimming in the lake. It swam up and down like a mammal, not side to side like a fish or reptile.
The Tote-Road Shagamaw
From the early days of the European settlement of New Brunswick, workers in lumber camps began to report a creature with the front paws of a bear and the back legs of a moose – the Shagamaw. To confuse anyone who followed it, the Shagamaw would switch off walking on its hind legs to its forelegs. One set of tracks would extend on tote roads (trails used to carry supplies to a lumber camp) only about 440 paces because that's as high as the Shagamaw could count. Then it would switch to the other legs and go 440 more paces before switching back.
According to the book, "Fearsome Creatures of the Lumberwoods," by William T. Cox (1910), the Tote-Road Shagamaw was a horrifying creature to see, but it was shy and harmless. The Shagamaw also had a peculiar diet; it ate discarded boots, mittens, and anything else lumbermen dropped along these desolate roads.
Bigfoot
Canada wouldn't be Canada without Bigfoot reports. There have been more than seven Bigfoot sightings in New Brunswick during the past 35 years.
According to the Bigfoot Field Research Organization, more than twenty Canadian and U.S. soldiers, based in the 5th Canadian Division Support Base Gagetown, were training near Laverna Wood in 1990 when unidentified noises from the trees stopped them in their tracks. The soldiers heard an enormous creature thunder through the brush and could feel its impact when its feet hit the ground. When it vocalized, it sounded like a baby's cry amplified "500 times louder."
Although the creature remained hidden by the forest, whatever made that noise was nothing the soldiers were familiar with. One soldier said, "it wasn't a bear."
Another sighting occurred in 2008 when two couples from Anfield and Saint John, New Brunswick, saw a"pitch-black, approximately eight-and-a-half-foot sasquatch" at Skiff Lake, according to an article in the WoodstockBugle-Observer. "I know a bear can stand on its hind legs and move around," one of the men told the newspaper, "but a bear can't walk on two legs the way this human-like form (did)."
Next up: Newfoundland and Labrador.
http://mysteriousuniverse.org/2018/05/exploring-canadian-monsters-new-brunswick/
More Alleged Water Monsters Spotted in Canadian Lakes and Rivers
There are over 30,000 lakes and countless rivers in Canada, so the odds are in favor of there being a few unexplained water monsters swimming in bodies of water other than Okanagan Lake and its Ogopogo. In fact, just this week a parks and recreation director spotted some as-yet-unidentified thing making a large wake in Kamloops Lake. Now comes word of multiple recent sightings with videos and pictures in Shuswap Lake in British Columbia and one in the Bow River of Alberta's Banff National Park. Is something waking the monsters of Canada?
"I was kind of hoping to see it again and to my surprise I think that I did. Whatever it was, it was big. It looked like there were some kind of black humps. I had seen it twirling around a bit and then it went under."
On May 14, Dawn Dumont saw something with "black humps" twice in Shuswap Lake – once in the coastal town of Scotch Creek and again in Salmon Arm. She was quick enough to capture the second encounter on her cell phone and posted int on Facebook, where many people called it the Shuswaggi lake monster. Shuswap Lake measures 55 miles (89 km) long, 3 miles (5 km) wide and up to 528 ft (161 m) deep – plenty big enough for a lake monster. (See the video here.)
Native legends about such a creature go back centuries, but the first modern alleged encounter was reported in 1904 by a Shuswap First Nations tribe member who claimed he killed and skinned a water creature the size of a bear, but with 12-inch-long flat feet like a mole. Other sightings have been reported, including one in 1984 of an alleged 25-foot sea serpent with 7 humps. However, 2019 may be the year of the Shuswaggi. In April, two Shuswap fishermen recorded something with black humps swimming around their boat. (See the video here.) They have no idea what it might have been, but they plan to go back and fish for it. (To paraphrase a famous line from "Jaws" – they're gonna need a bigger boat.)
"After an hour hiking, we took a break on a hill with a great view of Bow River where my sister and I saw what appeared to be a prehistoric animal swimming. I pointed my sister to what I was seeing, and she too stood shocked. I immediately took photos, and after evaluating them, my sister and I responded with the same conclusion – the Loch Ness Monster."
Sigh. It can't be the Loch Ness monster because the Bow River isn't the Loch Ness, but that's what Matthew D'Amico reported seeing last week in Banff National Park – a creature with a "long neck protruding out of the water." That "neck" makes the thing look like the alleged monster in the infamous 1933 Surgeon's photo of the Loch Ness Monster which turned out to be a hoax sighting. This one has more the makings of a log, especially without a video, a wake, any landmarks or objects to help size it, etc. (See the picture here.)
As far as the Shuswap Lake sightings are concerned, wanna-believers are hoping it's an unknown creature or a 34-million-year-old Basilosaurus or some other extinct marine mammal or giant lizard or serpent. Skeptics, as they do with Ogopogo and other lake monsters, think it's a lake sturgeon, although even the largest measure well under 25 feet.
Is this the Year of the Shuswaggi? It's only May and Ogopogo still has the lead in name recognition. If you see something strange in any lake in Canada, just remember to lean against a wall to steady yourself, zoom in, get other witnesses … and PLEASE don't call it the Loch Ness monster.
Source: Mysterious Universe
Man set to solve Iliamna Lake Monster mystery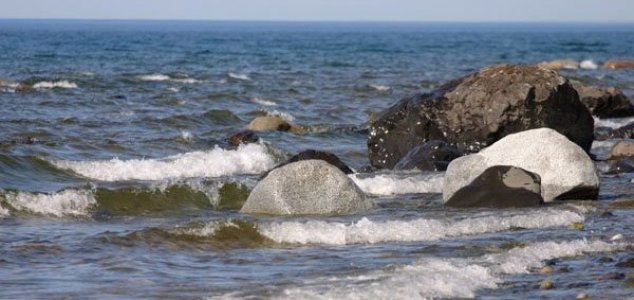 Image Credit: CC BY-SA 3.0 AlaskaTrekker
What lies within the depths of Lake Iliamna ?
A former marine ecologist is aiming to use underwater cameras to spot an elusive lake beast in Alaska.
Nestled at the north end of the Alaska Peninsula, Lake Iliamna is 77 miles long and as much as 22 miles wide, making it one of the largest lakes in the United States.
Like many large lakes, Iliamna is also home to its very own monster legend – a mysterious aquatic denizen of the deep that has been at the center of local folklore in the region for years.
Many fisherman swear by the creature's existence and even claim to have encountered it first-hand.
So great is the mystery that in 1980 the Anchorage Daily News offered a $100,000 reward for tangible evidence or scientific verification of a previously undiscovered species in the lake.
Now in a renewed bid to find out what lurks in Iliamna's depths, former marine ecologist Bruce Wright will be visiting the region this summer armed with a special underwater camera.
He will also take samples of the water so that it can be DNA tested.
His personal theory is that the sightings can be attributed to the presence of large sleeper sharks in the lake – a species that can grow to enormous sizes and live for hundreds of years.
"If we see a new species, that would be pretty fascinating," he said. "And if I find a sleeper shark, that's worth the effort too."
"There will be plenty of questions about why they're there and how do they make a living."

Source: ADN.com
Pale Humanoid Creature Recorded In The Australian Outback
While out at night, a man claimed he was driving around and came upon something from out of the ordinary. He managed to record a short clip of something crawling around on all fours. This humanoid looking creature, moved fast and was pale colored by appearance. This anonymous man, said he from a small town located in Rocky Gully, Western Australia. The location where the video was taken was within a forested area.
Certainly seeing something such as this, would startle anyone. Many are speculating what it might be. One thing is for sure, it moves fast and is smaller sized. It doesn't appear to be a dog or cat, it is something else.
Perhaps this was merely a kangaroo. They have been known to cross the road at night. There are many wild animals that are nocturnal, maybe this is something rather rare that this man happened to capture on video. It does resemble some humanoid features considering its limbs. What it might be, is nothing more than speculation and mystery at this point.
The man said, he used his smartphone to record this mystery creature. The lights from his vehicle were enough to shine upon this thing. It seemed to come out of nowhere, he explained. When it suddenly appeared, it was swift and moved around on all fours in front of the car. Moments later, it wandered off into the darkness.
This man also said he was very confused by what he had seen. He sat motionless inside his vehicle and pondered over what he witnessed (for a few minutes) before leaving the area. It seems that he didn't chase after where this humanoid looking creature went.
His guess was, this was some kind of unknown monster or alien of some kind. Undoubtedly, he was unable to find any kind of explanation yet and neither has anyone else yet. Speculations are, many biologists and cryptozoologists are having a hard time figuring out what this might be as well.