New Brunswick, one of the smallest Canadian provinces at 72,908 square kilometers, is nestled on Canada's eastern shores between Nova Scotia and Quebec, sitting atop the American state Maine like a pompadour. First Nations peoples have lived in the area since at least 7000 BCE. New Brunswick was also part of Vinland, a section of North America explored by the Vikings around 1000 CE. The province is covered by 15 million acres of forestland, more than 60 rivers, and boasts the Bay of Fundy where tourists flock to watch whales. New Brunswick's Saint John was the first incorporated city in Canada. Famous people from New Brunswick include two Fathers of Confederation, Peter Mitchell and Samuel Leonard Tilley, founders of Canada's oldest candy company Gilbert and James Ganong, actors Walter Pidgeon and Donald Sutherland, father of Canadian poetry Sir Charles G. D. Roberts, and Brenda Robertson, the first woman elected to the Canadian legislative assembly. It's also home to unexpected creatures.
Mountain Lion
Mountain lions exist. We know this; we see them in zoos, on nature programs, and sometimes – at least in Western North America – up close and personal. European farmers who immigrated to North America killed the Eastern Mountain Lion (also called the Eastern Cougar or Eastern Panther) to protect their livestock, much like the Australians did to the Thylacine. By the late 1800s, the Eastern Mountain Lion was considered endangered. A specimine was last seen in New Brunswick in 1932 and in Maine in 1938. By 1940, this subspecies was gone, although it wasn't declared extinct until 2015.
But is it extinct?
Naturalist Bruce Wright was bigger than life. A life-long outdoorsman, Wright became a forester through the University of New Brunswick, working as a forest biologist after graduation. During World War II he came up with the idea for "frogmen" who would use scuba gear to infiltrate enemy territory. During the war, he used his disposition in Myanmar (then Burma) to study marine life. After the war, he studied black ducks in the Canadian Maritimes (eastern provinces), but one of his personal interests was extinct species he believed could still be alive. One he was particularly interested in was the Eastern Mountain Lion.
During Wright's quest for the endangered (and assumed extinct) animal led him to collet hundreds of sightings and indeed discovered what is widely considered as the last Eastern Mountain Lion. When that cat died, the entire species was considered dead as well.
Since then, there have still been reports of mountain lions in New Brunswick, although they are credited to a species of mountain lion from the western portions of North America that have wandered far afield.But are they?
Lake Utopia Lake Monster
Lake Utopia, in Charlotte County near the Maine border, is a seven-kilometer-long, three-kilometer-wide body of water that reaches an average depth of around 11 metres. A popular destination for recreation, Utopia Lake is also known for the Lake Utopia Lake Monster, Old Ned.
Stories of the creature began before the arrival of European settlers when the local Maliseet First Nations tribes claimed a large underwater creature that looked somewhat like a whale would chase people canoeing on the lake. European settlers began reporting encounters with the monster in the 1800s, and they continue to this day, usually every three to five years. Although the whale explanation is a stretch, it could be possible. Lake Utopia is connected to the Bay of Fundy via the Magaguadavic River, although it wouldn't exactly be smooth swimming for a whale.
One of the most famous sightings was in 1867 when sawmill workers saw a nine-metre long, three-metre wide creature splashing in the lake. Similar sightings occurred a year later in 1868, again in 1872, and 1891. Modern sightings include a 1996 report from a couple, Roger and Lois Wilcox, who saw a 15-metre-long creature swimming in the lake. It swam up and down like a mammal, not side to side like a fish or reptile.
The Tote-Road Shagamaw
From the early days of the European settlement of New Brunswick, workers in lumber camps began to report a creature with the front paws of a bear and the back legs of a moose – the Shagamaw. To confuse anyone who followed it, the Shagamaw would switch off walking on its hind legs to its forelegs. One set of tracks would extend on tote roads (trails used to carry supplies to a lumber camp) only about 440 paces because that's as high as the Shagamaw could count. Then it would switch to the other legs and go 440 more paces before switching back.
According to the book, "Fearsome Creatures of the Lumberwoods," by William T. Cox (1910), the Tote-Road Shagamaw was a horrifying creature to see, but it was shy and harmless. The Shagamaw also had a peculiar diet; it ate discarded boots, mittens, and anything else lumbermen dropped along these desolate roads.
Bigfoot
Canada wouldn't be Canada without Bigfoot reports. There have been more than seven Bigfoot sightings in New Brunswick during the past 35 years.
According to the Bigfoot Field Research Organization, more than twenty Canadian and U.S. soldiers, based in the 5th Canadian Division Support Base Gagetown, were training near Laverna Wood in 1990 when unidentified noises from the trees stopped them in their tracks. The soldiers heard an enormous creature thunder through the brush and could feel its impact when its feet hit the ground. When it vocalized, it sounded like a baby's cry amplified "500 times louder."
Although the creature remained hidden by the forest, whatever made that noise was nothing the soldiers were familiar with. One soldier said, "it wasn't a bear."
Another sighting occurred in 2008 when two couples from Anfield and Saint John, New Brunswick, saw a"pitch-black, approximately eight-and-a-half-foot sasquatch" at Skiff Lake, according to an article in the WoodstockBugle-Observer. "I know a bear can stand on its hind legs and move around," one of the men told the newspaper, "but a bear can't walk on two legs the way this human-like form (did)."
Next up: Newfoundland and Labrador.
http://mysteriousuniverse.org/2018/05/exploring-canadian-monsters-new-brunswick/
Scientist finds polar bear DNA in Bigfoot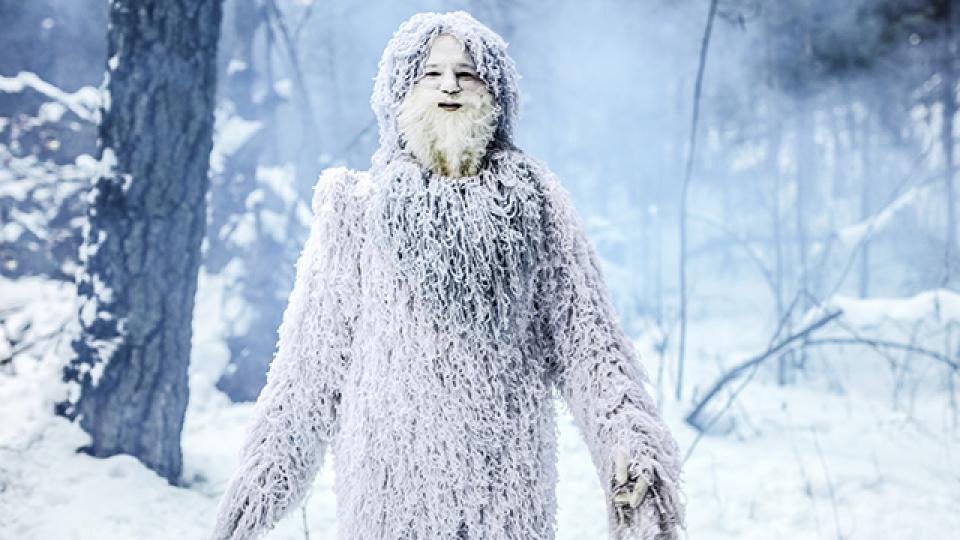 British scientists examined yeti DNA and found a strong similarity to polar bear DNA. For analysis, they took the wool of a creature that was killed by a hunter in the Himalayas 30 years ago.
Brian Sykes, a geneticist at the University of Oxford, examined the DNA of the Bigfoot Yeti and found similarities to the DNA of a polar bear, according to Daily Star.
For analysis, Sykes took the wool of a creature killed by a hunter in the Himalayas 30 years ago, from which they made a stuffed animal. The result showed a match with the DNA of an ancient polar bear that became extinct at least 40,000 years ago. The geneticist suggests that the Yeti is a hybrid of a brown bear and a polar bear that arrived in the mountain range from the Arctic north many years ago. For this reason, it behaves differently from an animal of this species.
Now the professor wants to obtain samples of Bigfoot hair from all over the world in order to subject them to the most difficult DNA tests and continue research in this direction.
In 2019, the FBI released documents revealing the results of analysis of hair and biologic tissue allegedly belonging to Bigfoot. The samples were sent in 1976 by yeti hunter Peter Byrne. Research results showed that they belonged to a deer.
Bigfoot is a large humanoid creature from modern folklore, which is believed to live in forest or mountain areas that are inaccessible to humans. It is believed that it is an ancient hominid that has survived to our time, but scientists are skeptical about the likelihood of its existence. In particular, all cases of its observation or possible traces are explained by hoax or mistaken recognition of animal tracks.
When was the last time a Bigfoot was seen?
In 2020, the appearance of Bigfoot was noted in Australia, the relic forests of Canada, in the west of the USA, in the north of Scandinavia.
In the spurs of the Himalayas, wild hairy people of small stature were seen, resembling a Flores man (fossil dwarf species of people. Also known as the "hobbit" by analogy with the creatures invented by J. Tolkien. – Ed.).
In October, locals informed that in the jungle of Africa, in the Congo region, there is an upright creature similar to a Yeti.
Traces of Bigfoot, his refuge are regularly found in Komi. Yeti visits have recently been reported from eyewitnesses from the Karelian Isthmus and the border zone near Vyborg, where there are dungeons and a huge bunker near an abandoned military airfield.
Strange photo was taken by tourists near Loch Ness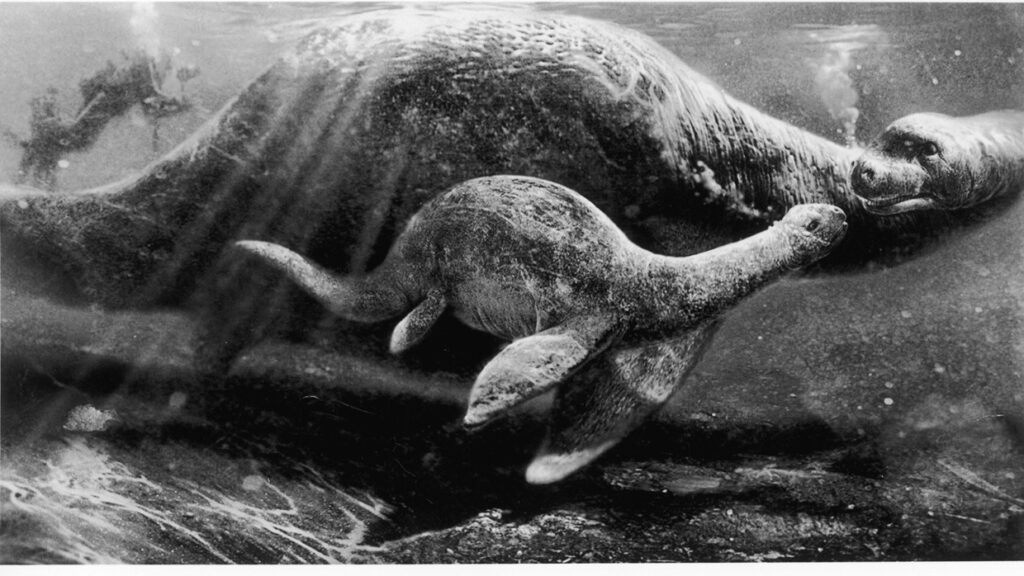 Inverness, December 23. A new photograph of a mysterious creature "the size of a very large seal" in Loch Ness has been announced as another official sighting of the Loch Ness monster.
Tourist Karen Scott, returning from Aberdeen, noticed a strange creature in the Scottish Loch Ness. The woman managed to capture her observation in the photo. At first, Scott took what he saw for a big bird, she admitted to reporters. According to the traveler, while she took out the camera, the mysterious creature managed to submerge itself under the water.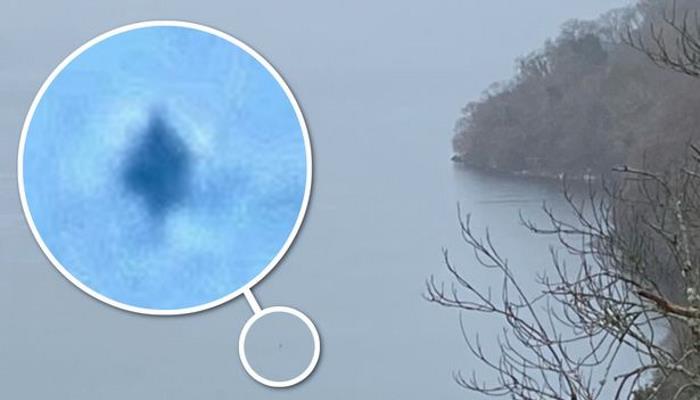 "By the time I turned on the camera on my phone, it was slowly submerged under the water and then reappeared at a short distance," she shared.
Scott and her friend compared the creature they saw to a large seal, but workers at the lake have denied this assumption. According to experts, seals rarely get that far into Loch Ness.
The tourist flow to these places in 2020 was much lower than in previous years due to the coronavirus pandemic, experts studying Nessie noted. Despite this circumstance, during this year, travelers recorded a large amount of evidence of the existence of the Loch Ness monster, scientists were surprised.
In Africa, some tribes still believe in the existence of a dinosaur on the Congo River
There are already a great many cryptids in our world. But at the same time, we do not have any evidence of their real existence, except for legends and eyewitness accounts. Of course the ocean is still a very unexplored sphere of the Earth. There may indeed be some prehistoric cryptids preserved there. For example, there is one horseshoe crab, which is almost 500 million years old. 
But in Africa there has long been a belief about a certain Mokele-Mbemba, who lives in the Congo basin. This legend confuses scientists. If the most ancient creatures can still be preserved in the ocean, then they could hardly remain on Earth, especially when it comes to dinosaurs.
However, judging by the descriptions of local residents, either some sauropod from the Jurassic period or a real plesiosaur lives in the Congo. It is not known exactly who it is about. The appearance of this creature, described by eyewitnesses from Africa, often resembles the Loch Ness monster.
Mokele-mbemba is credited with a long neck, a raptor's head and aggressive predatory behavior. According to some tribes, a mysterious dinosaur can hunt hippos that are afraid of him and go away. According to other sources, he is a herbivore. No matter how many expeditions were organized to the Congo to search for this creature, not one of them was crowned with success. None of the naturalists have come across a mokele mbembe. This sometimes gives the impression that this creature is just a product of the mythology of local residents.
In 2001, the BBC and Discovery Channel filmed an entire movie dedicated to the search for the mysterious Mokele Mbembe. From conversations with representatives of tribes, experts found out that the mysterious creature could be …. A common rhino.
The fact is that there are practically no rhinos in the Congo basin. Local peoples are usually not fond of distant travel. But rhinos could well have lived in these lands centuries ago. From all this, naturalists concluded that by mokele-mbembe they mean any of the African rhinos.
Moreover, when one of the experts showed the local a photograph of a rhinoceros, they replied that it was the same mythical monster. Therefore, scientists thought that the legend was created by those who personally saw these giant pig-like animals in distant times. In addition, the mysterious traces of mokele-mbembe,
True, it is worth considering the opinion of cryptozoologists who are looking for outlandish creatures on Earth. Over a century of this entire cryptozoological campaign, researchers talked to many locals in the Congo and received very mixed information.
Some Africans said that the mokele-mbembe has a very long neck, more characteristic of a dinosaur, as well as the existing scales. Moreover, there was information about the carnivorousness of this beast. In this case, this animal can no longer be equated with a rhinoceros. Almost nowhere was it reported that the beast had a giant horn.
A biologist named Roy McCull undertook two expeditions to find the mokele-mbembe and failed. But he is still sure that the mysterious creature is not a rhino at all, but a real sauropod that has survived to this day.
McCull strongly disagrees that the mokele-mbembe could be a mammal or an amphibian. But the official science does not recognize the existence of surviving dinosaurs at all, and calls the legend of the African "dinosaur" an ordinary fantasy