Although there has been concern raised that the Sky Disc is a fake, multiple tests have revealed that it is authentic – an opinion held by the majority of researchers and archaeologists. Analysis of the bronze indicates that it was made in the region although the gold and tin were probably acquired from Cornwall in Britain. This has raised another problem. The precision tooling and advanced understanding of the stars does seem very advanced for this time period.
However, the early people from this area did have a fascination with the stars and celestial objects. Around 25 kilometres southwest from where the Nebra Sky Disk was found is one of the finest solar Neolithic sites in Germany. This series of ancient earthworks has been compared to Stonehenge, in Britain, with regard to its importance. Studies of the 'Gosek Complex' have revealed that it was almost certainly used as a celestial observatory. However, it's worth noting that while 25km is considered close today, it would have represented a journey of probably two days to the people of the time.
Historians are facing a difficult question. Why did some select groups of Neolithic people seem to have awareness far in excess of the ordinary people of the time? This pattern is not unique and has been observed all across Europe.
A wide range of theories have been put forward about the origin and purpose of the Nebra Sky Disk. These are just some of them …
Celestial Calendar Theory

The most common of the Nebra Sky Disk theories is that the disk represents the constellations of the night sky around 1,400 to 1,600 BC. According to Harald Meller, a German academic and archaeologist, the disk was actually a complex astronomical clock that was used by the ancients to harmonise the solar and lunar calendars of the time.
It is commonly accepted, although far from proven, that the Neolithic people of Europe used solar alignments to predict the changing seasons and use this information to provide advice with regard to the planting and harvesting of crops. This would mean that the Nebra Sky Disk was actually a form of portable stone circle. If this is all true then the Sky Disk also represents the first record of a multi-calendar synchronisation system.
It is worth pointing out that not all researchers agree with this assessment as it applies to the Nebra Sky Disk or, for that matter, stone circles in general. As they point out. A well-positioned pole in the ground, a length of string and a few wooden stakes can achieve the same effect. They ask, 'Why were these Neolithic people committing so much 'expensive' energy to create complex solutions when simpler ones very easily available?'
Extra-terrestrial Contact
Schlosser of the Rurh University at Bochum stated that he believes that these Bronze Age savants already had levels of astronomy knowledge that the Babylonians would only discover a thousand years later. He went on to suggest that questions need to be asked whether this knowledge was acquired locally or originated from afar. Although, he himself makes no connection between the disk and extra-terrestrial events.
This demonstration of advanced Neolithic knowledge has led to speculation that the Nebra Sky Disc represents evidence that early human civilizations were contacted by beings not of this planet. Ancient alien researchers point out that all across the world, from the rock paintings of Tassili to the Nazca lines of Peru, there are ancient depictions of beings that bear a remarkable resemblance to 'spacemen' and their technology. While nobody claims that the disk itself is of alien origin, the researchers believe it is a depiction of something that people of the region may have seen and copied – possibly to use as a talisman. In particular they point to the 'Sun Ship' at the base of the disk as a representation of a craft capable of travelling through the 'heavens'.
Pole Shift Theory

According to other researchers, the extreme lower section of the Sky Disc depicts the constellation of Orion. This is a major issue for traditional archaeology as Orion should not have been observable from that position in Germany at that time. In fact, the nearest possible geographic location from which it would have been visible is Luxor in ancient Egypt. The conclusion that was drawn is that the 26- to 30-degree variance can only be accounted for by a simultaneous pole shift. As Nebra Sky Disk theories go – this one is more abot proving pole shift rather than the origin of the Sky Disk. As an origin theory it is really suggesting that the design of the disk came from Ancient Egypt.
Niburu
There have been theories put forward that the Sky Disc represents the wandering and mythical planet Niburu and not the moon at all. This has been prompted ancient astronaut supporters who propose that the disc was a stellar map design was left behind by Pleiadian explorers that visited Europe about 4000 years ago.
Certainly historical texts are full of stories of beings that came from the heavens and told the early agrarian cultures how they should lead their lives. From the Anunnaki of Mesopotamia to celestial gods of early Greek and Scandinavian cultures, the essential story is the same. The people of Earth were in trouble shortly after a period of rapid climate change approximately 7,000 years ago. Beings from the heavens came down and shared their wisdom and the people of earth suddenly experienced a massive jump forward in terms of understanding and technology. These beings eventually left but were then worshipped as gods by the humans they left behind.
Atlantis and Atlanteans Culture
It has been proposed that there is a link between the Sky Disk and the legendary people of Atlantis. The theory suggests that the Atlanteans (Minoans) were a very advanced civilization that helped spread awareness and knowledge to the ancient people of the greater Mediterranean Triangle that stretches from the Black Sea in the East to Egypt in the South and Gibraltar in the West. These people were based on the Island of Thera and were destroyed when the island experienced a massive volcanic eruption between 1642–1540 BCE – around the same time that the Nebra Sky Disk was buried.
The respected German media channel – Die Welt – is said to have speculated that the Nebra Sky Disk could support the audacious hypothesis of the Atlantis explorer Spanuth, which locates the Atlanteans at Heligoland. He claims that the large water circle "sin-wur" is more like the Black Sea than the North Sea. He asks:
"Where did the creator of the Nebra Sky Disk gain his astronomical knowledge, which can only be worked out over generations to achieve this complexity?"
The Frankfurter Allgemeine Zeitung rightly states. Even the archaeologist Meller concedes: "It is clear that we always underestimate prehistoric people". This statement may also be characterized by recent research reports from Göbekli Tepe in Turkey. Findings by Dr. Klaus Schmidt, Chief Excavator of the German Archaeological Institute, has already identified an early form of a writing in Eastern Anatolia dating back to around 7500 BC!
According to the mythology of the ancients, Atlas was the bearer of the sky, the father of the Pleiades constellation (seven sisters) which is a key feature of the Sky Disk. Atlas was also the great king of Atlantis.
People Just Don't Know
According to some, the Nebra Sky Disc would be used to see the sunset during the winter solstice and would predict the changing seasons. However, not all historians agree with this explanation.
As it was found along with swords, it has been suggested that it could be part of a shield with a picture of the sky as magical protection.
As always, interpretation of objects from the distant past is complex.
The truth is that although there are numerous theories, modern science simply doesn't know what the Nebra Sky Disc was used for.
3800-Year-Old Teen Skeleton Found Buried With Fortune-Telling Game
The Ouija board was invented in 1890 and was probably played by teens at parties from day one. However, that teen fascination with fortune-telling games has been around for thousands of years. Need proof? A skeleton dating back 3,800 years was unearthed recently in Russia and the teen was buried with the animal bone pieces of an ancient fortune-telling game that's still played in Mongolia today. Did the teen see this coming?
"(The game) was probably the most popular among the kids in the Bronze age."
Georgy Stukalov, a scientific researcher for the Astrakhan History museum, says the game was discovered next to the remains of a teen (it's unknown if it was male or female) buried in a fetal position in the Bogomolnye Peski necropolis. This multi-layered burial site is located near the village of Nikolskoye near the Caspian Sea. The remains and the game were buried below layers which recently revealed the 2,000-year-old skeleton and elongated skull of a man who appeared to be laughing. Was he playing the game too?
"And this game – shagai – came to us through the centuries. Even 50 to 60 years ago our granddads and grannies used to play this game."
Stukalov explains that the fortune-telling game is called "Shagai," a name that refers to the astragalus, which is the lower part of the ankle bone (sometimes called the 'hock') of a sheep or goat. The four sides of the bone are uniquely shaped — the convex sides are called 'horse; and 'sheep' and are the lucky sides, while the concave faces are 'goat' and 'camel' and considered unlucky. More than one of the bones are thrown at a time and the up-facing surfaces determine the outcome, moves or fortune, depending on which version of Shagai is being played. In the simple fortune-telling game, rolling four bones and having one of each animal showing is the best (luckiest) roll. Not much is known of the Bronze Age Srubnaya culture which inhabited the area between the 18th and 12th centuries BCE other than it survived on livestock breeding – which explains the plentiful supply of game pieces.
If it sounds vaguely familiar, Shagai is thought to have been a predecessor to many throwing games and is played in other parts of the world under the name Knucklebones or Jacks. The knobby shape of the bones may have inspired the 3D asterisks that are modern jacks. In Mongolia where the game is still played with the real thing, the bones are considered to be good luck charms and often given as gifts.
Was the person in the grave playing Shagai for fun or for fortune? Being a teen, it was probably both.
Source: Mysterious Universe
History of Giants on Record Explored by Author Hugh Newman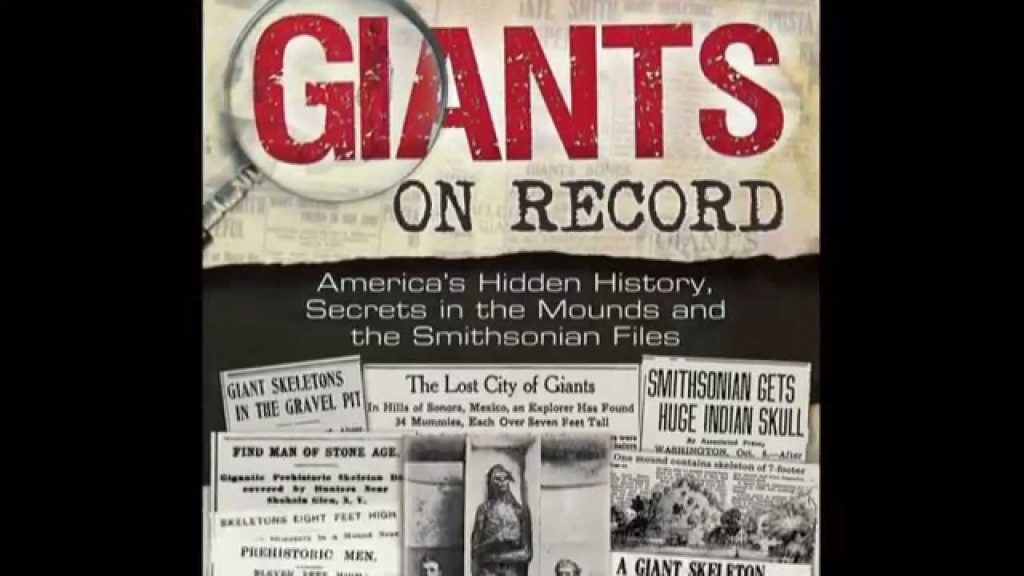 Everyone knows the first line of the English fairy tale, "Fee Fi Fo Fum."
But how many know the rest of the verse, which gets a little dark:
"I smell the blood of an Englishman/ Be he alive, or be he dead/ I'll grind his bones to make my bread."
What the hell kind of bedtime story is that?
Actually, it derives from the early 18th century tale of Jack and a cannibalistic giant called "Jack the Giant Killer." The origins of that can be traced through oral histories to prehistoric England, when giants may have roamed not just the UK, but the Earth.
The 16th century scribe, Raphael Holinshed, wrote in "Chronicles of England, Scotland and Ireland," that Britain's oldest acknowledged name was taken from a prehistoric king named Albion, who ruled a race of giants that dominated the UK for hundreds, possibly thousands of years B.C.
The Bible is filled with stories of Middle Eastern giants, including the Nephilim tribe that spawned the Amorites, Emim and Anakim, who the Sumerians called the Annunaki.
Marco Polo wrote of encountering giants in Zanzibar who were "so strong they can carry as many as four ordinary men." Mid-20th century journalist Glenn D. Kittler said of the Watusi tribe east of the Congo, "Men towering 7 or 8 feet are a common sight."
Reputable accounts of giants come from all over the world, says Hugh Newman, co-author with Jim Vieira of "Giants On Record: America's Hidden History, Secrets in the Mounds and the Smithsonian Files." An extinct, genetically distinct subspecies of Homo sapiens was discovered just a decade ago in a Denisova Cave in Siberia. Called the Denisovans, they lived from 50,000 to 300,000 years ago and "are known to be very, very tall," says Newman. And their descendants could have wandered as far west as North America.
Newman, who is described on ancient-origins.net as a world explorer, megalithomaniac and author, will talk about the Nephilim, the Denisovans and giants in general Friday in a lecture titled "Giantology: Scientific Evidence For A Worldwide Culture Of Giants in Prehistory" at the annual Contact in the Desert conference in Indian Wells.
The conference runs May 30-June 3 with field trips, talks and workshops on UFOs, ancient aliens, forbidden archaeology and more.
He gave the long and short of giantology in a recent telephone interview from England.
THE DESERT SUN: So, when did giants roam the earth?
NEWMAN: We're looking at different eras, really. In North America, we've got dating that goes back around 10,000 years, right up to the 1900s when giants have been witnessed. It's quite a large range, but generally, it's anywhere from around 1000 B.C. to around 900 A.D.
How tall are we talking?
Anywhere between 7-foot – that's the lower limit of what we call a giant. We have one account of up to 18 feet, but we don't think that's for real. Probably about 14 foot.
Would you call the giants a different species of Homo sapiens? In other words, if you did a 23 and Me test of DNA, could you find evidence of giants that could distinguish them from other ancestors?
Not really, no. There is one (piece of evidence) we get. We have elements of up to 3 or 4 percent of Denisovan DNA within some tribes in the northern areas of North America, some of the Algonquin-speaking tribes. So, it's thought that maybe these tall ancestors came into the Americas a very long time ago.
So, you're saying the giants weren't different from ancient humans, just taller?
I believe so, yeah. But we don't really know because we can't get access to (many) bones or DNA because of the NAGPRA Act – the Native American Grave Protection and Repatriation Act (requiring institutions that receive federal funding to return Native American cultural items to their descendants). Since 1990, it's been almost impossible to gain access to anything to do tests. It's one of the reasons we call the book, "Giants On Record" because we had to use the records as the evidence rather than the bones, even though we have many, many academics who actually dug them up and reported them. I personally don't think they're alien-human hybrids or anything like that, but, if you look into the legends and oral traditions of the Native Americans, you'll find accounts of them interbreeding with the star people – people from the sky. There are stories within some of the same tribes that ended up being giants. So, it is quite strange.
Where did most of the giants roam this continent?
Most of the accounts in North America have to do with the mound culture (in which North American communities over a 5,000-year period built earthen mounds for ceremonial and elite residential purposes), based around the Ohio Valley, down the Mississippi (River) and splitting into different parts of the country. Whether they're the Adenas, who are the earliest (from 500 B.C.E to 100 A.D. in southern Ohio), or the Hopewell (known as the Mound Builders, from 200-500 B.C.) or the Fort Ancient (who built the Alligator and Serpent mounds in Southern Ohio, 1000-1750 A.D.), we have mound culture sites going back to 4,000 B.C. And we have very early evidence of giants in the Southwest that have nothing to do with mounds. We have red-haired mummies found in Lovelock Cave in Nevada (discovered in 1911 and corresponding to Paiute oral history about a tribe of giant cannibals). Also down that way you have the Spirit Cave Mummy (discovered in 1940 east of Fallon, Nevada and linked by DNA to the Fallon Paiute-Shoshone tribe), which is known to be 9,000 or 10,000 years old. So, perhaps these skeletons are that old. Ross Hamilton, who we call the godfather of giantology, was in touch with Vine DeLoria Jr., a Native American scholar and activist, and Vine DeLoria Jr. had access to all these elders who shared their stories going far back … 12,000 to 13,000 years ago. There are stories of mammoths hanging out with giant humans. In fact, one of the stories we feature from Vine DeLoria Jr. is that they herd mammoths like we herd cattle.
There's a guy who I believe found evidence of giants in Peru. (Brien Foerster, giving a workshop on "Peruvian Elongated Skull People: Human Subspecies or Hybrids?" at 2 p.m. Sunday). Do you know who I'm talking about?
They found these giant long skulls, but they're not giants. I've seen them. They're standard-sized humans but their skulls are very long. It's mainly cranial deformation. We have accounts of actual giants being found in South America as well.
There are also stories of the Anunnaki in Southern Africa. (Michael Tellinger will discuss "Vanished Civilizations of Southern Africa: Gold Mining Empire of the Anunnaki – Fossils Of Giants and Extinct Creatures" at 2:30 p.m. Saturday). They were supposed to be giants, too, right?
The Anunnaki actually come from the area of the Bible lands. So, you're talking about Biblical traditions. There also were the Watchers (described in the Book of Enoch as angels who lived among humans before The Flood) and they were said to be giants. They later gave birth with human females to the Nephilim, who were the well-known giants a lot of people talk about. (Genesis 6:4). There's not too much evidence of them in south Africa. They may have gone down to south Africa to mine for gold and minerals, and there is evidence down there of giant human beings. The interesting thing about that area is we have a tribe of humans that goes back at least 200,000 years called Homo heidelbergensis. These were known to routinely be over 7 feet tall, and this was reported by Prof. Lee Berger. Also, there was a gentleman called Prof. Francis Thackeray, who had a fossilized bone that was found in South Africa (from) someone who was twice the height of a human being. Homo Heidelbergensis are the early ancestors of the Denisovans, who have emerged more recently from the Altai mountains or Denisova Cave in Siberia. This is really big news at the moment. They found these thick skull fragments and large finger bones and very advanced bracelets, jewelry technology, at least 40,000 years old. The suggestion is they spread from the Denisovans (to) North America and other places. So, there's a sequence here.
You must have a million questions about giants. What do you want to learn most?
Well, there are a couple of things. One is, why is this important chapter in human history being completely and utterly covered up? The other question is, if you look around the world, there's always a connection between megalithic construction, mound culture-type sites and the giants. That was part of their traditions: building these sites. At Contact in the Desert, I talk about these two things specifically. If you go back to the time of the Bible, and the Anunnaki and the Watchers and the Nephilim, we have stories that recount that they were obsessive megalith builders and stone masons and metallurgists. There is so much mythology about this subject in folklore and oral traditions, and now there is evidence actually emerging that this is actually, genuinely a thing. We have 1,500 newspaper accounts in North America of giant bones and skeletons being unearthed. We have 17 accounts of 7- to 8-foot giants in the Smithsonian's own scientific annual reports. The Maryland Academy of Science is talking about 9-foot giants. We have universities in Texas finding 36-inch circumference skulls and so on. There's too much data to ignore that this is reality and the people who try to tell us that this is all sensational newspaper stories or exaggerated measurements are completely wrong.
It seems like giants are always associated with the bad guys. How did that happen? Was it because of Goliath?
It could be. But also a lot of British stories – Gogmagog (last of the Albion giants) and Jack the Giant Slayer – talk about these man-eating cannibalistic giants. You also have cannibalism linked to giants in tons of myths in North America. There were Native American tribes who had to protect themselves from these marauding cannabilistic savage giant tribes.
How did these tribes of giants die out?
They just got bred out of existence, I think. I don't really know why or how. In North America, the people that lived on that continent before the Europeans arrived were decimated by small pox. Interbreeding and lifestyle changes (have contributed).
You must get a lot of skepticism about this. How do you deal with skeptic people?
We don't worry about them too much. They always say, "Where are the bones?" We say, "The academics took them away." I suggest they go and talk to the Smithsonian.
Bryce Fessier
Palm Springs Desert Sun
Did Advanced Civilizations Exist Here Before Us?
Forget the modern world, industrialisation and even the ancient histories of Egypt and Greece – we're going much further back! To a time before records began when, according to some theories, earth was home to complex civilisations perhaps even more advanced than our own!
What if the Mother Culture Theory was true?
A mother culture is a term for an earlier people's culture that has great and widespread influence on some later cultures and people. Though the original culture may fade, the mother culture's influence grows for ages in the future. Later civilizations either learn and build upon their old ways, or can learn them through peaceful or military assimilation. Although the term is used by anthropologists and archaeologists, it is used sparingly, since it oversimplifies and in some cases even misrepresents the relationships between cultures. – (Wikipedia)
The most frequently cited examples of mother cultures are Ancient Egypt in the Mediterranean, and the Olmec in Mesoamerica.
What if there really were mysterious, unknown societies alive before humankind? In this video, Unveiled imagines a time before 'life as we know it' even existed. What do you think? Were there advanced civilisations before us?
Unveiled
YouTube