Nazi Secret Space Program | "Die Glocke" or " Nazzi Bell"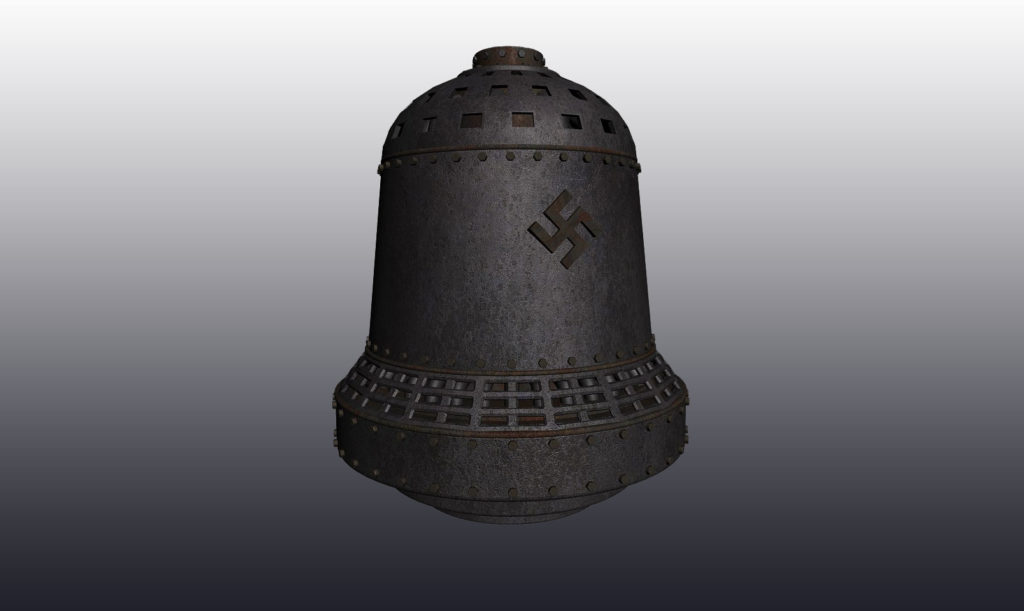 Die Glocke "The Bell"- was a purported top secret Nazi scientific technological device, secret weapon, or Wunderwaffe. Described by Polish journalist and author Igor Witkowski in Prawda o Wunderwaffe (2000), it was later popularized by military journalist and author Nick Cook as well as by writers such as Joseph P. Farrell and others who associate it with Nazi occultism and antigravity or free energy research.
Have you ever heard of "Die Glocke"?
I am talking about the powerful top-secret time machine that was purportedly created by the German Nazis towards the end of the Second World War. Few people echoed it since it remained a secret for many years.
It was an anti-gravity UFO-like saucer craft that many believe could travel across time.
This mysterious 'Nazi Bell' is reported for serving several purposes, including helping the Third Reich to go into space and visit the Moon, Mars, and most likely even distant star systems.
This is purportedly possible through the unexplainable, UFO-like gravity-defying propulsion system, a technology beyond the contemporary.
This technology was reported to have been particularly ordered by Adolf Hitler himself as an essential part of the secret space program bring run by Nazi.
When Hitler noticed that the walls are beginning to close on him, he pumped even more resources and manpower into his Wunderwaffe or Wonder Weapons to make the process faster.
This was all in an attempt to radically change the course of the war.
This weapon is the Die Glocke (The bell) and was part of the long list of Wunderwaffen (Wonder Weapons) that the Nazis developed towards the end of the war.
After more than 15 years of studying archives in different countries, Igor Witkowski, a Polish journalist and author specializing in the military technology and history of World War II, published Prawda o Wunderwaffe, a book that discussed Die Glocke at length.
Prawda o Wunderwaffe would later become a huge success after British military journalist and author Nick Cook quoted him in his own book, The Hunt for Zero Point: Inside the Classified World of Antigravity Technology. It has since been reviewed by lots of writers and researchers.
In fact, other writers like Joseph P. Farrell later associated it with Nazi occultism, antigravity, and free energy research. So, what did Igor Witkowski, Nick Cook, Joseph P. Farrell, and many other writers and researchers find out about the Nazi Bell, Die Glocke?
So, What Is Die Glocke/Nazi Bell, Really?
In Witkowski's book, he wrote about his discovery of Die Glocke through some transcripts he read from some Polish government documents. He wouldn't have been able to access this document, but for the help of Polish intelligence contact who was, of course, unnamed.
Even though he was not allowed to make copies of these documents, he was allowed to transcribe them. What he found in these transcripts shocked him. It was from an interrogation of a captured former Nazi SS Officer Jakob Sporrenberg.
Witkowski relates in his book the presence of a strange bell that measured four and a half meters in height by two and a half wide. Its shape is similar to that of a large bell. That is also where it got its name.
According to his description, it was carved in a very hard and heavy metal, covered with ceramic, and inside it housed two counter-rotating cylinders that contained a violet liquid with a consistency similar to that of mercury.
The journalist identified this liquid as Xerum 525 and it was also stored in a one-meter long thermos capsule coated in lead. Other researchers added components such as light metals (Leichtmetall), thorium and beryllium peroxides, elements commonly used as fuel in nuclear reactors.
From Cook's description, Die Glocke was revealed as a strong radiation-emitting craft. The radiation is released when it is activated. And the effect? A bell-shaped machine capable of potentially destroying everything and everyone close to it. Beyond life, it was built to be able to transcend time and space.
However, when it was tested, this effect led to the deaths of a lot of scientists, plants and various animal test subjects.
They scientists were reported to have suffered from a very terrible case of vertigo.
They would later die because the levels of radiation that the bell emitted when it was activated were just dangerously high.
There are some ruins of a metal framework close to the Wenceslas mine. Many have dismissed it as just a conventional industrial cooling tower.
However, Witkowski maintains that this structure is in fact used as a test rig for an anti-gravity propulsion experiment conducted, using Die Glocke. This location has been dubbed The Henge.
Near the Czech border in Ludwikowice was a mine in which the Nazis secretly used to build a revolutionary model with anti-gravitational properties.
The Bell was the first experiment of a prototype anti-gravity engine.
One of the most striking things was that this secret project had been developed with the names of Kronos (time) and Lanterntrager (light bearer), having references in the top-secret documents as "Gate of Time".
Adolf Hitler commissioned the device that was capable of traveling through time and had antigravity capabilities.
In command of this project was SS General Hans Kammler, a scientific engineer who had also participated in the development of multiple projects such as V-2 missiles, jet aircraft, wings, Nazi UFOs, and underground constructions.
By the time the Second World War ended, neither the Bell nor its team of scientists and developers resurfaced. They all simply disappeared. SS General Hans Klammer, who was the one in charge of the Third Reich's secret projects didn't resurface since.
But there is more to this.
When the Second World War ended, a lot of former Nazis were tried at war crime tribunals. Their crimes were a crime against humanity and violations of human rights.
Among the defendants was a former Nazi SS Obergruppenfuhrer, one of the highest commissioned Nazi SS ranks. His name was Jakob Sporrenberg.
While the Allied Army was arriving at the village of Ludwigsdorf, now called Ludwikowice, the officer of the Waffen SS, Karl Sporrenberg, by direct order of Hitler, had carried out the execution of 62 Nazi scientists, engineers, and technicians who worked on the project "Die Glocke ".
The idea was to keep everything about the technology a secret from the outside world. It was Sporrenberg's affidavit that would later give us the clue to how this highly advanced technology sounds.
Sporrenberg noted that the sound was what made his fellow Germans refer to The Bell as "beehive," a translation of the German word, "Der Bienenstock."
According to Sporrenberg's affidavit, the Bell was a highly advanced technology that produced a hissing, or buzzing sound when operational. He noted that because of the sound, his fellow Germans referred to the Bell as "Der Bienenstock," the German word for "beehive."
Paintings of Charles A. A. Dellschau, the late 19th-century artist, would later add additional evidence of the Bell's existence. These highly detailed images of the bell, as painted by Dellschau, indicate that there are German engineers who knew about The Bell before it was deployed during the Second World War.
Dellschau was a member of the "German Sonora Aero Club Collective," a cryptic group known for their construction of exploratory aircraft designs. This would later raise suspicions that Dellschau might have been in contact with some pro-Nazi hyper-intelligent extraterrestrials. How else could he have painted hundreds of craft all looking strikingly similar to The Bell?
The Nazi Anti-Gravity Campaign
But why did they create this contraption? In the book, Witkowski explains that the goal of the campaign was to generate antigravity propulsion, which is why they found it fastened to the ground with large chains. In addition, his theory maintains that this weapon was lethal for any living being that was within a radius of 200 meters after its start-up. In the writings he talks about his creation process, loaded with tragedy: five of the seven members of the team led by physicist Walther Gerlach died during the tests.
The data on which the journalist's investigation is based come from a military man and not from a scientist, so the information is somewhat confusing. The bell is activated when the tubes turn in the opposite direction to each other, this vortex would cause a separation of the magnetic fields of the superconductors used. These data are those recorded by the Polish secret agent (military) who provided the documents to the journalist, from whom he could only take a few notes. So there is no material evidence of the existence of this Nazi campaign.
If anything remains of all this, according to Witkowski, it is in the US, since the country was left with most of the inventions developed in the Nazi era after drawing up agreements between the allies and General SS Hans Kammler.
There are also those who believe that The Bell was moved to the Arctic Circle and/or South America after their top scientists were executed. Some also believed that work was continued on The Bell after the Second World War after the Nazi leaders developed UFO technologies that allowed them to communicate with pro-Nazi extraterrestrial beings.
Conspiracy theories about Nazi time and interdimensional travel have resurfaced before the release of the third season of the successful American television series created and produced by Amazon Studios, Man in the High Castle. Die Glocke has also appeared in video games such as Call of Duty, Wolfenstein and Assassin's Creed.
More and more reports are coming up as it continues to gain fresh awareness. Historians say that there is probably no weapon of time travel, such as Die Glocke, and this is due to unverified conspiracy theories. And, of course, scientists still believe that traveling through time is impossible. Yet, every day, we see signs that there are so many secret works being hidden from the public eyes.
This is a story not suitable for skeptics that undoubtedly brings us closer to a dark age, not only because of what happened but also because of all that remains to be discovered about what really happened.
Poltergeist Girl of Battersea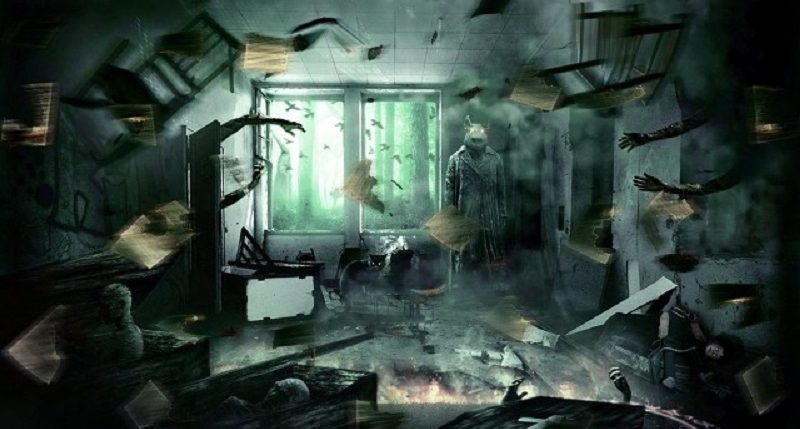 The Guinness Book of Records for some time used to include a section for "most durable ghosts", among those listed was a poltergeist known as "Donald" or "Spooky Willie" who was and is the only known paranormal entity to have written and sent letters to the living.
It did this through the possession of a 15 year old girl named Shirley Hitchings who in 1956 lived in the community of Battersea in South London. Introducing the Poltergeist Girl of Battersea…
You can find the poltergeist known as "Donald" or "Spooky Willie" by looking up either "Eland Road Poltergeist" or "Battersea Poltergeist", but each will tell a very different story as Donald has plagued more than one family living in the home at 8 Eland Road.
The first of these was in 1928 when 86 year old Henry Robinson was the sole occupant. An invisible entity began harassing him in all the usual ways that one would expect from a poltergeist, including tipping over dressers, smashing windows, and just generally being violent and aggressive.
Henry Robinson was invalid and completely incapable of opening his dresser let alone tipping it over. Mr. Robinson had lived in the home on his own with common visits from his sister for 25 peaceful years prior to these events.
They began without warning and as far as could be discerned, without cause, and lasted only three months before stopping completely. In those three months the actions of the Eland Road Poltergeist were witnessed by more than a dozen people, including a police constable who had chunks of coal thrown at him by an invisible force.
Spooky Willie would remain silent for twenty eight years following Henry Robinson's experiences with the entity, until what was described as an "ocean of mailed correspondence" began flowing from the home of Shirley Hitchings at 8 Eland Road.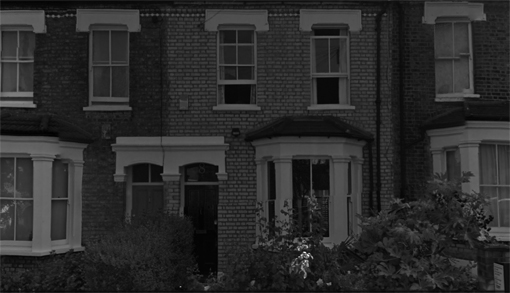 In cases of possession what is first looked toward for evidence is the victim's ability to speak in languages unknown to them. Despite that the communications were in written form and in English, this is still the case with the poltergeist's possession of Shirley Hitchings.
The letters were written in a form of English which drew heavily on French influences and hasn't been in use since the time of Louis XVI. What's stranger is that the letters were not signed "Donald", but were signed Louis Capet, who was in fact the second son of Louis XVI.
Those that were aware of and still followed Henry Robinson's ordeal were stunned and left without the slightest theory as to how the home and location of one of England's most notable poltergeists could now be the seat of an entity exhibiting an entirely different demeanor and calling itself by a name never before mentioned.
Recipients of these letters ranged from random people no longer present at the addresses mailed to, to current dignitaries, and even included Lord Brabazon, the first Englishman to pilot a heavier-than-air machine.
The content or subject matter varied so wildly it would be impossible to summarize all of the letters. Many were simple meanderings, while others were demands and pleas for recognition, but without any description as to what one should recognize.
The letters continued to be sent for three years, but within the first year another phenomenon began. One night in 1956 Shirley Hitchings's bed burst into flames while she was asleep, miraculously Shirley was not so much as singed.
Taking the reasonable precautions, Shirley's father, Mr. Hitchings removed all matches and other instruments for the lighting of fires from the home. When a cloth was left on a heated grill and lit fire he then kept all appliances unplugged. That did not help. The family's crock-pot over heated and lit on fire while unplugged and not in use.
Shirley never commented on or explained the fires and in fact generally was unaware of what might be causing them paranormal or otherwise, but four months into the outbreaks she would stun those following the case further by stating that the poltergeist, which she named as "Donny" was her boyfriend.
She did not mean that she had a boyfriend named Donny that was playing tricks, or even that she had had a boyfriend that died. She meant that she had started dating the poltergeist. This might have even been plausible as strange phenomenon began following her everywhere she went.
Her father, Mr. Hitchens, who was no doubt going a bit crazy by this point gave in to friends and family's demands to hire spiritualist Harry Hanks in an attempt to rid Shirley and the house of "Donny". It appeared to have worked as the strange phenomenon, the fires, all of it ended that night, except for the letters which would continue for another three years.
Nobody actually witnessed Shirley, "the Poltergeist Girl of Battersea" writing or mailing the letters, which was odd in and of itself, but they were written in her hand writing. There are so many possibilities as to what was happening at 8 Eland Road.
It could have been one entity claiming to be two, or that the home is haunted by two distinct entities, or even that Shirley Hitchens was a powerful medium channeling the spirit of Louis Capet while the poltergeist of Donny haunted the home.
This is the reason that to this day the "Eland Road Poltergeist" and "Battersea Poltergeist" are one of the most studied historical hauntings.
Paranormal Investigator Lorraine Warren Passed Away at 92
Lorraine Warren is known for her investigations of the Amityville Horror house and the haunted Annabelle doll.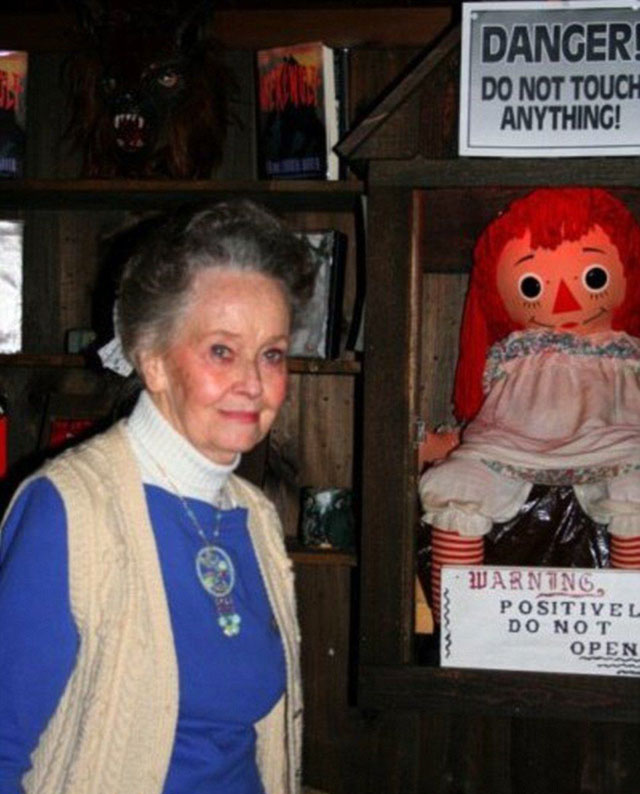 Lorraine Warren in the Warren's Occult Museum with the haunted Annabelle doll
Lorraine Warren passed away last night in her home at the age of 92. Lorraine professed to be a professed to be clairvoyant and medium. Along with her husband Ed, a demonologist, Lorraine founded the New England Society for Psychic Research in 1952 and conducted numerous investigations of paranormal claims such as the Amityville Horror house, the Enfield Poltergeist, and Annabelle the haunted doll. They claimed to have investigated more than 10,000 cases, some of which The Conjuring movies are based on.
Chris McKinnell, Lorraine's grandson and the director of The Warren Legacy Foundation for Paranormal Research, shared a heartfelt message on Facebook this morning:
"Last night my grandmother, Lorraine Warren, quietly and peacefully left us to join her beloved Ed," McKinnell wrote. "She was happy and laughing until the very end. She was my angel and my hero, and she will be deeply missed. Please join us in celebrating her life and honoring her beautiful soul. Remember to treasure those you love while you can. Thank you and God bless you all."
Woman Snaps Photograph Of Hellhound In The Shadows
While visiting a frequent haunt of hers, a woman named Stephanie Smith was out taking photos of different 19th century architecture in the Roundhay Park area, located in Yorkshire. Little did she soon realize, that she captured something rather unusual with her camera.
It wasn't until later (when she looked back at her photos) that she noticed what resembled a canine type beast, lingering in the shadows near a decorative castle built back during 1811. The myth of these type of hellhounds, dates back throughout history from folklore stories.
Typically, all of these hellhounds are described being about the same with their characteristics. There is one strange phenomenon known to linger in this area among others. It has been given the name "gytrash". This demon dog, has been feared and talked about for many years.
When Stephanie examined this photo closely, she began to notice this dark figure in the shadowy part of one area. Stephanie said, "I froze when I realized the shadow was some sort of animal, it took me a moment to figure out what it was but once I could see the head, ears, tail, and legs, there was no mistaking it was a demon dog".
After brightening up the image, further details can be seen. This figure does resemble that of an animal. Whether or not it actually is a demon dog is up for interpretation. Whatever it is, this shadowy figure looks out of place for such a bright sunny day. Most paranormal type activity occurs during the late night hours and not typically during the day.
Stephanie also added, "It took me a moment to figure out what it was. The gytrash is usually taken as an omen that something bad's going to happen to you or to someone you know. So, I'm shocked that I've got a photo of it."
One can only wonder if this hellhound was ready to pounce upon its next victim. A man unknowingly wanders by, without a care in the world. His fate may have been sealed otherwise.