Natural Herbal HPV "Cure" Discovered
A groundbreaking study published in the Asian Pacific Journal of Cancer Prevention, titled, "Clearance of Cervical Human Papillomavirus Infection by Topical Application of Curcumin and Curcumin Containing Polyherbal Cream: A Phase II Randomized Controlled Study," reveals that vaccination and watchful waiting are not the only recourse against HPV infection.
The study is believed to be the first of its kind to find an effective and safe therapeutic intervention for the clearance of established cervical human papillomavirus (HPV) infection. Moreover, the study confirmed that HPV infection is self-limiting and clears on its own in 73.3% of the untreated placebo group within 37 days. 
The researchers evaluated the effectiveness of two herbal interventions in eliminating HPV infection from the cervix of women who were determined to have HPV infection through Pap smear and HPV DNA tests (PCR), but whose condition had not yet progressed to high grade cervical neoplasias (i.e. cervical pre-cancer).
The first intervention used was a polyherbal vaginal cream containing containing extracts of curcumin, reetha, amla and aloe vera, known by the trade name Basant. The second intervention was a curcumin vaginal capsule. The other two placebo groups received either a vaginal placebo cream or a placebo vaginal capsule.
All 287 subjects were instructed to use one application of the assigned formulation daily for 30 consecutive days except during menstruation. Seven days after the last application they were recalled for repeat HPV test, cytology and colposcopy.
The results were reported as follows:
"HPV clearance rate in Basant arm (87.7%) was significantly higher than the combined placebo arms (73.3%). Curcumin caused higher rate of clearance (81.3%) than placebo though the difference was not statistically significant."
Vaginal irritation and itching, mostly mild to moderate, was significantly higher after Basant application. No serious adverse events were noted.
While both of the herbal formulations clearly increased the rate of HPV clearance, it is noteworthy that the placebo group also experienced a 73.3% clearance rate, as it confirms that majority of HPV infections will clear from the body as a result of the immune system doing its job correctly. The researchers acknowledged that this is not a novel finding:
"It is already documented that the majority of HPV infections are self-limiting and cell-mediated immunity is responsible for spontaneous clearance."
Indeed, we addressed this under appreciated fact in a previous article titled, The HPV Vaccine Debate: Don't Ask, Don't Tell:
[I]n 2004, Lancet published a study which found that low-grade squamous intra-epithelial cervical lesions (LSIL) commonly associated with HPV infection spontaneously regress in 61% of females within 12 months and 91% within 36 months.[i] LSIL is considered a mild form of cervical dysplasia (CIN), but is nonetheless often subject to more aggressive measures such as a colposcopy with biopsy,[ii] which sometimes leads to surgical treatment.
Another 2010 study published in the European Journal of Obstetrics, Gynecology and Reproductive Biology found that at the end of 12 months of follow-up, the CIN 2 regression rate was 74% (31/42), progression rate to CIN 3 was 24% (10/42) and in one case CIN 2 persisted (2%).  Finally, a 2011 study in the Journal of Lower Genital Tract Diseases found At 12 months, 70% of CIN 1 and 54% of CIN 2 lesions spontaneously regressed (p<.001).[iii]

The odds therefore are clearly in the favor of HPV-associated abnormal cell changes (so-called 'precancerous' lesions) regressing naturally like most self-limiting viral infections. Vaccines are clearly not responsible for the 'protection' conferred by our inbuilt immunity; nor is the HPV virus some inevitable force of lethality that only universal HPV vaccination campaigns can effectively countermand.
Given the widespread belief that HPV infection is a lethal force against which we have only vaccination and watchful waiting to defend ourselves, this latest encourages us to recognize both the power of the human body and natural plant allies to help us maintain our health, despite the constant threat of infection.
In actuality, the results of the intervention are not surprising, given the established body of research indicating curcumin's value as an anti-cancer agent. Not only has this powerful turmeric polyphenol been extensively researched for its anti-cancer properties in over 100 difference cancer cell types, the GreeMedInfo database contains 11 studies specifically on curcumin's anti-cervical cancer properties, which can be viewed here.
For additional information on HPV related concerns, view the following sections on our database:
Sayer Ji is founder of Greenmedinfo.com, a reviewer at the International Journal of Human Nutrition and Functional Medicine, Co-founder and CEO of Systome Biomed, Vice Chairman of the Board of the National Health Federation, Steering Committee Member of the Global Non-GMO Foundation.
Scientists revived the brains of pigs who died a few hours ago
When a human or animal dies, the brain "goes off" and there is no going back. However, a recent experiment shows how the brains of dead pigs can restore some functions hours after death.
A group of scientists at Yale University was able to observe how they restored circulation and cellular activity in the brains of dead pigs four hours after death.
The findings challenge the long-known understandings of time and the irreversible nature of cessation of brain function after death.
"The intact brain of a large mammal retains a previously underestimated capacity for restoring circulation and certain cellular and molecular activities several hours after circulatory arrest," says Nenad Sestan, lead author and professor of neuroscience, comparative medicine, genetics, and psychiatry. , in the study published in the journal Nature.
Science believes that the brain loses signs of consciousness and electrical activity seconds after the brain loses oxygen and bloodstream. The energy in the brain is also lost minutes later. The cells die, and it can not be reversed. The molecular alterations then activate the generalized degeneration of the brain.
But this process has changed, as the researchers observed that in some small tissue samples that they collected about two hours before they showed some signs of cell life.
The scientists obtained dead pigs from a meat packing factory and put them in a specially formulated chemical solution. Interested in their theories, the researchers got processed pigs for food production to see the extent of postmortem brain viability.
After four hours, they connected the vasculature of the brain to disseminate the solution they formulated to preserve brain tissue through a system called BrainEx. In fact, some of the functions of the brain were restored after the experiment.
The system can help researchers perform specific techniques to study the structure and function of a large and intact mammalian brain. The impossibility of doing so prevents scientists from going deeper into issues such as the causes of brain disorders.
Stefano G. Daniele, co-first author of the study, explains that, in the past, scientists could only investigate the brain of large mammals with a two-dimensional approach and use small samples of tissue outside their natural environment. Now, they can study the brain in three dimensions, which amplifies their ability to study complex cell processes and connectivity problems.
But scientists have also emphasized that the brains involved in the study had no detectable electrical signals linked to normal brain function.
Zvonimir Vrselja, co-author and associate research scientist in neuroscience, states that they did not observe any type of organized electrical activity associated with perception or awareness, so it would not be considered a living brain, but a cellular active brain.
At this point, the researchers have not yet identified any application in the clinical setting. However, they believe that their study can help medical professionals to "rescue" brain function in patients with stroke or examine the effectiveness of treatments aimed at cell recovery after an injury.
At this time, scientists do not believe that the chemical solution they used can be applied to the study of the human brain. This solution lacks important contents, such as certain blood cells and components of the immune system, which does not make it very suitable for normal living conditions.
And if one day their study is applied to human tissue research, scientists emphasize that it must be done under the highest ethical consideration.
Stephen Latham, director of Yale's Interdisciplinary Bioethics Center, says regaining consciousness was never his goal. He adds that the team was prepared to take measures under anesthesia and reduce the temperature to stop the organized global electrical activity should it occur.
All team members agree that, if a revived global activity arises, they will stop their experiments, unless there are ethical standards and clear institutional mechanisms.
But there are many who believe that this advance could mean that the mysterious solution to revive the dead will be used in the near future. And how could it be otherwise, there is someone who links this scientific discovery with the revealing signs of the Apocalypse. What do you think?
10 robotic dogs pull truck along in new video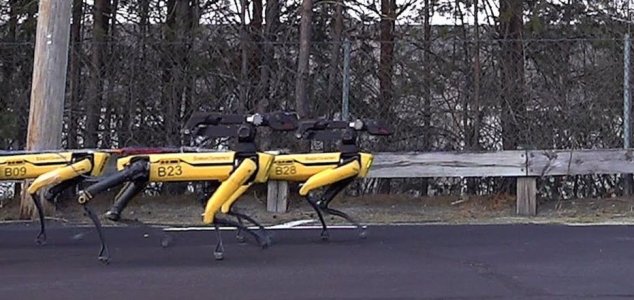 Image Credit: YouTube / Boston Dynamics
The robots seemed to have no problem hauling the truck.
A small army of Boston Dynamics' dog-like robots have been filmed hauling a truck through a parking lot.
Known as SpotMini, this four-legged contraption has become something of a celebrity in recent years thanks to videos showing it performing a wide range of tasks and balancing acts.
This latest footage shows more of the robots than ever before – ten of them to be exact – all working together to haul a large truck through the parking lot outside Boston Dynamics' headquarters.
Each robot is 0.84 meters tall and can carry a payload of around 14kg.
What's interesting is that these robots will actually be available for companies to purchase in the near future, meaning that they are no longer just a work-in-progress.
"It only takes 10 Spotpower (SP) to haul a truck across the Boston Dynamics parking lot," the firm wrote in the caption for the video on YouTube.

"These Spot robots are coming off the production line now and will be available for a range of applications soon."
Source: Evening Standard
New CRISPR Tech Could Cure Herpes
Hunter-Seeker
Gene hacking techniques that were recently used in human cells for the first time could someday let doctors shred up and destroy viruses like herpes or hepatitis B inside human cells, scientists say.
The new technique is called CRISPR-Cas3 — usually, when you hear about CRISPR tech, it's the Cas9 variety — and Cornell researchers believe it could be used to cure viral diseases, according to a university-published press release.
DNA Shredder
The scientists used Cas3 to identify and shred long stretches of human DNA, according to research published in the journal Molecular Cell last week. The new gene-hacking tool makes more and broader cuts in genetic material than CRISPR-Cas9, meaning it could let scientists quickly learn what specific, long stretches of genetic information do and how they interact with certain diseases.
It also means that the gene-hacking tool could attack and shred viral DNA.
"My lab spent the past ten years figuring out how CRISPR-Cas3 works. I am thrilled that my colleagues and I finally demonstrated its genome editing activity in human cells," said Cornell molecular biologist Ailong Ke. "Our tools can be made to target these viruses very specifically and then erase them very efficiently. In theory, it could provide a cure for these viral diseases."
READ MORE: CRISPR-Cas3 innovation holds promise for disease cures, advancing science [Cornell Chronicle]