NASA Wants To Probe Deeper Into Uranus Than Ever Before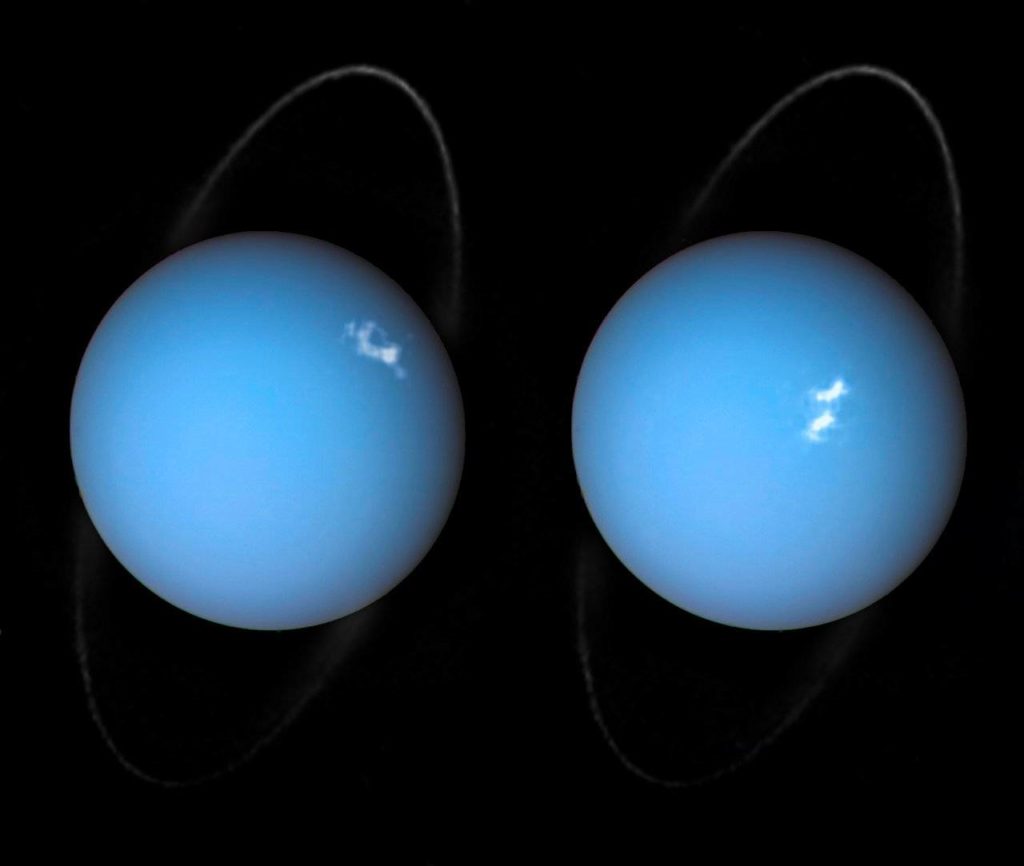 Up until now, NASA has never paid too much attention to Uranus – but now the space agency wants to take a good, long look. And one of the things it might be investigating is all that gas. A NASA group outlined four possible missions to the ice giants Uranus and Neptune.
These missions include three orbiters and a possible fly-by of Uranus. The planned probes would take off in the 2030s, New Scientist reports.
'The preferred mission is an orbiter with an atmospheric probe to either Uranus or Neptune – this provides the highest science value, and allows in depth study of all aspects of either planet's system: rings, satellites, atmosphere, magnetosphere,' says Amy Simon, co-chair of the Ice Giants Pre-Decadal Study group.
One of the proposed missions includes a fly-by of Uranus, which would include a narrow-angle camera – and a probe which would drop into Uranus's atmosphere to measure gas and heavy elements. There are four proposed missions.
Three orbiters and a fly-by of Uranus, which would include a narrow angle camera to draw out details, especially of the ice giant's moons. It would also drop an atmospheric probe to take a dive into Uranus's atmosphere to measure the levels of gas and heavy elements there.
Three orbiters and a fly-by of Uranus, which would include a narrow angle camera to draw out details, especially of the ice giant's moons. It would also drop an atmospheric probe to take a dive into Uranus's atmosphere to measure the levels of gas and heavy elements there.
Has Uranus been probed?
NASA's Voyager 2 spacecraft flew closely past distant Uranus, the seventh planet from the Sun, in January 1986.
At its closest, the spacecraft came within 81,500 kilometres (50,600 miles) of Uranus's cloudtops on January 24, 1986. Voyager 2 radioed thousands of images and voluminous amounts of other scientific data on the planet, its moons, rings, atmosphere, interior and the magnetic environment surrounding Uranus.
Since launch on August 20, 1977, Voyager 2's itinerary has taken the spacecraft to Jupiter in July 1979, Saturn in August 1981, and then Uranus. Voyager 2's next encounter was with Neptune in August 1989. Both Voyager 2 and its twin, Voyager 1, will eventually leave our solar system and enter interstellar space. Voyager 2's images of the five largest moons around Uranus revealed complex surfaces indicative of varying geologic pasts. The cameras also detected 10 previously unseen moons.
Several instruments studied the ring system, uncovering the fine detail of the previously known rings and two newly detected rings. Voyager data showed that the planet's rate of rotation is 17 hours, 14 minutes. The spacecraft also found a Uranian magnetic field that is both large and unusual. In addition, the temperature of the equatorial region, which receives less sunlight over a Uranian year, is nevertheless about the same as that at the poles.
So we don't know how we're going to break this to you – but you've probably been pronouncing it wrong your whole life. Many scientists go with 'U-rah-nus' rather than 'your anus' – ie with an 'ah' sound in the middle.
A "Meteorite" falls in Nigeria destroying more than 100 houses and leaving a huge crater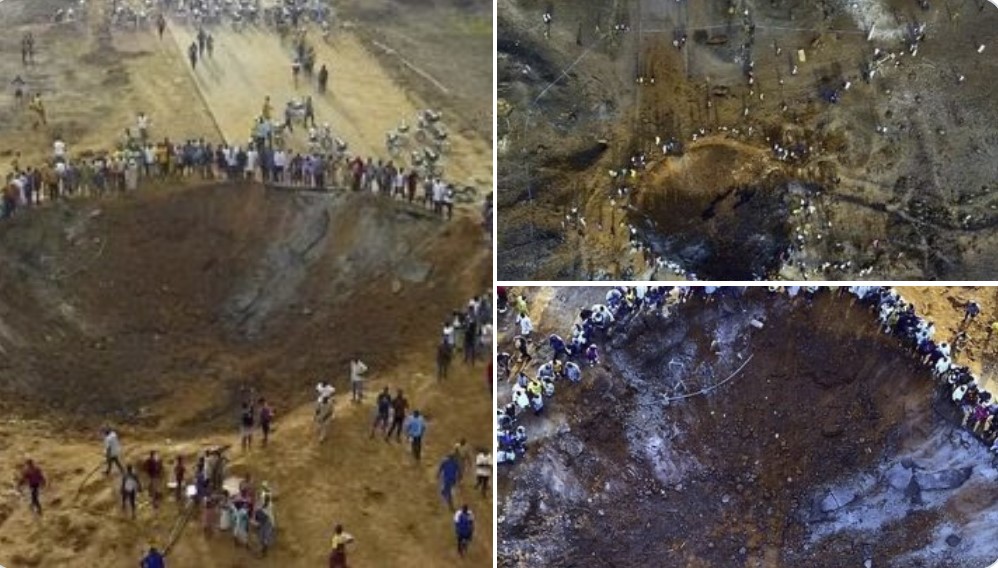 On the morning of Saturday 28 March 2020, a large meteorite crashed in Akure (Nigeria), destroying more than 100 houses and leaving a 21-meter crater on the ground. Experts from the Awbaowo University of Obafemi (Nigeria) denied the local police who initially claimed that a bomb explosion had created the 21-meter crater.
According to Nigerian sources, the explosion destroyed the Akure-OVO road and seriously damaged dozens of houses, from 50 to 100, as well as schools and churches.
It is interesting that initially the authorities denied the meteorite's fall and claimed that the cause for the explosion was a truck with explosives, which was transported to a neighboring state. Ondo State Governor Rotimi Akeredolu said the blast was an accident.
Then the version changed and the truck was no longer just transporting explosives, but it was supposedly a terrorist act.
Now, a team of experts and scientists came to the conclusion that everything that happened was a fall of a large meteorite.
The blast that shook Akure, the state capital of Ondo, on Saturday, was caused by a giant cosmic rock, a team of experts concluded.
Led by Adepelumi Adekunle, a professor of geophysics and seismic engineering at Obafemi Avolovo University, the team said that the meteorite entered the atmosphere of our planet at a "43 degree angle".
Adepelumi Adekunle's report reads:
"My research team conducted a detailed analysis of the impact site. A round impact crater was discovered with a diameter of 21 m and a depth of 7.8 m, which indicates a natural phenomenon.

– It was found that water is oozing from the edges of the crater. Preliminary field studies of vibration, noise, seismicity, analysis of water, radioactivity, rocks and soil were carried out.

"Our findings suggest that the impact of the explosion covers a radius of 1 km from the vicinity of the crater." No signs of fire or burning were found in the vicinity. "
"No signs of radioactive radiation were found within the crater and in the immediate vicinity of it. Field data indicate that a meteorite from the asteroid belt was moving at high speed from space, and fell at an angle of 43 degrees in the southwestern part of the country "
A local source said that after the incident, no one was missing and no one was killed. The most interesting thing in the report is the mention that "unusual stones and strange metal objects" were found inside the crater. So what actually fell in Nigeria – a meteorite or a UFO?
Something strange is happening with the interstellar comet 2I / Borisov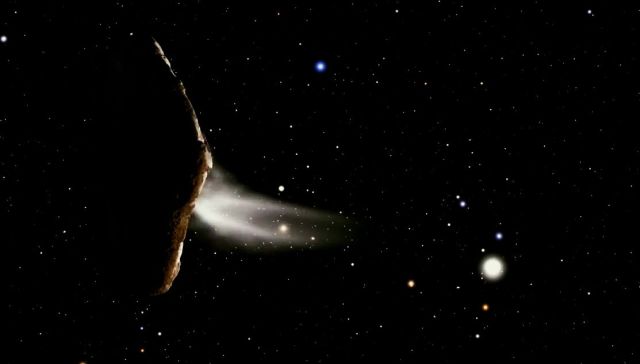 When astronomers see something in the Universe that at first glance seems to be one of a kind, this will certainly cause great excitement and attention.
This mysterious guest from the depths of space first attracted the attention of celestial observers at the end of August 2019, when it was officially discovered sweeping through the solar system along a trajectory indicating interstellar origin.
After analyzing the object, astronomers identified it as a comet called Comet 21 / Borisov, which is the first identified comet and the second observable interstellar alien after the infamous Oumuamua, who arrived here from another star.
NASA claims that they do not know where and when the comet began to move towards our Sun. Gravity of the Sun slightly deflects its trajectory, but cannot capture it due to the shape of the orbit and its high speed of about 160,934 km / h.
Hubble showed that the comet's heart, a loose accumulation of ice and dust particles, was probably no more than 975 meters across, about the length of nine football fields.
Now, this month, astronomers have discovered that something strange is happening by checking the object.
In the next video, nemesis maturity explains what happens to this mysterious interstellar guest.
Hundreds of exoplanets with two suns discovered
Until recently, in search of inhabited exoplanets, binary star systems were completely undeservedly ignored. Exoplanets with two suns have long become familiar places where the events of science fiction novels and films are unfolding.
One of the most striking and well-known examples of this is the desert planet Tatooine, the birthplace of Anakin and Luke Skywalker in the famous Star Wars movie saga. But only in 2011, NASA scientists using the Kepler space telescope were able to provide clear evidence that such exoplanets that revolve around two stars at once really exist. The planet discovered then was called Kepler-16b.
Despite the impressive discovery, scientists continued to believe that such planetary systems are extremely rare due to the complex attraction of two suns at once. But this opinion turned out to be completely wrong, writes astrophysicist Paul M. Sutter in an article for Space.com. This was revealed as a result of a new analysis of millions of stars and the discovery of exoplanets that have been recorded and cataloged by the ESA space telescope since 2013.
In fact, there are only two scenarios in which planets cope with the complex gravitational forces of two stars. If the stars are located very far apart, the planet can rotate around one star – then the other will be visible from the surface of the planet as a brightly shining star in the sky. In another case, both stars are close to each other – then the planet rotates at a safe distance around its double sun, as if it were just one celestial body.
These seemingly unbelievable stellar constellations are likely to occur much more often than might be expected.
Researchers have discovered during their targeted search already 300 exoplanets that could "boast" of double suns. Until now, astronomical science has actually ignored binary stars to search for (inhabited) exoplanets, because scientists considered their occurrence extremely unlikely in principle. In the case of discovered 300 planets, it is most likely a question of constellations, in which binary stars were incorrectly interpreted by the telescope as single stars.
Sutter speaks of decades of scientific confusion and uncertainty: "Since we did not often pay attention to the search for planets in binary solar systems, we had little chance of finding them. We didn't look for anything like that, therefore we didn't find it. The researcher believes that the realization that such double suns are very common should definitely be considered when searching for new exoplanets.