NASA Supercomputer Creates Millions of Virtual 'Universes' to Reveal Mystery of Cosmos
Astronomers have historically turned to two disparate methods to understand the Universe. Telescopes have traditionally been used to observe galaxies, while scientists have recently attempted to simulate them on large computers. Now a theoretical astrophysicist has revealed the early results of "a third way" – a novel method offering new insights into galaxy formation and the role dark matter plays in it.
Professor Peter Behroozi of Arizona University is leading a team harnessing NASA's Pleiades supercomputer to generate millions of Universe simulations, each following a different theory of galaxy formation.
He told Express.co.uk: "Telescopes can see lots of galaxies in exquisite detail but they are only tiny snapshots of their histories.
"Galaxies take hundreds of millions of years to evolve and of course, during a human lifetime, we can't even see a tiny fraction of that, so can't tell how does they evolved with observations alone.

"Simulators are inputting all the physics they knew into very big computers still experience issues, because even computers for the next few hundred years will be insufficient to simulate a galaxy down to its individual components."
Instruments like NASA's Hubble Space Telescope can see both galaxies as they were many billions of years ago and nearby galaxies, obtaining exquisite images of how they look today.
The scientist uses the metaphor of having pictures of people at all different time points in the history of their lives.
The problem scientists face is piecing together how galaxies grow through time.
He said:
"We put a guess into a computer for how quickly galaxies grow over time and how many mergers they have and we generate an entire Universe full of galaxies, going from the very first time points right after the Big Bang until the present day.
"And then still inside the computer, we pretend we're astronomers, and we observe this universe exactly as people have done here on earth.
"And we ask, do the observations in the computer resemble the observations of the real universe, or do they differ in some way?
"Things that we look at, for instance, include how many galaxies we see at different points in the history of the universe?
"How large are they? How clustered are they?
"And by asking the question 'does the universe that we generated on the computer resemble the real universe?' we can then get a sense of how close we are to the real answer.
"So it's like a game of almost how to call you're getting warmer or cooler, in terms of how close you are to what the real universe is doing."
The Arizona University team's simulations have already achieved some "surprising" results, showing how star formation may have been more efficient in the early Universe.
For context, most of stars in the Universe are in galaxies that stop forming new stars.
Professor Behroozi said:
"This has been a puzzle for a very long time, because if we observe these galaxies that have stopped forming stars, we find there's a lot of material and lot of fuel available to form stars, but the galaxies are not using up this fuel to form new stars.
"What we found with the universe machine is the most common explanation, that is it was hard for the fuel to cool and condense to small enough regions to form stars, we found that was very less likely to be correct, because it gave a different prediction for how galaxies grew, than what came out of our measurements."
The NASA universe machine – the size of entire floor of the building – took required around 5 million Central Processing Units (CPU) hours, meaning it would take a laptop 5 million hours to complete.
To convert that into something more familiar like years, that would be about half a millennium.
The resulting incredible simulations, as seen in the video above, are only the start, Professor Behroozi revealed.
He said:
"What we've done so far with galaxies, we want you to eventually include every part of the universe.
"In other words, to make a full, complete movie of the entire universe, with galaxies, black holes, supernova explosions, with everything we can observe in the real universe, to add to this virtual universe, to understand really what's causing every piece that we see."
Tom Fish
Express UK

Headline image: NASA, ESA and the HST Frontier Fields team (STScI), Acknowledgement: Judy Schmidt
Giant telescope will join the search for alien life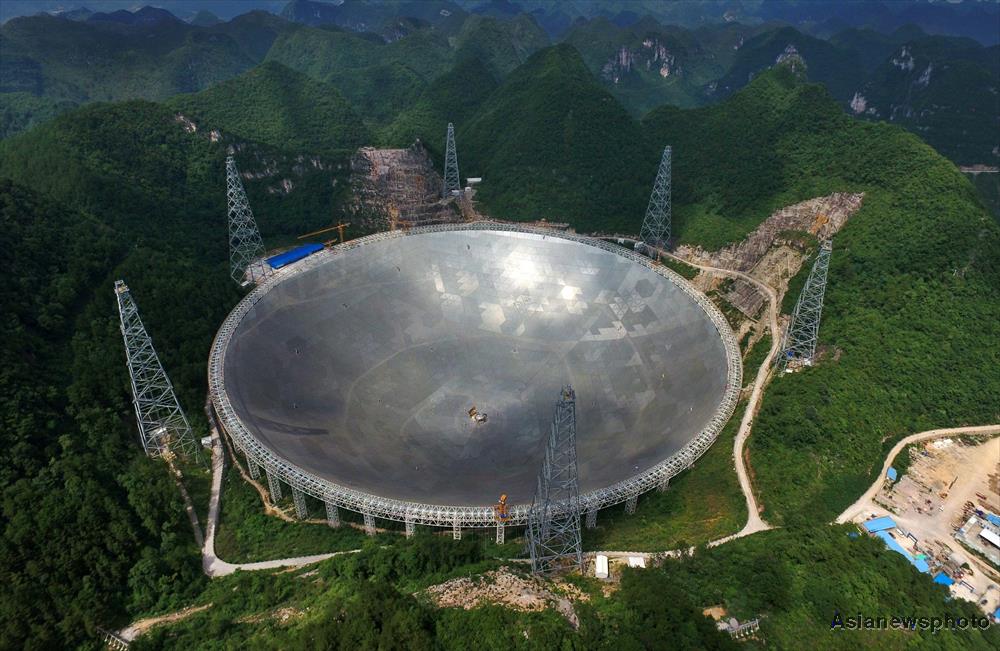 The world's largest radio telescope is about to start operating after several years of testing.
Known as the Five Hundred Meter Spherical Opening Telescope (FAST), the new observatory, located in southern China, has a diameter of 500 meters and cost $ 180 billion to build.
Its testing and commissioning phase began in 2016 and is now almost complete.
It's scientific goals include studying pulsars, detecting interstellar molecules, conducting a large-scale neutral hydrogen survey, and finding evidence of extraterrestrial communications.
Given that FAST is already three times more sensitive than the observatory Arecibo in Puerto Rico, it should be very interesting, indeed, to see what, if anything, it can capture.
Zhu Ming, director of the observation and scientific division of FAST's operations and development center, said:
In the process of observing signals from celestial bodies, we also collect signals that may be emitted by humans or extraterrestrial intelligence.

However, it is a huge amount of work, as most of the signals we see – 99% of them – are various noises. Therefore, we need to take time to identify the signals we want within the noise.
Source: Airspacemag.com
How much water is there on Mars and is there enough for future colonists?
For many centuries, man dreamed of conquering the Red Planet, and it seems that in the very near future we will finally be able to take our first step in obtaining an interplanetary view. In order to be able to successfully land on Mars, NASA experts plan to first identify the most suitable place for the landing of future colonists. The main criterion in strict selection will be the presence of ice water, without which the existence of a person in the distant cold desert of a reddish hue would become completely impossible. So where should the first people land on the Red Planet and how much water is on Mars?
Is there a lot of water on Mars?
According to an article published on the portal phys.org, huge reserves of ice water on Mars can be located only at a depth of 2.5 centimeters from the surface. Its presence will be a key factor in choosing a potential landing site, because such important water resources of the planet will be one of the basic necessities for replenishing the colony's drinking water reserves and making rocket fuel.
In order to find accessible ice water on Mars, NASA uses data from two spacecrafts at once – NASA Mars Reconnaissance Orbiter (MRO) and Mars Odyssey Orbiter. According to the latest data received from the probes, future colonists will not even require the use of excavators and other heavy equipment to extract the vital resource, which can significantly reduce the cost of the course of the future mission.
Blue shades show the closest water sources to the surface, red shades show the most distant ones. Black spots are sandy deserts, and the white area can be an ideal candidate for the landing of the first astronauts.
Due to the fact that liquid water cannot exist for a long time in a rarefied Mars atmosphere, almost instantly evaporating into outer space, scientists have yet to develop a technology that can allow water production without loss. The exact location of the ice can be detected using two heat-sensitive instruments – the Martian climate probe MRO and the thermal imaging camera system (THEMIS), designed specifically for Mars Odyssey.
Although there are a large number of places of interest for scientists on Mars, only a few of them are able to provide suitable landing sites for astronauts. So, despite the fact that the middle and southern latitudes of Mars receive more sunlight than its more northern regions, planetologists believe that the most preferred place for landing on Mars will be the Arcadia Planitia region, where water ice reserves are located only 30 centimeters under the surface of the planet.
Researchers believe that at present, the total water resources of the Red Planet are approximately 65 million cubic kilometers, which could well be enough to cover the surface of Mars with a layer of 35 meters thick water. Well, perhaps, future Martian colonists are unlikely to have to worry about the fact that the water on the Red Planet will someday end.
The Interstellar Research Initiative plans to send people to the exoplanet of Proxima Centauri b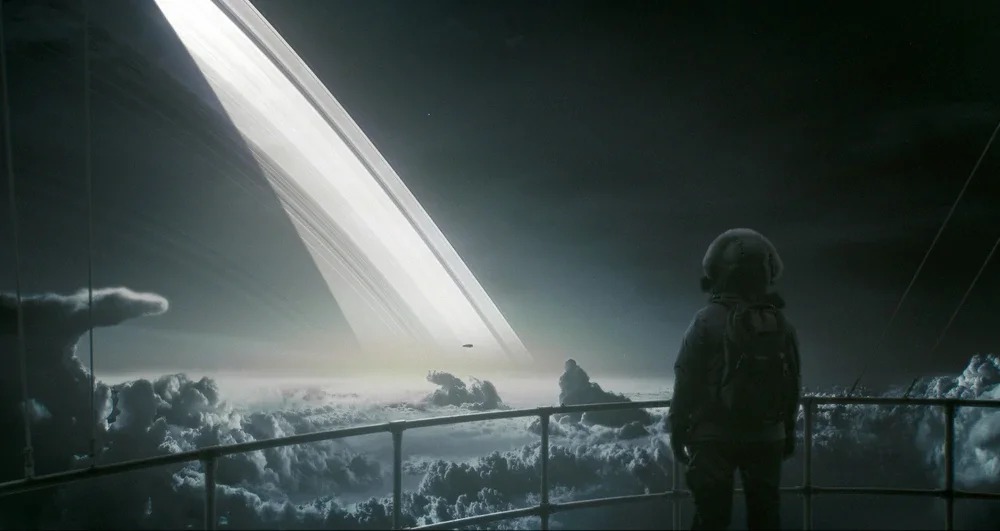 In an attempt to protect humanity from extinction in the event of some kind of global catastrophe of a planetary scale, a group of scientists announced a bold plan for the colonization of a distant exoplanet.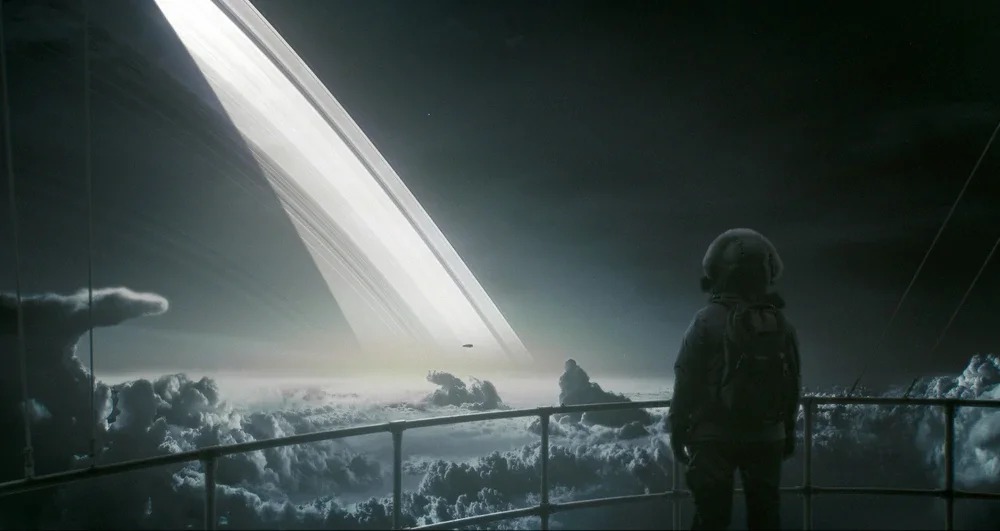 Scientists from the Initiative for Interstellar Studies said they were considering sending people to a potentially inhabited exoplanet in another stellar system.
The most promising option they consider, Proxima Centauri b, which is 4.24 light years away from Earth, which means the journey will take centuries or even millennia. This suggests that generations will succeed each other during the journey.
Technically, this is possible.
However, the challenges facing the mission are so numerous and complex that it can take decades to prepare.
"From the point of view of physics, there are no fundamental obstacles. There are many nuances, but this is not a violation of the fundamental laws of physics, "said Andreas Hein, Executive Director of Initiative for Interstellar Studies.
No problem.
The main problem is the lack of experience being far beyond the Earth for such a period of time.
Even a flight to Mars, which will last about 6-8 months, raises a lot of questions.
There is no reliable protection against merciless radiation yet. Medical problems caused by a prolonged stay in space are still poorly understood. Other than that, there is no guarantee that Proxima Centauri b is indeed liveable.
Can you imagine what a setup would be if people born on a spaceship for one purpose would come to a planet absolutely unsuitable for settlement …
However, the authors of the project do not plan to curtail the program and continue to work actively in this direction.