NASA has made a remarkable discovery of a mile-wide rectangular iceberg with perfect right-angled corners in Antarctica. The stunning iceberg was spotted floating in the Weddell Sea last week by scientists on a NASA research plane.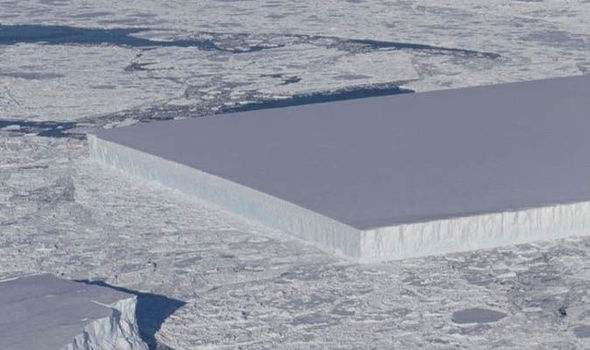 The US space agency said the object's sharp angles and flat surface suggested it had recently broken away from the Larsen C ice shelf.
It is estimated to be around 1 mile (1.6km) wide.
However its true size may never be known with only 10 percent of its total mass showing above the water.
The iceberg found is known as a "tabular iceberg" instantly recognisable by its smooth clean-cut edges as if carved with a knife.
It's perfect edges are formed by breaking off ice shelfs with clear precision but are rarely kept in that state for very long.
In an interview to Live Science Kelly Brunt, a glaciologist at the University of Maryland and NASA was left stunned by the "unusual" discovery.
She said: "We get two types of icebergs. We get the type that everyone can envision in their head that sank the Titanic, and they look like prisms or triangles at the surface and you know they have a crazy subsurface."And then you have what are called 'tabular icebergs.
"What makes this one a bit unusual is that it looks almost like a square."
This is not the first time the Larsen C ice shelf has shed a large iceberg.
Last summer an iceberg known as A-68 detached itself and had a surface area of over 2,000 miles.
The discovery was made as part of Operation IceBridge, the largest ever aerial survey of the planet's ice around Greenland and in Antartica.
The survey is building a three-dimensional map of the ice at both poles.
Source: https://www.express.co.uk