NASA release full Apollo mission transcripts which reveal alien sightings
Ever since the first moon landing on July 20th 1969, conspiracy theorists believe that they have seen evidence that UFO's and aliens have either been on the moon or have accompanied NASA's missions to the moon.  …..Well maybe they were right after all!
NASA have released transcripts from the Apollo missions which may be considered as definite proof that the Apollo mission astronauts saw alien objects on the moon.
The following transcripts apparently come from the Apollo missions 8, 11 and 14 and seem to make some very intriguing reading.  All of the transcripts can be verified on NASA's website
Apollo 8 Transcript
03 16 44 39 LMP There's a strange light down there.
03 16 h4 45 CDR Is it a bonfire?
03 16 24 47 LMP It might be campfires.
03 16 h5 03 C5_ How does it look?
Apollo 10 transcript
04 06 13 02 LMP That music even sounds outer-spacy, doesn't it? You hear that? That whistling sound?
04 06 13 06 CDR Yes.
04 06 13 07 I2_P Whoooooo. Say your – –
04 06 13 12 CMP Did you hear that whistling sound, too?
04 06 13 14 LMP Yes. Sounds like – you know, outer-space-type music.
04 06 13 18 CMP I wonder what it is.
04 06 17 56 CDR 2.
04 06 17 58 L_P Boy, that sure is weird music.
04 06 18 O1 _ We're going to have to find out about that 04 06 18 O1 _ We're going to have to find out about that. Nobody will believe us.
04 06 18 07 I.t,2'_ Yes. It's a whistling, you know, like an outer-spacetype thing.
04 12 09 16 CDR I mean you … What the hell was that gurgling noise?
04 12 09 25 LMP I don't know. But I'll tell you, that eerie music is what's bothering me. You know that –
04 12 09 28 CMP God damn, I heard it, too.
04 12 09 29 LMP You know s that was funny. That's Just like something from outer space, really. Who's going to believe it?
04 12 09 34 CMP Nobody. Shall we tell them about it?
04 12 09 39 LMP I don't know. We ought to think about it some.
04 12 09 41 CMP Did you hear it, Tom?
04 12 09 42 LMF Yes, he heard it.
04 12 09 43 CDR Yes.
04 12 09 47 LMP Hell, I Just want to get out of this suit.
05 10 33 CDR Where is the music – I want to – have Charlie describe it to us. Where's the tape recorder?
06 05 10 38 CMP On the second one over.
06 05 10 3g CDR No – no, I Just didn't play that.
06 05 10 43 CDR Hello, Houston; Apollo 10.
06 05 10 48 _ Hold your mike do%m a little bit.
06 05 10 54 CDR Is it on?
06 05 10 55 _ Yes ….
06 05 10 59 C_P Play that song over again, though, when you get to it. Zap it up a little bit.
Apollo 11 Transcript
03 08 20 18 IRP That's a spectacular crater.
03 08 20 23 CDR Did you shoot some pictures while you were over there?
03 08 20 25 CMP No, it's Just going by – we'd better get it later; there will be better times. If the damn antenna isn't in the way –
03 08 20 42 CMP Boy, there must be nothing more desolate than to be inside some of these craters, these conical ones
03 08 20 50 CDR People that live in there probably never get out.
03 l0 55 20 CMP Oh God, look at that Moltke; he's my favorite … Look at that son of a bitch. You see all those roads – triangular roads leading right past him?
03 l0 55 29 CDR Yes.
03 l0 55 30 CMP That's US l, I guess, huh?
03 l0 55 31 CDR Yes.
Apollo 14 Transcript
03 12 22 39 I2_P Really an interesting one. Huh? That one … looks like … got a rugged one right out here – with the central peaks.
03 12 23 02 CDR …
03 12 23 05 I_l° Sure does. Really got a very complex central structure.
03 12 23 08 CR_° It's got one of the biggest central peaks a_ound. It's a very unusual crater. But there are some dark areas in it that Farouk has gone on record as saying they are dikes.
03 12 23 37 CMl° High Sun. That's one right down there; Just shows how it dominates the whole photograph. Just an extremely bright crater. Sun angle Just isn't high enough for you to see it here …. Yes, they're mining it, I think.
Some alleged whistleblowers (here and here) say that the Moon is actually an artificial object, a kind of space-ark, filled with very old technology and settlements that have been abandoned and subsequently resettled over the ages.
At this point, there is so much anecdotal, whistleblower and empirical evidence that it suggests there may be some credence to the claims mentioned above. It is easy to dismiss claims and call it discernment but in order to do so with validity, one must possess a coherent argument, ideally supported by evidence. Until such dismissal is substantiated, open-mindedness either for or against any claims is a more honest stance to take.
What are your thoughts?
US special forces engaged in combat with aliens during the Vietnam war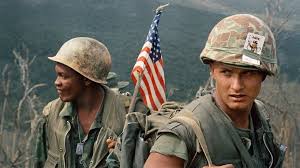 This incident happened in early 1972 during the Vietnam War. A US Special Forces group was secretly delivered at night and parachuted in an area on the Cambodia-North Vietnamese border.
The operation was vital: to destroy a facility in North Vietnam, which, as it was possible to establish by American intelligence, was secretly overhearing top secret conversations of the US Army in South Vietnam.
The SWAT team set up camp for the night, preparing to assault the North Vietnamese team at dawn. In the early morning, the commandos quietly crept up to the Vietnamese base, but what they saw there shocked and frightened them.
As the team got closer to the location of the North Vietnamese unit, they suddenly discovered that there was a large spherical ship that stood on three sturdy metal supports.
The ship suddenly began to hum, causing instant sickness, dizziness, and disorientation in the US military.
The group leader was about to issue a command to retreat when a group of strange looking humanoid creatures appeared.
Not believing what they saw, the special forces group was even more frightened by what these creatures were doing (according to the description of the soldiers, taking into account modern data based on numerous contacts, it can be assumed that they were "gray"): the aliens got out of a large pile various parts of human bodies and placed them in large containers – arms, legs, torso, heads; this terrible list went on and on.
Some were the remains of white people, others were black (US Army soldiers), and others looked like Vietnamese (Vietnamese soldiers from the base).
What they saw sobered and angered the special forces and the commander gave the order to open fire – the bullets hit the bodies of the creatures, but they did not do any harm, except for one who was killed by a shot in the head.
Several commandos were killed, and others were seriously injured by the effects of unknown weapons. Then the aliens quickly retreated into the ship and he quickly rushed into the sky,
Soon, another CIA team appeared on the scene, as one of the survivors said they were all given some kind of mind-altering drugs to try to make them forget about this incredible fight. And it worked, at least for a while.
However, in the late 1980s, two members of the special forces team who took part in that battle began to have nightmarish memories of the events of April 1972, which prompted one of them to contact many other special forces who were found and who were still alive.
Two had already died, three were not found at all, but the rest were able to meet in August 1988 and decided that this story should be told.
They turned to researcher and ufologist Leonard Stringfield and he published their story in his 1991 book.
The story is told in Stringfield's UFO Crash Retrievals: The Inner Sanctum. 
UK UFO case to be kept secret until 2072
The UK Department of Defense has blocked the planned release of a dossier detailing the famous UFO incident.
Back in August 1990, two tourists walking in the Scottish Highlands near Calvine, Pitlochry, witnessed a strange rhombic object hovering over the nearby landscape.
They managed to take pictures of the UFO before it flew away at significant speed.
Eager to share what they saw, the couple contacted the Scottish Daily Record and shared both their story and the photos they took.
Then the journalists shared the pictures with the UK Department of Defense.
It turned out that the tourists weren't the only ones who saw the object – the pilot of the RAF Harrier jet also witnessed the phenomenon – again near Calvine – after being forced to investigate this UFO.
Military intelligence officers sent these images to JARIC, which is the Joint Air Intelligence and Reconnaissance Center.
It is the UK's military center of excellence when it comes to image analysis. These intelligence officers concluded that these photographs were real and that no one had the slightest idea what they were.
Thirty years later, the dossier of the Ministry of Defense, including photographs, was scheduled for declassification and publication, which is typical of such documents.
However, the release has now been postponed for another 50 years for unknown reasons.
According to the 30-year rule, the file was supposed to be released on January 1, 2021, but if the ministry gets it, it won't be released until January 1, 2072 – an 82-year closure.
"By the time the world gets to see the file, the two witnesses will be dead. It is crazy. What are the authorities trying to hide?"
A complaint lodged under the Freedom of Information Act about the National Archives withholding the documents is now under investigation by the UK information watchdog, the Information Commissioner's Office.
The National Archives refused to comment further. The MOD refused to comment at all.
What are the authorities trying to hide?
FBI decrypted documents confirm that there are giant aliens
The topic of aliens has always attracted attention. Recently, foreign media disclosed that a declassified document released by the Federal Bureau of Investigation (FBI) once again confirmed the existence of UFOs and aliens.
FBI Declassified Document: Describes UFO and Aliens
The British "Daily Star" reported that earlier this year, the FBI released the decrypted documents in 1947. The 70-page decrypted report contained a "Memorandum 6751". The person who wrote the report was an anonymous university professor.
"Memorandum 6751″ mentioned that there were flying saucers, unidentified creatures, and " giant aliens resembling humans ".
The report stated that these aliens are like humans, "but larger in size. They are not from any planet known to people, but from the etheric." "Ether" is a term used in ancient Greece, generally referring to the atmosphere or sky.
There is also a description of the flying saucer in the decryption report, which refers to the fact that most of the flying saucers are loaded with alien creatures. The flying saucers have powerful radiation, are very fast, and have powerful attack capabilities.
"These flying saucers have a kind of radiant energy or light that can easily disintegrate any spacecraft that launches an attack. They can re-enter (earth) from the ether at will, or they can simply disappear from our sight without leaving a trace."
The report states, "If one of these (flying saucers) is attacked, the attacking aircraft will almost certainly be destroyed. As far as the general public is concerned, this may lead to proximity panic and international suspicion."
Tesla is a " Venusian "
In recent years, due to the expiration of the confidentiality period, the FBI has published many decrypted documents on its official website, including one about the famous inventor Nicholas. Tesla (Nikola Tesla) declassified documents, caused a public heat. The document mentioned that Tesla came from "Venus" and was an "alien".
The decrypted document is called "Nikola Tesla Part03 of03". It is the third document about Nikola Tesla decrypted by the FBI. It has 64 pages of content, some of which are blacked out and cannot be distinguished.
The remaining content that is not blacked out contains the following passage: "The people of the universe have contacted Nikola Tesla many times and told the FBI that Tesla was from Venus. Tesla was brought to the earth in 1856 to a Yugoslav couple to raise."
The publication of this document shocked the world. Faced with a wave of discussions and doubts from netizens, the FBI did not make any response or explanation, which is even more curious.
F-18 fighters chase UFO
"The Wall Street Journal" recently reported that the non-profit organization "National UFO Reporting Center" data shows that so far this year, UFO sightings have increased by 51% over the same period last year. The center has received approximately 5,000 sightings reported.
On September 8, the United States retired Lieutenant Colonel David. David Fravor accepted the Massachusetts Institute of Technology scientist Rex. In a live webcast interview with Lex Fridman, he talked about the bizarre experience of driving an F-18 fighter jet to chase UFOs 16 years ago.
On November 14, 2004, a UFO was found in the waters of San Diego, California, and Frevo piloted an F-18 fighter to investigate. Both he and the pilot of the other fighter saw a white Tic Tac mint-shaped flying object.
Subsequently, the pilot Chad Underwood flew an F-18 fighter jet, caught UFO on the radar, and successfully filmed UFO video with an infrared camera.
In April this year, the Pentagon released three videos of UFOs, one of which was taken by Underwood during this operation.
12 U.S. soldiers live on alien planets
Former Minister of Defense of Canada Paul. Paul T. Hellyer once disclosed that there are aliens living on the earth and working for the US government. Many US presidents have also admitted the existence of aliens on different occasions.
In addition, some U.S. military personnel disclosed that a top-secret exchange between the U.S. military and aliens was named "Operation Zeta," and an alien envoy came to the United States. In July 1965, 12 American soldiers secretly boarded an alien spacecraft to the planet Zeta.
Of these 12 people, 4 never returned to Earth. Of these 4 people, 2 died, 2 chose to stay on Zeta, and the remaining 8 returned to Earth 13 years later.