NASA photo shows Mars crater was once an ancient lake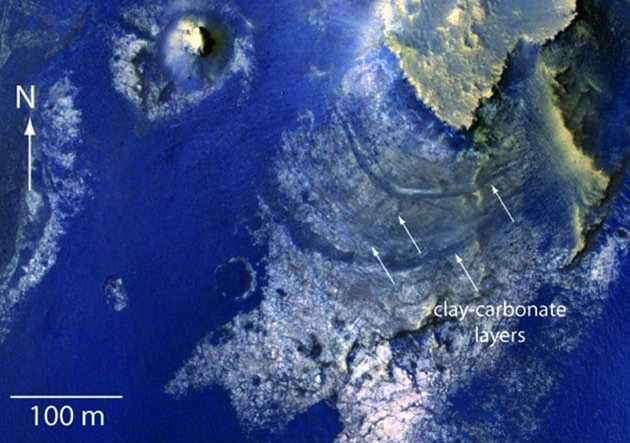 It's been an exciting weekend of discoveries for NASA and its Mars Curiosity rover.
First, there was an update from NASA engineers operating the one-ton rover, who expressed excitement over a set of rocks discovered in a region dubbed "Yellowknife Bay." The rocks, which are thought to hold evidence that shows Mars was once a much wetter place, were discovered just days before a team of researchers announced findings showing that minerals found underground on Mars are the 'strongest evidence yet that water once flowed across the Red Planet. Meanwhile, on Friday, researchers working in conjunction with the NASA Mars Reconnaissance Orbiter (MRO) team announced they had identified an ancient river system — now considered one of the most important geological sites on Mars.
And that was just the weekend.
Now, NASA has reportedly released an image of an ancient lake bed, saying it was once the site of a massive lake on the Red Planet. According to NASA, the new set of photos of the huge crater on Mars suggest water may still remain in crevices under the planet's surface, possibly increasing the chances that life once resided on Mars. The image, captured by theHigh Resolution Imaging Science Experiment (HiRISE) camera on NASA's MRO, shows a massive crater about 57 miles (92 kilometers) wide and so deep that scientists suspect underground water once flowed into the crater, creating a massive lake.
While the lake bed is now dry, astronomers say future missions to the Red Planet could involve studying the site in more detail. Geologists say the image shows evidence of  layered, flat rocks at the bottom of the crater, which contain carbonate and clay minerals that form in the presence of water. Large inflow channels on the side of the crater also seem to indicate that water once flowed into the lake, leaving marks that may show the edge of the lake bed.
"Taken together, the observations in McLaughlin Crater provide the best evidence for carbonate forming within a lake environment instead of being washed into a crater from outside," said study author Joseph Michalski, of the Planetary Science Institute in Tucson, Arizona, and London's Natural History Museum.
The presence of water on Mars increases the odds that life once existed on Mars. A number of astronomers have suggested that space agencies around the world should focus resources on crevices and areas where groundwater may have seeped through the surface. Recent analysis of the Martian surface suggests that life, should it exist on Mars, likely will be discovered underground, where it will be shielded from the harshness of a planet without an atmosphere.
The latest discovery comes as NASA is set to drill into the Martian surface. The U.S. space agency has spent the past several weeks preparing for the drill session in which it will attempt its most complex mission to date.
Launched in 2005, the MRO and its six instruments have provided more high-resolution data about the Red Planet than all other Mars orbiters combined. Data are made available for scientists worldwide to research, analyze and report their findings.
Von Braun Station: the first space hotel would be ready by 2025
Inspired by the concepts of a Nazi rocket scientist, Wernher von Braun, this station-hotel Von Braun Station will have its own gravity, kitchen, bars and interiors made with natural materials, and will be able to accommodate up to 400 people.
"The station could receive the first tourists in a few years," said Tim Alatorre, senior architect of the Gateway Foundation , the company responsible for the station's design.
"The goal of the Gateway Foundation is that in 2025 Von Braun already works and 100 tourists visit it per week," he said.
According to the designer, the station, which will have the shape of a huge 190-meter diameter wheel, will turn constantly, creating an artificial gravitation comparable to that of the Moon and making the stay in it much more comfortable than in the ISS, where it is not possible to have a sense of direction.
The concept was taken from nothing less than Wernher von Braun, hence its name. This was a leading Nazi scientist who developed the V2 rocket. After World War II, NASA welcomed him to design, among other things, the Saturn V rocket that would take the human being to the Moon.
How will it be built?
The hotel station will be built by using automated systems, such as drones and robots, while in orbit. It will also use GSAL, special space construction machinery developed by Orbital Construction.
Once completed, some modules will be rented as individual residences, while others will be offered to different governments for scientific purposes. In total, the Gateway Foundation expects the population of the Von Braun wheel to be about 400 people.
In space … at home
Apart from rooms, the hotel part of the wheel will feature many of the things that are seen on cruises, such as restaurants, bars, music concerts, film screenings and educational seminars. Also, the interiors will have nothing to do with the sterility of the space stations of science fiction films.
«As humans, we are innately connected with natural materials and colors. […] The use of fabrics, lighting and warm-colored paints and textured materials help us connect and feel at home, "said Alatorre, although he admitted that heavy materials, such as wood and stone, will be replaced by" substitutes for light and easy to clean natural materials ».
The architect said that the project, which presupposes the creation of even larger space hotels, tries to put an end to the current high prices of orbital tourism, making it accessible to broad social sectors and facilitating extraterrestrial exploration.
" Gateway Foundation aims to make space travel open to everyone and this and the company's next project will be true cities in space that will be ports of call for those who come and go from the Moon and Mars," he concluded. .
Source: Dezeen
Ariana Grande Responds to NASA Interns Remixing Her Song
It's no secret that Ariana Grande is a fan of space and, by extension, the folks over at NASA. And it turns out that the love is reciprocal, seeing as how a group of interns at NASA's Johnson Space Center have just given her song "NASA" the remix treatment.
An "educational parody" of Grande's track, the interns created an accompanying video "in order to inform the public about the amazing work going on at NASA and thee Johnson Space Center," per its description.
Even cooler? The specific project the interns that inspired the interns is NASA's forthcoming Artemis missions, which aims to send the first woman to the moon by 2024.
Hey @ArianaGrande, we saw 'NASA' trending this morning and thought it was about one of our new discoveries. But we realized that you might need some space.

🎶 It's like you're the universe and we're N-A-S-A 🎶

Check out the universe: https://t.co/hRtKDqTkiZ pic.twitter.com/p3aAZEwMfv

— NASA (@NASA) February 8, 2019
Given all of this, Grande was obviously over-the-moon about the parody. No pun intended.
"Oh my. this is so pure and special and insane," she tweeted in response. "hi everyone over there that is doing such incredible work ! thank u for taking the time to make this ! my heart is ….. bursting."
Watch the entire remix video for yourself, below.
Source www.papermag.com
Another Interstellar Comet Has Arrived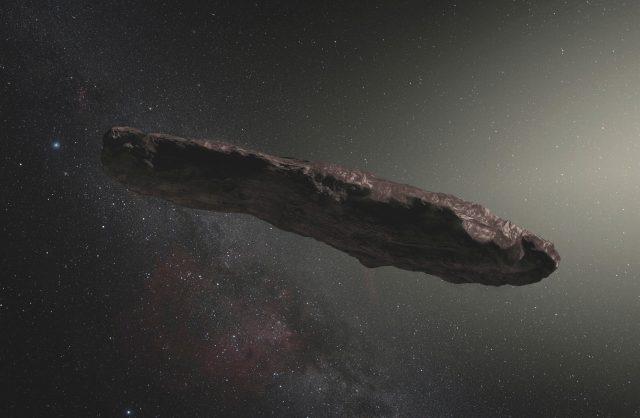 "Based on the available observations, the orbit solution for this object has converged to the hyperbolic elements shown below, which would indicate an interstellar origin. A number of other orbit computers have reached similar conclusions, initially D. Farnocchia (JPL), W. Gray, and D. Tholen (UoH)."
Remember 'Oumuamua, the first interstellar object ever discovered in our solar system? You won't for long as another one was picked up by multiple observers and reported this week by The Minor Planet Center (MPC) at Harvard University. Unlike 'Oumuamua, this one is definitely a comet and has been identified earlier enough in its trip through the solar system to be analyzed intensely – possibly revealing where it came from and how astronomers can locate more of them.
"The comet's current velocity is high, about 93,000 mph [150,000 kph], which is well above the typical velocities of objects orbiting the sun at that distance. The high velocity indicates not only that the object likely originated from outside our solar system, but also that it will leave and head back to interstellar space."
The BBC reports that object gb00234, now known as Comet C/2019 Q4, was discovered by amateur (but experienced) astronomer Gennady Borisov on August 30th, 2019, at the Crimean Astrophysical Observatory in Bakhchysarai. When he noticed it, C/2019 Q4 was three astronomical units (450 million km) from the Sun. Since then, other astronomers have seen its tail – confirming C/2019 Q4 is a comet – and measured its eccentricity at 3.2, based on current observations. A perfect circle has an eccentricity of 0, while a closed elliptical orbit ranges from 0 to 1. Anything greater than one indicates an arc-shaped trajectory and is likely an interstellar comet or object making a one-time visit. While not confirmed yet, together these make Comet C/2019 Q4 the first 'true' comet to visit use from outside our solar system.
Unless it's a spaceship.
Good point. Anyone?
Karl Battams
@SungrazerComets
Unlike 'Oumuamua, whose asteroid-or-comet nature still gets debated, this one is definitely a comet. If it is unequivocally interstellar, it'll be fascinating to see how its composition (spectral properties) compare to the variety we see in comets from our own solar system.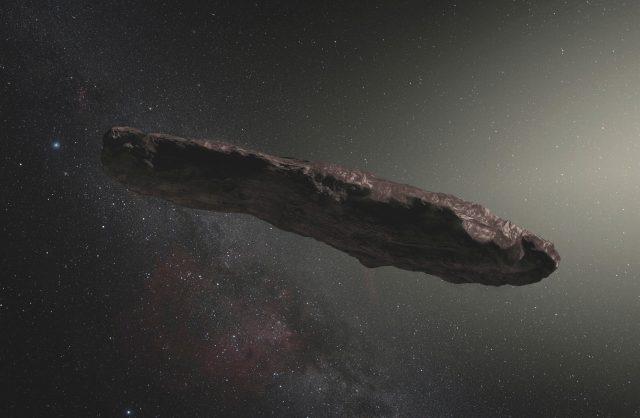 Astrophysicist Karl Battams, from the Naval Research Laboratory in Washington DC, tweeted an end to that comet-asteroid-spaceship-or-what debate which has trailed 'Oumuamua like a tail (if it had one) since it was discovered hightailing out of here. Comet C/2019 Q4 will have plenty of eyes on it as it will be visible to even low-powered professional telescopes for at least a year, including when it makes its turn around the sun (perihelion) around December 10. However, the MPC leaves an opening for the unusual:
"Absent an unexpected fading or disintegration, [C/2019 Q4] should be observable for at least a year."
In lieu of seeing windows with aliens waving out of them, an "unexpected disintegration" would be the next coolest thing.
Source: Mysterious Universe