NASA Images shows a huge cube shaped UFO approaching the sun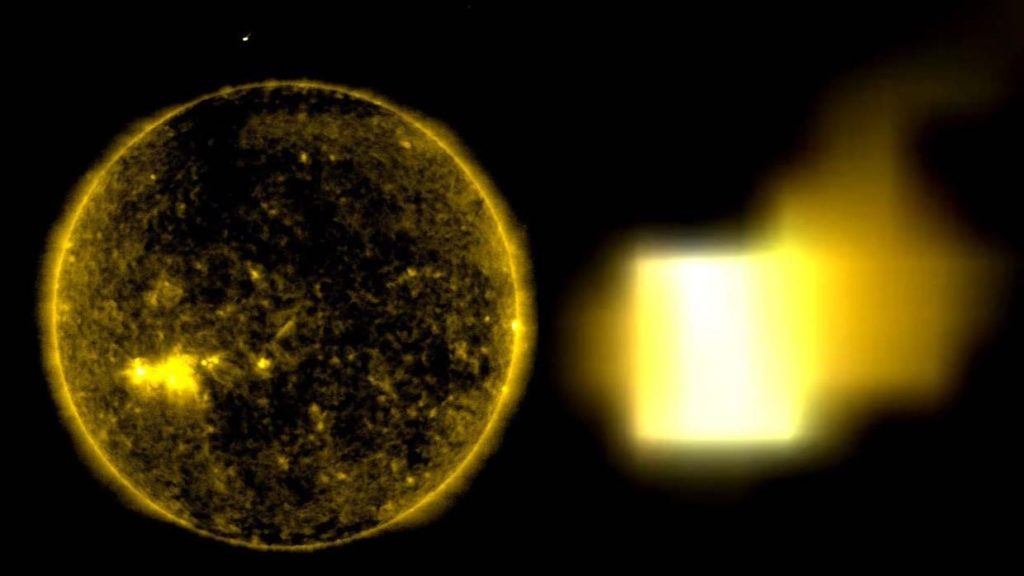 As a cutting-edge space exploration agency, NASA is also in the crosshairs of all kinds of extraterrestrial conspiracies. And so, every year, to find out what the US space agency is hiding, people search Google for the phrase "hidden NASA. " And among so many conspiracies, one of the most popular theories is that extraterrestrial civilizations are feeding on the energy of our Sun. But, incredible as it may seem, this hypothesis is not as farfetched as it seems. In 2016, scientists discovered a strange microbe in the depths of a gold mine in South Africa.
Known as Desulforudis audaxviator, rod-shaped bacteria grow 2.8 kilometers underground in a habitat lacking the things that drive the vast majority of life on Earth: light, oxygen and carbon. Instead, it obtains energy from the radioactive uranium in the depths of the mine. For, scientists this finding provided a model of how life could survive in seemingly unlivable environments throughout the cosmos. But it could also show that life in other parts of the universe could be "feeding" on the radiation of space, like that of our nearest star. And maybe the discovery of the bacteria can also explain the mysterious cube-sized structure that has appeared near the Sun.
The extraterrestrial cube shaped UFO
Popular UFO researcher Scott C. Waring has seen a cube-sized structure accessing the Sun in one of the images sent by NASA's SOHO Solar and Heliospheric Observatory. Waring said that the structure similar to a cube is approximately the same size as Earth. Interestingly, the strange pixelated object seems to be perfectly cut into a square shape. Also, it seems to leave a trail behind it with a white glow around it.
"Today I found a UFO the size of Earth near our Sun," writes Waring in his blog UFO Sightings Daily. "Will you wonder how it is possible? Because its size is like Earth's. It is not necessary to say that it is great. If you use the SOHO icon to compare, then it is a little bigger than Earth, but I want to not make a mistake … and I mean it is the size of Earth. Do you feel better?"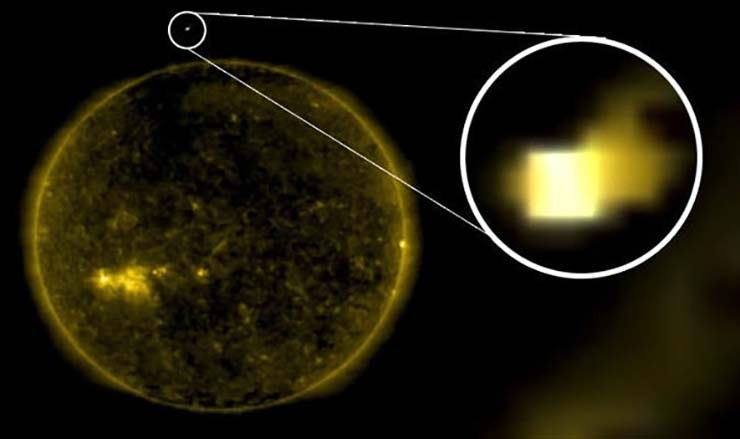 The independent researcher also added that the extraterrestrials have advanced technology capable of withstanding the extreme temperature of the Sun.(cube shaped UFO)
"How do aliens do something this big? Easy, the aliens live forever, "Waring continues. "They tell a robot to create the spacecraft, it tells him the size and requirements. Time is not important in its construction. A robot builds 10 more robots. Those 11 robots build more robots and so on until there is an army of thousands of robots working to obtain materials, make technology and build this giant ship. What could take millions of years to finish? But since you do not die, millions of years will pass quickly … so while you enjoy your life, those little robots of yours are creating a spaceship the size of Earth. There you have it! "
Related to the closure of the National Solar Observatory in Sunspot, New Mexico?
A few weeks ago, the sudden closure of the National Solar Observatory in Sunspot, New Mexico, caused all kinds of speculation about whether NASA had found something strange near the Sun. As we published, the past 6 In September, the FBI entered Sunspot, New Mexico, with a Black Hawk helicopter, and evacuated the solar observatory. In addition, a nearby post office and a dozen homes were also evicted. The FBI did not confirm or deny such a mysterious operation. The Association of Universities for Research in Astronomy (AURA), responsible for managing the installation, also gave no further information, only explaining that it was a  "security problem".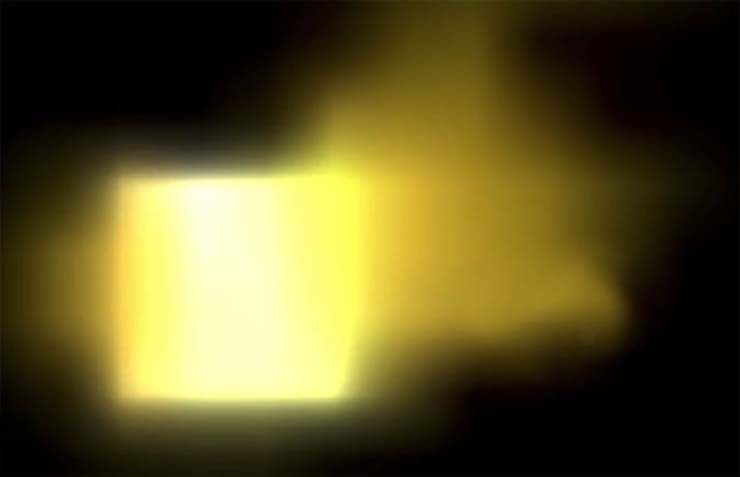 This led some conspiracy theorists to suggest that the FBI took quick action to close the observatory by the presence of extraterrestrial spacecraft near our nearest star. What's more, an astronomer corroborated this theory, claiming to have seen a huge UFO followed by a fleet of smaller ships passing behind the Sun.(cube shaped UFO)
So, if we take this theory for granted, maybe the square is hiding a large alien spacecraft. However, skeptics argue that the strange cube-sized structure could be the result of a technical failure. And the truth be told, everything is possible.
Is it an extraterrestrial spacecraft absorbing the Sun's energy? Or do you think it could be a technical failure?
Philadelphia witness had good view of UFO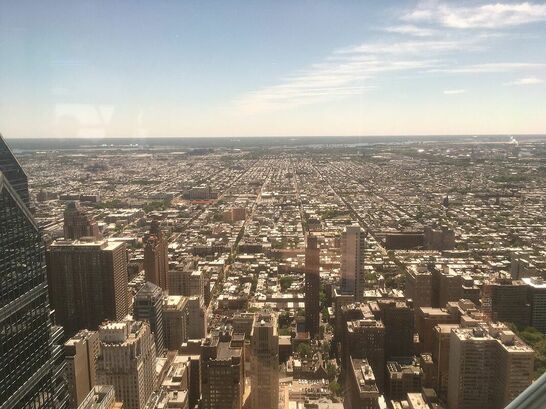 South Philadelphia. Credit: Wikimedia Commons
by Roger Marsh
A Pennsylvania witness at Philadelphia reported watching a hovering orb that eventually flew away, according to testimony in Case 95886 from the Mutual UFO Network (MUFON) witness reporting database.
The witness was in South Philadelphia at 11 p.m. on October 26, 2018.
"I was holding my three-month-old son and looking out my north facing third floor windows," the witness stated. "There is an airport nearby and I see loads of helicopters and drones, but this was different than anything I have seen in the seven years that I have lived here."
The witness said he sees many objects from the master bedroom window on the third floor.
"I have five windows that face north, south, and west and I have no curtains since I like to see the city views. What I saw was a large, bright red, glowing orb about 11-30 feet in diameter that hovered erratically and changed colors every 30 to 60 seconds. It changed from completely red to completely green then completely blue. It was red most of the time and I don't think it was a sequential pattern I believe it was random because I saw more red and green than blue."
The witness said the orb was flying east, and then it would hover and stay completely still.
"It then changed direction and flew west very quickly and disappeared. The total viewing was about five minutes. I've scoured the news and have seen no other accounts of this which is perplexing because there should be multiple witnesses. South Philly is a busy area on a Friday night because of the cheesesteak places that tourists line up at. I'm hoping someone else out there saw this as well."
MUFON Pennsylvania Field Investigator William Morse closed this case as an Unknown-Other.
Source: MUFON
Ecto-1 Returns in Teaser for Secret Ghostbusters Movie
Trailer teases the return of the Ghostbusters with a malfunctioning proton pack and a rusting Ecto-1.
A new Ghostbusters is coming in 2020! It was announced this week with the arrival of this short but effective teaser trailer. It's an eerie night and spine-tingling music from the original Ghostbusters score is playing as the camera moves past a fence dripping with ectoplasm into an creepy barn where we hear the sound of proton pack that won't start. And then the wind blows up a tarp to reveal a rusting Ecto-1.
The new film is being directed and co-written by Jason Reitman, the son of Ivan Reitman who directed the original Ghostbusters.
"I've always thought of myself as the first Ghostbusters fan, when I was a 6-year-old visiting the set. I wanted to make a movie for all the other fans," Reitman told Entertainment Weekly. "This is the next chapter in the original franchise. It is not a reboot. What happened in the '80s happened in the '80s, and this is set in the present day."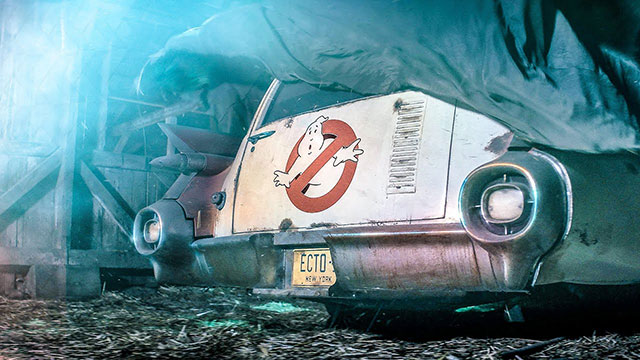 For those of us who grew up in the 80s, the 1984 Ghostbusters film was probably one of our earliest introductions to the occult, inspiring a lifetime of obsession. Sure, I was disappointed when I learned Tobin's Spirit Guide wasn't real, but my hope was renewed when I discovered real occult texts. And of course Ecto-1, a 1959 Cadillac built by the Miller-Meteor company, kick-started a love for hearses.
Do you believe in UFOs, astral projections, mental telepathy, ESP, clairvoyance, spirit photography, telekinetic movement, full trance mediums, the Loch Ness monster and the theory of Atlantis?
I probably had not even heard of these things before Ghostbusters.
The new Ghostbusters is set for a 2020 release.
The BBC cuts an interview after an astrophysicist assures that the space radio signals are of extraterrestrial origin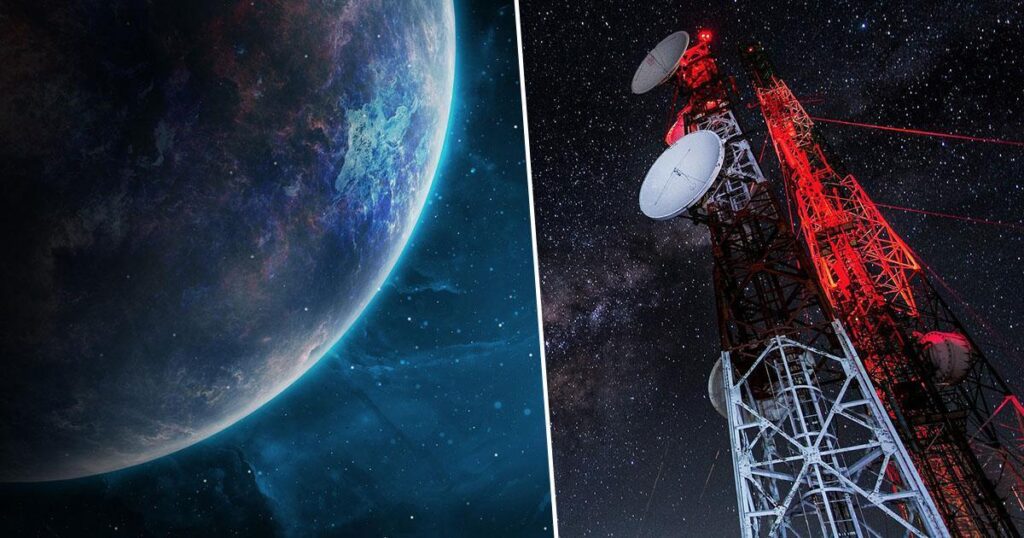 It seems that the mysterious repetitive radio signals sent from a distant galaxy are giving a lot to talk about. As we already published in the Esoteric and Paranormal World, a team of Canadian scientists detected 13 new rapid radio bursts (FRBs) from deep space, in a discovery that could change our understanding of the universe.
Astronomers detected repetitive FRBs for the second time in history, which experts believe could be a breakthrough by offering scientific evidence of advanced extraterrestrial life. The researchers detailed their latest finding in the journal Nature last Wednesday. Rapid radio bursts are short pulses of radio waves that are supposed to originate from beyond our galaxy, probably billions of light years away from the Milky Way. In radio astronomy, an FRB is what is known as a high-energy astrophysical phenomenon of unknown origin, which manifests itself as a transient radio pulse, which usually lasts a few milliseconds.
But what makes these FRBs so important is that they were first discovered in 2007 when a signal was detected in radio astronomy data collected in 2001. Last summer, for three weeks, the team found another 13 signals using the Experiment radio telescope Canadian Mapping for Hydrogen Intensity (CHIME, for its acronym in English). Dr. Ingrid Stairs, Chime astrophysicist, and professor at the University of British Columbia said that, until now, only one FRB was known that was repeated so knowing that there are others suggests there could be more and could be used to understand these cosmic enigmas, where they are from and what causes them.
And it is this last point that has caused controversy in the scientific community, with some suggesting that they are of natural origin and others claiming that they are clear evidence of the existence of intelligent extraterrestrial life in the universe. But it seems that you do not want to give voice or vote to scientists who point to this last possibility. And it has been demonstrated during a BBC interview when the presenter interrupted her at the moment when an astrophysicist assured that the rapid bursts of radio detected from deep space could be signs of an advanced extraterrestrial civilization.
Hiding the truth
A BBC interview with astrophysicist Elizabeth Pearson was interrupted after she suggested that the radio signals detected beyond the Milky Way are of extraterrestrial origin.
"Then, with these rapid bursts of radio, particularly this one that is repeated, is the second time we've found it, we hope we can understand a little better what these things are, " Dr. Pearson told the BBC.
Astrophysics added that currently, all we know is that it is something that can produce a large amount of energy, such as the combination of black holes or neutron stars.
"Hopefully, when looking at the new rapid bursts of radio, we could establish if it is one of these phenomena. One of the slightly clearer theories is that it could be an advanced extraterrestrial civilization, but it is more a case that we can not rule out what we think it is. "
And at that moment, the news anchor played down the last comment of astrophysics.
"Well, you know, obviously, you say that's one of the most outstanding theories, that's the one that's in everyone's ears, that's the headline, thank you," Joanna Gosling said.
Astrophysics seemed to want to add something to the presenter's comment and said before being interrupted: "Yes, it's …"
And mysteriously the audio was cut and removed the image of astrophysics, to the surprise of the viewers.
"Oh, we lost her. But anyway that's fine, maybe, this is evidence of aliens. We'll see, " Gosling added.
And this curious incident has caused all kinds of reactions on social networks. Conspiracy theorists have publicly denounced that the BBC is part of the media manipulated to hide the truth and in this case, they did not expect astrophysics to comment so freely on the theory that the strange fast radio bursts are of extraterrestrial origin.
Also, that astrophysicist Elizabeth Pearson is not the only one to believe that its origin is artificial. Professor Avid Loeb, from the Harvard-Smithsonian Center for Astrophysics in the United States, has been assuring for some time that it is extraterrestrial technology. Although there would be two possibilities, which is really a signal sent intentionally, and the other that suggests that these signals are repetitions of extraterrestrial technology, as energy sails to propel huge ships. However, for some reason that we do not know, it does not matter if the extraterrestrial theory is spread, much less that it is the scientists who do it.
Are the media covering up the truth? Maybe the aliens are among us, infiltrated in society?